the ultimate kobe beef skillet nachos with kettle chips & fry sauce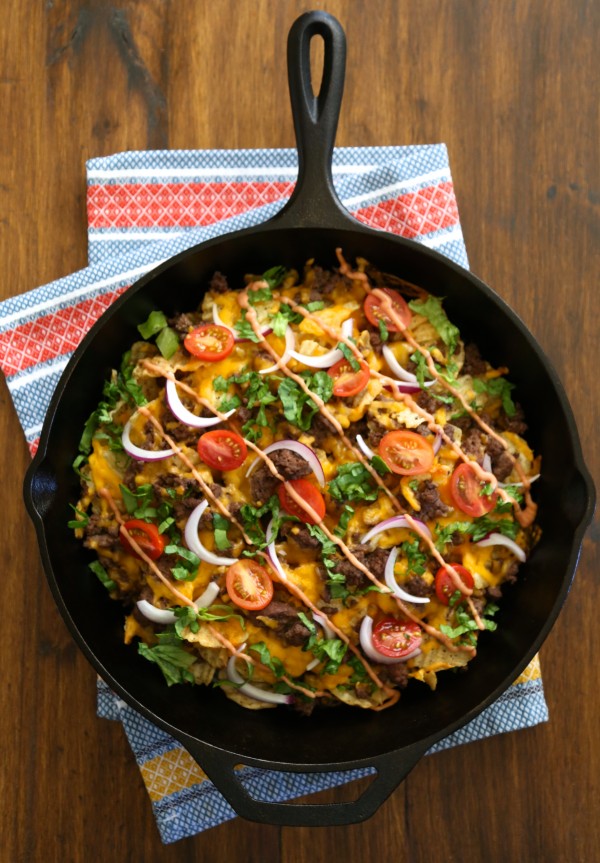 "Won't you be my neighbor?"
Wasn't Mr. Rogers a rad dude? As a kid, I watched his television show almost every day after school. That and Reading Rainbow! GAH. Those were the PBS days. Even at the ripe old age of seven, I still remember thinking he is the only person I know that could rock a zippered cardigan, while singing a song. Am I right?
Between the learning, music, and charm, Mr. Rogers would have been the most epic neighbor. Although, I probably would have been that annoying kid always knocking on the door, "Um, excuse me, Mr. Rogers. Why is the sky blue? Where do babies come from? Why do we have to learn fractions? Have you ever thought of trying a magenta color cardigan?"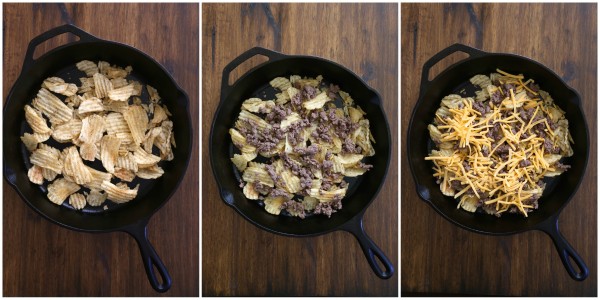 And speaking of magenta color cardigans, I have zero idea if my neighbors fancy a cardigan let alone a magenta colored one. I feel like neighbors should know these things. Come to think of it, I don't know much about my neighbors. Isn't that terrible? They could know where the Holy Grail exists and because I didn't bring them these ultimate kobe beef skillet nachos with Kettle chips and topped with fry sauce, I will never get invited on the epic journey. Sigh.
Well, the reason I brought up these kettle chip inspired nachos is because the fantastic folks over at Kettle Brand Chips are kicking off a "Hey, Neighbor" program this summer, which is designed to inspire neighbors to connect, with the goal of establishing a strong community. Something that Kettle Brand Chips has been committed to for over 30 sassy years!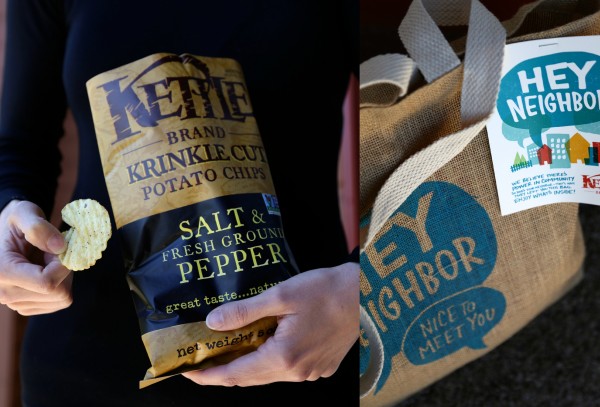 Not only are these skillet nachos potluck friendly, they are the perfect dish to serve up on the Fourth of July. Piled high with juicy ground kobe beef, gooey cheese, and the piece de resistance: fry sauce. You'll be the totes mcgotes of your neighborhood party!
If you want to join in the get-to-know-your-neighbor fun, you can purchase a summer sharing kit at www.buykettlechips.com throughout the summer. And if you really want to unce-unce it up, Kettle Brand chips developed all the tools to make it easy, including invites, name tags, and Get to Know Your Neighbor cards available here!
"Won't you be my neighbor?"
***I was compensated by Kettle Brand for this post. As always, all my opinions are 100% my own.***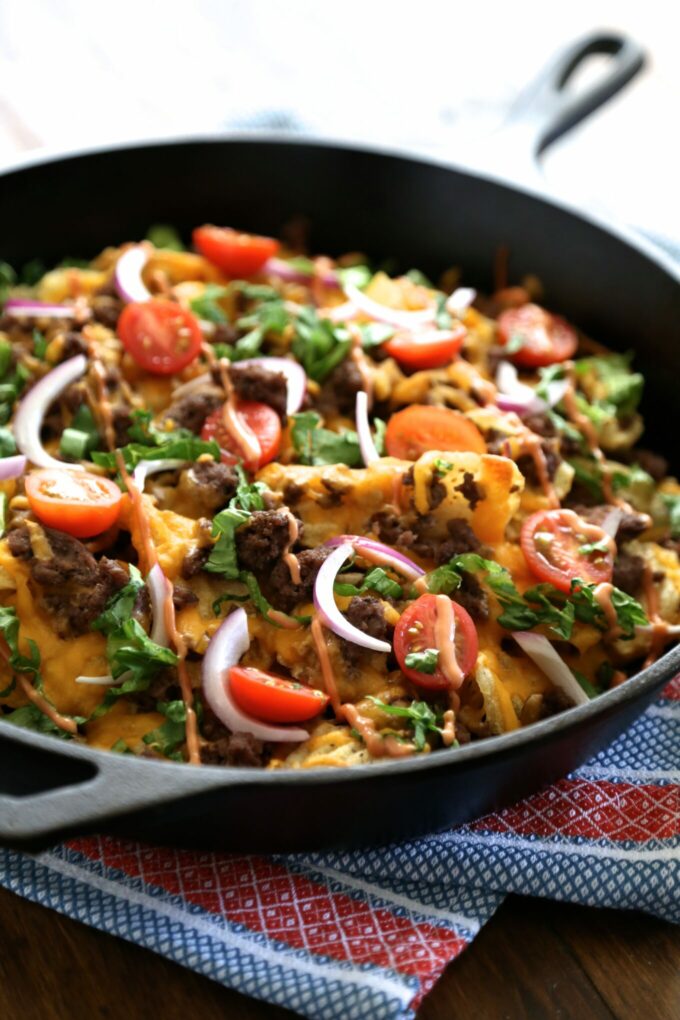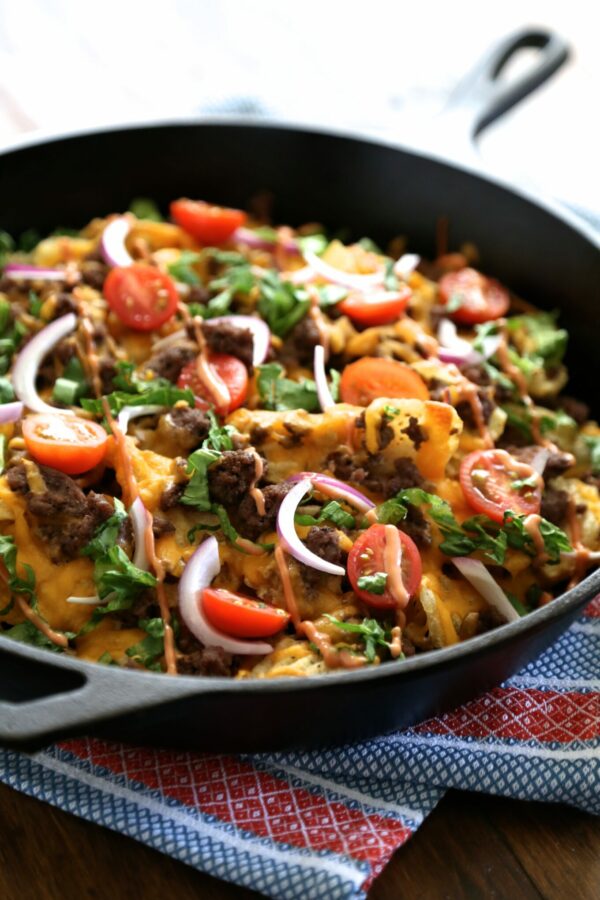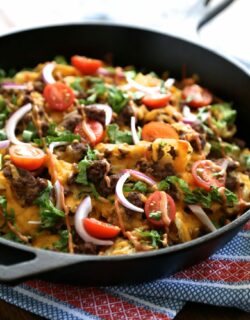 The Ultimate Kobe Beef Skillet Nachos with Kettle Chips & Fry Sauce
Ingredients:
2 bags Salt & Fresh ground Pepper Kettle chips
1 lb ground kobe beef
1 teaspoon Tabasco
1 tablespoon butter
1 1/2 cups cheddar cheese, shredded
1 cup grape tomatoes, halved
1 cup lettuce, chopped
1 small red onion, sliced thinly
1/2 cup mayonnaise
1/4 cup ketchup
salt and pepper to taste
Directions:
Preheat oven to 400 degrees.
Spray a 10-inch cast iron skillet with non-stick cooking spray for extra insurance! In a bowl, combine beef, Tabasco, and a pinch of s&p. In a medium skillet, preheated to medium-high heat, melt the butter. Brown beef until cooked through about 5 to 7 minutes. Remove from heat and drain any juices.
Take a handful of the Kettle chips and place them on a single layer on the bottom of the skillet. Sprinkle some of the ground beef mixture on top along with cheddar cheese. Repeat process again. Place in oven for 15 minutes or until golden brown and cheesy.
In the meantime, make the fry sauce, Mix together mayonnaise, ketchup, and a pinch of s&p. Remove skillet from oven; garnish with tomato, lettuce, red onion, and fry sauce. Serve immediately.
All images and text ©