CGM 2020 HOLIDAY GIFT GUIDE: FOR HIM
25 amazing gifts for that special man in your life! Cocktail glasses, national park art, the perfect hot sauce kit, and full on tech gadgets. You'll find something in this list for your dad, boyfriend, or virtual co-worker!
Shopping for the men in your life can be tricky.
So Mr. B and I took a hot second to put together a very useful gift guide this year!
Below are 25 amazing gifts that will make him grin ear-to-ear. There's something for tinkerer, the techie, the musician, or for the guy that needs to up his basic slipper game. Take a look around and get ready to shop!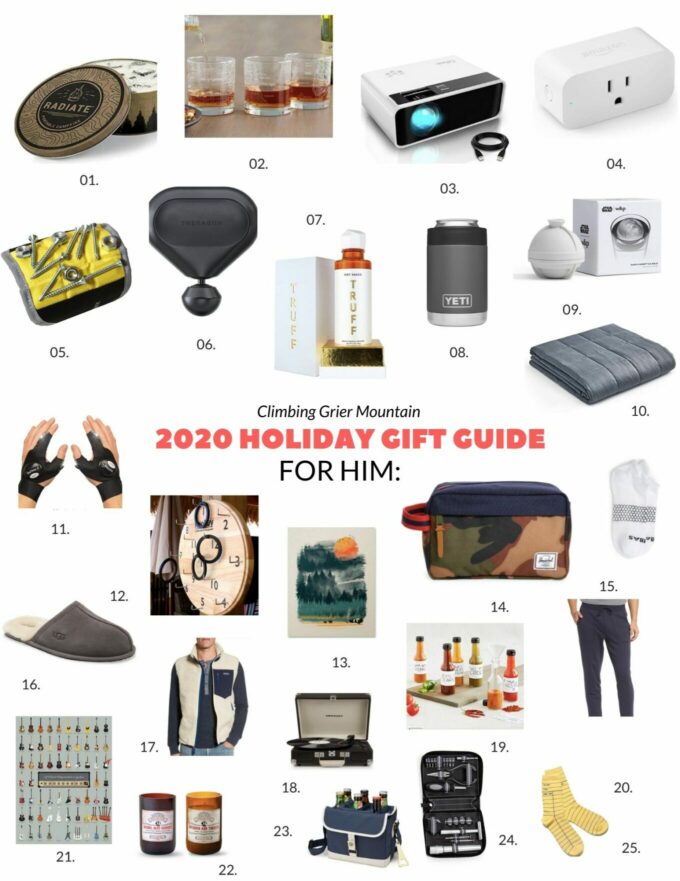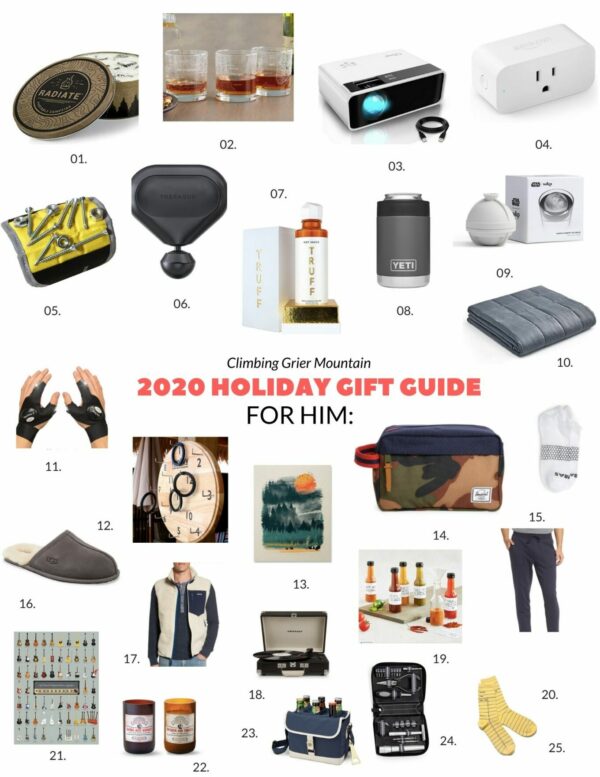 1) Radiate Portable Campfire: This might be THE gift of 2020. A portable campfire that is lightweight, burns for 3 to 5 hours, and has no embers? Camping in the backyard just got way more fun!
2) Urban Map Glasses: Take a sip as you mentally stroll through your favorite cities!
3) Mini Projector: This little device is taking streaming to a whole new level! Best prices I've seen for a projector. Portable, compatible, and waiting for your next cinema viewing!
4) Amazon Smart Plug: Because if I can tell my coffee pot to turn on, I'm winning at life!
5) Magnetic Wristband: No one more lost nuts, screws or mind! All the little gadgets and widgets stay safely secure to his magnetic wristband. Honey-do projects just got easier!
6) Theragun Mini: Basically a spa on call. You're welcome.
7) TRUFF White Truffle Hot Sauce: THE hot sauce of 2020. It's time to level up, peeps!
8) YETI Rambler Colster: The koozie just got an insane makeover.
9) Darth Vader Silicone Ice Mold: May the bourbon force be with you.
10) Weighted Blanket: The best way to combat 2020 is with sleep. This weighted blanket is no joke friends! Makes you feel all nice and snuggly while helping you stay asleep!
11) Flashlight Gloves: Whether you're biking, reading, fishing, or doing anything with your hands that requires light assistance these gloves will save the day!
12) Ring Toss: Game night with the bros just got a little sporty.
13) Wilderness Art Print: Bring the wilderness to him! I'm loving these posters to remind him of the great outdoors!
14) Chapter Dopp Kit: Even if he is only taking a staycation this dopp kit is waterproof and easy to wipe clean. Not to mention comes in super fun colors!
15) BOMBAS ankle socks: Adulting requires socks. Make sure they are at least comfortable and high quality like these BOMBAS.
16) UGG Scuff Slipper: No winter is complete without some slippers and you can't go wrong with UGG.
17) Patagonia Windproof Vest: I'm a sucker for a man in a vest. This one from Patagonia reigns supreme and is the ultimate barrier between the cold and wind!
18) Turntable: Dance parties are must over the holidays. Crank it to max volume!
19) Hot Sauce Kit: Make your own special sauce with your very own kick from chipotle and guajillo peppers!
20) UGG Joggers: Comfortable yet stylish. Better get 2!
21) Guitar Pop Chart: Test his Rock History 101.
22) American Whiskey Candles: Now the whole room can smell like friendly, handsome gentleman.
23) Beer Caddy with Bottle Opener: Meet the man bag of 2020.
24) Fix it Kit: This is a life savor when you need handy tools to fix, well, anything!
25) Library Card Socks: Because fun socks are always a must!
***This post is not sponsored. I have purchased a few of these items myself! Also, a few of these links are affiliate! Thanks for supporting CGM!***