CGM 2020 HOLIDAY GIFT GUIDE: STOCKING STUFFERS UNDER $25
25 amazing stocking stuffers for under $25! Cookbooks, spa like treatments, spice mixes, and the perfect coffee mug . You'll find something in this list to stuff those stockings full!
Trying to decide what to get folks for the holidays can be tough. Not to mention expensive. Below I've curated a collection of the best gifts under $25 that will make people jump for joy without breaking the bank.
My favorite part about Christmas is when we open our stockings. It's so personable and fun! Take a peek around, fill up your virtual cart, and start wrapping!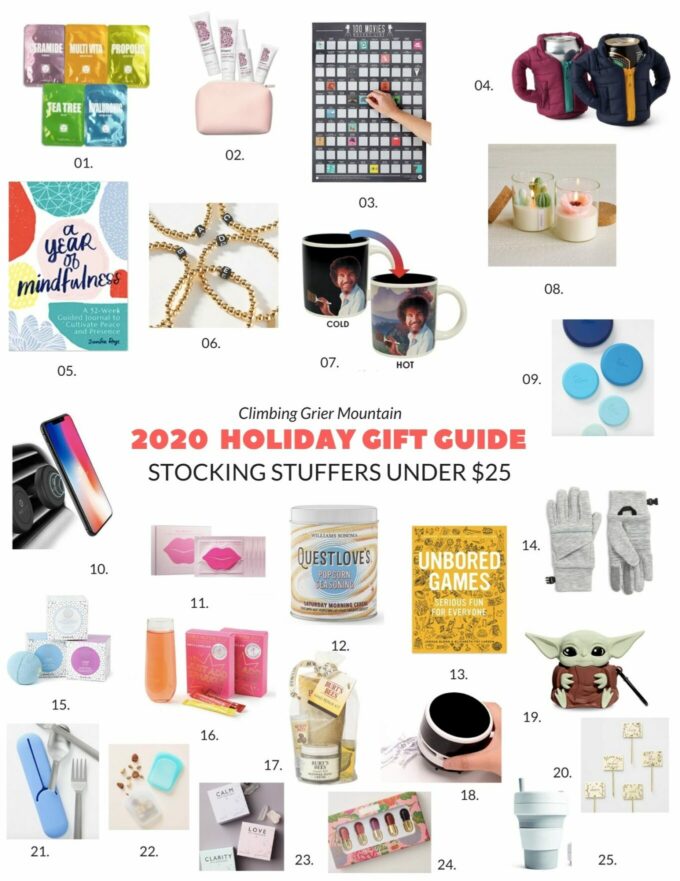 1) Derma Care 5-Pack Face Mask: This pack of facial sheet masks combines vitamins, minerals and natures finest to create a healthy glow on the go!
2) Briogeo Frizz Travel Kit: No one wants frizzy hair during the holidays. This travel kit will take care of that dry, brittle hair and make those family photos way easier to shine!
3) 100 Movies Scratch Off Poster: If you've finished Netflix this movie poster will keep you busy!
4) Cold Beer Coats: The koozie just became gram worthy.
5) A Year of Mindfulness: How we move past 2020 and into a better head space.
6) Monogram Stretch Bracelet: Such a simple and beautiful piece of jewelry that coordinates with any outfit! (*the picture photo is from Anthropologie. Unfortunately, they are sold out, but the ones linked are a good substitute!)
7) Bob Ross Heat Changing Mug: Get inspired as you sip your coffee with some pretty little trees.
8) Terrarium Candle: These candles are stunning and bring beauty to any room you are in!
9) Fruit & Veggie Food Huggers: Because foil was so 2019.
10) Magnetic Phone Car Mount: Texting and driving is no good. This is a simple solution to keep that phone visible and your hands free.
11) All Natural Infused Lip Masks: Wearing masks these days can leave our lips dry. These lip masks will hydrate those dry lips!
12) Saturday Morning Cereal Popcorn Seasoning: Up your Netflix and chill game by spicing up your popcorn situation!
13) UNBORED Game: Now we have no excuses.
14) Stretch Fleece Running Gloves: A cozy fleece lining helps keeps fingers warm while exercising and using the touchscreen (*the picture photo is from Nordstroms. Unfortunately, they are sold out, but the ones linked are a good substitute!)
15) CBD Bath Bombs: Make your bath soothing with these CBD Bath bombs. Self-care ritual that is the bomb!
16) All-Natural Edible Glitter: Because every drink should be festive AF.
17) Burt's Bees Hand Repair Gift Set: 2020 has been hard on our hands. Rejuvenate them this hand repair kit!
18) Portable Desktop Sweeper: Think of this as your portable office cleaning crew.
19) Yoda Baby Airpod Cover Case: Cutest carrying case EVER!
20) Cheese Markers: Now you'll know which flavor of cheese is what! So simple yet elegant. Perfect for those charcuterie nights! (*the picture photo is from Anthropologie. Unfortunately, they are sold out, but the ones linked are a good substitute!)
21) Porter Utensil Set: Keeping COVID at bay when you go to a restaurant by using your own utensil set.
22) Stasher Pocket Bags: The perfect home for your snacks on the go!
23) Mini Stone Gift Box: A thoughtful gift to help someone channel clarity, love, and calmness.
24) Mini Lip Pill Gift Set: Shade for every mood!
25) Stojo Collapsible Coffee Cup: Still one of the best inventions! Grab a coffee to go, sip, and tuck back in your bag. So easy and affordable.
***This post is not sponsored. I have purchased a few of these items myself! Also, a few of these links are affiliate! Thanks for supporting CGM!***