Cobb Egg Salad Toasts
Cobb Egg Salad Toasts are perfect as a snack or lunch on the fly! Made with the usual Cobb salad ingredients and just as tasty!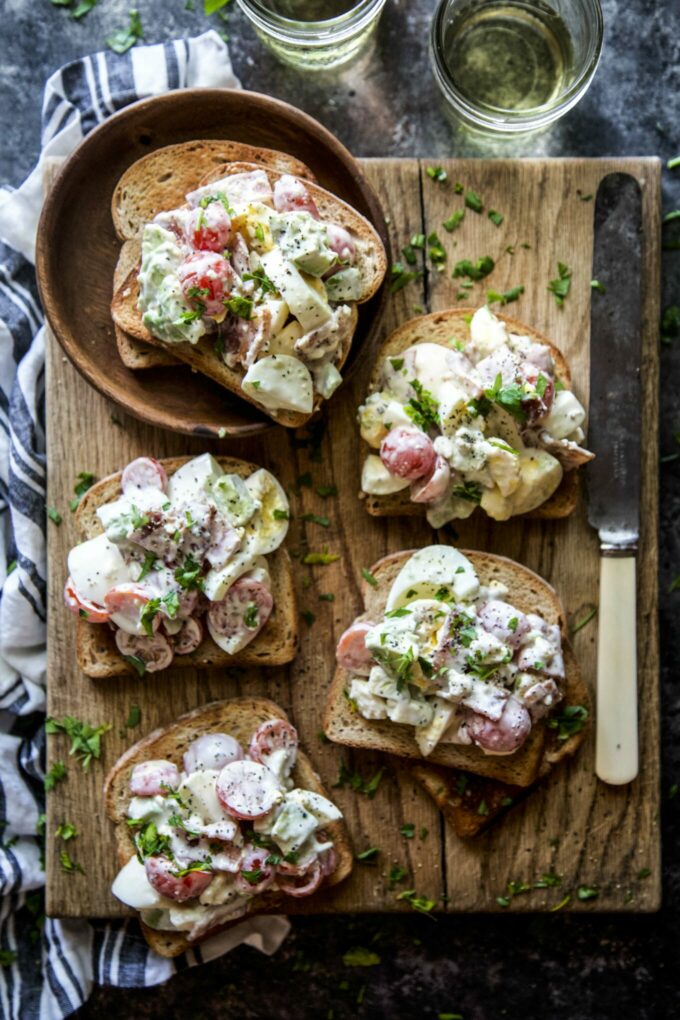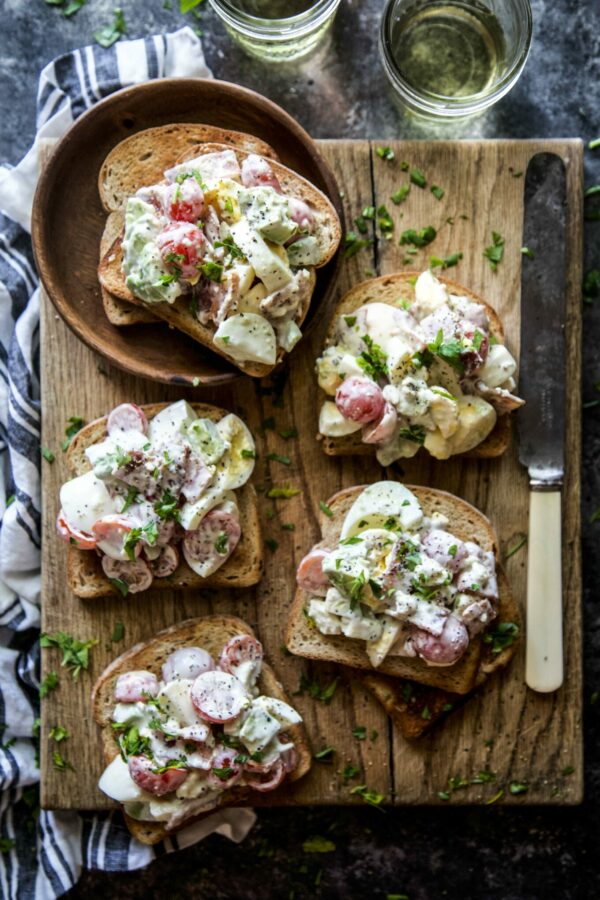 We are in the home stretch.
Can you believe it's the last week of June?!
Cue: slight panic attack. That means next week I officially begin my third trimester. DO WHAT?! I am so not ready for these final three months to begin. Isn't that when things start to get real, real?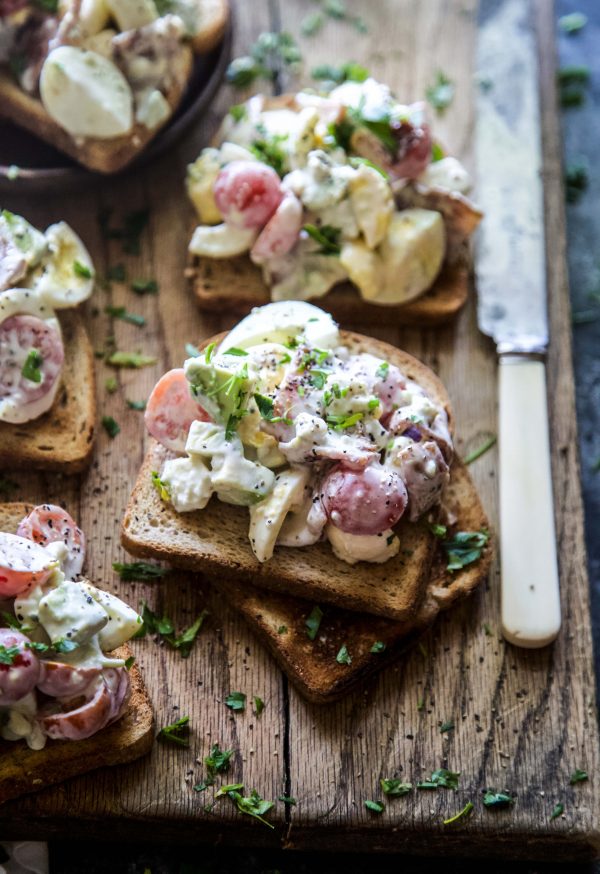 Besides my expanding belly and the need to constantly be nesting, we are picking up the pace with the upstairs demo. Plus, I am trying to get our family room to a place of zen since I will be spending a majority of my time either in my bedroom or in front of the TV nursing.
Seriously, even as I type this my anxiety level just keeps on rising. SO MUCH TO DO! Well, as my mother says, take one thing and day at a time. I think I need to be realistic and realize that not everything will be done. Which totally pisses me off, but that is life!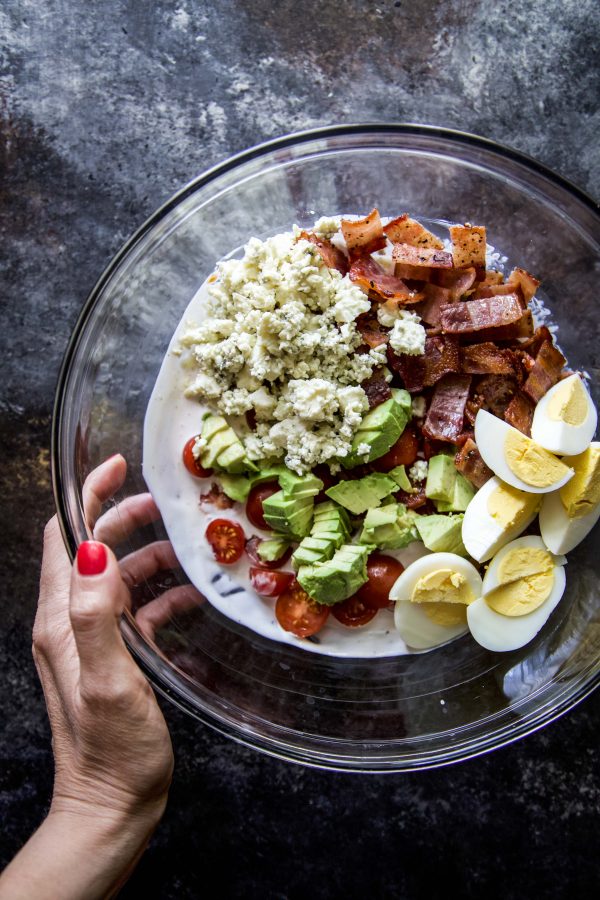 So, rather than word vomit to you my nesting woes let's talk about today's tasty recipe. On the salad scale my favorites range from Greek to Caesar to Cobb. I really don't branch out to far from these fellows because when you start throwing in beets, kale, and sunflower shoots, I get lost.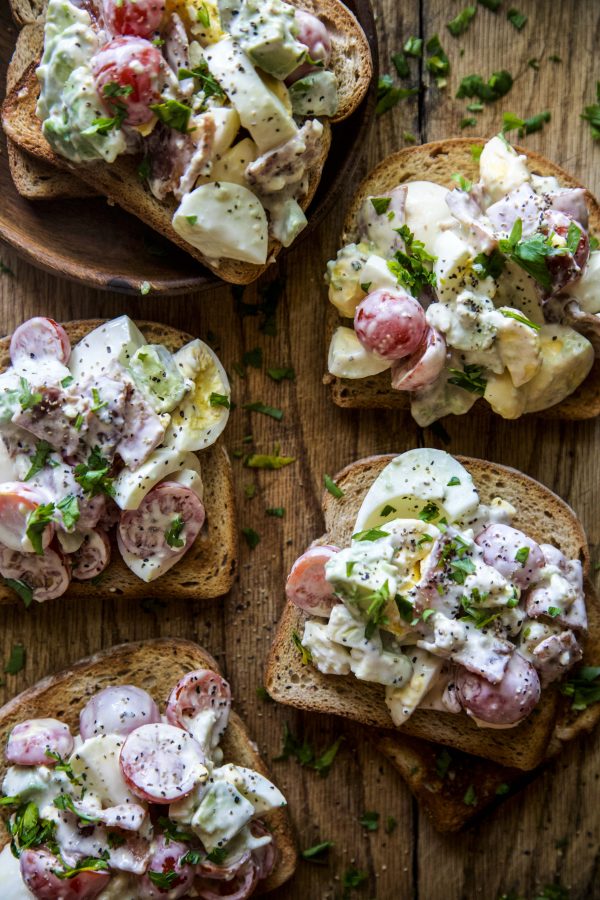 Instead of the base of this salad being lettuce, why not toast? I know toast is a carb and very taboo at the moment. BUT! One slice will not bring down your macro count! Besides with the Cobb salad fixings generously slathered on top you'll never miss the lettuce.
Make a big batch for the week and devour these Cobb Egg Salad Toasts as a snack or as a quick lunch. Either way, it's a good distraction from the to-do list!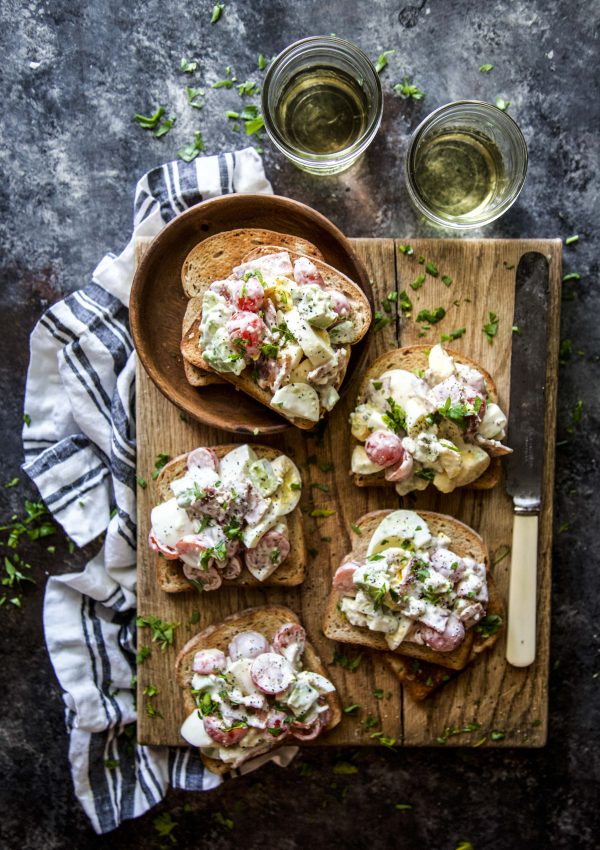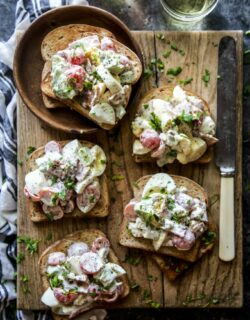 Cobb Egg Salad Toasts
Ingredients:
3 tbsp mayonnaise
3 tbsp Greek yogurt
2 tbsp red wine vinegar
8 hard-boiled eggs, cut into pieces
8 pieces cooked bacon, chopped
1 large avocado, chopped
1/2 cup crumbled blue cheese, plus more for garnish
1/2 cup cherry tomatoes, halved
8 pieces sourdough bread slices, toasted
Fresh chopped parsley, for garnish
salt and pepper to taste
Directions:
In a small mixing bowl combine mayonnaise, Greek yogurt, red wine vinegar, kosher salt and pepper.
In another large serving bowl, add the hard-boiled eggs, bacon, avocado, blue cheese, and tomatoes. Drizzle the mayo mixture over the egg mixture. Gently toss to combine.
Next, take a piece of sourdough and top the Cobb salad mixture on top. Garnish with fresh parsley. Repeat process with remaining toast!
All images and text ©