Foodie Fridays: Braised Blood Oragnes
"I vant to suck your blood……."
Well, not really. Gross. But you can probably guess the topic for today's post: Blood Oranges. I have always been bamboozled by these smaller versions of oranges. In fact, I have never actually tasted one.
Hold on.
Talk amongst yourselves for a moment. I'll give you a topic: Taco Bell meat. Real or not? Discuss.
These are flipping weird but twangy. I almost feel a little vampy now that I sunk my teeth into a slice. But this is isn't a Twilight highlight….so let's get back to business.
Blood oranges are a type of orange with a blood-colored flesh. The unique crimson flesh is owed to, anthocyanins. Say that 10 times fast. Anthocyanin is a pigment commonly found in flowers and fruit, but uncommon in citrus fruits. Might I suggest using this factoid at your next cocktail party.
Not only are blood oranges extremely healthy for you but there are a zillion ways to add this antioxidant to your dish.  Marmalade's, beers (oh yeah!), to vinaigrette's for salads, and orange zest for baking are all foods that benefit from the blood orange.
Well, today we are going to take a different path. Instead of using them as a sweet application for cocktails or ice cream we are going to braise blood oranges. Braising is just a fancy cooking term meaning; to cook in liquid for a long period of time.
I found this recipe. I bet you can't guess where.? Bon Appetit. This magazine is just naughty. It's full of delicious recipes and amazing pictures of food you want to…well, you know.
Anyways, it doesn't get much easier than this folks. I'm talking 3 easy steps to kick your weeknight chicken dinner up a notch.
1. Slice oranges and arrange them in a baking dish.
2. Sprinkle with salt, rosemary, butter and pour enough chicken broth to cover oranges.
3. Place oranges in oven for approximately one hour at 350 until translucent.
Once cooled, pour sauce over sauteed chicken breasts, tofu, flank steak, or sticky rice and devour!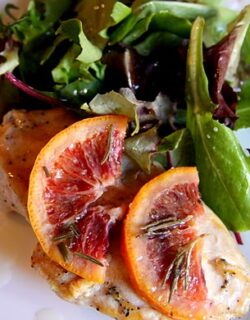 Braised Blood Oranges
Ingredients:
2 blood oranges
1 teaspoon rosemary, chopped
1 teaspoon unsalted butter
1 cup low-salt chicken stock
Directions:
Pre-heat oven to 350 degrees.
Cut blood oranges into pretty slim rounds. Spray a baking dish with non-stick cooking spray. Place orange slices in a glass backing dish. Cover with salt, rosemary, and butter. Pour chicken stock over the oranges. Cover the orange dish with foil. Braise for about an hour or until translucent. Serve with chicken breasts and a salad for an easy weeknight meal.
recipe from Bon Appetit
All images and text ©