apple trifle with bourbon whipped cream + caramel drizzle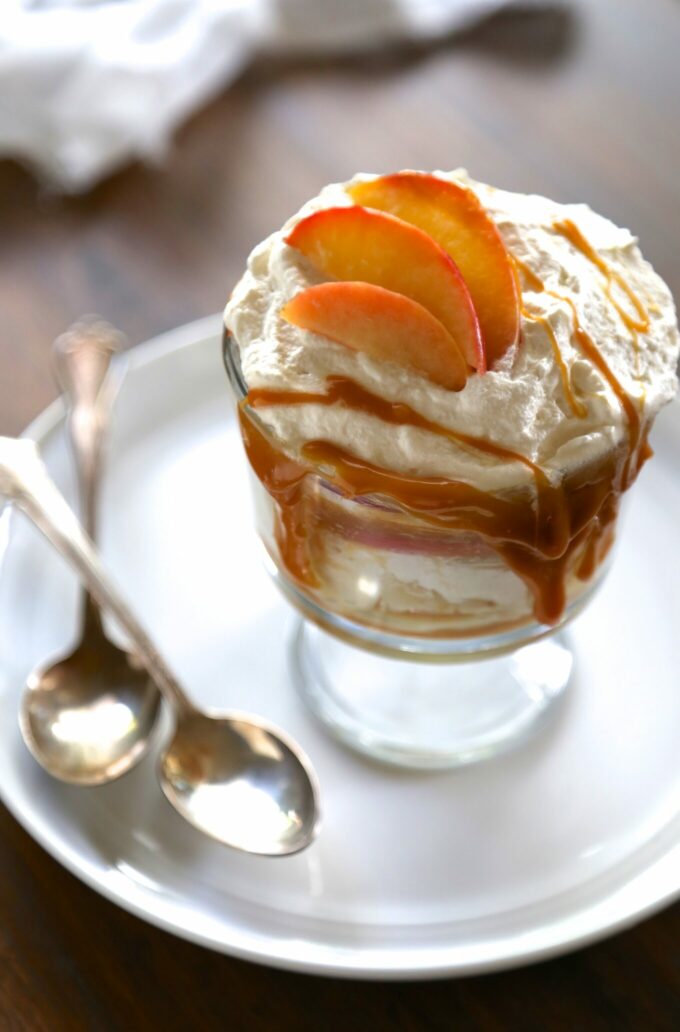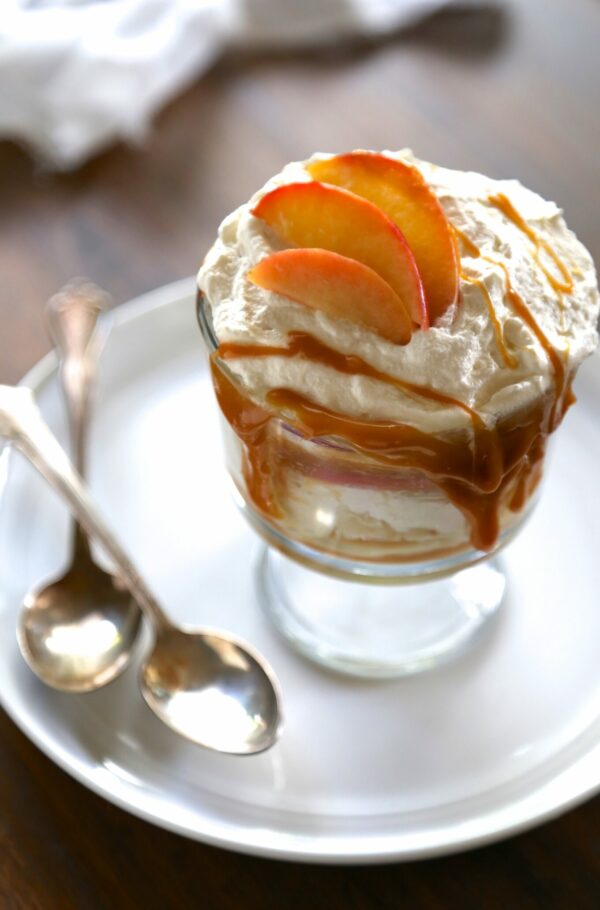 I'm a sucker for Buzz Feed quizzes.
Please tell me I'm not the only one?
If you haven't heard of Buzz Feed or taken one of their quizzes, I highly suggest checking it out. I mean, don't you want to know which Goonies character you are most like? Or know which super hero best matches your personality? Geez….do I sound like a Buzz Feed pusher? There's also a Mean Girls quiz that's quite epic. Just saying.
Anyways, one of the quizzes I took recently was "which country do you actually belong in." For some reason I was a little nervous about the answer. Why? I dunno. Sometimes I feel like Buzz Feed is a giant crystal ball that whispers life's secrets to us. Clearly I need to get out more. But! The answer to which country do I actually belong in was, New Zealand!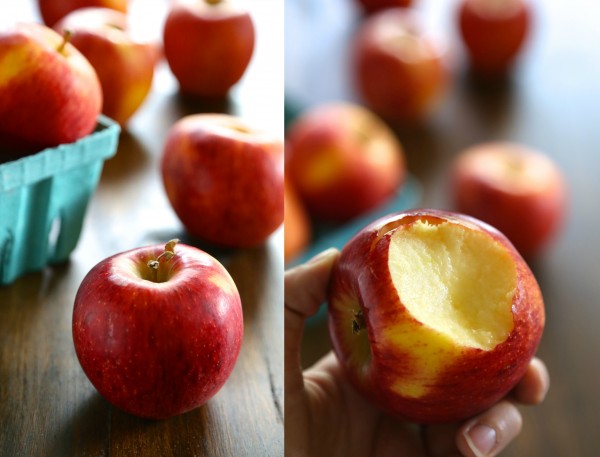 I do have a minor obsession with that country. Or, is it a minor obsession with Sookie from True Blood? Mr. B and I almost traveled there a couple of years ago, but ended up investing in a restaurant instead. Someday we plan to visit because clearly Buzz Feed is telling us too.
But until we book our flights, I am going to have to settle on tasting New Zealand from afar. One of their produces that I am particularly fancying at the moment are their Envy apples. These bright red apples with a crisp interior are available in the g-store now until the end of October. Envy apples are sweet in flavor and are ideal for fruit plates, salads, and desserts.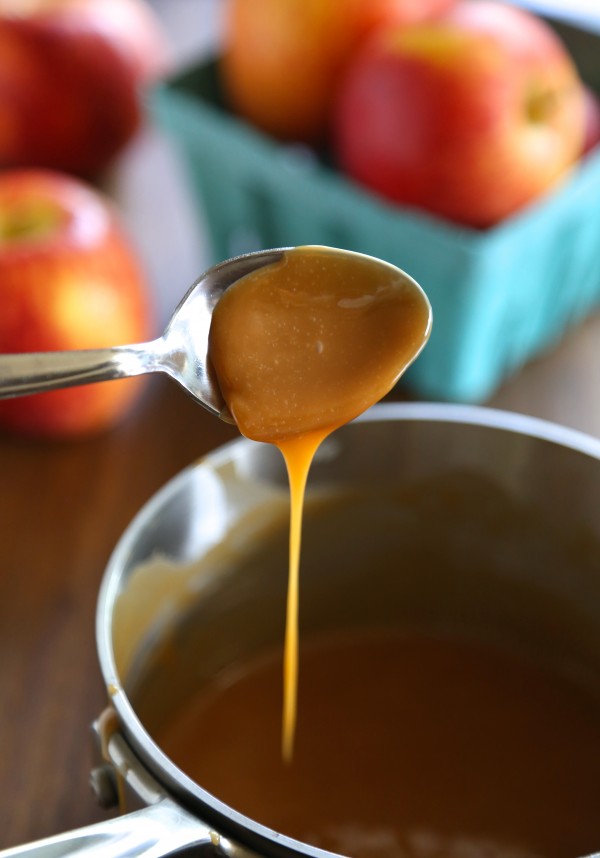 Oh, and speaking of dessert, can we please talk about this apple trifle with bourbon whipped cream and caramel drizzle? Think apples tossed in butter, caramelized then layered between moist white cake cubes, drizzled with caramel and topped with a fluffy bourbon whipped cream. One or two bites of this apple trifle and you'll be purchasing your tickets to New Zealand.
HOLD ON! The fun doesn't end there. Eight other food bloggers and I are hosting a fun giveaway, too!
Here are the details:
– Enter your information below in the Rafflecopter.
– One lucky winner will receive a mega case of these amazing Envy Apples and a $150 Visa gift card. Dollar bills, y'all. AND…your entry will also give you an entry towards a GRAND PRIZE of a new Vitamix blender and a $100 Whole Foods gift card. OMG. So, be sure to head back this way again on July 30th to enter for other great prizes.
Make sure and check out these fab recipes from my blogging buds featuring envy apples:
Grilled Pizza with Apple and Sausage from Cook the Story
Easy Recipe for Apple Pie Ice Cream Bowls from It's Yummi!
Summer Salad with Roasted Envy Apple Vinaigrette from Pastry Chef Online
Grilled Apple Turkey Burgers from Cooking with Books
Apple Pie Milkshake from Big Bear's Wife
Apple Pie Ice Cream Sandwiches from Around My Family Table
Apple Pie Bites with Caramel Dipping Sauce from Real Housemoms
Apple, Sausage and Onion Kebabs with Honey Mustard from Doughmesstic
Double Berry Apple Crisp from Nutmeg Nanny
Also, we will be hosting a live Twitter chat tomorrow (6/29) at 8pm EST to talk all things apples. Come chat with us because you could win some fun apple swag and VISA gift cards. Follow along the hashtag #loveNZfruit! And for more juicy information on Envy Apples make sure to check out their website,  Twitter , Facebook pages.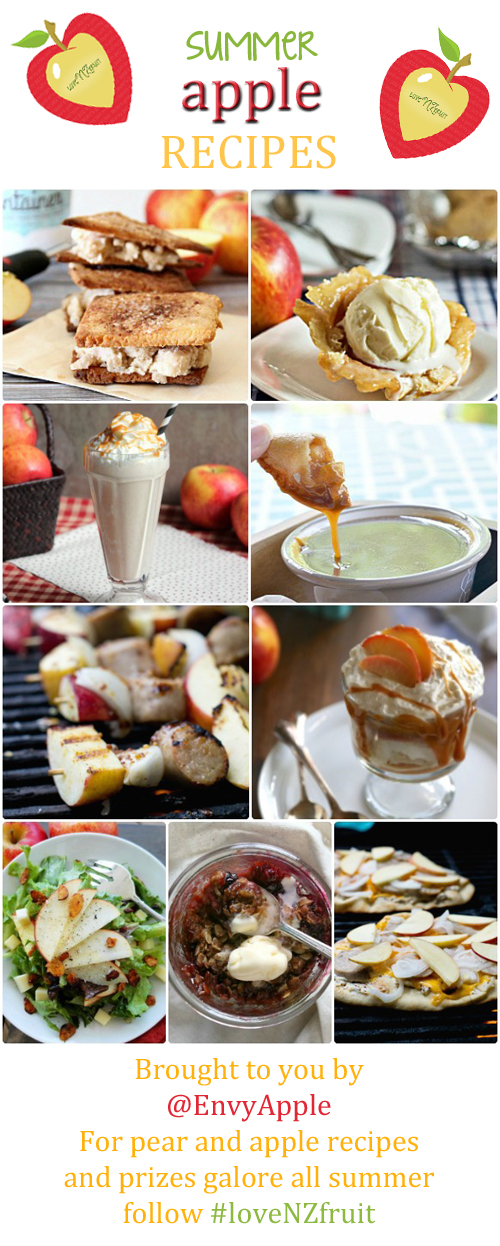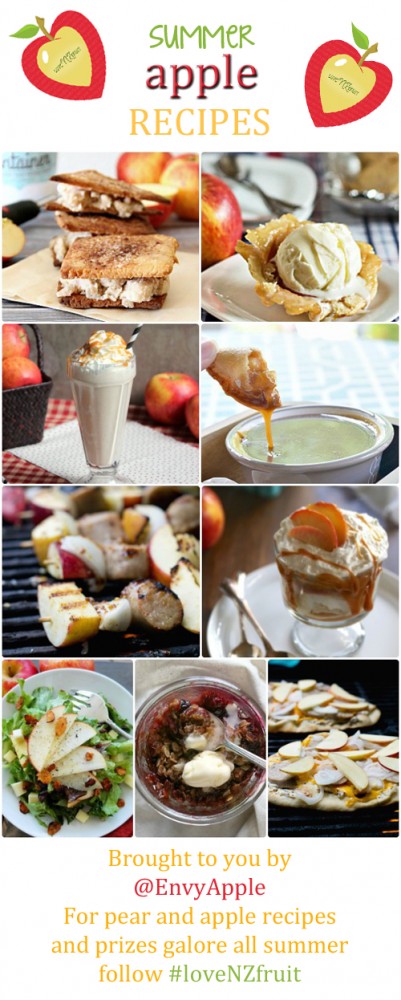 ***This post was sponsored by Envy Apples and I was compensated for my time. As always, all opinions expressed are 100% my own.***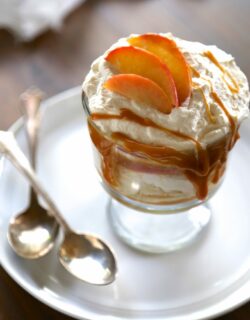 Apple Trifle with Bourbon Whipped Cream & Caramel Drizzle
Ingredients:
for the apple trifle:
1 homemade or non-homemade white cake, cut into one-inch cubes
3 large Envy apples, sliced thinly
2 tablespoons unsalted butter
for the bourbon whipped cream:
2 cups whipped cream
1/2 teaspoon granulated sugar
1 teaspoon vanilla extract
2 tablespoons bourbon
for the caramel drizzle:
1 bag candy caramels, wrappers removed
1/3 cup unsweetened condensed milk
Directions:
for the apple trifle:
In a medium skillet preheated to medium heat, melt butter. Add apple slices and saute until slightly brown. Remove from skillet and let cool.
To make the trifle, place four to five apple slices in the bottom of jar. Next, place three cake cubes on top. Pour caramel on top. Pipe some of the bourbon whipped cream on top. Repeat process for another layer. On top of the final layer of bourbon whipped cream, garnish with a few apple slices, and drizzle tops with caramel.
for the bourbon whipped cream:
In a mixer fitted with a whisk attachment, pour all ingredients into bowl. On medium speed, whisk all the ingredients until light and fluffy. Take whipped cream and place it into a piping bag.
for the caramel drizzle:
In a medium saucepan, melt caramels with unsweetened condensed milk. Whisk until melted about 5 minutes.
All images and text ©