foodie fridays: buttermilk waffles and lox with capers & creme fraiche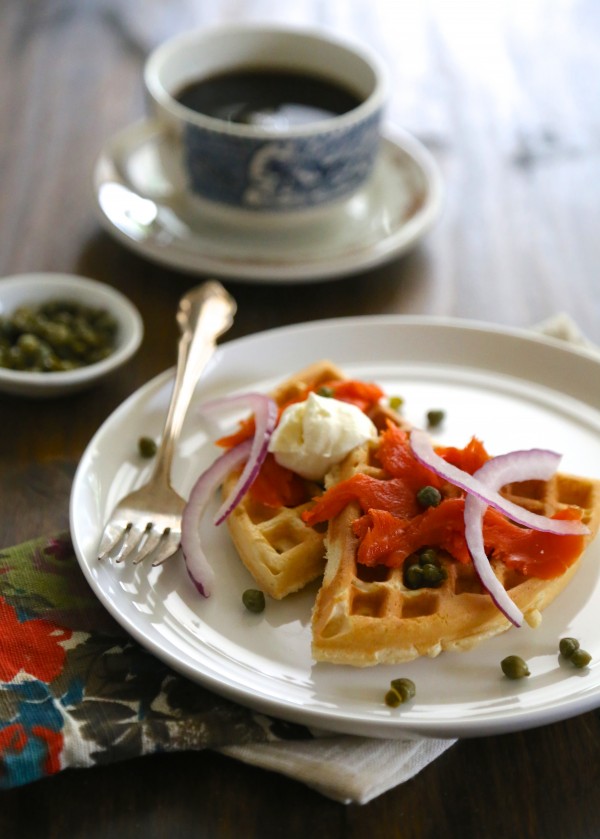 I could eat breakfast every day.
Wow, such a profound statement, Lauren. Jeez! Thank the heavens today is Friday. My battery is running low and I need to plug into some giggle juice stat. Does anyone have a Big Gulp handy? Bueller? What I meant to say, I could eat breakfast at every meal everyday. Wayyyyyyyyy better.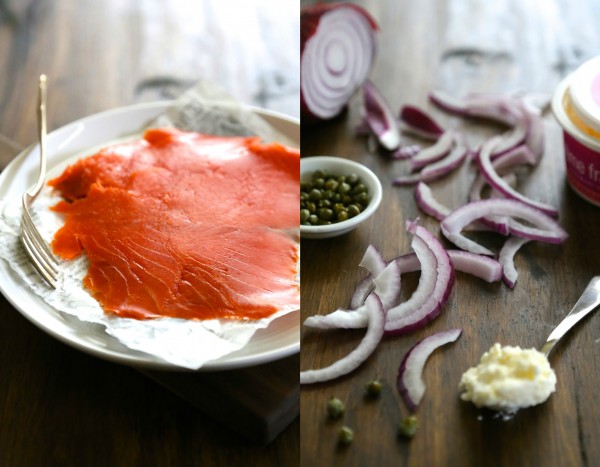 Really, one could eat breakfast at every meal. Just do what Beyonce does and "put an egg on it." What's not to like about a runny egg served up on a steak, BLT, mac & cheese, plain ol' Texas toast, or my favorite, a burger? My taste buds swoon over the runny, golden yolk. I don't know about you, but keeping the taste buds happy is 92% part of life.
Even though I could put an egg on anything, I am traveling in a different direction from standard breakfast fare. Whenever I visit NYC, I always stop at the Hot and Crusty on the Upper East Side for a bagel with lox. It's.to.die.for.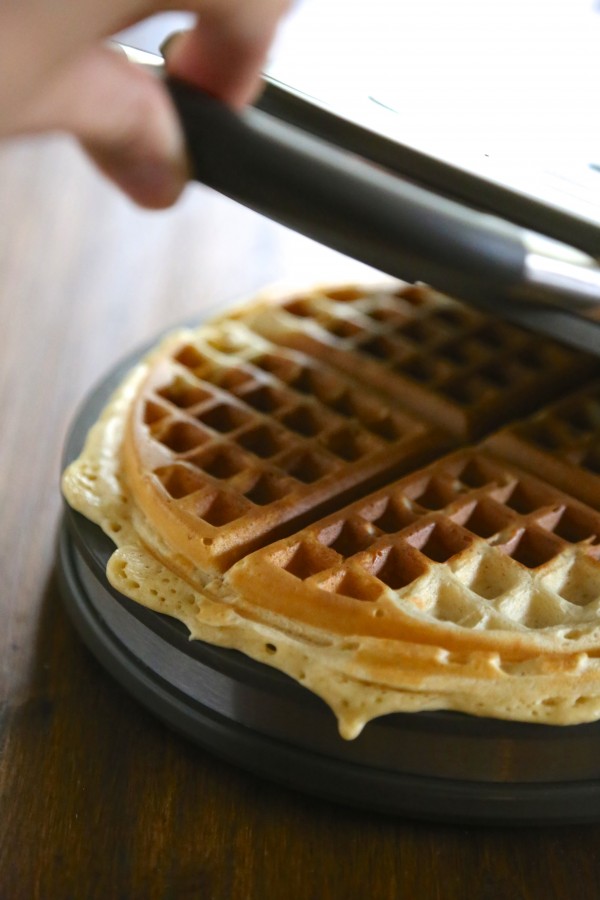 The other weekend I was craving a bagel, like I almost whipped up homemade bagels (said yours truly never!), when I realized I had waffle mix ready to go in the fridge. With a quick stop at the store for some gorgeous red lox, capers, and creme fraiche, I had made those bagels with lox sans bagel. Instead, I piled all those delicious ingredients on top of golden buttermilk waffles. Hello, breakfast 24/7.
Now, about that Big Gulp…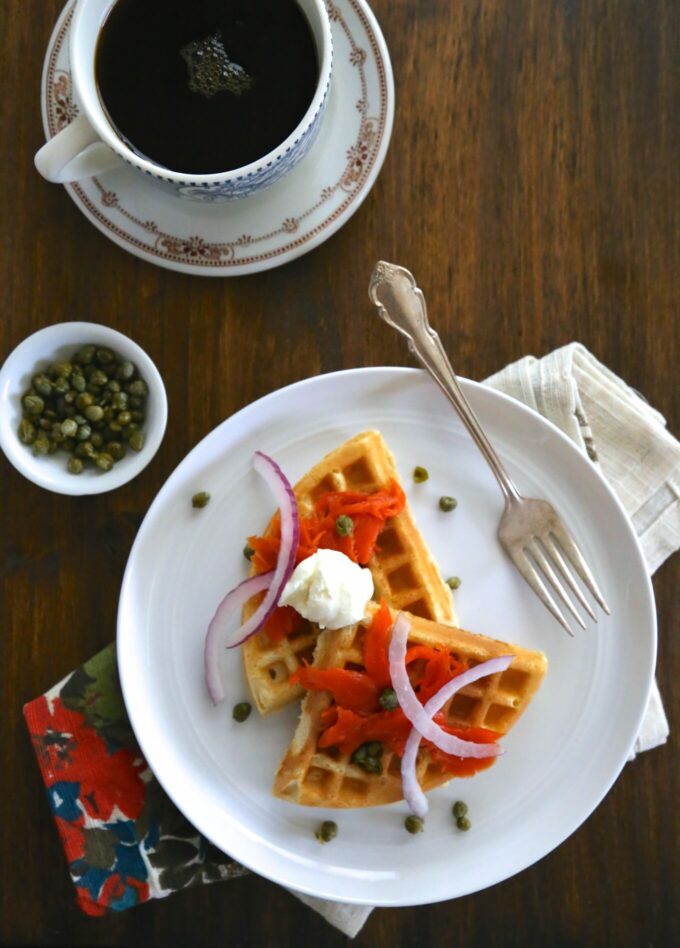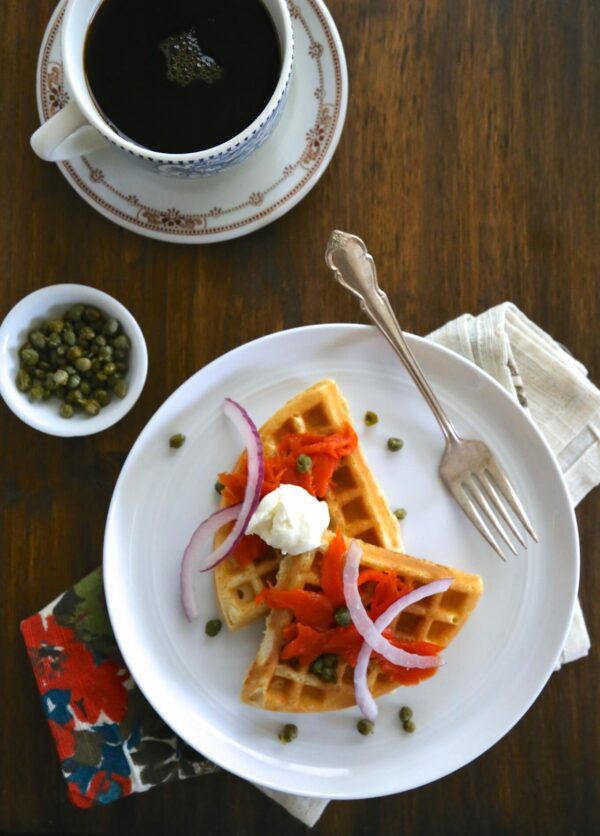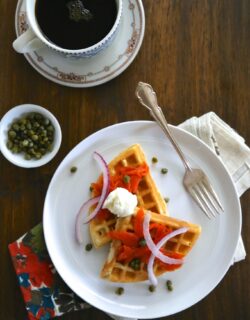 Buttermilk Waffles and Lox with Capers & Creme Fraiche
Ingredients:
1 cup Bob's Red Mill Wafffle Mix
3/4 cup whole milk
2 large eggs
2 tablespoons vegetable oil
1 lb fresh lox, sliced
1/2 cup creme fraiche
1/4 cup capers, drained
Red onion, sliced
Directions:
Preheat a waffle iron. In a large bowl, mix together the first four ingredients. Pour a 1/4 cup of the batter into the waffle iron. Close lid and then remove waffle. Keep warm until all batter has been used. To serve, put waffle on place. Top with slices of lox, a dollop of creme fraiche, slices of red onion, and few capers. Serve with a mimosa!
All images and text ©