Asian Potato Salad with Seven Minute Egg
Asian Potato Salad with Seven Minute Egg is a great side dish to jazz up your next outdoor gathering! All the spice, crunch, and creaminess makes this potato salad an 11/10 situation!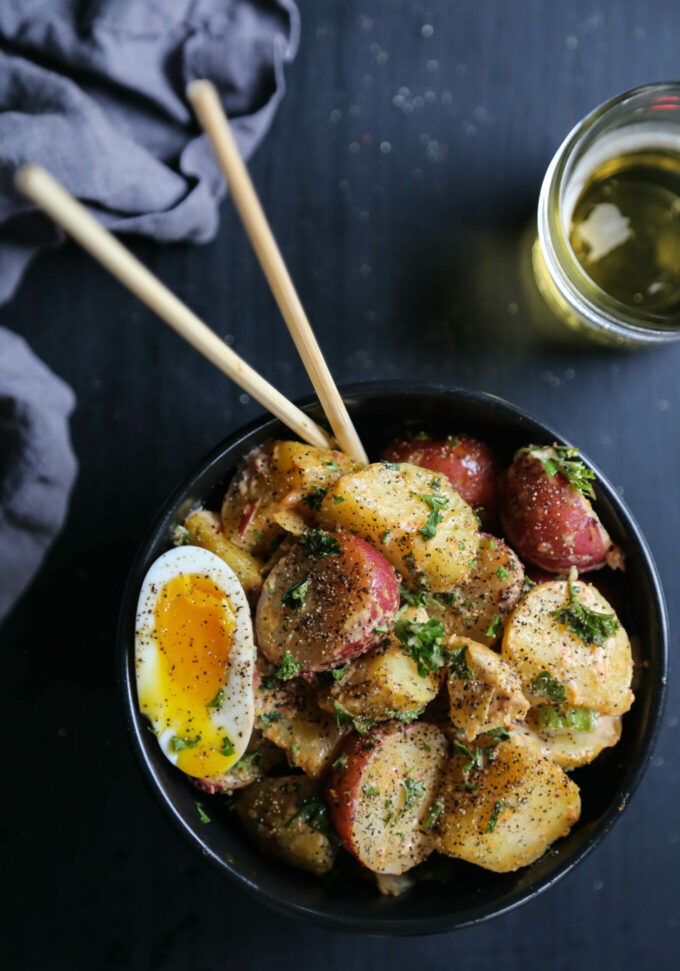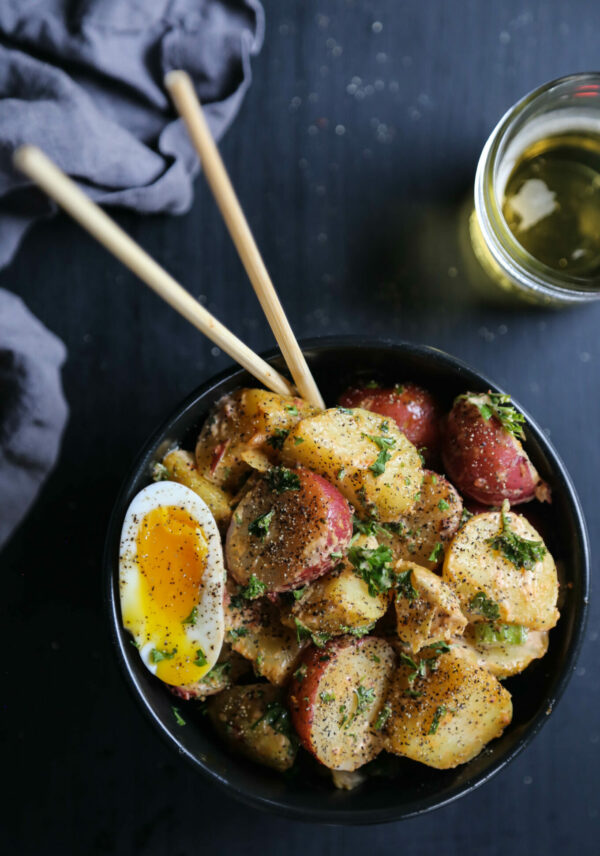 Back to the mother truckin' grind.
You GUUUUUUUUUUUUUUUUUYz. Halp.
I don't know what is worse: 1) being extremely jet lagged, 2) trying to be chipper at your 9 to 5 with jet lag, or 3) realizing your half/half expired as you pour yourself a hot cup of coffee. I am going with option THREE. My coffee ritual is one of the most important things I do in the morning – two spoons of sugar in the raw, one teaspoon of half/half, and medium-dark roasted coffee. Nothing more, nothing less. If my coffee ritual is not performed I might go Wayne Brady on a biotch.
(insert: please excuse my jet lag craziness!)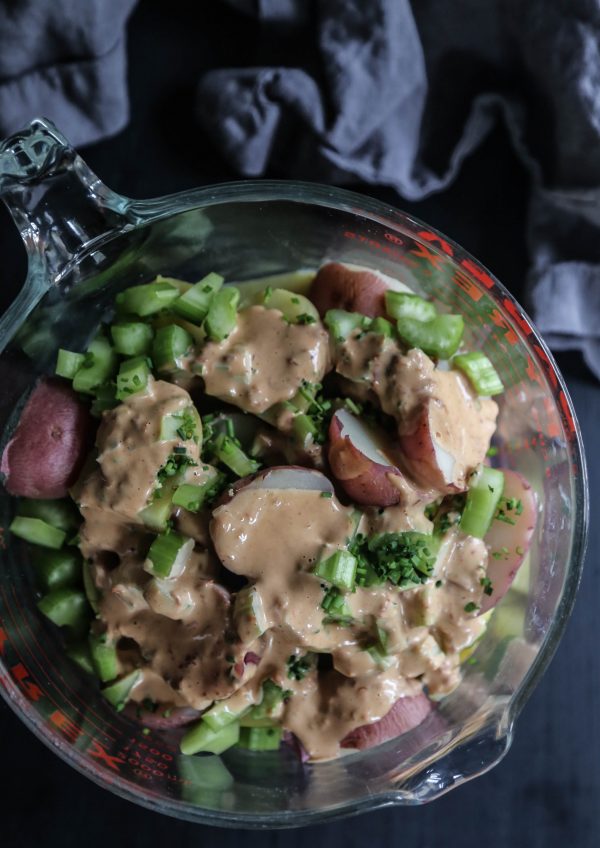 Anyway, we are back from our wonderful trip to Scotland. If you followed along on Instagram and Snapchat you saw a lot of our shenanigans – whiskey and castle tours, salmon fly fishing, and getting to race around a formula one track! If you didn't, don't worry, I have some killer recaps coming your way soon so stay tuned!
Until then, I have a serious potato salad that needs your undivided attention! Growing up my mom always made potato salads. I think that's a Midwestern THANG. Lot's, and lot's of mayonnaise salads. Anyway, she was ahead of her time back in the early 90's and made her potato salad with yogurt. Because in her mind it's not about the dressing, it's about the potatoes and the yogurt was not only healthy, but really highlighted the creamy potatoes.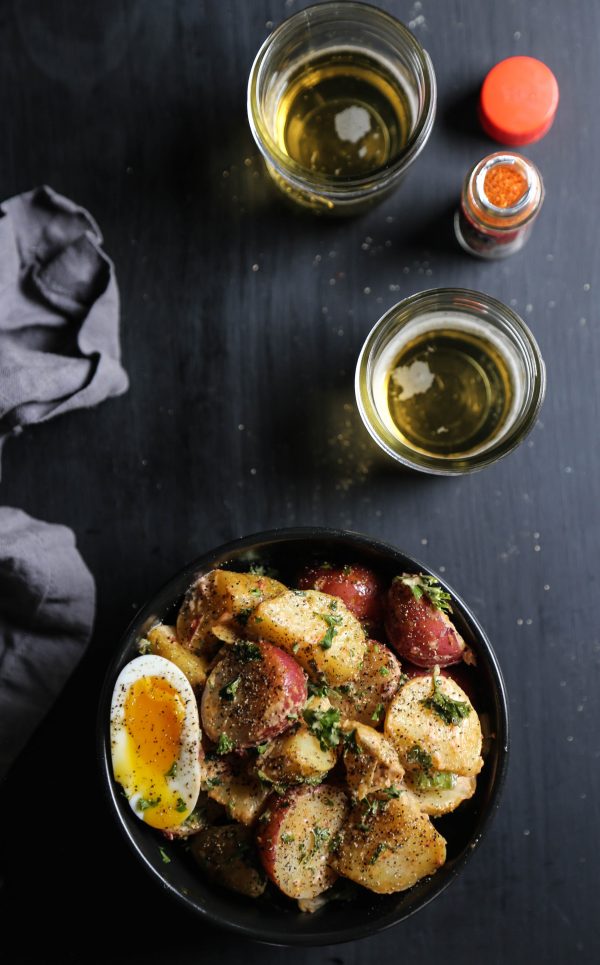 Well, this got me thinking. I didn't use yogurt in this Asian Potato Salad with Seven Minute Egg, instead I added chili garlic sauce, hoisin, soy sauce, and a minimal amount of mayonnaise. This flavor combination friends is amazeballs. Plus, with a seven minute egg on top for good measure you may never go back to plain ol' potato salad again!
Now, I'm off to find some half/half. Wish me luck.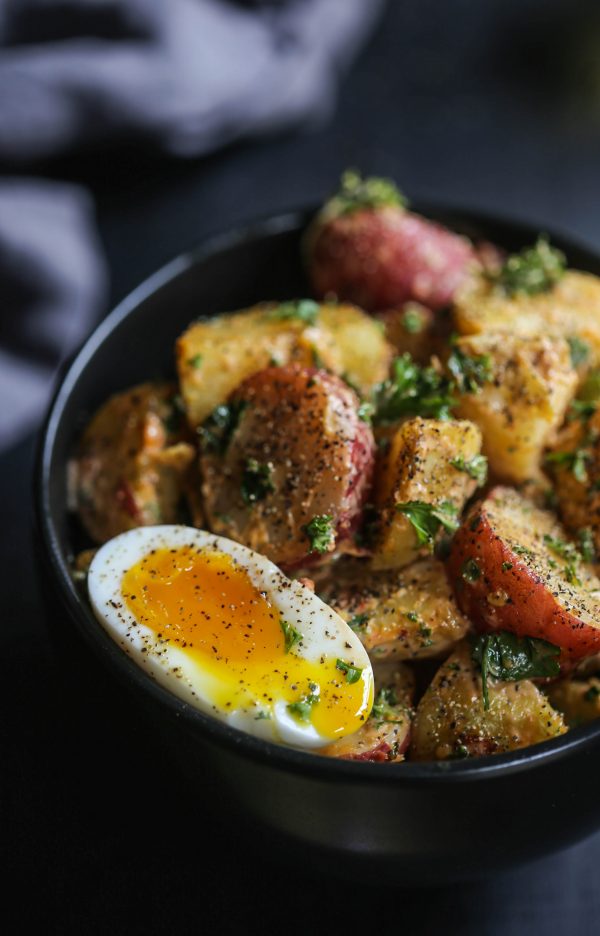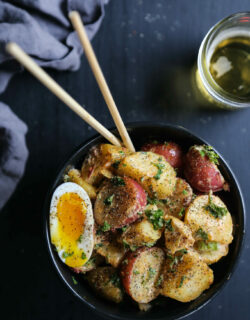 Asian Potato Salad with Seven Minute Egg
Ingredients:
for the potato salad:
2 1/2 cups multi-colored fingerling potatoes, washed
3/4 cup celery, diced
1/4 cup red onion, diced
2 tablespoons parsley, chopped
1/3 cup mayonnaise
1 tablespoon chili garlic sauce
1 teaspoon hoisin
splash soy sauce
salt and pepper to taste
for the seven minute egg:
4 eggs
Directions:
for the potato salad:
Fill a large stock pot with water. Add the potatoes and bring water to a boil. Boil the potatoes for 20 minutes or until fork tender. Drain the potatoes and let them cool completely. Meanwhile, mix together in a small bowl mayonnaise, chili garlic sauce, hoisin, and soy sauce.
Next, halve the cooled potatoes and place into a large serving bowl. Add celery, red onion, parsley, and mayo mixture. Toss to combine adding salt and pepper as needed. Top with seven minute eggs and serve!
for the seven minute egg:
To make the eggs, fill a stock pot with water and bring to a boil. Gently add the eggs to the water and set a timer for seven minutes. Once the timer goes off, move the eggs to an ice bath to cool completely. Once cooled, crack the egg slightly and remove the shell. Slice in half when ready to serve.
All images and text ©