Cajun Chili Stroganoff
Looking for a good smash-up? Well, I've got you covered with this delicious, hearty Cajun Chili Stroganoff. Mr.B's award wining chili gets jazzed up with Cajun spices, Tabasco, and sour cream to make the ultimate Stroganoff sauce. Top the Cajun chili over the egg noodles and you have a belly warming, soul soothing dish ready in 30 minutes!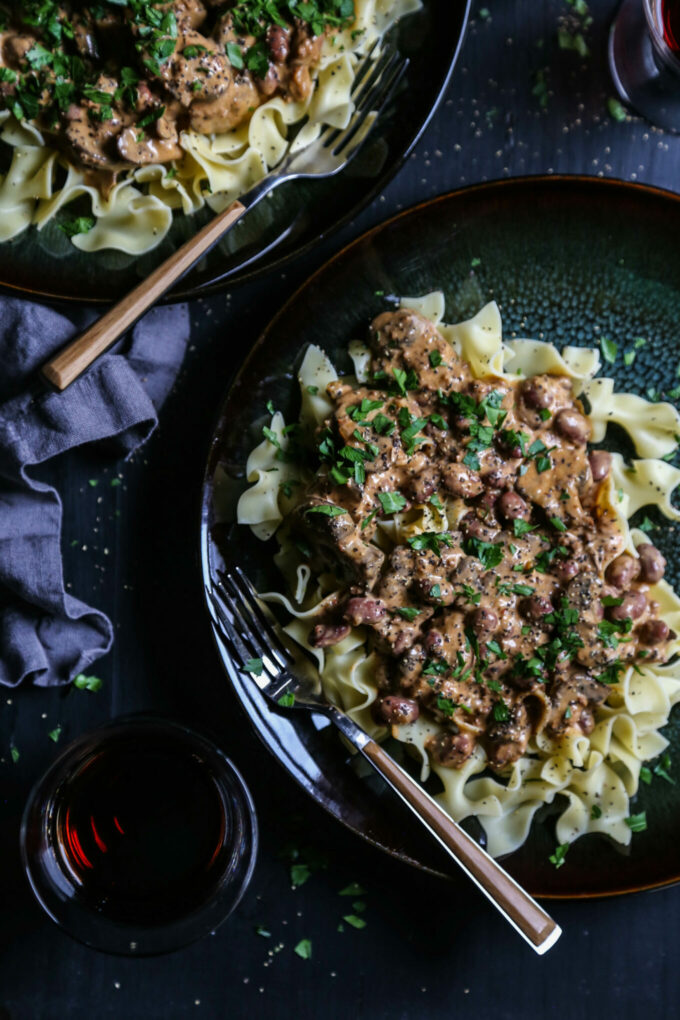 I love a good smash up.
You know this.
As the days become cooler, I immediately jump on the belly warming and comfort food bandwagon. Don't get me wrong, I love summer produce, but there is something about a big bowl of hearty soup or chili that provides a state of zen for me. Each scoop into the hot bowl provides a moment of uninterrupted thought. Or maybe it's because I actually have to take a moment to enjoy the food by cooling it down with a single breath of air?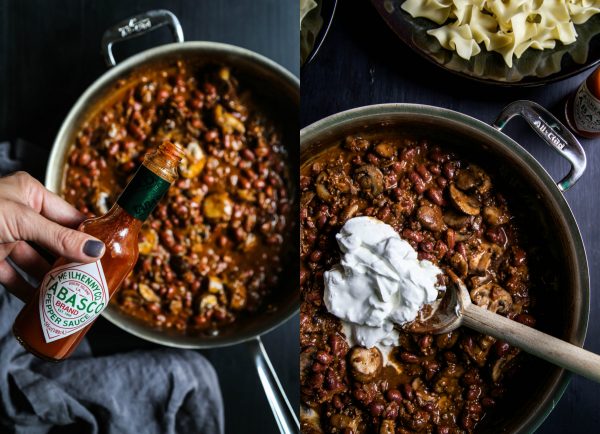 I might go with the latter. I am a notorious fast eater, which is super pet peeve I have of myself. Wait. Can you have pet peeves about yourself? Meh. No one is perfect, right?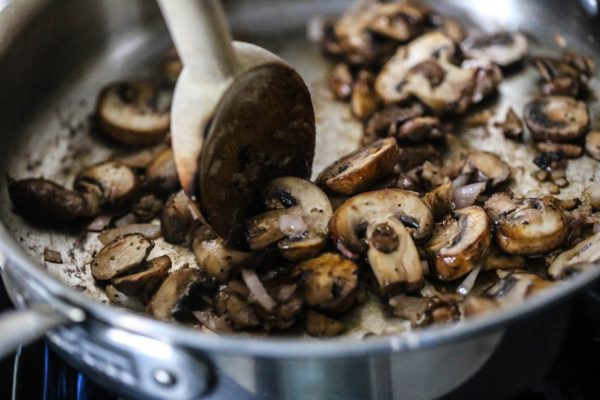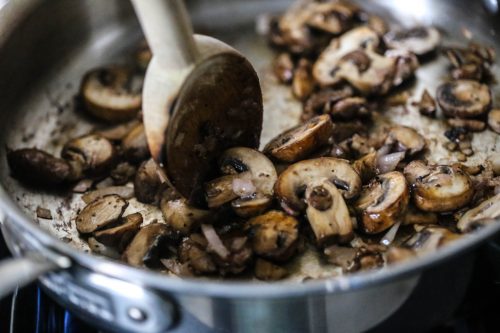 Shoot. Where was I going with all of this? Clearly it's Monday and I need 27 more cups of coffee. Okay, smash ups. As I mentioned early, the days are getting cooler and I've been jonesing for something hearty and warm. Have you guys made Mr.B's chili before? If not, it's a must-make. Fun fact: my friend Listy took it a company chili potluck and it was awarded best chili. So really it should be called Mr. B's Award Winning Chili.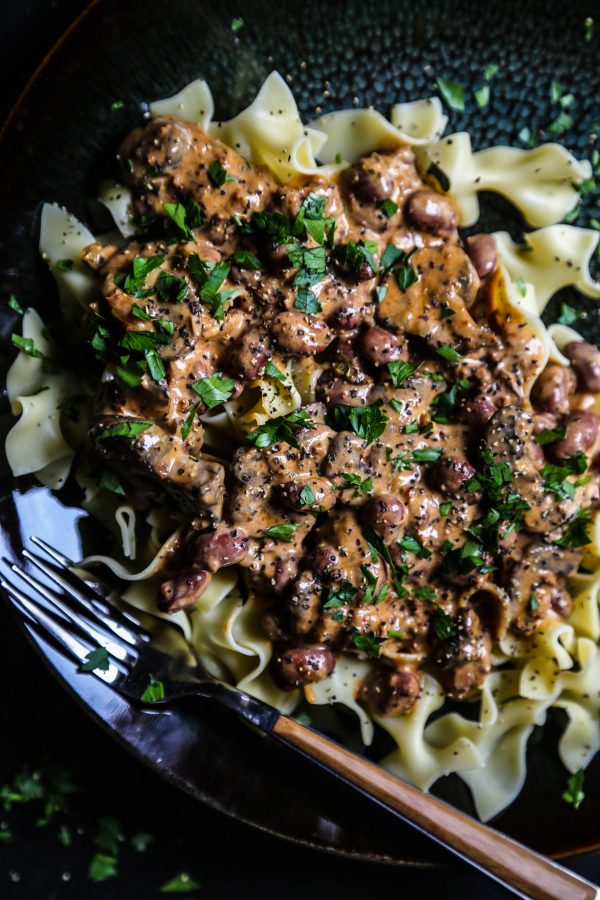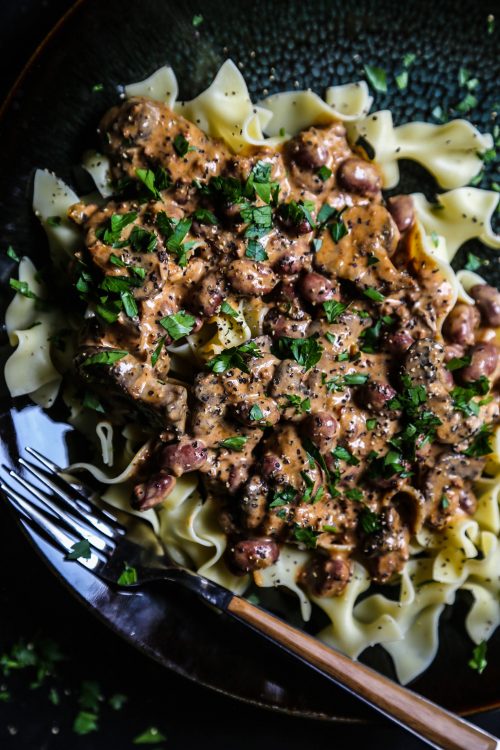 Anyways, I decided to jazz up this award wining chili by stirring in some Cajun spices and my favorite hot sauce, Tabasco. The beauty of chili is once of you have a base (beans, beef, peppers, onions) you can add whatever flavors your heart desires. Now, you can really Chuck Norris kick this chili up in addition to the Cajun spices and Tabasco flavors by adding in some sour cream and milk.
Put the stink eye away for 2.2 seconds. The sour cream and milk turn the chili into a luxurious sauce and poured over some egg noodles, BOOM! Cajun Chili Stroganoff for your face.
So, who wants to jump on the belly warming and comfort food bandwagon?
<PLOP!>
Thought so.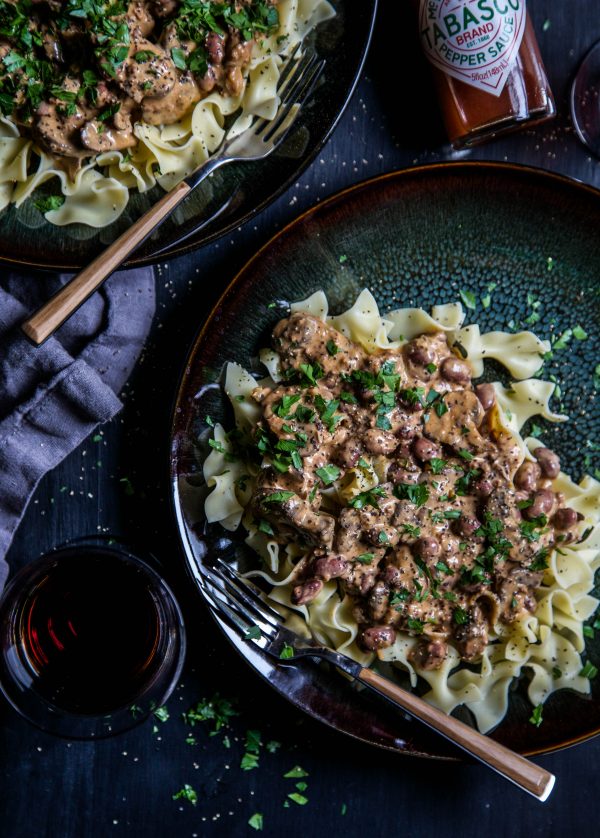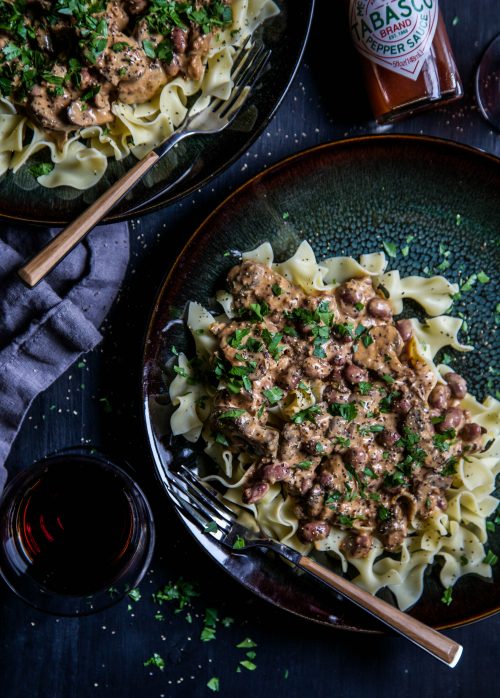 ****This post was sponsored by Tabasco. As always, all opinions expressed are 100% my own.***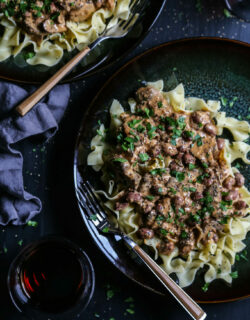 Cajun Chili Stroganoff
Ingredients:
4 cups wide egg noodles
2 cups leftover chili or
Mr.B's chili
(*highly recommend making!!)
1 tablespoon Cajun seasnoings
1 tablespoon Tabasco
1 cup cremini mushrooms
3/4 cup sour cream
1/4 cup whole milk
Parsely, garnish
salt and pepper to taste
Directions:
Bring a large stock pot filled with water to a boil. Add the egg noodles and cook until al dente about five minutes. Drain and set noodles aside.
Next, in a skillet preheated to medium-high heat add the olive oil and mushrooms. Brown the mushrooms for about three minutes then add salt and pepper. Continue to cook until the mushrooms have softened about three more minutes. Add in the chili, Cajun seasoning, and Tabasco. Stir to combine and cook for additional five minutes. Remove from heat and let stand for about five minutes. Stir in the sour cream and milk.
Divide the noodles evenly between four plates. Ladle some of the Cajun chili on top of the noodles and garnish with fresh parsely. Enjoy!
All images and text ©