Cheesy Turmeric Tuna Hummus Melts
Kickin' it old school today with this Cheesy Turmeric Tuna Hummus Melts. Fresh tuna combined with turmeric, garlic hummus, red pepper and onion piled high on a sourdough bread. Topped with Gruyere and melted until golden perfection. You'll want a big ol' bite of this sandwich!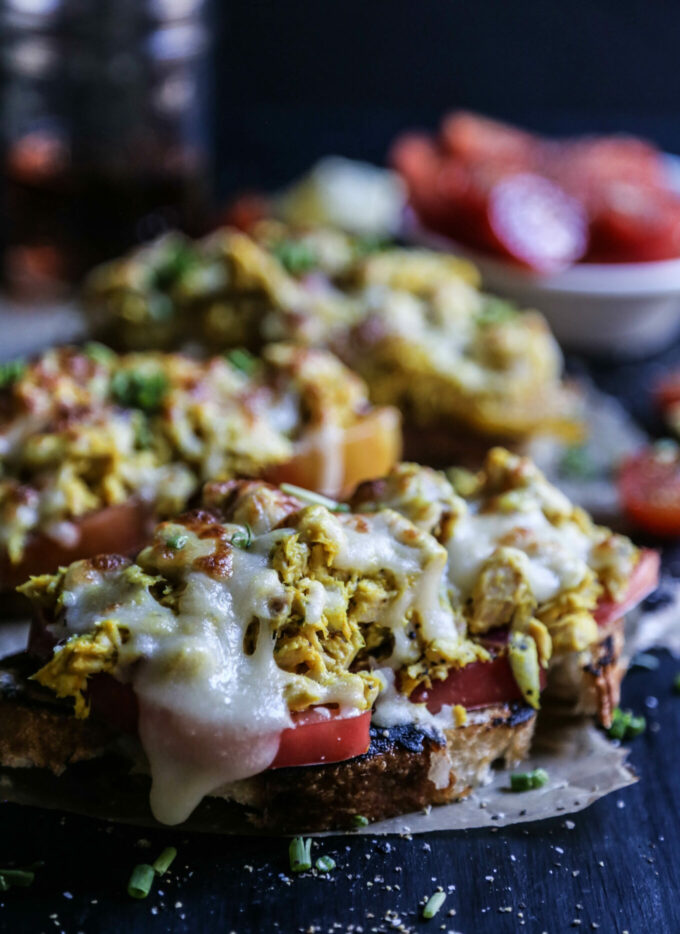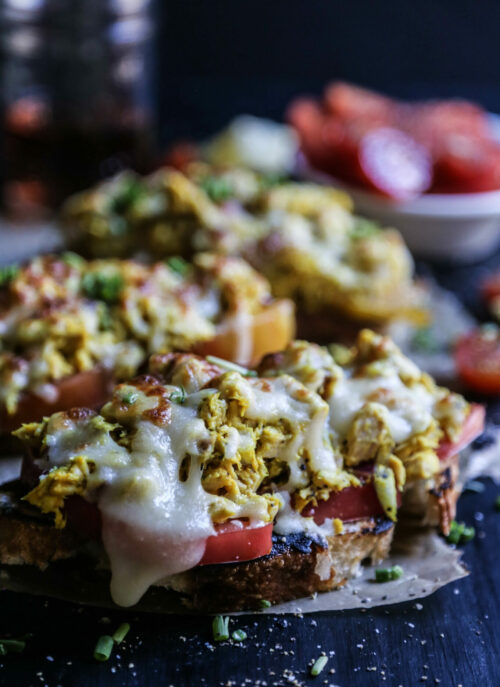 We are kickin' it old school today.
Like Vanilla Ice old school….."kick it one time, boyyyyyyyyyyyy."
By the way, whatever happened to Robert Matthew Van Winkle? Wasn't he doing car commercials in Japan? No, that's not it. Something in real estate? I think he did some DIY show. Hold on, let me WIKI for sec. Um, looks like he is going to be on Dancing With The Stars. I actually think he might crush it on the show. Did you see him dance in Ninja Turtles 2? Brilliant.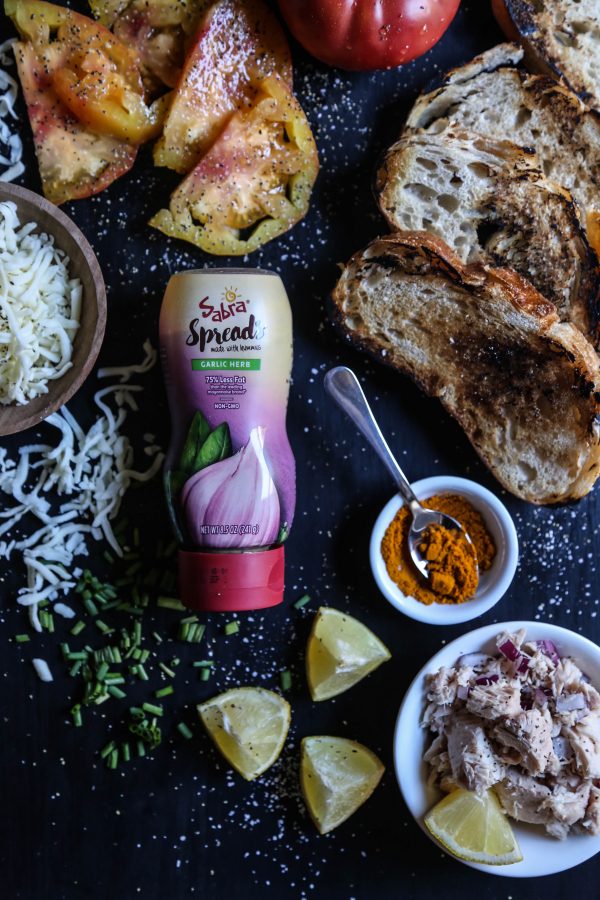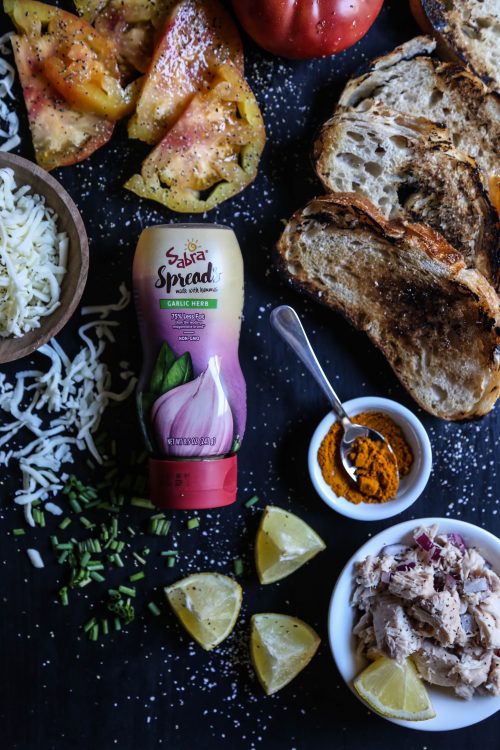 Even though we can all remember when the song Ice, Ice, Baby came out, can you recall the first time you ate a tuna melt? Growing up, our school lunch ladies made the best food. I still crave a big bowl chicken noodles with mashed potatoes and gravy. Besides the noodles, these ladies made a killer tuna melt.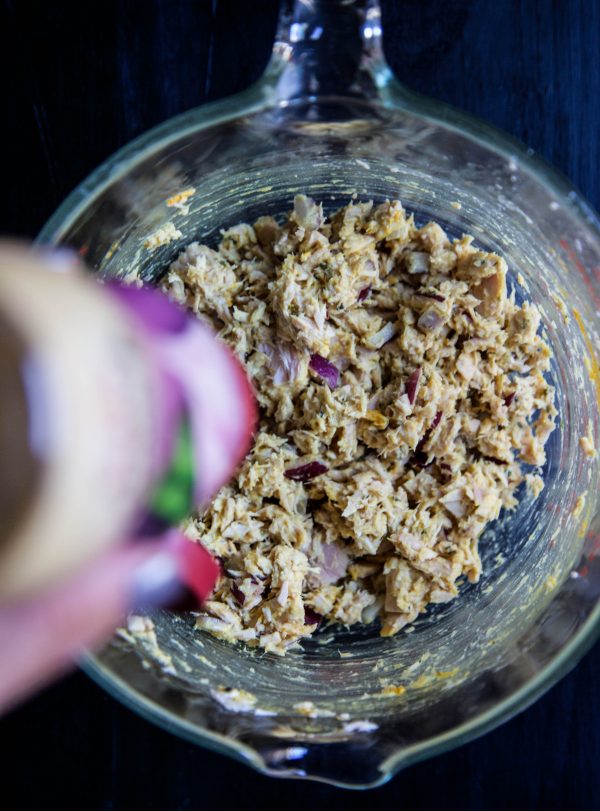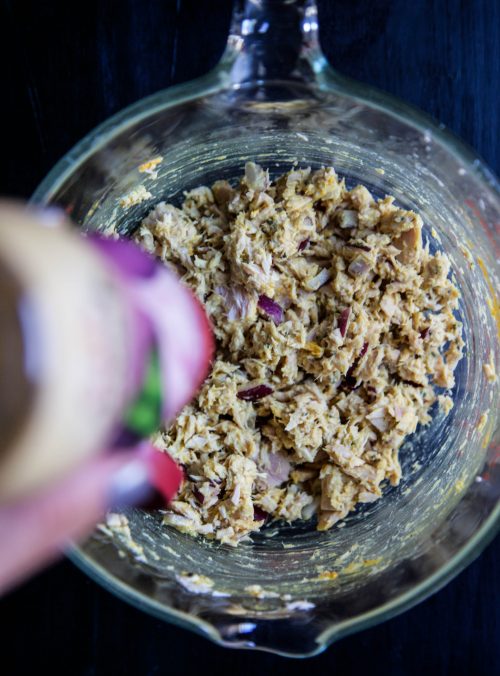 My mom used to make tuna casserole like it was going out of style so I wasn't afraid of canned tuna. I remember thinking to myself when I picked up the sandwich in the lunch line, "There's no way this going to taste homemade." After one big ass bite into the crispy bread topped with tuna and golden cheese, I was hooked.
I was feeling a bit nostalgic now that the weather has started to turn cooler. A warm sandwich with all the fixings sounded like it would hit the spot. So, I made these Cheesy Turmeric Tuna Humus Melts. What makes these melts magical and so hip for 2016 is that I didn't use a single drop of mayo.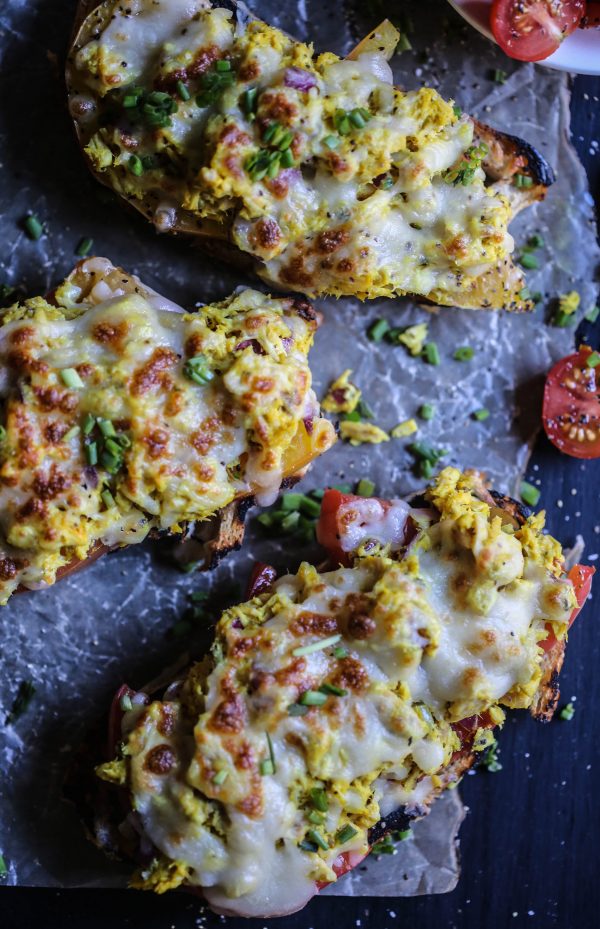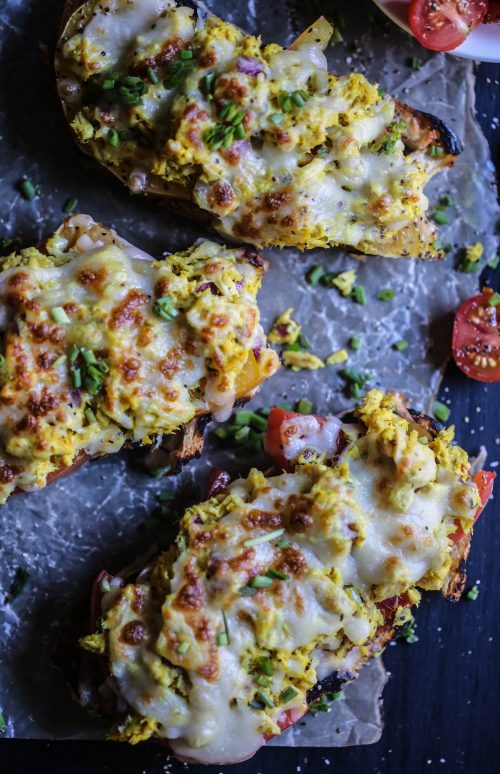 Instead, I stirred in some Garlic Herb hummus from Sabra's new line of spreads. THAT'S RIGHT! Sabra is introducing a new line of fresh tasting, wholesome, refrigerated spreads designed for sandwiches!! Besides it's convenient squeeze bottle, it has 75% less fat than mayo, uses fresh ingredients, and comes in Sea Salt & Cracked Pepper and Honey Mustard flavors.
Is this not the most epic thing ever?!! I about fell over from excitement because I love hummus and now I can directly squeeze it into my mouth. Wait. Don't tell anyone that. Anyway, these spreads make sandwich making a breeze and add that extra level of flavor to really turn these tuna melts up to a Vanilla Ice status.
"Kick it one more time, boyyyyyyyyyyyy."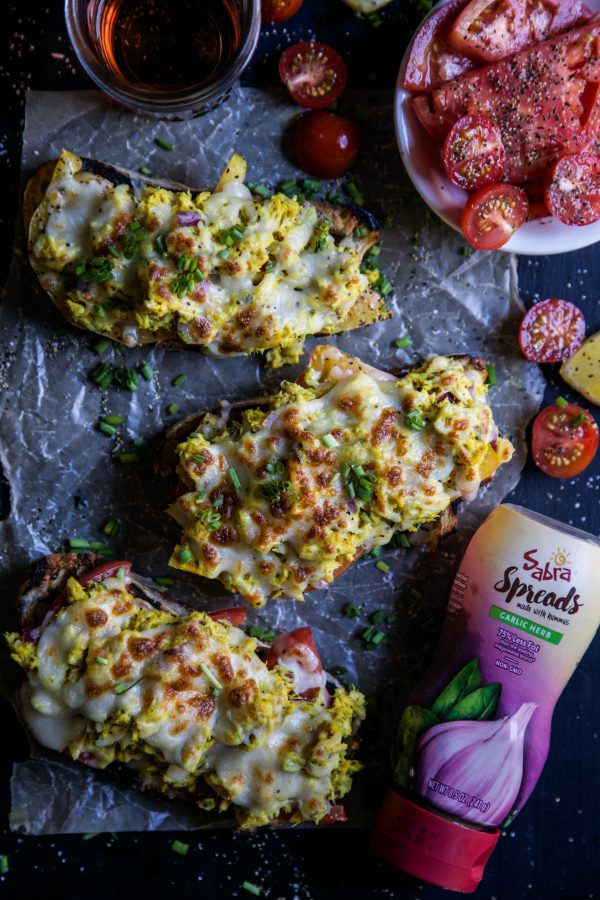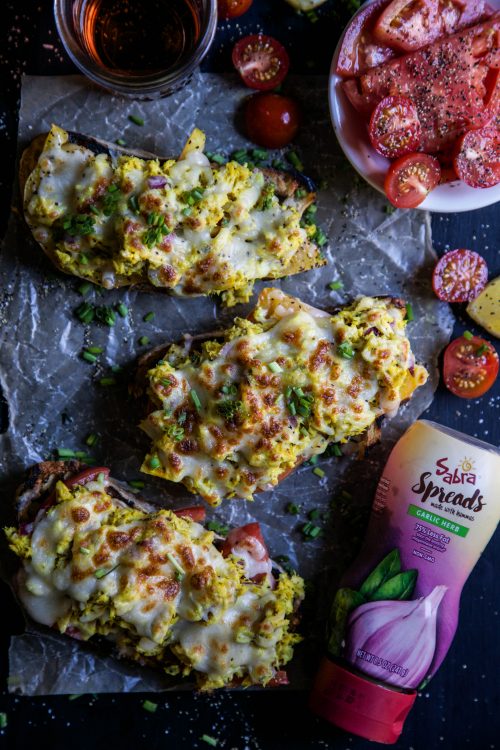 ***This post was sponsored by Sabra. As always, all opinions expressed are 100% my own.***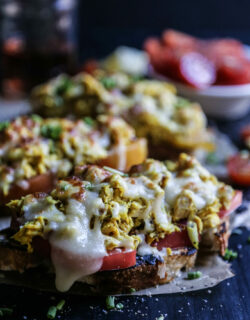 Cheesy Turmeric Tuna Hummus Melts
Ingredients:
4 large sourdough slices
2 5oz canned tuna in water, drained
1 teaspoon turmeric powder
2 tablespoons red onion, diced
2 tablespoons hummus garlic herb
1 tablespoon lemon juice
8 tomato slices
1 cup Gruyere cheese, grated
Chives, garnish
salt and pepper to taste
Directions:
In a large bowl, combine tuna, turmeric, red onion, hummus, lemon juice, salt and pepper. Place four slices of bread on a baking sheet and top each each slice with two tomato slices. Next, evenly distribute the tuna mixture between the four slices. Sprinkle 1/4 cup of the Gruyere on top of each slice. Place baking sheet under broil until the cheese has melted. Remove and garnish with chives. Enjoy!
All images and text ©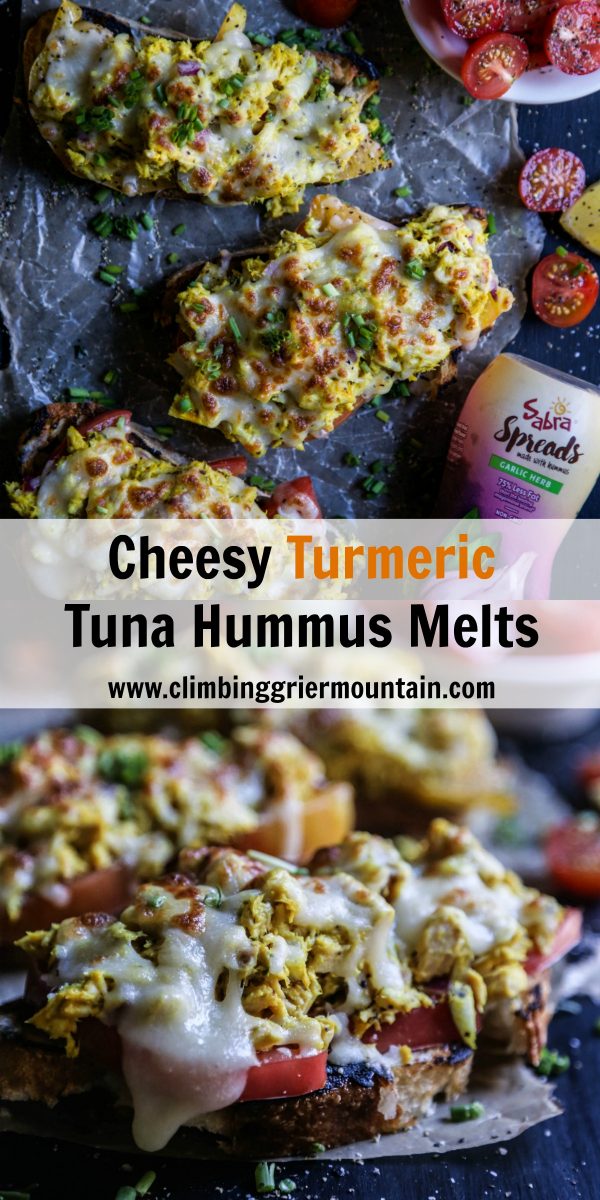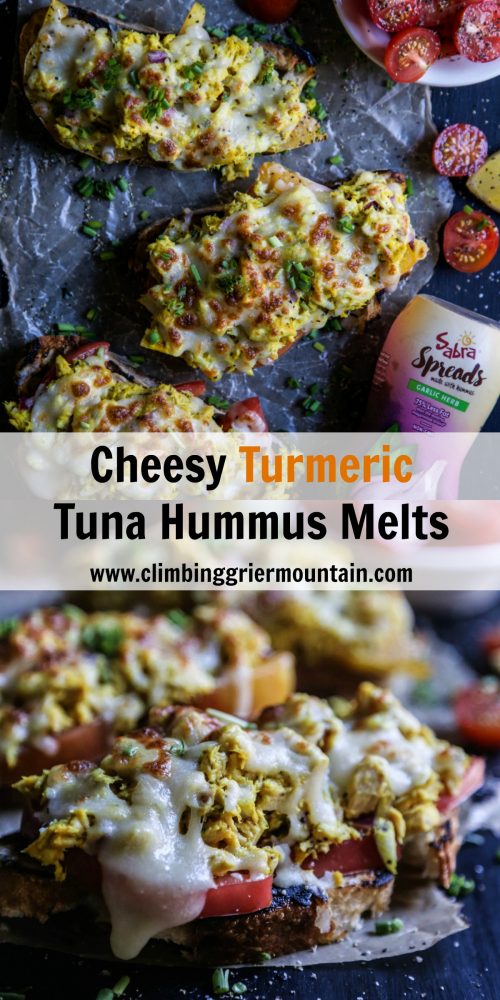 "In conclusion, Cheesy Turmeric Tuna Hummus Melts offer a flavorful fusion that creates a delightful and satisfying sandwich. It's a perfect choice for those looking to elevate their meal."