Apple Cider-Glazed Roasted Turkey with Herbed Butter
Apple Cider-Glazed Roasted Turkey with Herbed Butter is a delicious and easy turkey to make for the holiday season!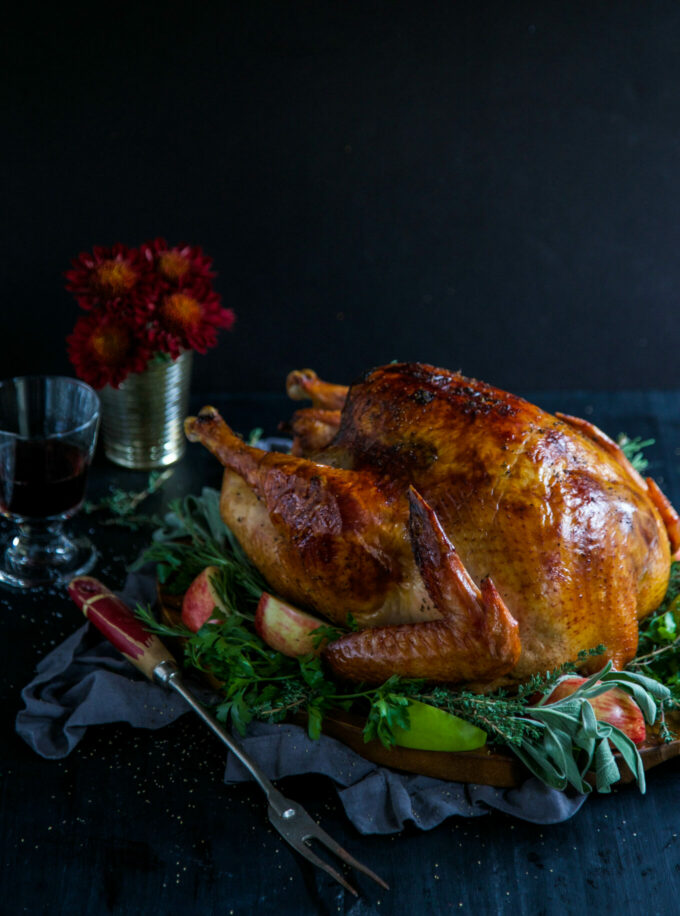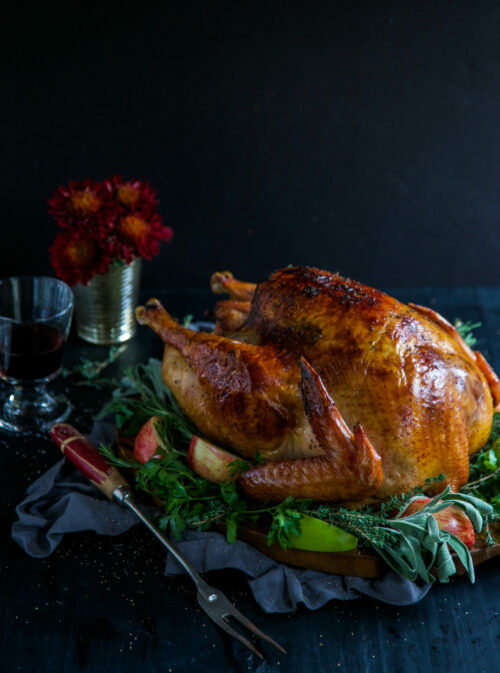 Thanksgiving 2016 is going to be one for the books.
I can feel it.
How do I know?
First of all, my parental units are visiting from Kansas. The fact that Mr. B and I don't have to travel over a holiday is a dream come true. I have some fun plans in store for the parents, like riding our bikes to Union Station for a cocktail, visiting the Natural Science Museum, attempting a turkey trot, and testing out our new backyard fire pit.
Besides not having to travel, this will be our first official Thanksgiving dinner in our home. I can't tell you how excited, or how adult I feel about cooking a feast for my parents as they have done so for my brothers and I over the past thirty years. It feels like a natural transition and one that I fully embrace.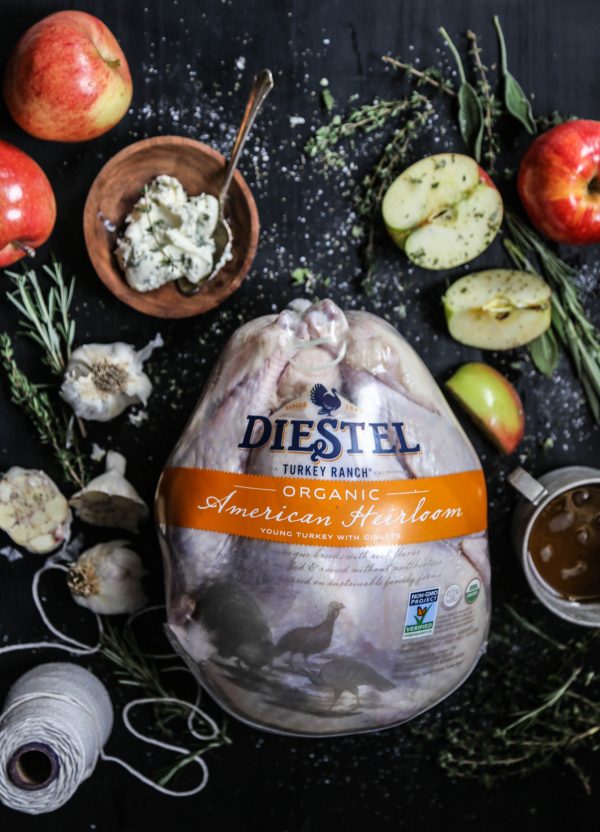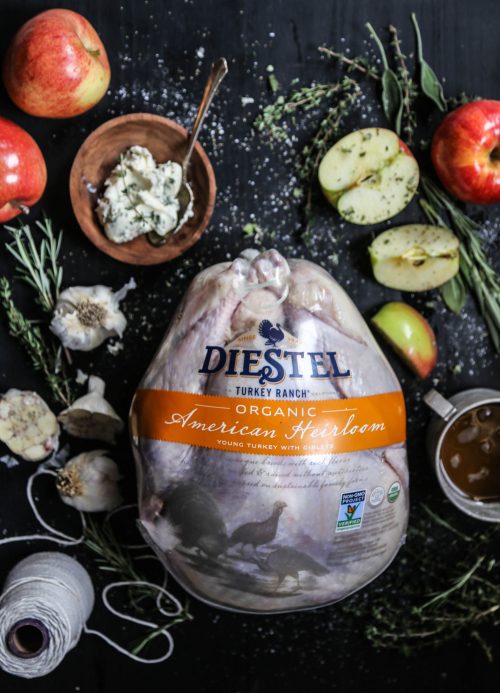 And with transition comes new tradition. As a food blogger, I am always looking for ways to improve my kitchen skills, whether through new cooking methods or new ingredients. Well, this Thanksgiving I am bringing my A game with the ultimate, must-have, heirloom turkey from Diestel Family Turkey Ranch.
You may be thinking, what's an heirloom turkey, Lauren? I asked the same question when the folks at Diestel Family Turkey Ranch approached me about trying one of their gourmet turkeys. But in order to understand what an heirloom turkey is, you have to get to know the Diestel family and their farming practices.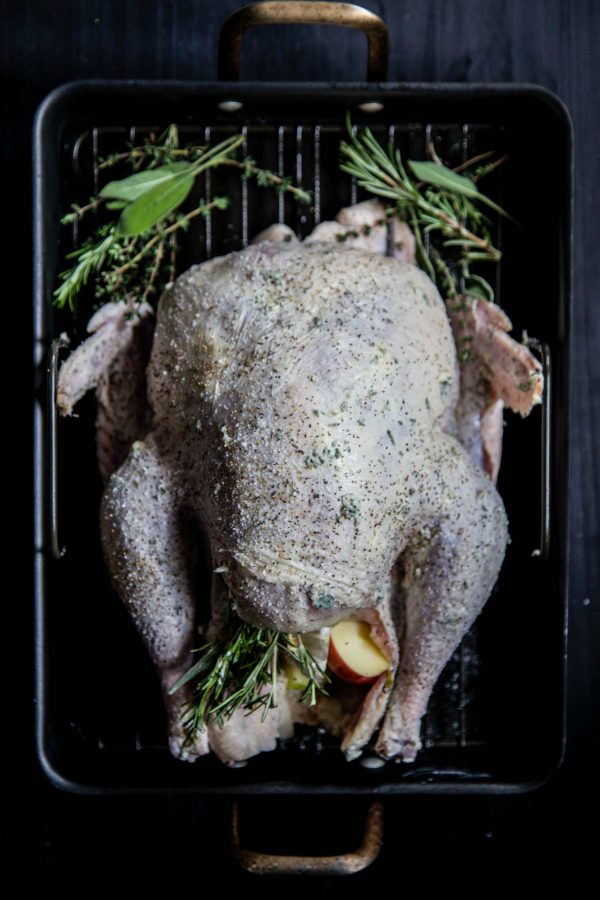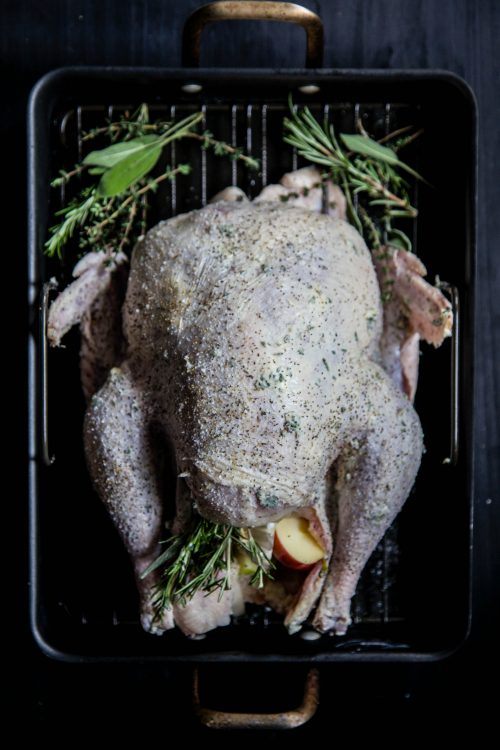 The Diestel Turkey Ranch is a family-run, sustainable ranch, operating since 1949. The Diestel family prides themselves on raising the highest-quality turkeys. With plenty of room to roam or as they say "walk the flock", Diestel turkeys get lots of fresh air, and are provided the best environment in which to live. Another important fact: they give their birds time to naturally grow so they don't have to use antibiotics. Just think, the average industry turkey is raised in three months compared to six months on the Diestel farm. Also, all Diestel turkeys are fed a 100% vegetarian diet, which means no hormones enhancers. Just clean, honest good food!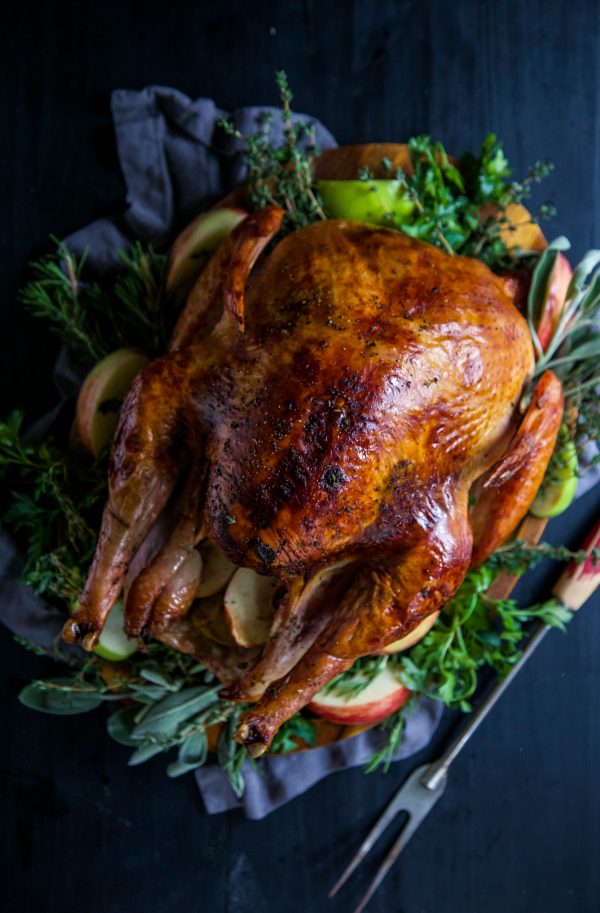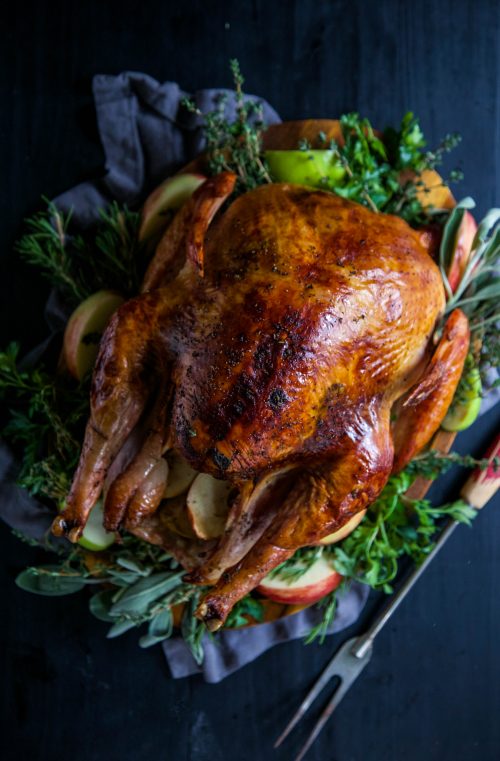 The Diestel family raises many varieties of turkeys: – original turkey, petite turkey (for those easy weeknight meals), organic turkey, and of course, heirloom turkey! The best way I can describe an organic heirloom turkey is similar to an heirloom tomato. These turkeys are from old lines of turkeys dating back to the 1920's, which means you are tasting a bird that your great-grandmother would have eaten! Diestel's Organic American Heirloom Collection of old-fashioned turkeys are a mix of Auburn, Black and American Bronze turkeys.
And let me tell you, great-grandma knew her stuff, because after I made this Apple Cider-Glazed Roasted Turkey with Herbed Butter using an heirloom turkey, my life has forever changed. The turkey itself tasted less sugary and clean. The meat was juicy (yes, basting the turkey with apple cider helps), but to tell you the truth, this turkey could have run a marathon without hydrating. The meat is that damn tender.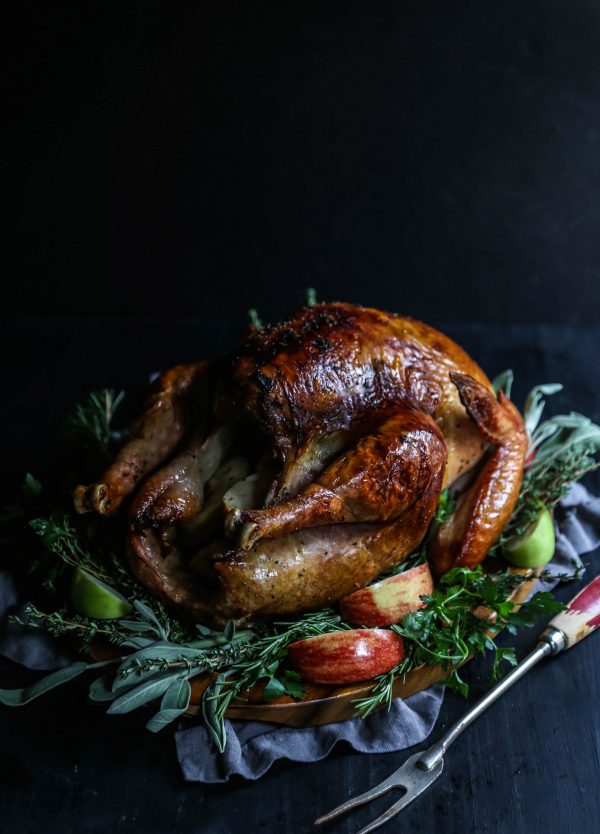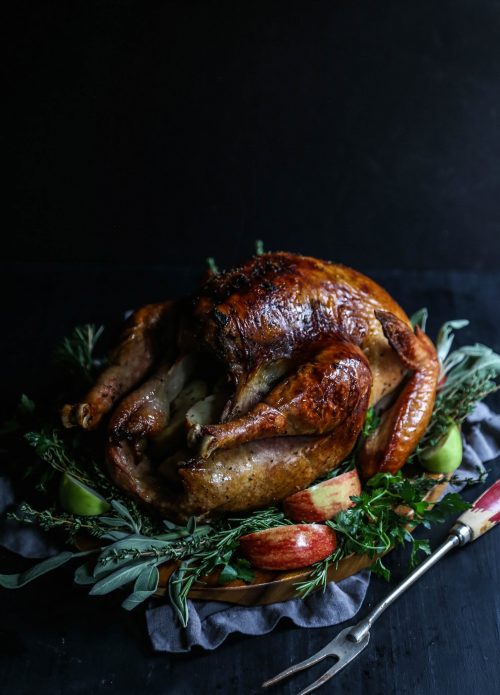 Anyway, the recipe I provided for you today isn't fussy. I believe a Thanksgiving turkey recipe should be straight and to the point. And with the heirloom turkey already giving us a flavor head start, I didn't want to try and out shine the star. With that, I slathered the turkey with a simple herbed butter, stuffed the cavity with an autumn delight, and roasted it perfectly for 2 1/2 hours. I know that you will fall madly in love with this recipe and Diestel turkeys.
If you are looking to purchase a Diestel turkey over the holidays, you can buy one on their online store here! Or, you can find a holiday turkey at select independent, natural, and upscale food stores across the country. And in case you need a turkey fix year round, check out their deli slices, chorizo & turkey sausage online as well.
Oh, and if you make a Diestel turkey over the holiday season, make sure to let them know via Facebook or Twitter! The family loves hearing from folks. And to make your holiday season even better, if you purchase a turkey using the promo code CLIMBING12, you'll get a $12 discount off your very own turkey!
Cheers to holiday season!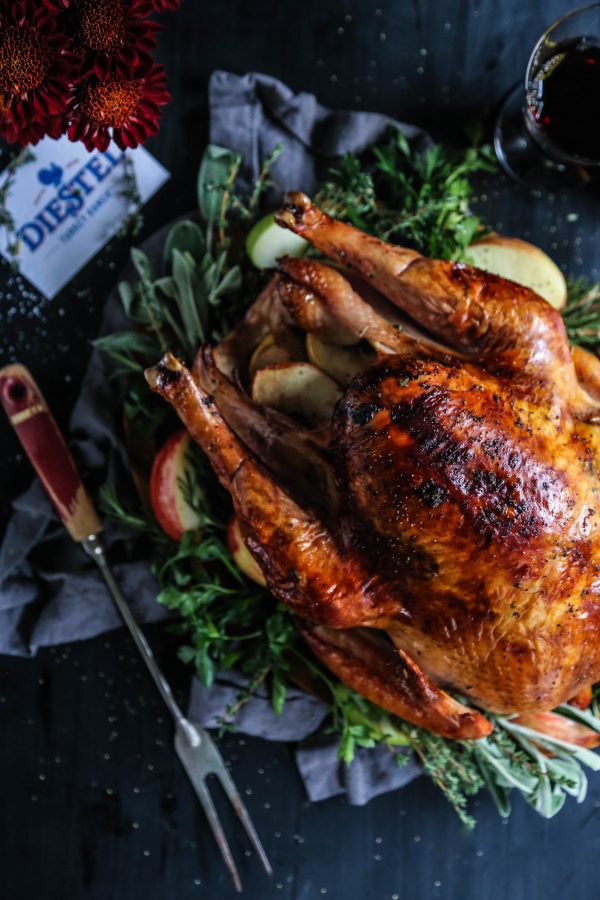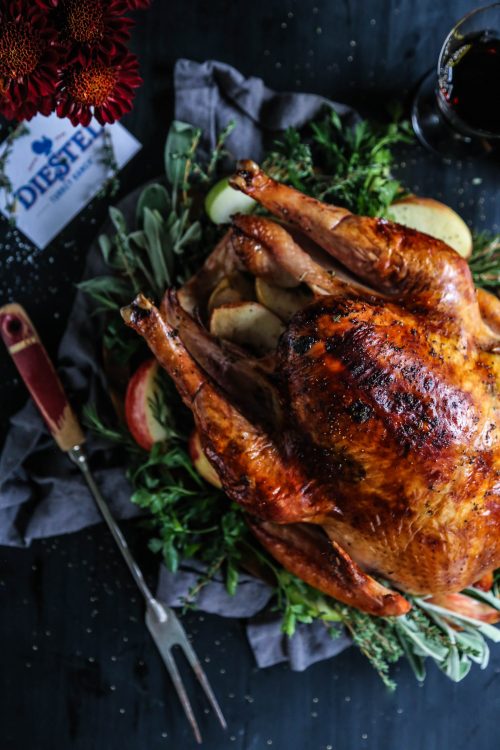 ***Diestel Family Turkey Ranch provided me with a product for the purpose of this post, as well as compensation for my time. As always, all opinions expressed in this post are 100% my own.***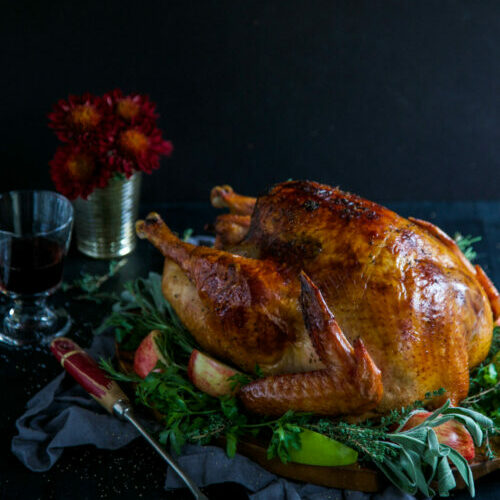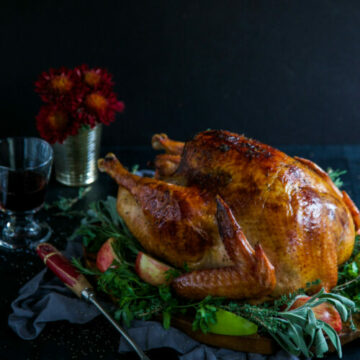 Apple Cider-Glazed Roasted Turkey with Herbed Butter
Apple Cider-Glazed Roasted Turkey with Herbed Butter is a delicious and easy turkey to make for the holiday season! 
Ingredients
1 10lb Heirloom Diestel Turkey – neck and giblets removed
1½ sticks unsalted butter, room temperature
2 tbsp rosemary, chopped
2 tbsp thyme, chopped
2 tbsp sage, chopped
1 yellow onion, quartered
2 unpeeled heads of garlic, halved crosswise
2 honeycrisp apples, halved
3 sprigs rosemary
3 sprigs thyme
3 sprigs sage
4 cups hard apple cider (more if needed)
1 cup chicken stock
kosher salt to taste
coarse ground pepper to taste
Instructions
Preheat oven to 350 degrees.

Wash room temperature turkey inside and out. Pat the turkey dry and place in a large roasting pan. In a bowl combine butter, salt, pepper, chopped – rosemary, thyme, and sage. Using your fingers, rub the herbed butter all over the turkey and under the skin. Next, stuff the cavity with yellow onion, garlic, apples, sprigs of rosemary, thyme, and sage. Tie the legs together with twine or string and tuck the wing tips under the turkey.

Pour 1 cup of chicken stock and apple cider into the bottom of the roasting pan. Roast the turkey for about two and half hours, basting every 20 minutes with a 1/3 cup apple cider. If need be, place foil over the turkey in the last hour of cooking as to not to burn the bird. Roast until the juices run clear or a thermometer reads 165 degrees. Remove turkey from the oven and let it sit for 20 minutes. Once rested, slice the turkey and serve.
Did you make this recipe?
Please leave a comment below and share a photo on Instagram with the hashtag #thecuriousplate!