Four Cheese Bourbon Potato Gratin
Four Cheese Bourbon Potato Gratin is an easy, cheesy, and delicious side to make for Thanksgiving!
We celebrated Friendsgiving this past weekend.
Wait.
Is Friendsgiving the new Thanksgiving? Does anyone know how Friendsiving came to be? Whatever the story of how Friendsgiving came to fruition, I fully thank the gent who came up with this pre-holiday warm up.
I am very lucky though to have a second family in Denver. The Denver Village is my home away from home and to set a day aside where we can gather as friends and celebrate the ups, downs, and future adventurous just seems like the right thing to do. With the weather being oddly perfect (still waiting for that snow to appear), we lounged outside, sipped wine, played spikeball, watched movies, and feasted on the best meal in the whole eight years we have been gathering.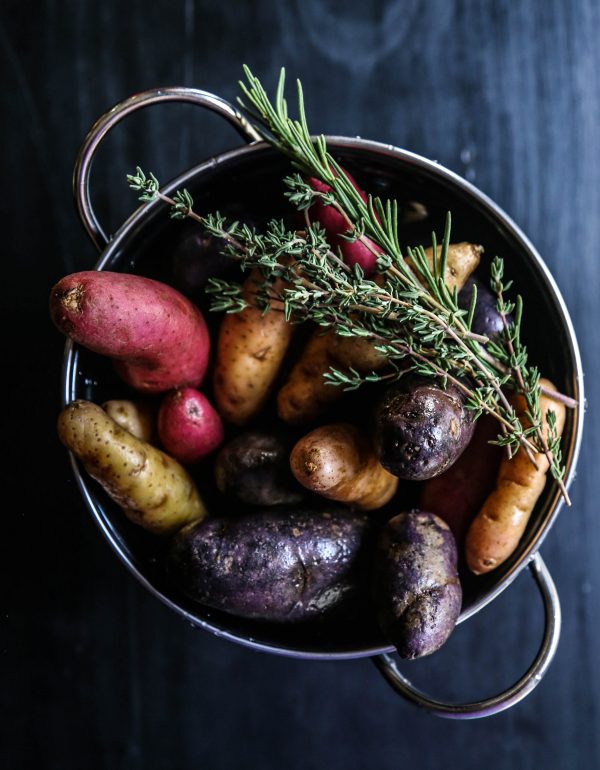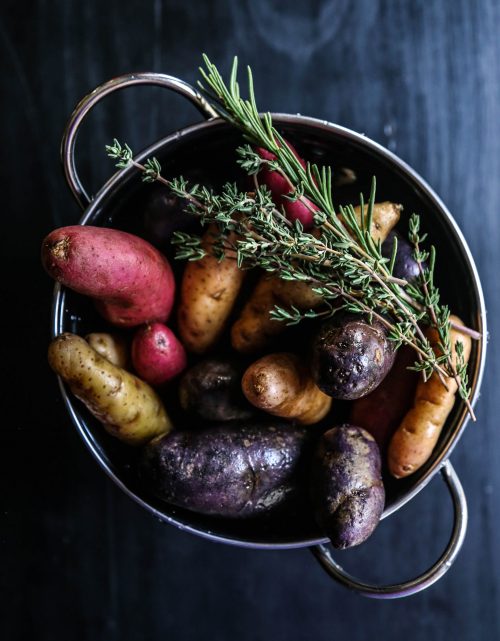 We left no side, main, or dessert unmade. Besides the roast turkey we ate mashed potatoes, jalapeno monkey bread, brussel sprouts, sweet potato casserole, salad, two kinds of stuffing, apple pie, and pumpkin pie. I think my eyes glazed over about halfway through my slice of pie. Or it could have been from the third glass of wine. Ooops!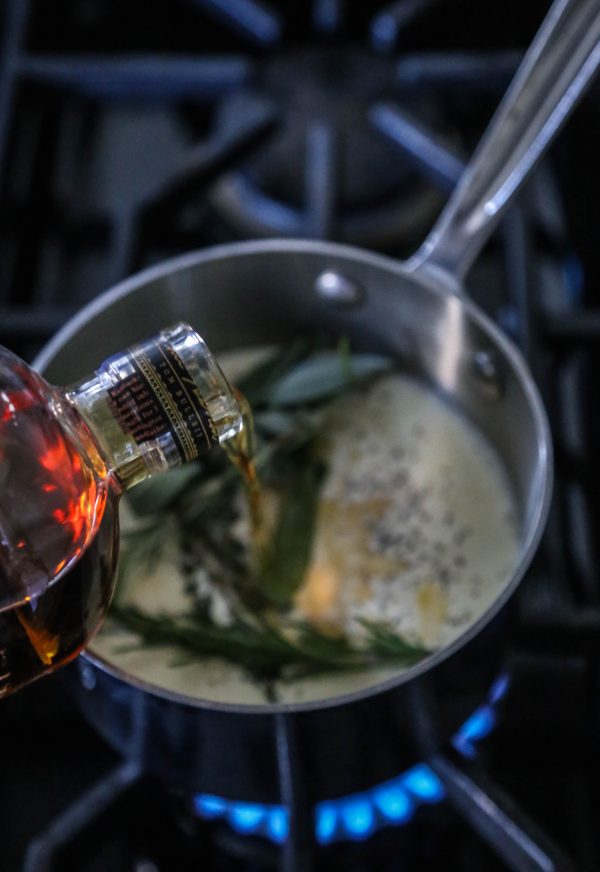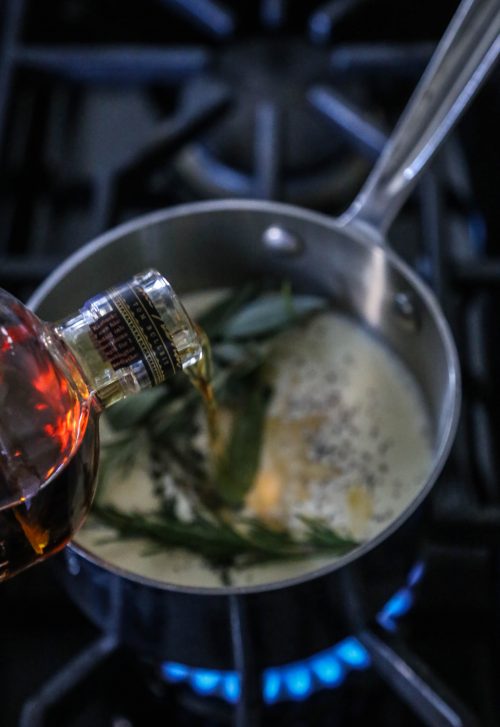 Anyway, if you are heading to a Friendsgiving this year I might suggest making. Okay, more like you SHOULD totally make this Four Cheese Bourbon Potato Gratin. Butter, cheese, carbs, and booze. It's like the four amigos of Thanksgiving. Bring this dish and you will continue long lasting friendships because as the Simpsons say, "You don't make friends with salad."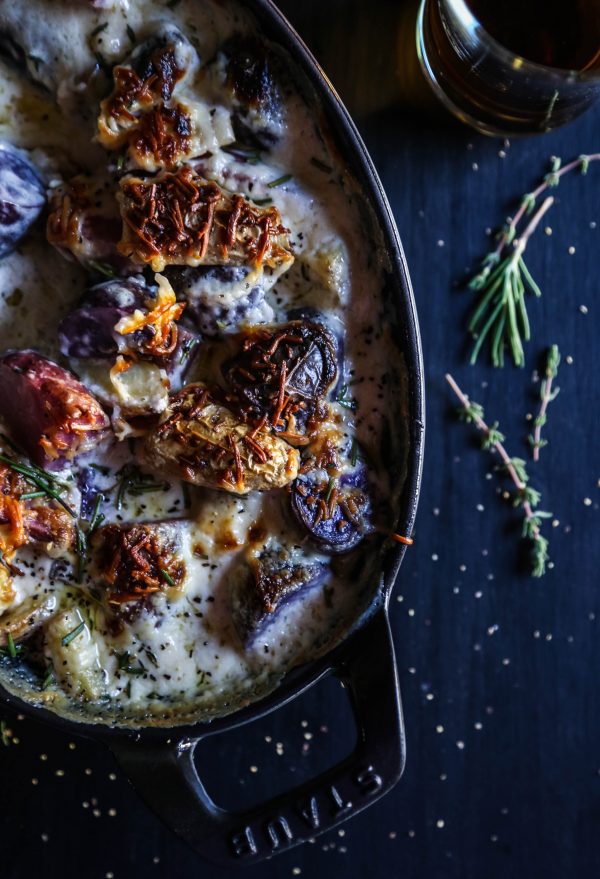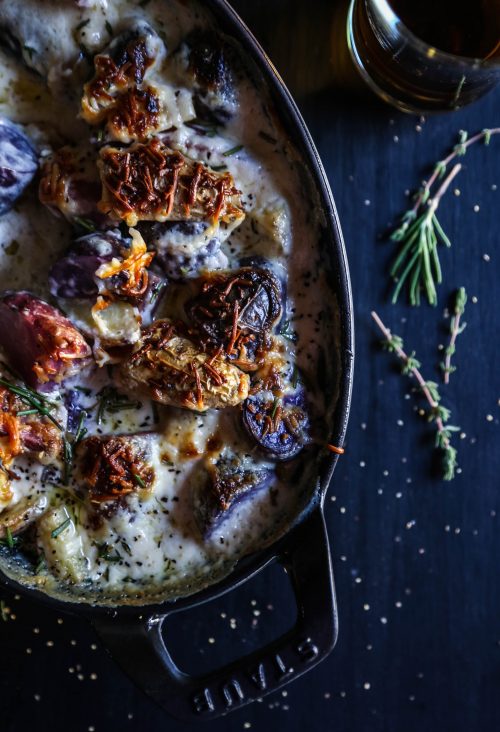 Four Cheese Bourbon Potato Gratin
Ingredients:
4 cups fingerling potatoes (assorted colors), halved
2 cups heavy cream
1/2 stick unsalted butter
1 tablespoon bourbon
1 sprig rosemary
1 sprig thyme
1 sprig sage
2 garlic cloves, peeled, halved
1/4 cup Parmesan, shredded
1/4 cup Fontina, shredded
1/4 cup Mozzarella, shredded
1/4 cup White cheddar, shredded
Chopped parsley, garnish
salt and pepper to taste
Directions:
Preheat oven to 400 degrees.
Spray a baking dish with non-stick cooking spray. In a bowl, toss the potatoes with salt and pepper. Meanwhile, preheat a saucepan to medium heat. Melt the butter and then add cream, bourbon, rosemary, thyme, sage, garlic, salt, and pepper. Simmer for about five minutes and then strain the mixture through a fine mesh sieve remove garlic and herbs.
Add the potatoes to the baking dish followed by cream. Top with Parmesan, Fontina, Mozzarella, White Cheddar, and bake for about 30 to  34 or until golden brown. Remove from oven and garnish with fresh parsley. Enjoy!
adapted from Food Network
All images and text ©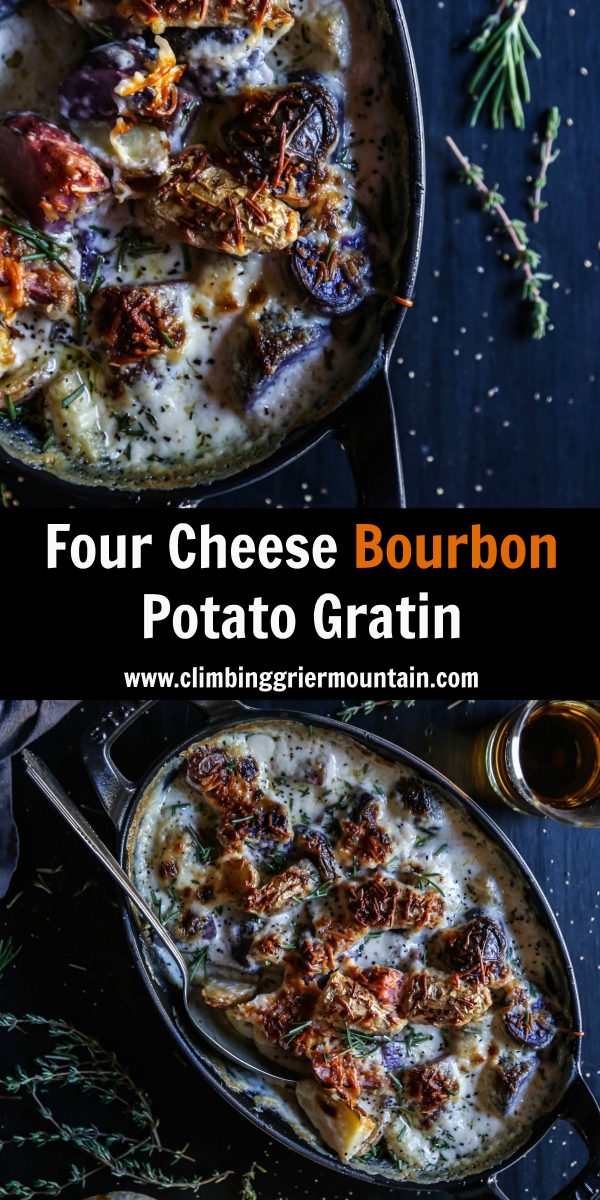 "In conclusion, the Four Cheese Bourbon Potato Gratin is a rich and creamy delight, featuring the unique addition of bourbon, elevating this classic potato dish to gourmet perfection."