No Bake Chai Chocolate Bourbon Cream Pie
Give your oven a break over the holiday season and make this No Bake Chai Chocolate Bourbon Cream Pie. Chai infused bourbon mixed with chocolate and topped with a decadent merignue. You'll want a slice or two!
I MADE A PIE!
Okay, it's an "almost" kind of pie because there is no dough to roll out or lattice making involved. But still, it's a PIE! Whenever the holidays burp up, I always feel guilty because I want to share 4,392 cake or brownies recipes. You guys know how much I love me some dark chocolate brownies, but Thanksgiving isn't the same without a traditional pie. Am I right?
So this No Bake Chai Chocolate Bourbon Cream Pie is my compromise. A way of satisfying pie lovers and folks with black yeast thumbs. Plus, a no bake pie is like a true blessing on Thanksgiving. Your oven is already getting a huge workout from that giant bird so why not step away and enjoy making a little treat.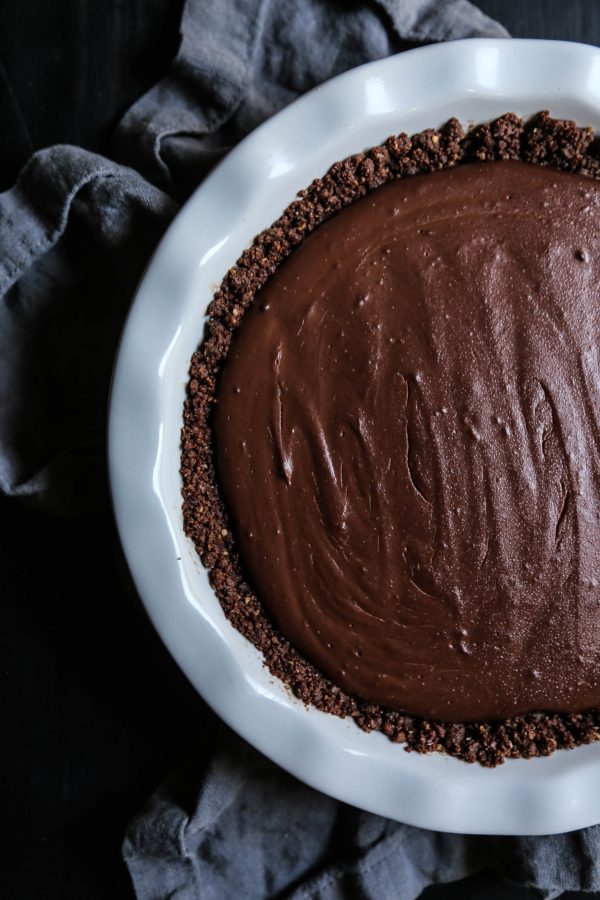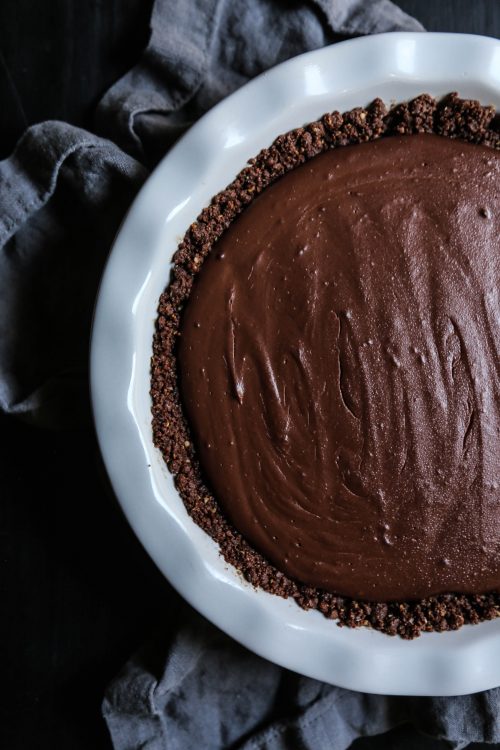 This pie is made up of some of my favorite ingredients – chocolate graham crackers….OH shoot. Where are my manners? I haven't even talked about the chai infused bourbon. DOH! I am a bourbon purist at heart, but infusing chai tea with the bourbon brings a different level of flavor to this pie. It provides a smoky, warmth to the chocolate.
In fact, this pie is dangerously easy to make that you might want to have it as the main course. What?! Don't look at me like that. I am giving you full permission to whip this pie up, pour yourself a glass of wine, have a slice or three, and tell the holidays to hold it's horses for 2.2 seconds.
I mean it's about compromise, right?
Hell, it's Monday, I feel like we should to do whatever necessary to survive.
Who needs a slice?
No Bake Chai Chocolate Bourbon Cream Pie
Ingredients:
for the pie:
9 tablespoons unsalted butter
6 ounces chocolate graham crackers, crushed finely
8 ounces bittersweet chocolate, melted, divided
4 large egg yolks
3 tablespoons cornstarch
1 1/2 cups heavy whipping cream
2 tablespoons unsweetened cocoa powder
1 1/2 cups whole milk
3/4 cup sweetened condensed milk
2 tablespoons bourbon infused chai tea
for the meringue:
4 egg whites
1/2 cup granulated sugar
3/4 cup confectioners sugar
for the bourbon infused chai:
1 chai tea bag
1/3 cup bourbon
Directions:
for the pie:
Spray a 9-inch pie dish with non-stick cooking spray. In a large bowl, combine graham cracker crumbs and five tablespoons melted butter. The mixture should resemble wet sand. Transfer the mixture to the pie dish and press the mixture evenly into the dish and up the sides creating a crust. Place pie dish in the fridge to chill for at least 20 minutes. Remove crust from fridge and brush bottom with two ounces of melted chocolate. Put back in the fridge to chill again while making the filling.
In a medium bowl, whisk together egg yolks and cornstarch. In a saucepan, whisk together cream and coco powder; takes about three to four minutes until no lumps are seen. Next, add milk and sweetened condensed milk and bring the saucepan to a simmer. Once slightly heated through add about 1/4 cup of the milk mixture to egg yolk mixture whisking constantly as to not scramble the eggs. Once the eggs have been tempered, add the whole bowl to the saucepan and continue to whisk until slightly thickened (almost chocolate pudding status). Stir in the remaining 6 ounces of chocolate, chai bourbon, and four tablespoons melted butter. Keep whisking. Remove crust from fridge and pour pudding like mixture into crust. Chill pie for at least 2 hours before topping with meringue and toasting.
for the meringue:
In a mixer fitted with a whisk attachment, beat the egg whites on high until foamy. While the mixer is still running gradually add the granulated sugar. Beat until shiny peaks from and then add in the confectioners sugar until fluffy.
for the bourbon infused chai:
In a glass jar, place a chai tea bag. Cover tea bag with bourbon and allow to steep at least 30 minutes.
All images and text ©