Sesame Steak Salad with Spiralized Pears
Take a break from holiday meal planning and make this simple, delicious Sesame Steak Salad with Spiralized Pears! Harry & David Royal Riviera Pears add a touch of elegance and flavor to this salad.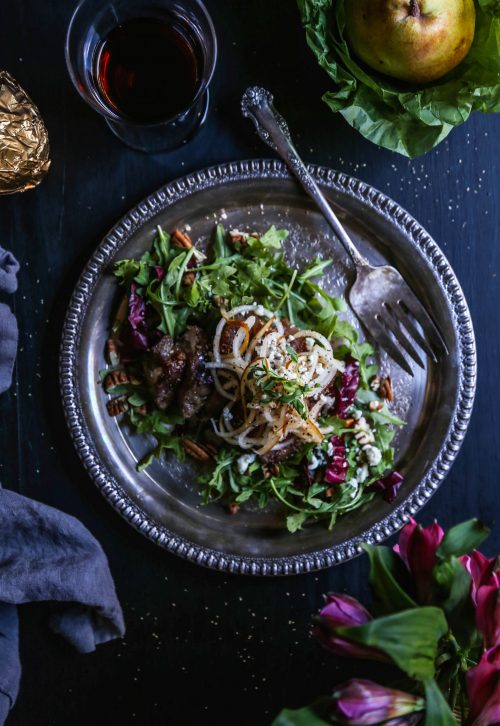 W-H-O-A bessie.
Thanksgiving is next week, y'all. How did that happen? I swear this year has zoomed by like a speeding train. One minute it's summer and I'm fishing in wild Alaska, then POOF. I'm thinking about purchasing new ski boots for ski season.
Even though 2016 has gone by crazy fast, I am always giddy when the holidays roll around. My immediate family is coming into town next week for the big turkey feast. This will be Mr.B and I's first official Thanksgiving in our home. Yippee!! I am currently in the process of wrestling the turkey day menu, but had a slight panic when I realized I've got to feed people before and after the holiday as well. Yikes!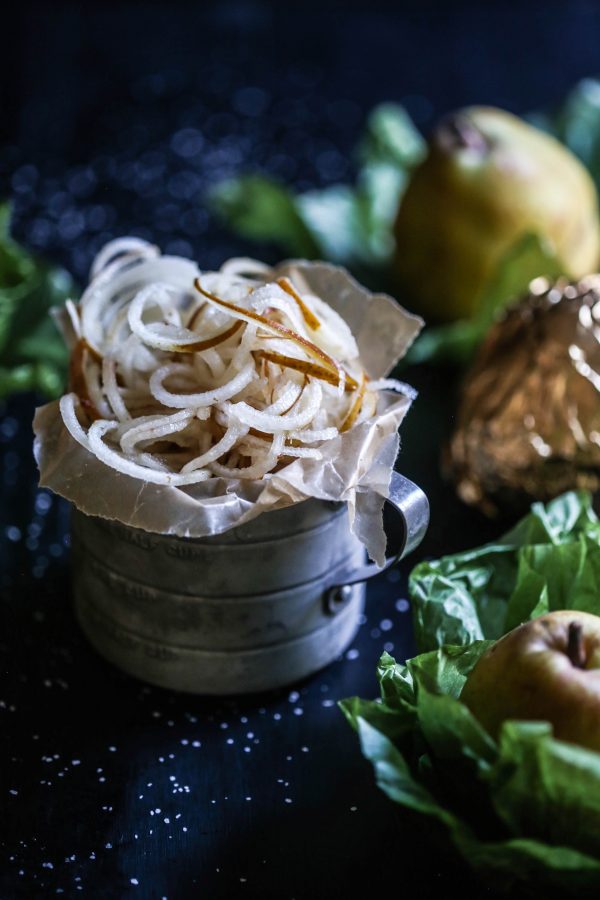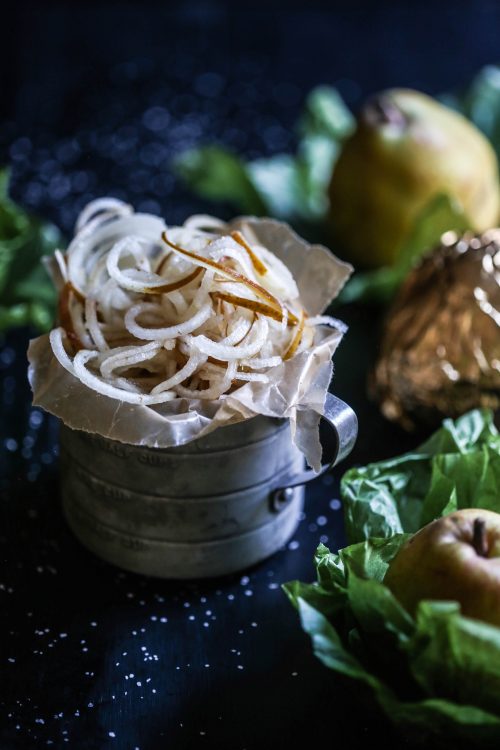 Yes, I am planning on eating leftovers, but homegirl here has a limit when it comes to gobbling up day old turkey. This is where Harry and David Riviera Royal Pears come to the rescue. As a kid, getting anything from Harry and David was a big deal. During the holidays my father would come with large gift baskets from clients and we would all ooooooohhhhh and ahhhhhhhh over all the tasty treats, particularly the pears.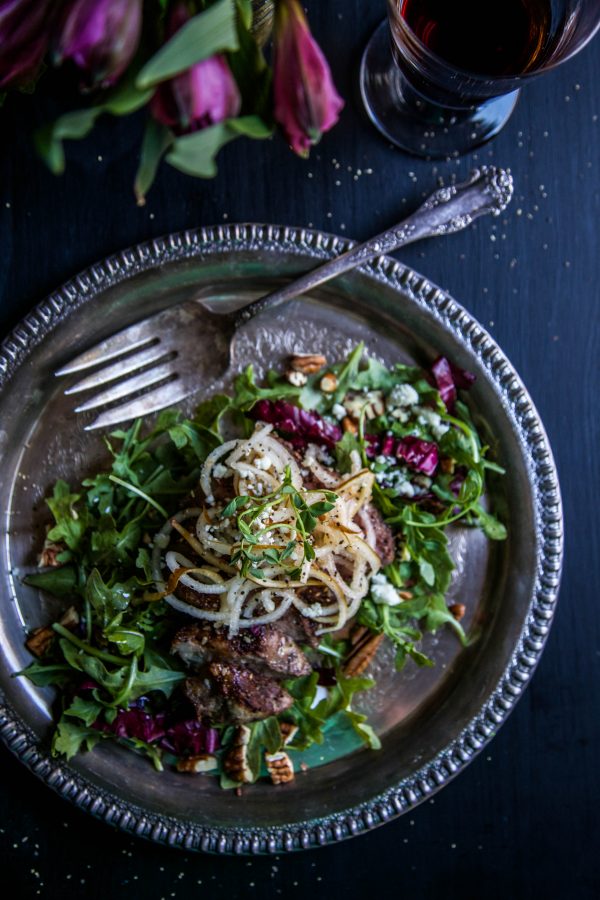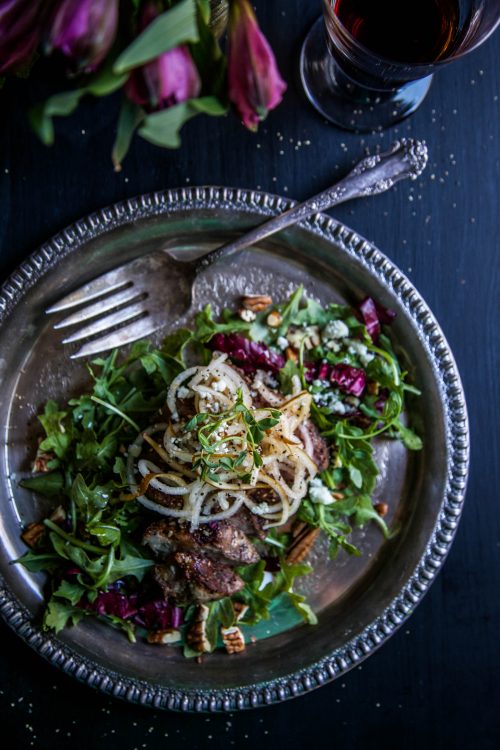 I'm not entirely sure how our parents rationed out the pears. Come to think of it, I might have given my younger brother a wedgie to distract him from reaching the fruit of the Gods. Anyways, I was over joyed when Harry and David sent me a few boxes of the pears. Can you say life savor? I knew immediately what I wanted to make – Sesame Steak Salad with Spiralized Pears.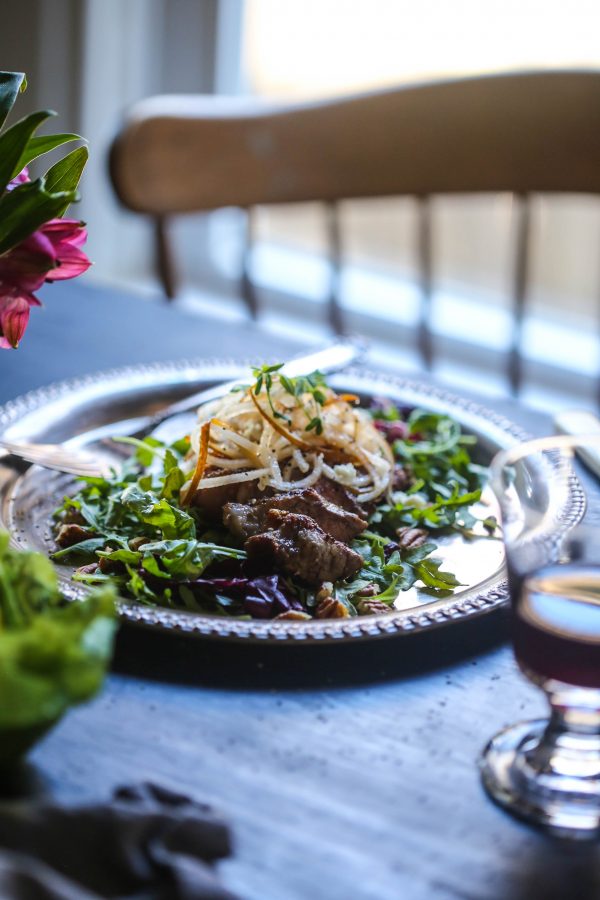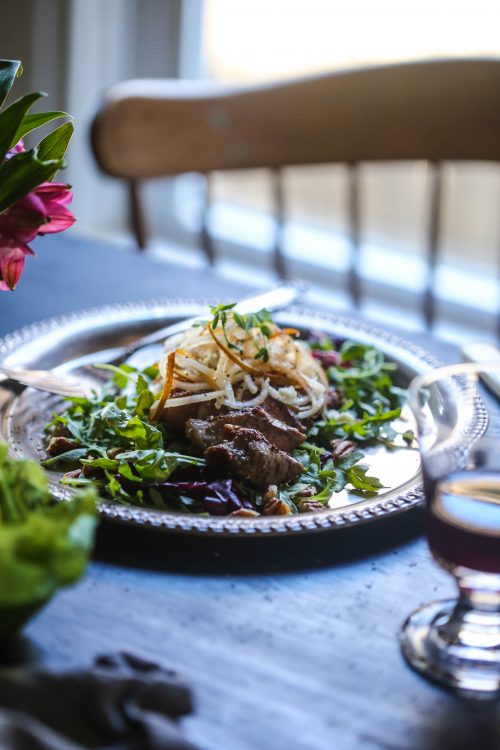 This salad is easy to put together, delicious, and can feed a crowd with little effort. You can use whatever greens you'd like, or if you aren't into the meat situation the toasted sesame oil would be lovely on grilled chicken. Just don't forget the pears. Juicy, moist, perfectly sweetened Royal Rivera Pears. Garnish with a simple Dijon vinaigrette and you'll instantly feel like you're wining this holiday game.
Sans wedgies, of course.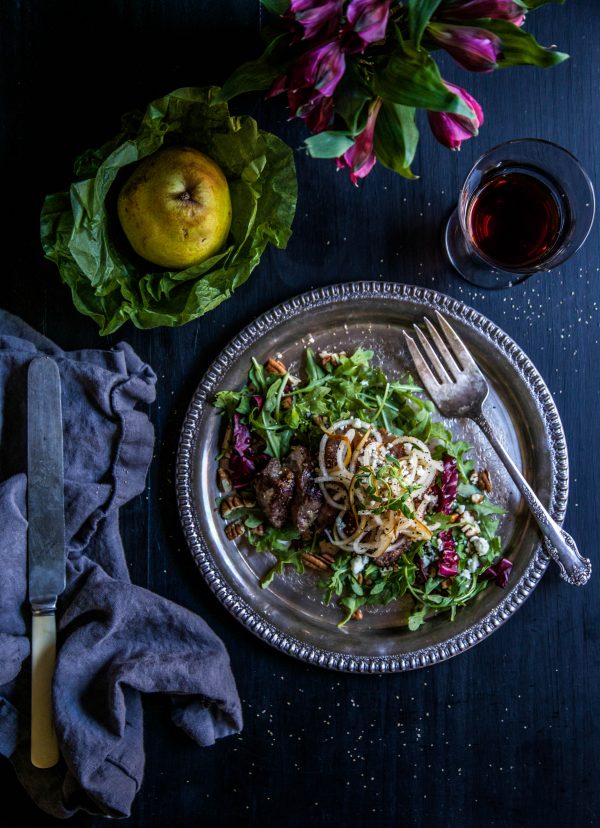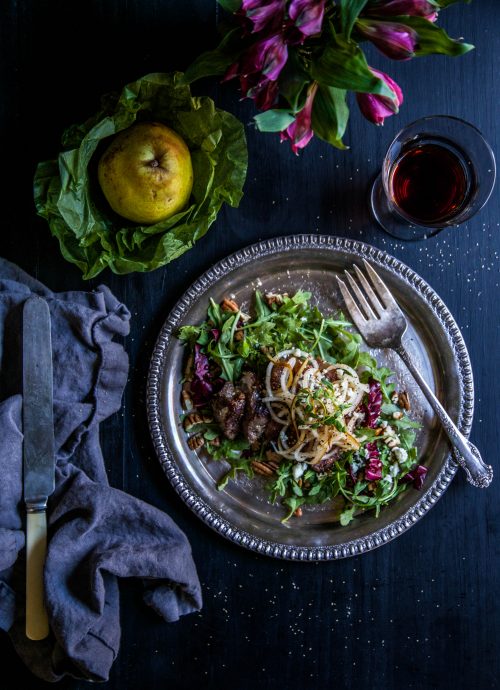 ***This post is sponsored by Harry & David. I was compensated for my work, but all opinions expressed are 100% my own!**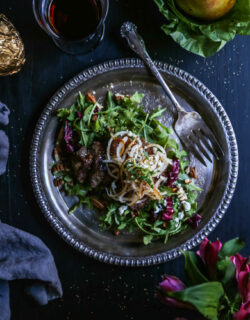 Sesame Steak Salad with Spiralized Pears
Ingredients:
for the salad: 
2 tablespoons unsalted butter
1 teaspoon toasted sesame oil
1 teaspoon toasted sesame seeds
1 10oz ribeye steak
1 cup arugula
1/2 cup radicchio, chopped
2 tablespoons shallot, minced
blue cheese crumbles, garnish
chopped pecans, garnish
salt and pepper to taste
for the dressing:
1/4 cup olive oil
1 teaspoon granulated sugar
1 teaspoon Dijon mustard
2 teaspoons red wine vinegar
1 teaspoon honey
salt and pepper to taste
Directions:
for the salad: 
Preheat oven to 400 degrees.
Place the ribeye on a plate. Season the steak with toasted sesame oil, toasted sesame seeds, salt and pepper. Heat an oven proof skillet to medium-high heat. Melt the butter and add steak. Sear the steak on each side for about 2 minutes. Once browned on both sides, place the skillet in the oven and roast for about seven to nine minutes for a medium done steak. Remove and allow the steak to cool before slicing.
To make the salad – combine 1/2 cup arugula, 1 tablespoon shallot, and 1/4 cup radicchio on a plate. Slice the steak in half and place half of the steak on top of the arugula mixture followed by 1/3 cup spiralized pears, blue cheese crumbles, and pecans. Garnish with dressing. Repeat process for the remaining salad. Enjoy!
for the dressing:
In a bowl, combine all ingredients until thickened.
All images and text ©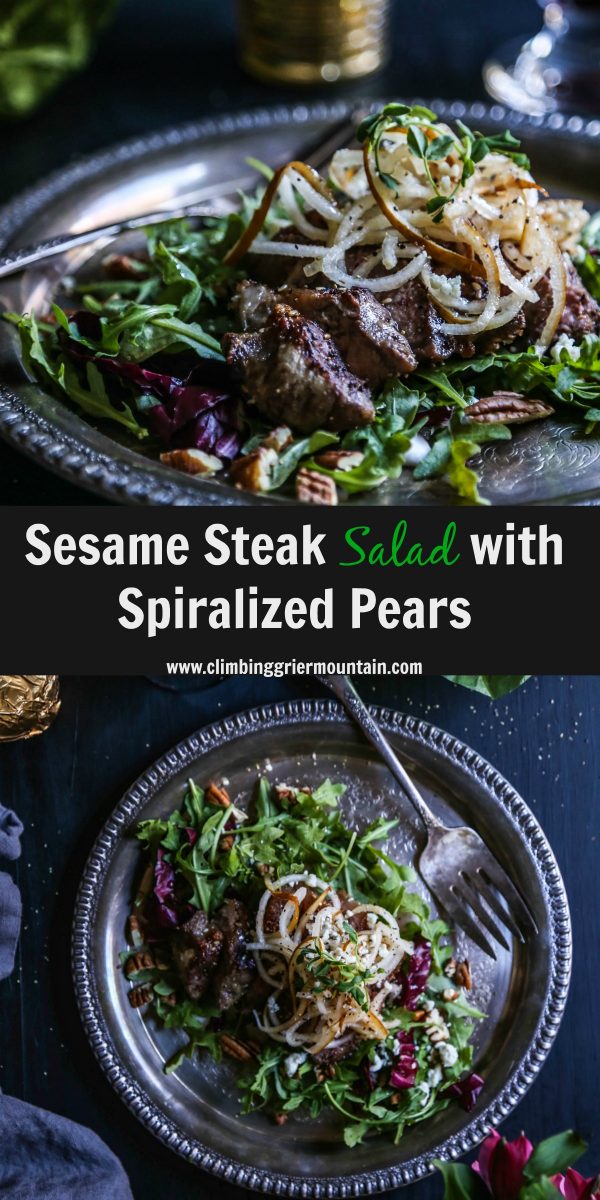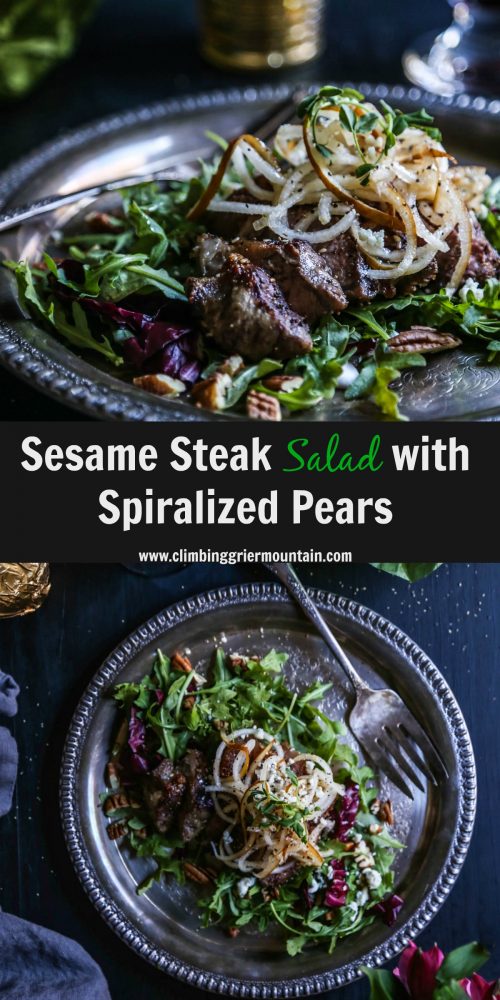 "In conclusion, the Sesame Steak Salad with Spiralized Pears delivers a delightful fusion of flavors. With tender steak and crisp pears, it's a satisfying and flavorful meal."