CGM 2018 HOLIDAY GIFT GUIDE: FOR THE PET LOVER
25 amazing gifts for the pet lover! Treats, travel gear, games, and chew toys . You'll find something in this list for anyone that loves being a pet owner! 
This guide might be my favorite.
Mr. B and I sat down again and went through all the stuff we use for Juniper on a daily basis. The toughest part was narrowing down what to pick. BUT! I think we nailed it. Below you will find great gifts for anyone that loves being a pet owner.
Don't worry the guide includes stuff for canines and cats. So truly there is something for everyone! Happy shopping!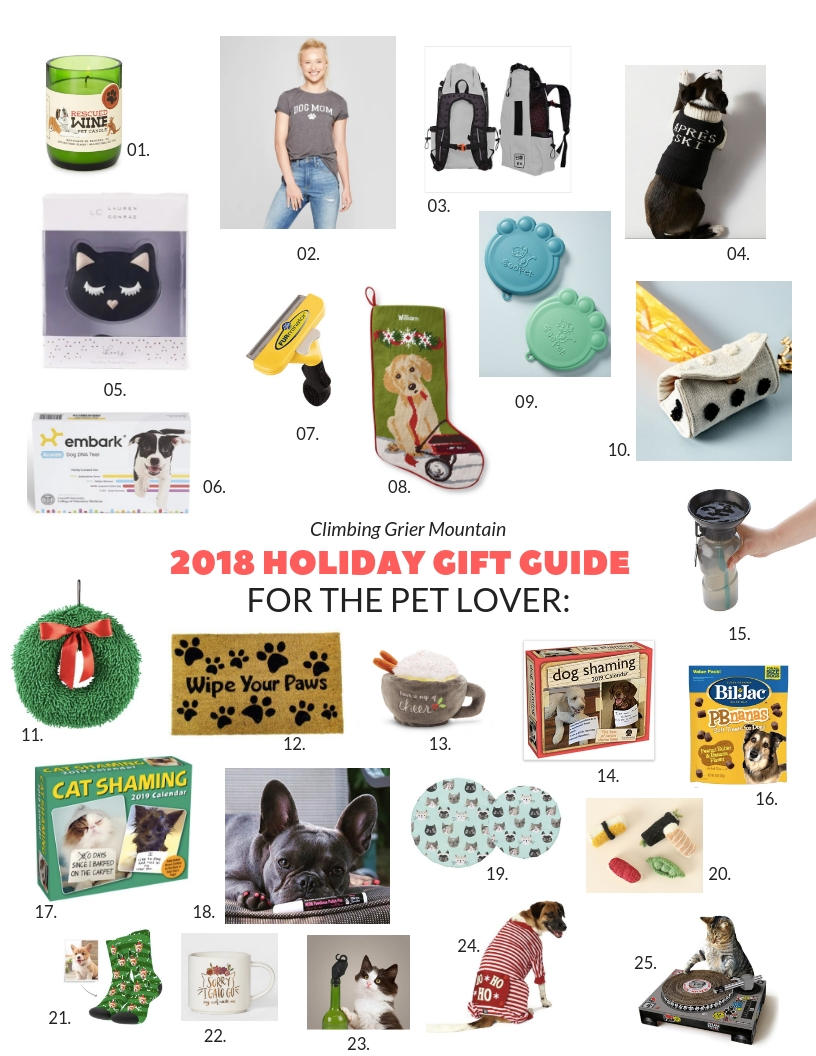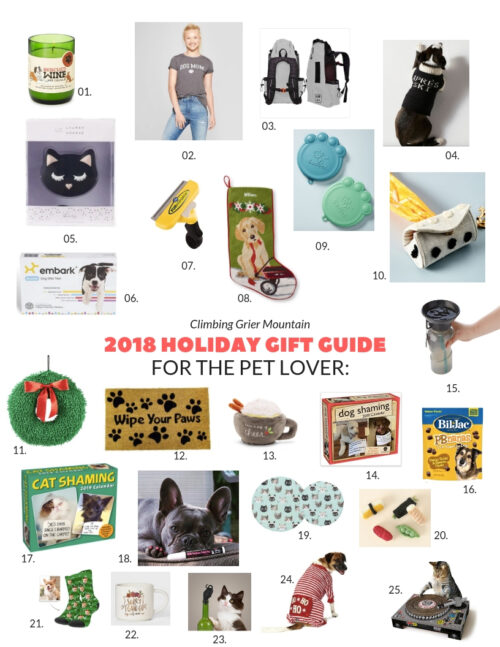 1.) Fresh Scent Pet Candle. Pets can be stinky so why not have something that will smell good to you and your pet.
2.) Dog Mama T-shirt. Dog Mamas unite! Also, this t-shirt is super comfy!
3.) K9 Spork Backpack. We tote Juniper around in this backpack and she loves it! Enough space for her to snuggle and to feel the wind on her face. Plus, it makes any person you walk by smile!
4.) Apres Ski Dog Sweater. Juniper will be sporting this around the slopes.
5.) Lauren Conrad Portable Cat Phone Charger. Because every cat owner needs a whimsical charger.
6.) Dog DNA Test Kit. If first humans, why not canines? I wonder if Juniper is a quarter corgi….
7.) FURminator. This thing is magical. With Juniper's short hair I feel like we can get our arms around her shedding. Best money ever spent!
8.) Personalized Stocking. I can't wait to put up Juniper's stocking this year! I love how L.L. Bean let's you personalize and the vintage feel is on point.
9.) Pawprint Cat Food Cover. Great way to keep cat food from spoiling!
10.) Pom Pom Clean-Up Bag Dispenser. When you are picking up poop might as well look good.
11.) Holiday Wreath Chew Toy. Don't let your doggie miss out on all the holiday fun.
12.) Wipe Your Paws Doormat. This applies to humans too.
13.) Have a Cup of Cheer Dog Toy. Now you and your dog can have coffee together!
14.) 2019 Dog Shamming Calendar. Flip through the months to witness hysterical canines doing outrageous activities!
15.) Dog Water Bowl. Kind of brilliant because all you do is squeeze the water bottle and the bowl refills!
16.) Peanut Butter and Banana Flavored Treats. Juniper eats these like crazy! Would make for a great stocking stuffer too!
17.) 2019 Cat Shamming Calendar. Because dogs can't have all the fun!
18.) Pawdicure Kit. OMG. I just ordered these for Juniper because they look like fun! They are non-toxic too!
19.) Cat Bowl Covers. You can never have too many cat themed objects.
20.) Sushi Cat Toys. Aren't these the cutest? Also, I honestly think a cat would sit and have sushi with you.
21.) Christmas Custom Dog Socks. I want to get Mr. B a pair of these with Juniper as a pup on them!
22.) Gato GO Mug. Makes me laugh every time!
23.) Kitty Wine Bottle Stopper. This will keep your cat from getting into everything. Kind of.
24.) Ho Ho Ho Pajamas. Don't forget to include Sparky in your holiday pajama photo!
25.) DJ Cat Scratching Pad. Let your kitty drop scratch some beats!
***This post is not sponsored. I have purchased a few of these items myself! Also, a few of these links are affiliate! Thanks for supporting CGM!***