Homemade Cranberry Sauce + Bourbon Cranberry Cider Smash
Jazz up your holiday feast by making classic cranberry sauce! Plus, add a splash by serving this Bourbon Cranberry Cider Smash to go along!
Day 4.
We are in the home stretch.
What do you think so far? Has this week been helpful? I hope so! To recap what I've created in case you are just joining us. On the menu: Three Make Ahead Dips, Vegetarian Brussels Sprout Bake with Parmesan & Pomegranates, and Three Oven-less Sides. I feel like with these recipes alone we should all be slaying Thanksgiving!
BUT! Today I'm going to really kick things up a notch. After all it's Friday Eve and we could all use a little somethin', somethin' to celebrate the (almost) end of the week. I actually have TWO recipes for you. I know, I know, get excited!
The first recipe is a must to complete any Thanksgiving experience. What would Thanksgiving be without a big ass dish of Classic Cranberry Sauce? For those of you who are committed to cranberry jelly in a can you have my full support. We grew up on that stuff and I am not here to judge your jiggly experience.
With that said, I want to offer an alternative to the canned version. This Classic Cranberry Sauce is straight forward. It's not super sugary, takes only a few minutes to put together and can be made three days ahead! Plus, the longer it sits the better it tastes!
Now, here's where things get extra sassy. If you make the Classic Cranberry Sauce you can actually use it to make this Bourbon Cranberry Cider Smash. Do what?!! Yep, yep. The base of this cocktail is indeed the cranberry sauce. Simply mix all of your ingredients together in a cocktail shaker, shake it up, pour and sip!
Maybe this is better described as a two-fer? Did any of you ever go to Burger King at 2am and get the two burger, two fries two-fer? Just me? Sweet. But seriously, you've got to try this festive combo. Plus it will blow your guests minds!
Alright, tomorrow is the last day of Thanksgiving week and I'm ending it on a sweet note. Also, if you guys make a dish this week or next make sure to tag: #CGMthanksgiving so I can see what you made!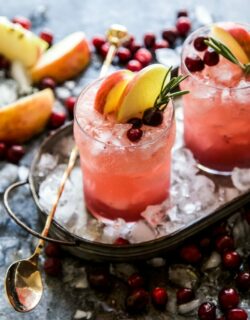 Homemade Cranberry Sauce + Bourbon Cranberry Cider Smash
Ingredients:
Classic Cranberry Sauce
2 tbsp olive oil
1 shallot, minced
1 garlic clove, minced
1 tsp ground fennel (*put 1 tsp dried whole fennel in a food processor)
1 lb fresh cranberries
1 cup brown sugar
1/4 cup unseasoned rice vinegar
2 tbsp whole-grain mustard
2 tsp Dijon mustard
salt and pepper to taste
Bourbon Cranberry Cider Smash
2 ounces bourbon
1 ounce apple cider
1 tbsp cranberry sauce
1 ounce simple syrup
Dash of bitters
Ginger beer
Apple slices, for garnish
Fresh cranberries, for garnish
Directions:
Classic Cranberry Sauce
In a medium saucepan heat the olive oil over medium heat. Add the shallot, garlic, and fennel. Cook for about three minutes or until the shallots have softened. Next, add a 1/3 cup water, cranberries, brown sugar, rice vinegar and mustards. Stir to combine and then bring to a boil. Simmer the mixture over medium to medium-high heat until thickened about eight minutes. You will need to stir occasionally to keep the cranberries from burning. Once thickened add in salt and pepper. Scrape the cranberry sauce into a bowl to cool.
Bourbon Cranberry Cider Smash
In a cocktail shaker filled with ice combine bourbon, apple cider, cranberry jelly, simple syrup and bitters. Shake until chilled. Fill a cocktail glass with ice and pour the mixture into the glass filling about 3/4 of the way. Top the glass off with some ginger beer. Garnish with fresh apple slices and cranberries.
All images and text ©