Easy Sheet Pan Pumpkin Pie
Easy Sheet Pan Pumpkin Pie is the best way to feed a crowd! Simply pour, bake, and serve! Grab a square or two!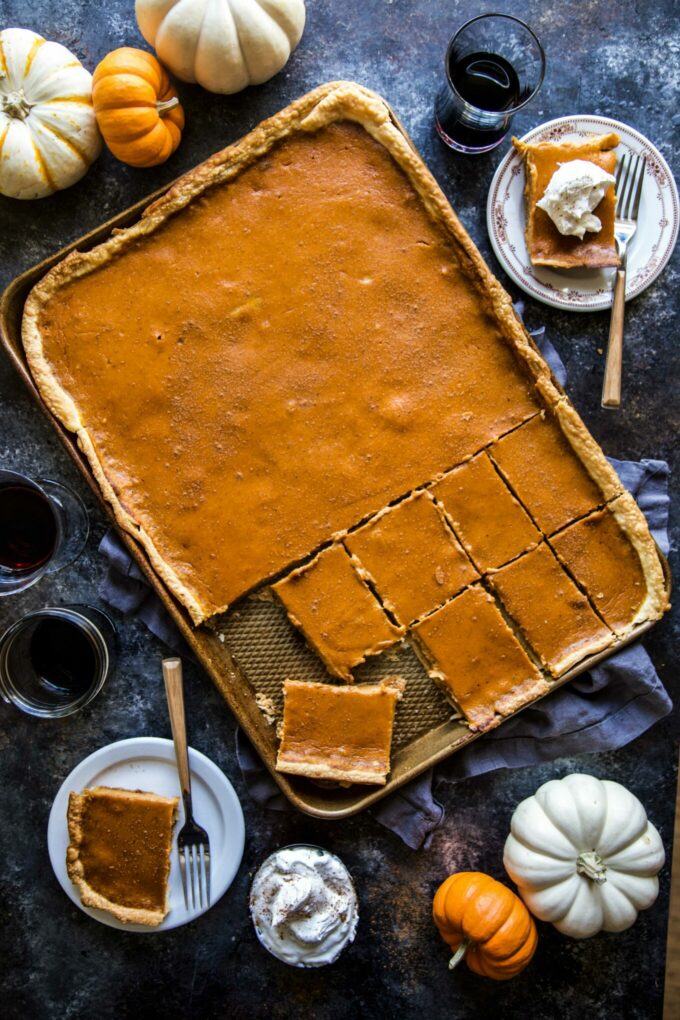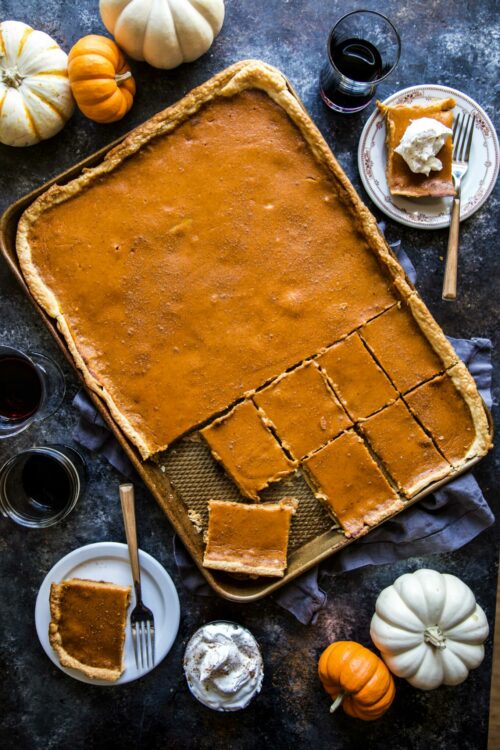 We made it!
Phew.
Are you full yet? I hope not because today we are wrapping up CGM Thanksgiving with a super easy dessert! But first, let's take a look back at all the fun dishes that were whipped up this week:
– MONDAY: Three Make Ahead Dips: Blue Cheese Walnut, Sweet Potato Ginger, and Spiced Cheddar
– TUESDAY: Vegetarian Brussels Sprout Bake with Parmesan & Pomegranates
– WEDNESDAY: Three Oven-less Sides: Slow Cooker Green Bean Casserole, Slow Cooker Classic Stuffing and Slow Cooking Rosemary Dinner Rolls
– THURSDAY: Classic Cranberry Sauce + Bourbon Cranberry Cider Smash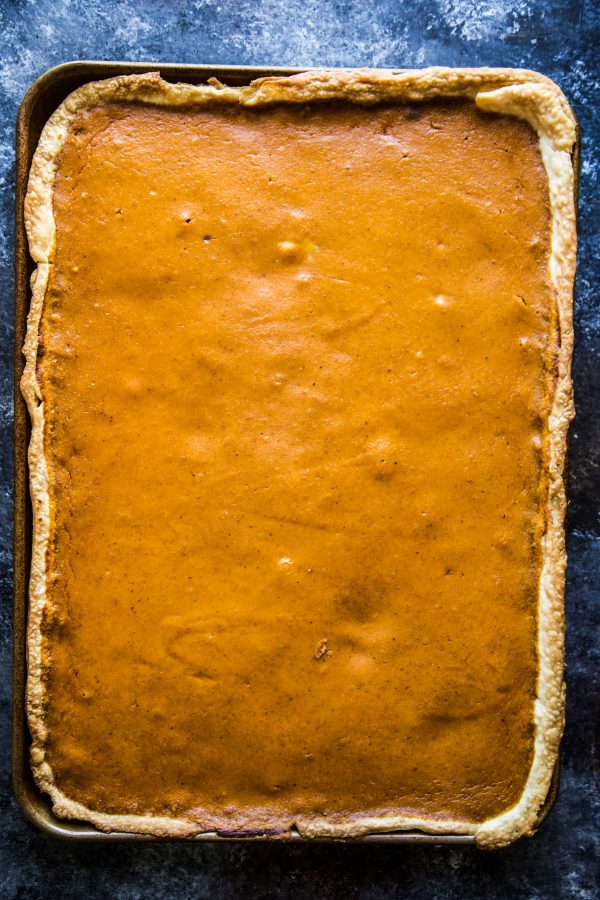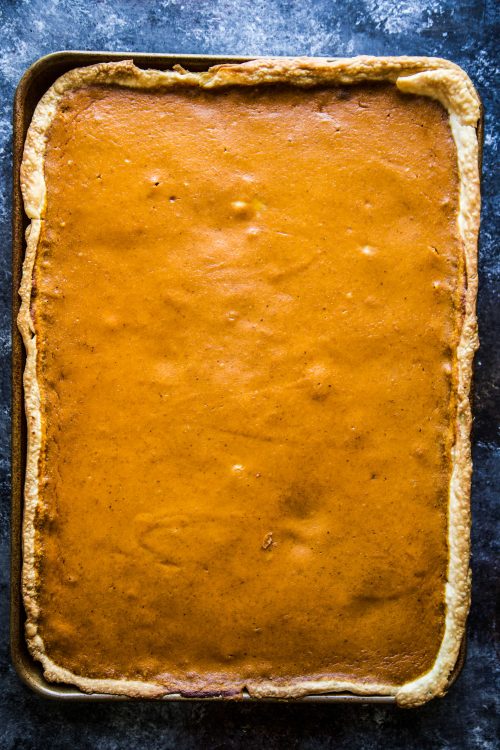 I feel like we are going to crush Thanksgiving with these dishes! Am I right? Anyway, like I mentioned above we are ending this festive week on a sweet note. Raise your hand if you like pumpkin pie? Thought so. But here's the thing, you guys know my love for pie, pie is not the greatest. So I've decided to throw the traditional "pie" out the window.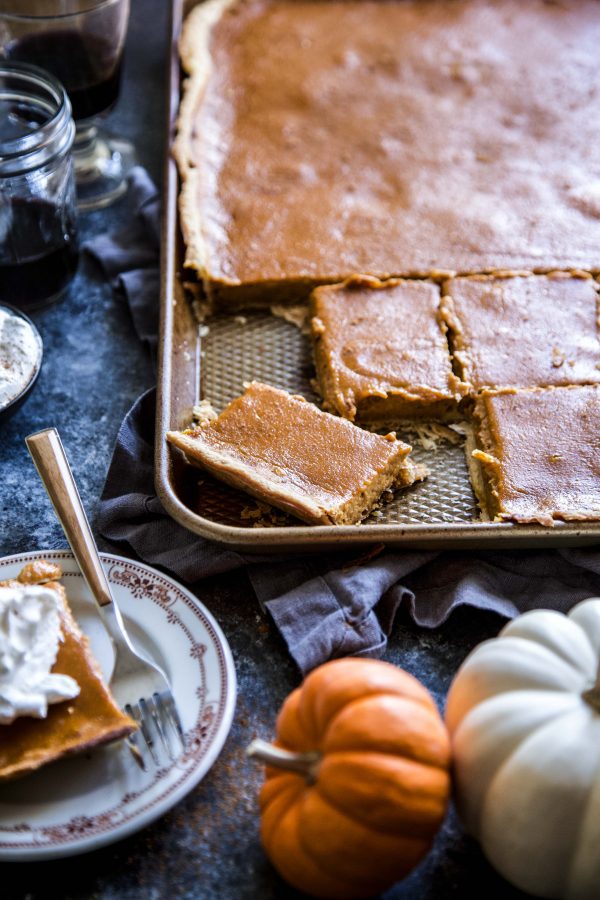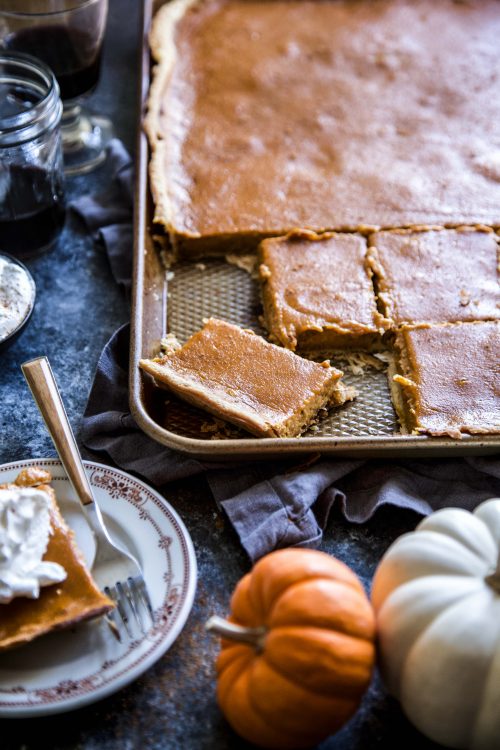 Instead I thought it would be fun to serve it a little different hence how this Easy Sheet Pan Pumpkin Pie came to fruition. I feel like this sheet pan version is like a bi-partisan truce between pie and non-pie lovers. Truth: the square pieces remind me of cake. And y'all know my love for cake runs deep.
The setup for this sheet pan pie is very straight forward. Simply roll out some pie dough to fit a baking sheet, pour in the filling, bake and watch your guests eyes light up like a Christmas tree!
And that's a wrap! I hope y'all enjoyed this week as much as I did! Also, if you guys make a dish this week or next make sure to tag: #CGMthanksgiving so I can see what you made! MWAH!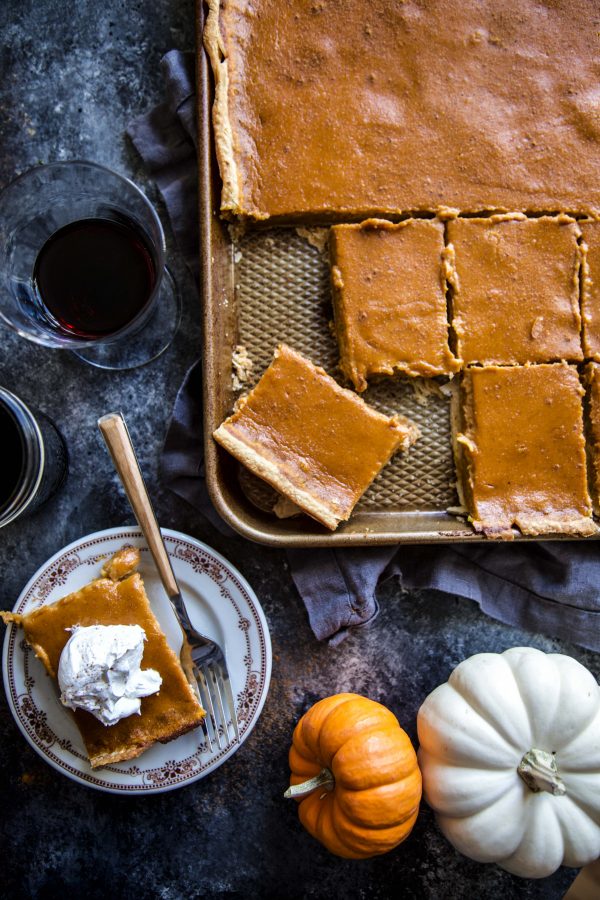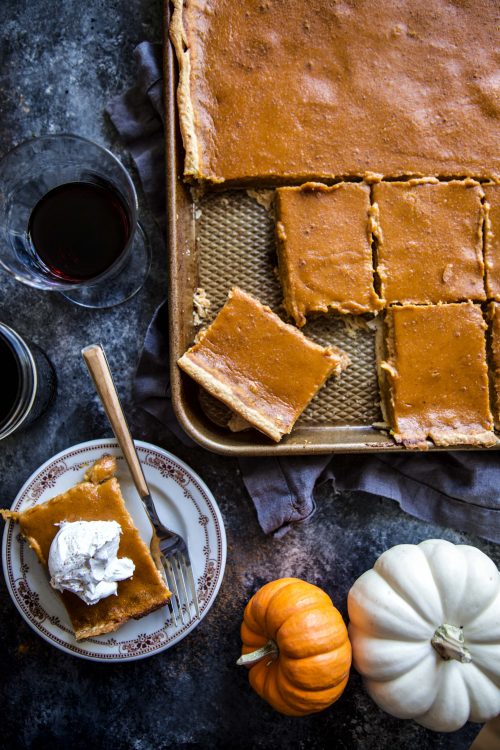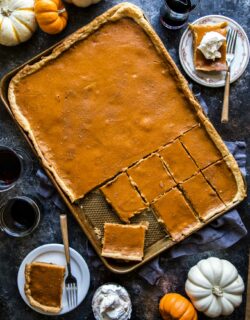 Easy Sheet Pan Pumpkin Pie
Ingredients:
3 pkgs store bought pie dough
3 cups pumpkin puree
2 cups heavy whipping cream
1 cup packed brown sugar
4 large eggs, whisked
2 tbsp all-purpose flour
1 tbsp ground cinnamon + more for garnish
1/2 tsp ground nutmeg
1/2 tsp ground ginger
2 tsp vanilla extract
1/2 tsp kosher salt
Whipped cream, for garnish
Directions:
Preheat your oven to 425 degrees. Spray a 12 X 17 baking sheet with non-stick cooking spray. Roll out the first pie crust so it covers half of the baking sheet and overlaps on side. Repeat with remaining pie crusts until the sheet pan is covered. Gently press the dough to the fit the pan and trim away any overhang. Using a fork, prick the bottom of the dough and place into the oven to bake for about 10 to 12 minutes. Remove the crust from the oven to let it cool slightly. Reduce the oven temperature to 350 degrees.
While the crust cools, make the filling. In a large bowl combine pumpkin, whipping cream, brown sugar, eggs, all-purpose flour, spices vanilla and kosher salt. Pour the filling over the crust and bake for about 40 minutes or until set. Cool completely before slicing into squares and garnishing with whipped cream.
All images and text ©