CGM 2019 HOLIDAY GIFT GUIDE: FOR HER
25 amazing gifts for that special lady in your life! Travel bags, basic leggings, a little sparkle and spa like treatments. You'll find something in this list for your mom, BFF or co-woker!
CGM 2019 Holiday Gift Guide: FOR HER is here! Y'all, I have never been so excited to share my top picks for this upcoming holiday season. Also, I would like to state for the record that I should be a personal shopper. Because I feel like I nailed it with this collection.
Anyway, below is a slew of ideas for the lady in your life. Whether it's your mom, sister, bae or co-worker, I promise you'll find something here for her. Take a peek around, get excited and crank Mariah Carey "All I want for Christmas is You!" Enjoy! xoxo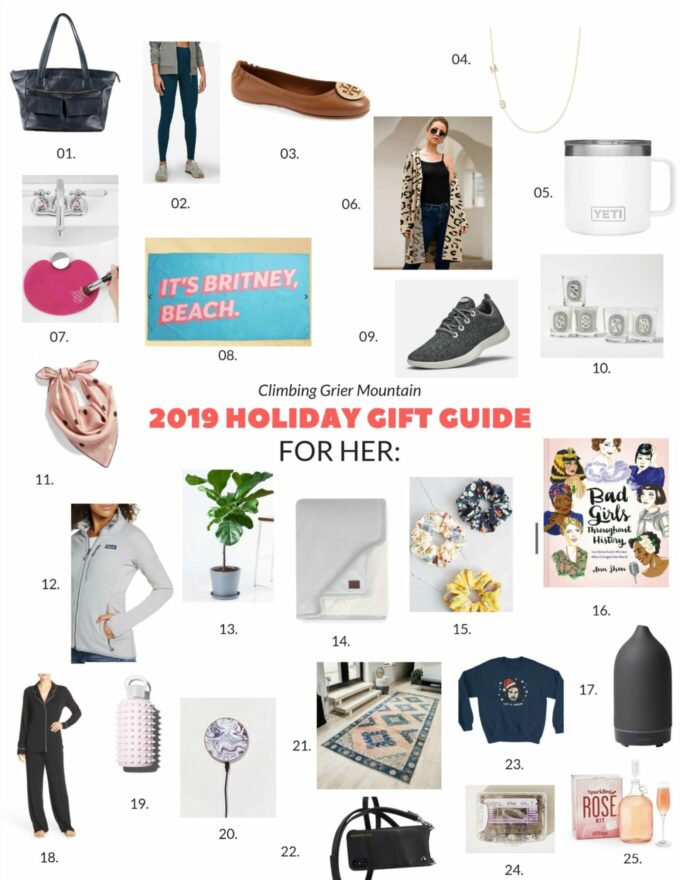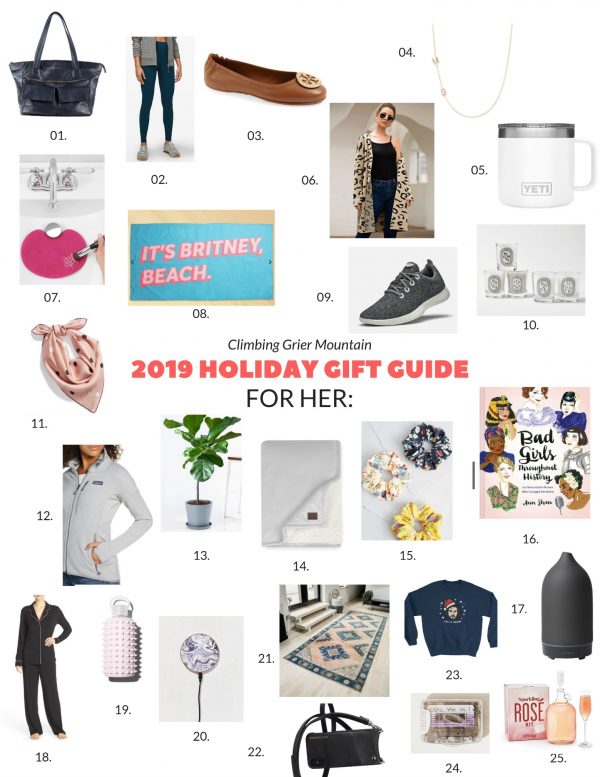 1.) Allison Pera Classic Leather Tote Bag is a must if you want to travel like a she boss. This tote bag is thoughtfully put together and will make your journey feel like a breeze.
2.) Lululemon Align Leggings were my saving grace during pregnancy. Comfortable, sleek and a great day to night option.
3.) Every girl needs a basic flat. The Tory Burch Minnie Travel Ballet Flat covers all the bases and the camel color goes with any outfit!
4.) Maya Brenner Initial Necklace is a stunning yet affordable necklace. Sport your own initials or loved ones!
5.) YETI Rambler. Because cold coffee is a major party foul.
6.) Amazon Shop has some killer items like this leopard cardigan. Perfect cover up for a casual day stroll or dress it up for a night on the town!
7.) Staying on top of clean make-up brushes can be a pain. That's why Sigma Spa Express Brush Cleaning Mat will save your face.
8.) "It's Britney, Beach" Towel. Enough said.
9.) Allbirds Women's Wool Runners. I live in these shoes. I love that you don't have to break them in. So, you better grab two pairs!
10.) DIPTYQUE Travel Size Assorted Candles. Because why should you only have to commit to one smell?
11.) Um, I'm loving the bandana look! This Kate Spade Bakery Dot Silk Bandana is a must!
12.) I'm all about the layering and this Better Sweater Patagonia Performance Jacket is my current jam. Soft, comfy and perfect for those afternoon strolls outside.
13.) I bought two plants from Bloomscape and can't recommend this service enough. They deliver potted plants to your doorstep with steps on how to not kill the darn thing. Best part? If it does depart this Earth in less than 30 days they will replace it for free!
14.) Ugg Fuzzy Blanket. Because winter is supposed to be cray this year.
15.) Is there ever a wrong time to sport a scrunchie? I think not. Grab this Lock It Up Scrunchie Set for the best options!
16.) I'm always looking for good coffee table books. This Bad Girls Throughout History ought to keep the conversation flowing.
17.) Stone Diffuser is a great way to spritz a little zen into your life!
18.) I wore these Nordstroms Moonlight Pajamas post baby and they are everything. Repeat everything.
19.) I'm always on the hunt for a good water bottle and this bkr Spiked Glass Water Bottle slays.
20.) Marble Wireless Charging Pad is crucial to your tech collection.
21.) Looking to jazz up your home? You've got to check out Ambitious Home. Their rugs are 100% vintage and super gorgeous!!
22.) Bandolier Emma Crossbody Phone Case and Wallet is for the lady who is sick of hanging onto her phone. Now she can be hands free!!
23.) Because Game of Thrones will always live on especially at your next Ugly Sweater Christmas party.
24.) This clear cassette tape player is for my 90's girls.
25.) Sparkling Rose Wine Making Kit. Sometimes you just need a case of an emergency kit.
***This post is not sponsored. I have purchased a few of these items myself! Also, a few of these links are affiliate! Thanks for supporting CGM!***