easy chorizo corn chowder
Easy Chorizo Corn Chowder is a fresh and flavorful soup that's perfect anytime of year! Chorizo, corn, and potato make this soup hearty, but healthy.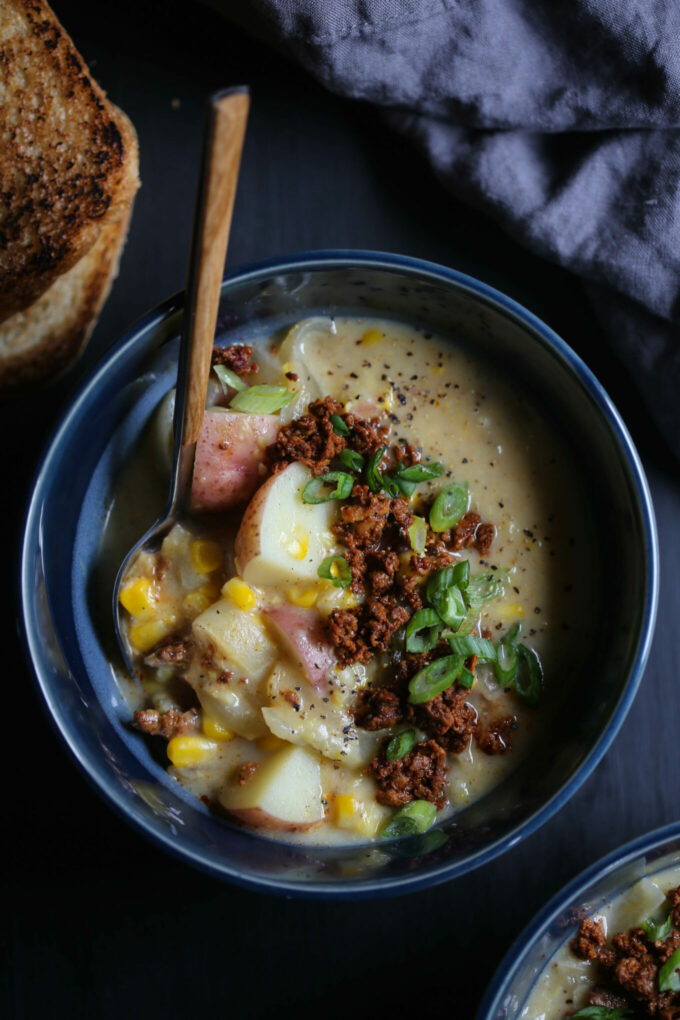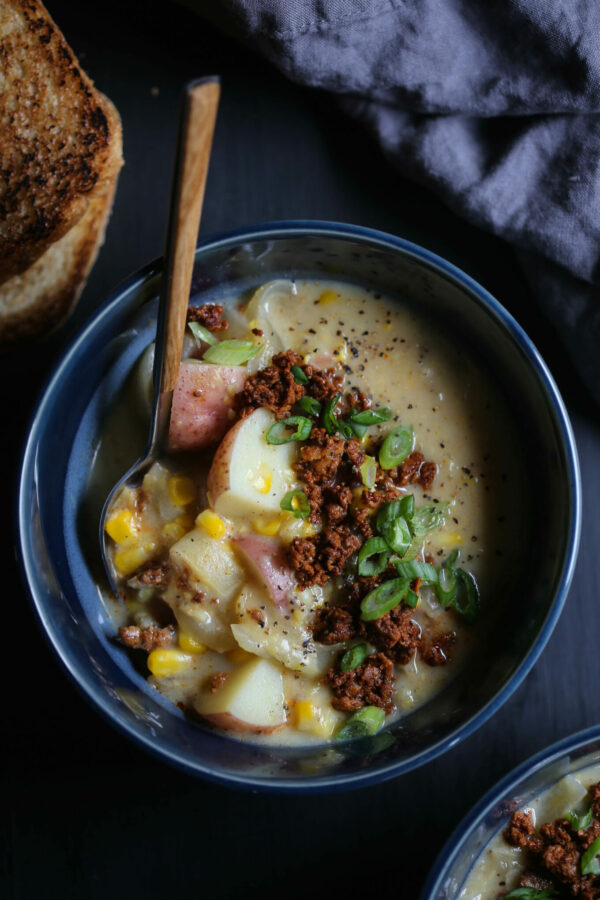 This is my first attempt at making chowder.
Or, should I say, "chowda!"
Ah, much better.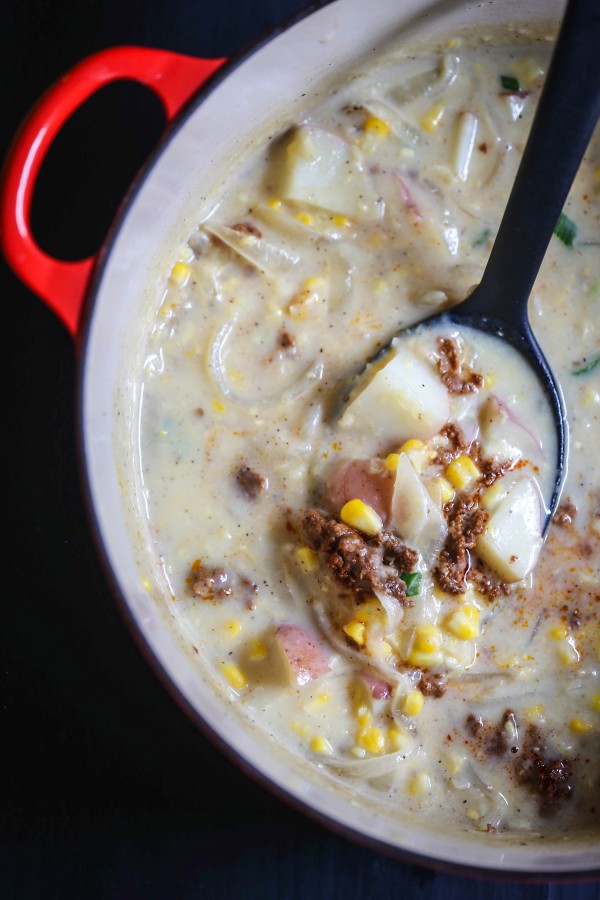 I have actually never been to Boston (clearly I need to change that ASAP!), but if you are from Boston, is that how they say it? I don't want to start this post off on the wrong foot accent if ya know what I'm sayin'?
Anyway, I am huge fan of chowder, especially of the clam variety. But I am curious, what do you all fancy? Lobster? Corn? Fish? Do tell! There is no wrong answer because it's all luxurious and so naughty. Even though I could eat clam chowder all day, I thought it was about time to make my own version of this nostalgic soup.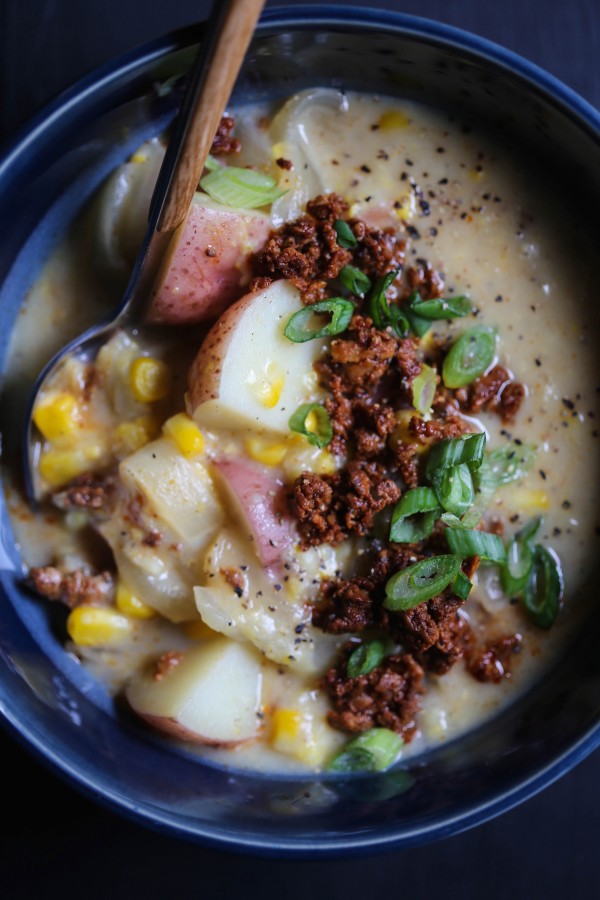 This Easy Chorizo Corn Chowder might just give clam chowder a run for its money. The base of this soup is the exact same – creating a roux, letting potatoes and corn simmer until softened and then stirring in milk or cream. Now, what makes this chowder extra sassy is indeed the chorizo. Y'all know that I am a chorizo addict. If you need good chorizo, I know a guy.
Once you are done with the base of the soup, strain the chorizo before you add it to the soup otheriswe you'll have a neon orange chowder. Which could be fun, but not when you're trying to convenience a Bostonian that it is indeed "chowda!"
Now, who needs a bowl?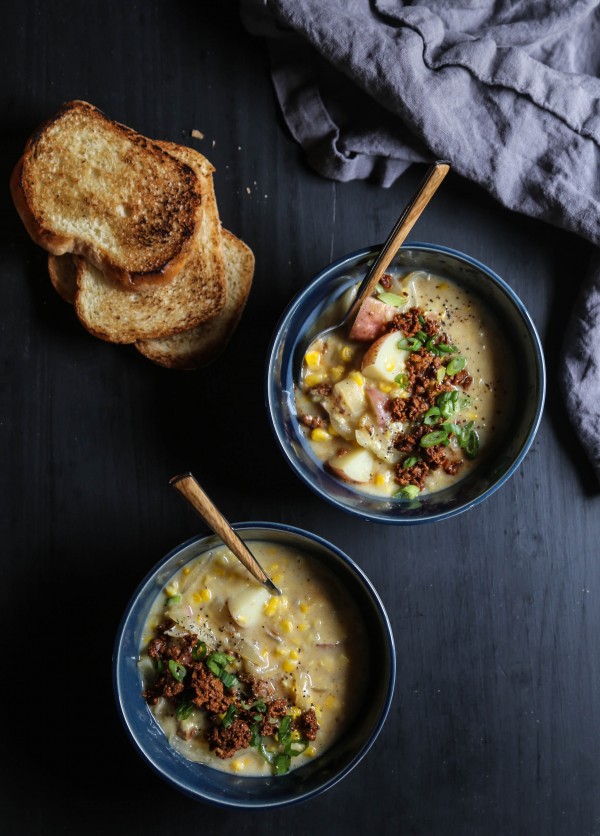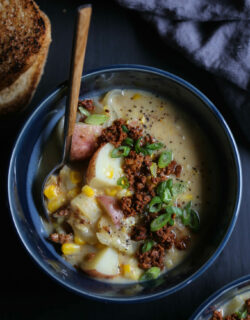 Easy Chorizo Corn Chowder
Ingredients:
3 tablespoons unsalted butter
1 yellow onion, diced
3 tablespoons all-purpose flour
3 cups fresh or frozen corn
5 red potatoes, washed, halved
3 cups chicken stock
1 cup whole milk
1/2 pound ground chorizo, cooked
Cilantro, garnish
Cheddar cheese, shredded, garnish
salt and pepper to taste
Directions:
In a large Dutch oven, melt the butter over medium-high heat. Add the onion and cook until translucent, about five minutes. Stir in the flour and cook for about two minutes stirring constantly. Add in 1 1/2 cups corn, red potatoes, chicken stock, salt and pepper. Bring to a boil and then reduce to a simmer. Simmer for about 15 to 20 minutes or until the potatoes are tender.
Meanwhile, add remaining corn and milk to a blender. Pulse until smooth. Place corn mixture into the Dutch oven, stir to combine and let it simmer to warm through about three minutes. Next, stir in the chorizo. Ladle soup into four bowls and garnish with cilantro and cheese.
adapted from Cooking Light Magazine
All images and text ©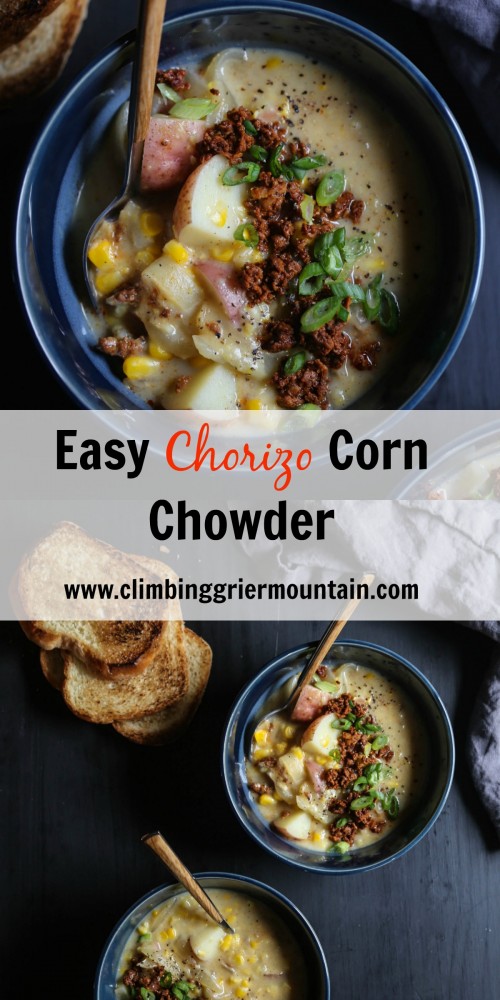 "In conclusion, Easy Chorizo Corn Chowder provides a hearty and flavorful experience, offering comfort in every spoonful. It's the perfect choice for a satisfying, warm meal."