Easy Parmesan Tomato Soup
Easy Parmesan Tomato Soup is a creamy and delicious soup that is ready in 30 minutes!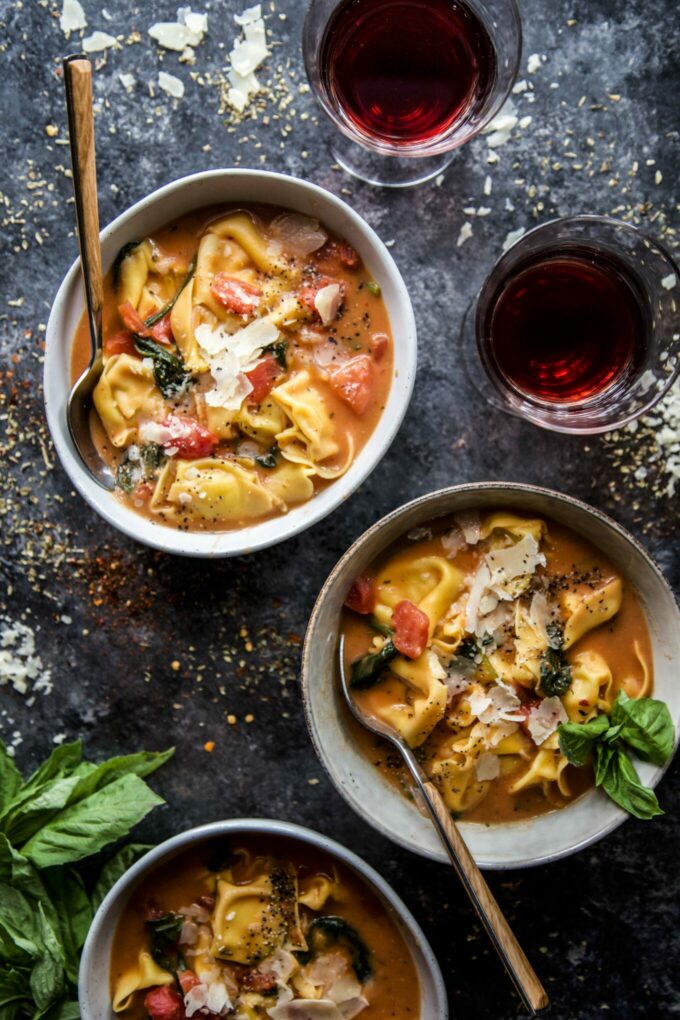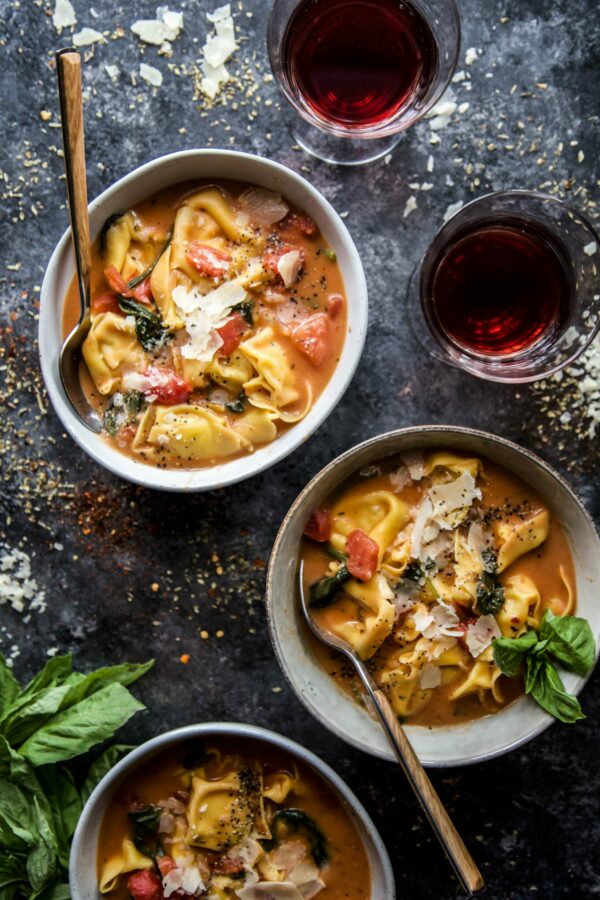 The weather changes so much here in Colorado.
Last week we went from 90 degrees and sunny to 35 degrees and snowing in 24 hours. I feel like I have Mother Nature whiplash.
Thankfully we were able to bring in all of our plants so we could keep (fingers crossed) them for another month. Anyway, with the swing in temperatures my taste buds were all over the place. One minute we went from grilling barbecue ribs to making today's recipe – Easy Parmesan Tomato Soup.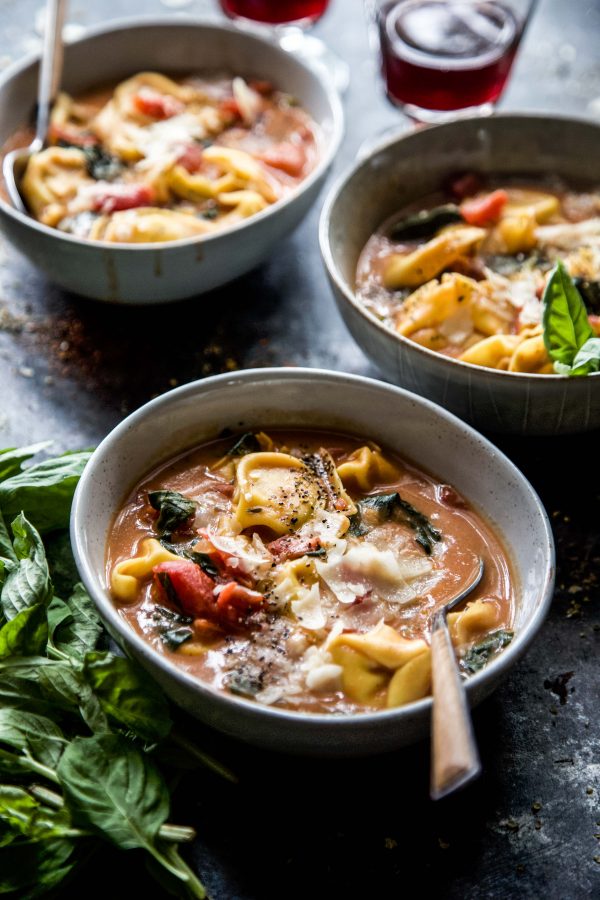 What's in Classic Tomato Soup?
Tomato soup is a classic comfort food enjoyed especially when the weather cools down. There are really only a handful ingredients:
– Fresh or canned tomatoes, Butter, Onion, Garlic, Flour, Cream, Chicken Stock, and Fresh basil
Now, you can certainly make classic tomato soup anytime, but like I mentioned above, I added a little bit more sass to my version.
What's in your Easy Parmesan Tomato Soup?
The secret is the cheese tortellini pasta. For me it adds a level of sophistication that is fun and easy to create. Spoiler alert: purchase the ready to-go pasta at the grocery store!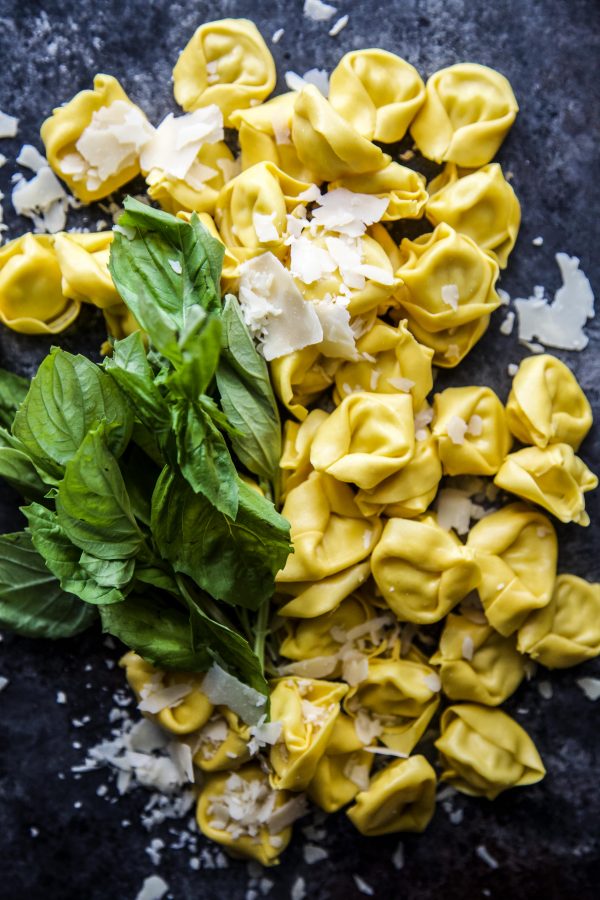 Once you've made the base of this tomato soup stir in the pasta, Parmesan, and to get our greens in a handful of spinach. I promise you it's delish.
Honestly, the best part? This soup comes together quickly and is completely customizable. Use kale instead of spinach, add whatever pasta you have in the pantry, and fontina would be a delicious addition instead of Parmesan. 
Ready to dive in?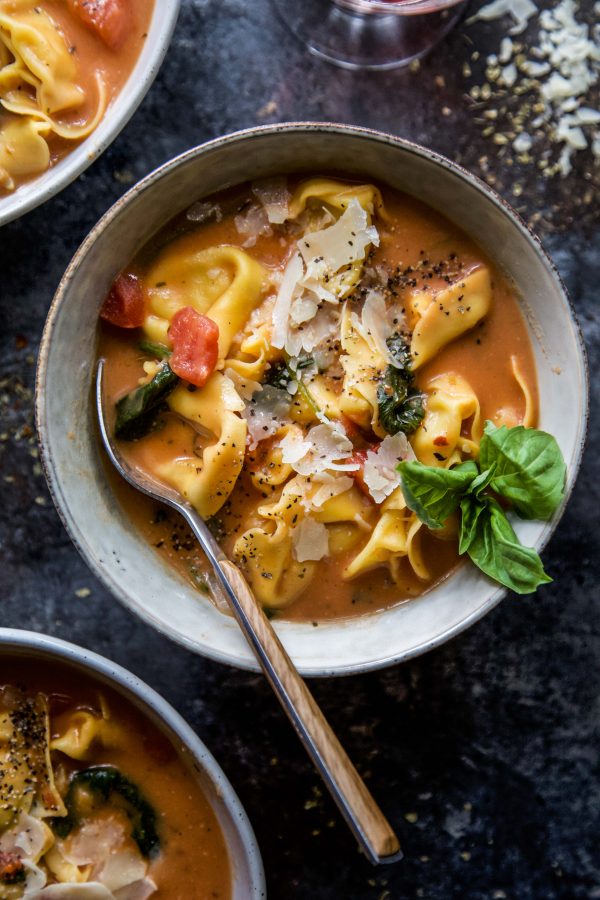 More Easy Soup Recipes: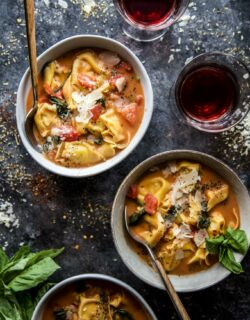 Easy Parmesan Tomato Soup
Ingredients:
1 tbsp unsalted butter
1/2 cup chopped yellow onion
4 garlic cloves, minced
3 tsp Italian seasoning
1/2 tsp red pepper flakes
3 tbsp all-purpose flour
3 cups chicken stock
1 28-oz can fire roasted diced tomatoes
3 tbsp tomato paste
4 cups fresh cheese tortellini
1/3 cup whipping cream
1/2 cup grated Parmesan
3 cups spinach
salt and pepper to taste
Fresh basil, for garnish
Directions:
In a large Dutch oven preheated to medium heat melt the butter. Add in the chopped onion and cook until softened about 3 to 4 minutes. Next, add the garlic and cook for a minute. Add in the Italian seasoning, red pepper flakes, and flour. Whisk the flour for about a minute or two until slightly cooked out.
Add the chicken stock, fire roasted tomatoes, and tomato paste. Stir to make sure everything is well combined. Add in the tortellini and bring the soup to a boil and then simmer for about 10 minutes or until the tortellini is cooked.
Once the tortellini is cooked stir in the cream and Parmesan. Add in the spinach to let it wilt, and season the soup with salt and pepper. Divide the soup among bowls and garnish with fresh basil.
All images and text ©