foodie fridays: mini butternut squash pie stacks with marshmallow frosting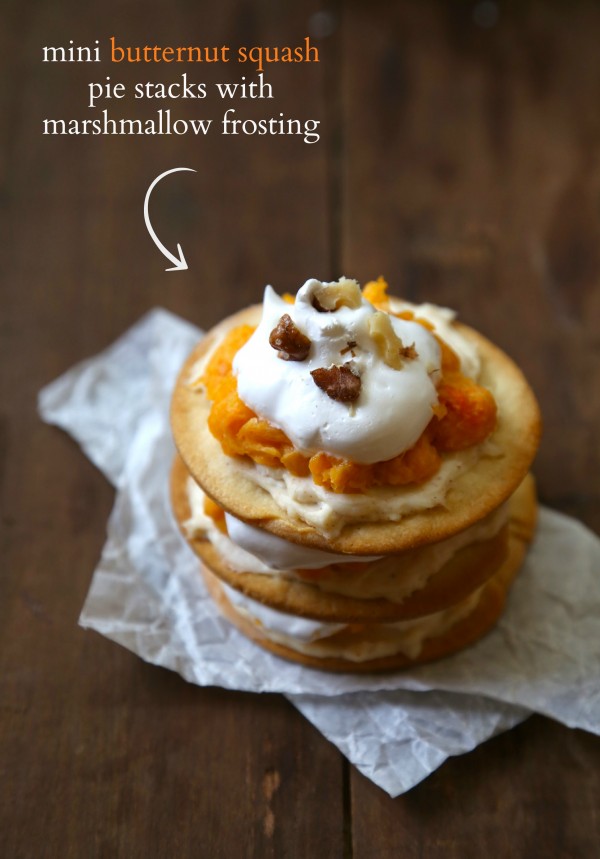 If you read this blog, you know Madam Pie and I don't always get along.
I don't know what it is, but my taste buds fancy a gooey, chocolate bite of brownie, or a slice of fluffy white cake topped with marshmallow frosting. I honestly don't know where my aversion to pie came from. Maybe I was hit with a pie in my face in another life? Maybe I ate too many slices of pie in those turn-around display cases? I dunno.
So, when a fab group of talented food bloggers ask you to be a part of pie week, WHAT DO YOU DO? Well, you put on your big girl mitts and get baking. Even though I would rather watch paint dry then make a pie crust from scratch, I thought it would be fun to mix up the traditional "let's have a slice of pie."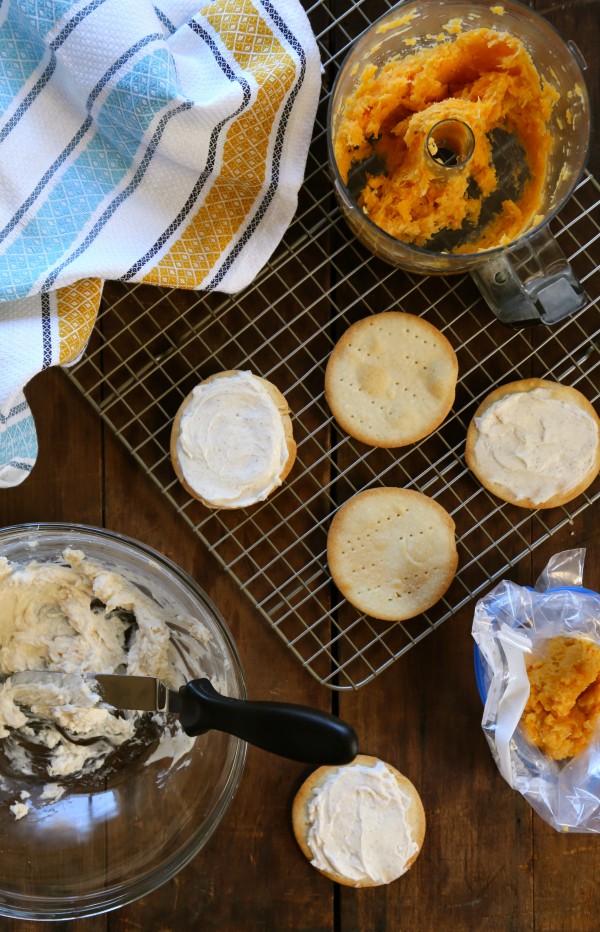 Rather than dusting myself in flour, I decided to roll out a ready to go pie crust and cut out pie circles (you totally know where this is going). Mix together a little cream cheese, sugar, and cinnamon. Roast and glaze some butternut squash, and whip up my favorite marshmallow frosting. And what you get is the perfect recipe for stack-able pies!
I mean who needs a fork when you all need is your fingers! Shove this pie stack in your face or somebody's else for a good holiday giggle. Madam Pie gives these two-stacks up!
Make sure and check out the other fabulous bakers of pie week!
Monday 11/18:
Kirsten / Comfortably Domestic – Mile High Apple Pie!
Katie / The Hill Country Cook – New Mexico Apple Pie
Anne / From My Sweet Heart – Cranberry Cherry Ricotta Pie
Haley / The Girlie Girl Cooks – Coconut Cream Pie
Tuesday 11/19:
Jeanne / Inside NanaBread's Head – Black and White Coconut Tart
Mads / La Petite Pancake – Pineapple Pie
Monica / The Grommom – Papaya Pie
Wednesday 11/20:
Carrie / Bakeaholic Mama – Chocolate Cream Pie
Kat / Tenaciously Yours – Grandma's Chocolate Pie
Kirsten / Comfortably Domestic – Maple Sweet Potato Pie with Toasted Swiss Meringue
Thursday 11/21:
Shanna / Pineapple Coconut – Boozy Pumpkin Egg Nog Pie
Carrie / Bakeaholic Mama – Sweet Potato Tartlets
Friday 11/22:
Madeline / Munchin in the Mitten – Sweet Potato Pie
Allison / Decadent Philistines – Refrigerator Pumpkin Porter Chocolate Pie with Toasted Pumpkin Marshmallow "Meringue"
Lauren / Climbing Grier Mountain – Mini Butternut Squash Pie Stacks with Marshmallow Frosting
Saturday 11/23:
Megan / Wanna Be a Country Cleaver – Biscoff Pie with Whiskey Mallow Fluff
Shanna / Pineapple Coconut – Persimmon, Pear and Brandy Pie with Vanilla Bean Crumble
Christina / Buffy and George – Deep Dish Apple Pie
Kirsten / Comfortably Domestic – Very Berry Cherry Pie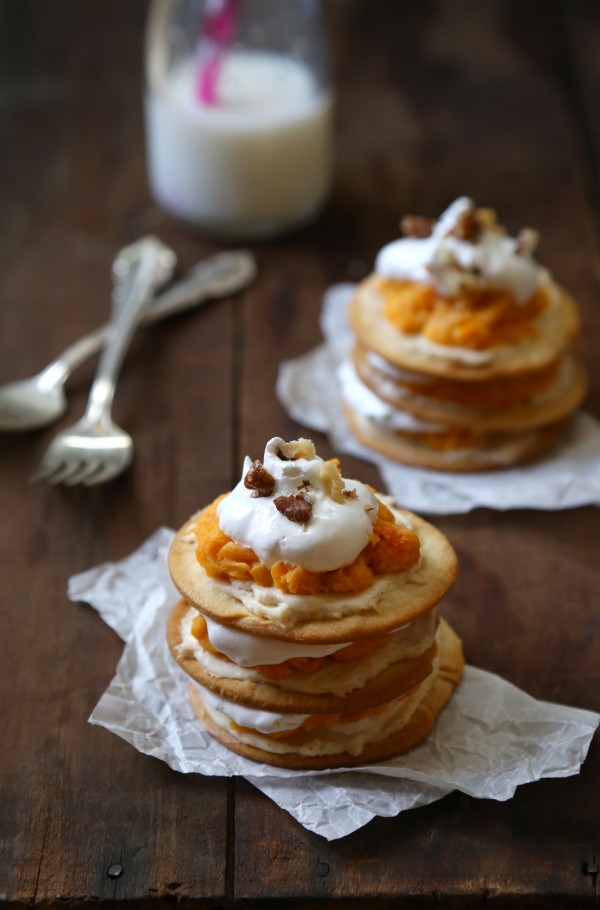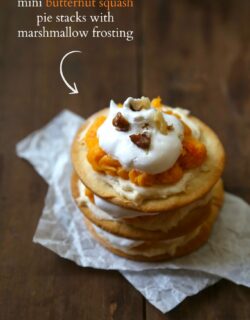 Mini Butternut Squash Pie Stacks with Marshmallow Frosting
Ingredients:
Ingredients:
for the pies:
1 9-inch prepared pie dough
4 ounces cream cheese, room temperature
¼ teaspoon cinnamon
½ tablespoon granulated sugar
Pecans, garnish
for the butternut squash:
1 butternut squash, peeled, halved, cubed
2 tablespoons unsalted butter, melted
1 ½ tablespoons granulated sugar
2 tablespoons cream (+more if needed)
for the marshmallow frosting:
2 egg whites
¼ teaspoon kosher salt
¼ cup granulated sugar
¾ cup corn syrup
1 teaspoon vanilla extract
Directions:
Preheat oven to 375.
for the pies:
Roll out dough onto a floured surface. Using a three-inch biscuit cutter, cut out six circles and place them on a baking sheet. Using a fork, poke holes on the top so the crust doesn't rise. Bake for about 10 minutes or until golden brown. Remove from oven and cool on a wire rack.
In a medium bowl, combine cinnamon, sugar, and cream cheese. Set aside until ready to stack.
for the butternut squash:
Place squash on a baking sheet and pour melted butter and sugar on top. Bake for about 45 minutes, flipping midway so it doesn't burn. Remove from oven and let it cool. Place squash in a food processor and pulse with the cream until smooth. Place squash in a piping bag.
for the marshmallow frosting:
In a stand mixer with a whisk attachment, beat 2 egg whites with salt until frothy. Gradually add sugar, beating until soft peaks form. Heat syrup in a glass microwaveable dish until it boils. Pour syrup in thin stream over egg white mixture, a little at a time. Beating on high speed until harder peaks form. Add vanilla and beat until glossy!
to serve: place a pie circle a plate. Smear about a tablespoon of the cream cheese mixture on the bottom. Next, pipe some of the butternut squash puree on top. Then pipe some of the marshmallow frosting on top of the butternut squash. Place another pie circle on top of the marshmallow frosting. And repeat process until you have used three pie circles. On the last pie circle garnish the marshmallow frosting with pecans.
adapted from Food and Wine Magazine
All images and text ©