Greek Corn Chowder
Greek Corn Chowder is a refreshing and flavorful chowder! Great way to use up all the fresh summer corn.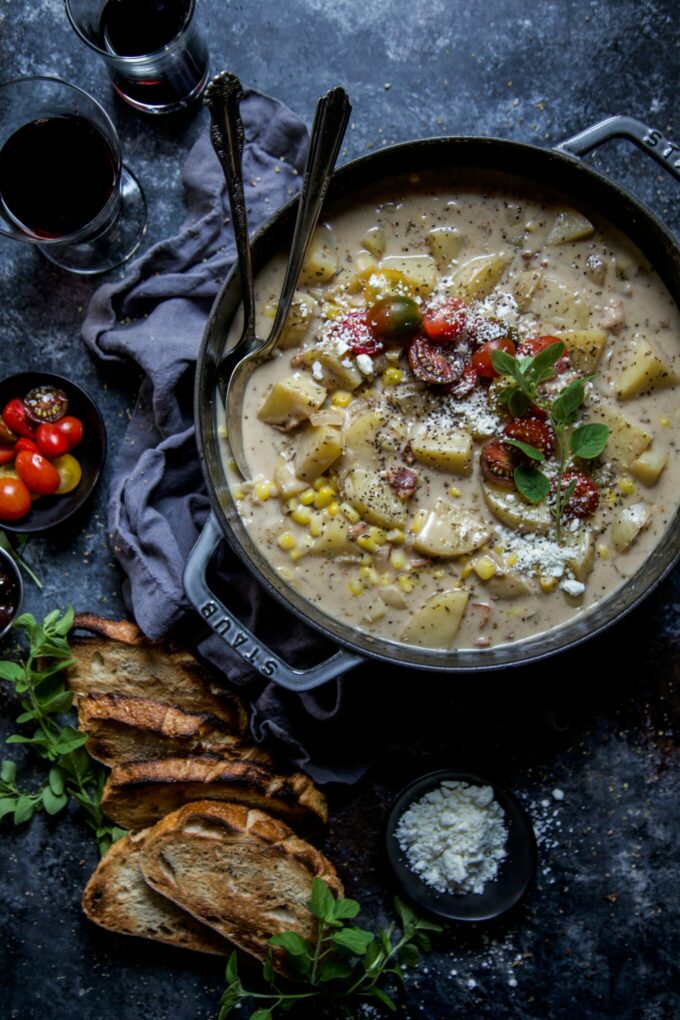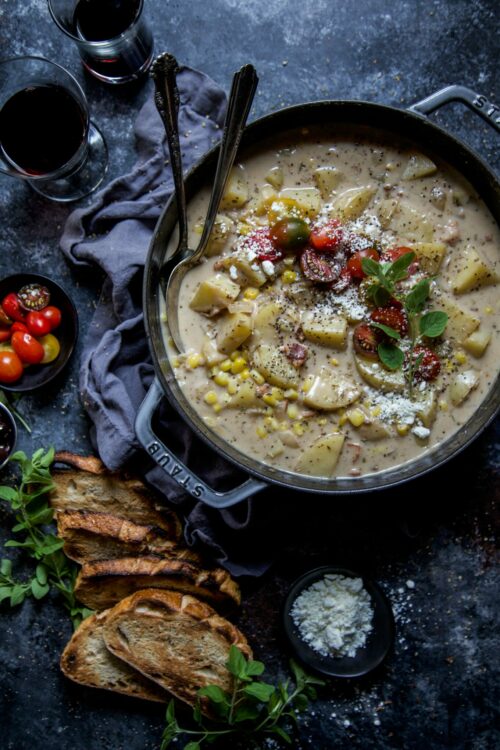 We are in the home stretch.
Wait. Do people even say that anymore?
My gut is telling me no. Honestly, I haven't uttered that phrase since I pitched a fastball. Curious, did you know that I played softball? I was a pitcher and not to toot my own horn (TOOT!), but I had a wicked curveball.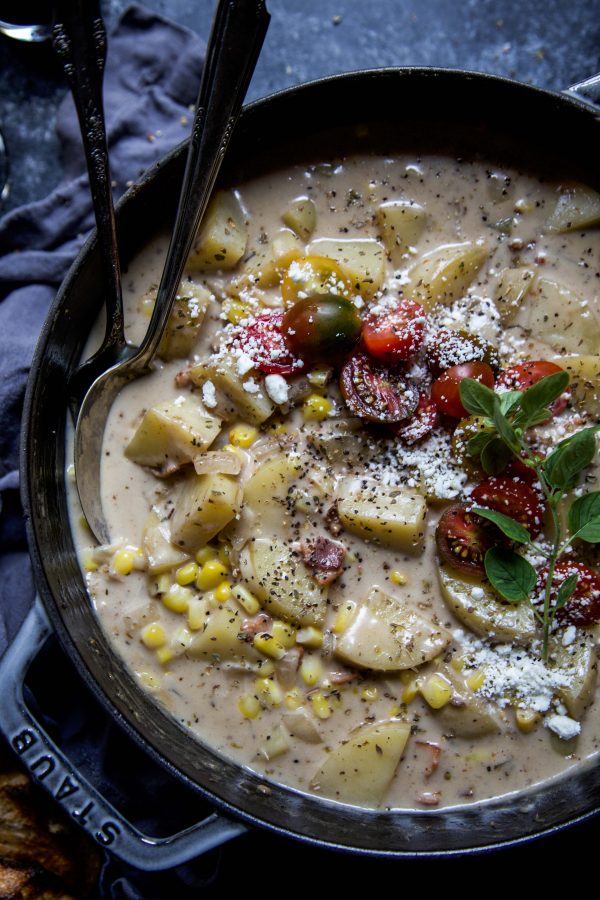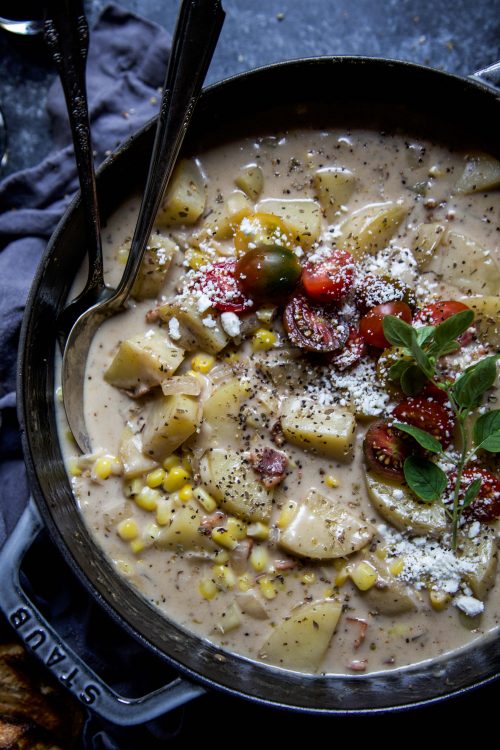 I almost pitched a no hitter during my final game as a senior. Shouldn't have thrown that darn fastball. Meh. What can you do except tell the story over a beer at Applebees. Kidding. Do people still go to Applebees? I did love their Asian Chicken Salad though.
How the hell did I derail to Applebees? It's definitely been a long week already, but the best part? We are t-minus three days away from a holiday weekend. BOOYAH! What are you guys up to? Staying home? Grilling? Putting up fall decor? That might be a little aggressive. Fall officially doesn't begin until September 20th. So put down the PSL.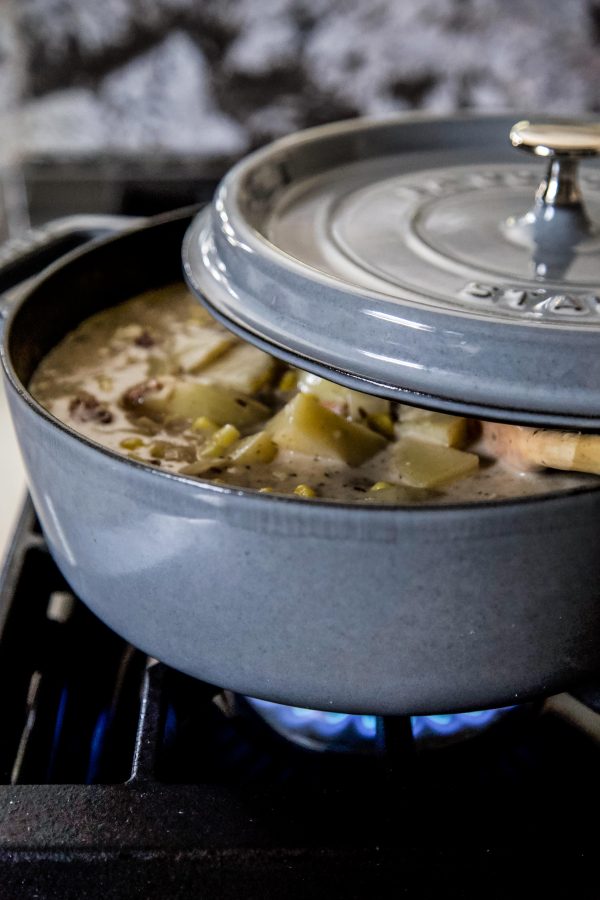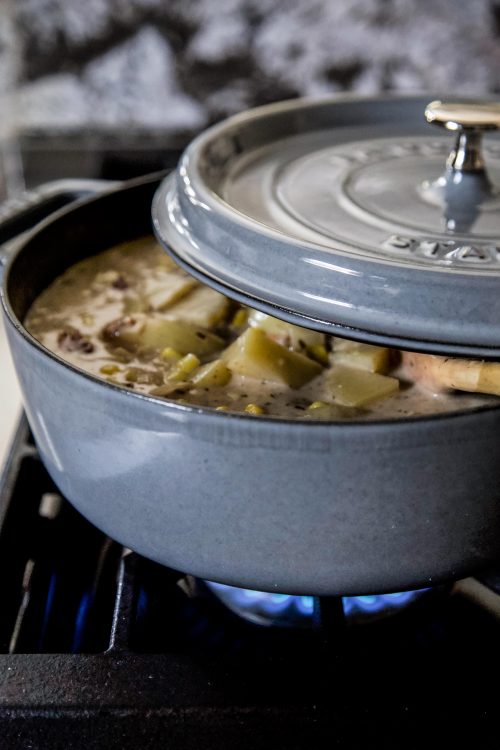 I do have a super delicious recipe you can make this weekend. Or any day really because it's a great way to use up all that corn! I'm a huge fan of chowder so naturally I thought we needed jazz it up. Meet the one and only, Greek Corn Chowder. All the basic components of a regular corn chowder but with a splash oregano and all the Greek toppings.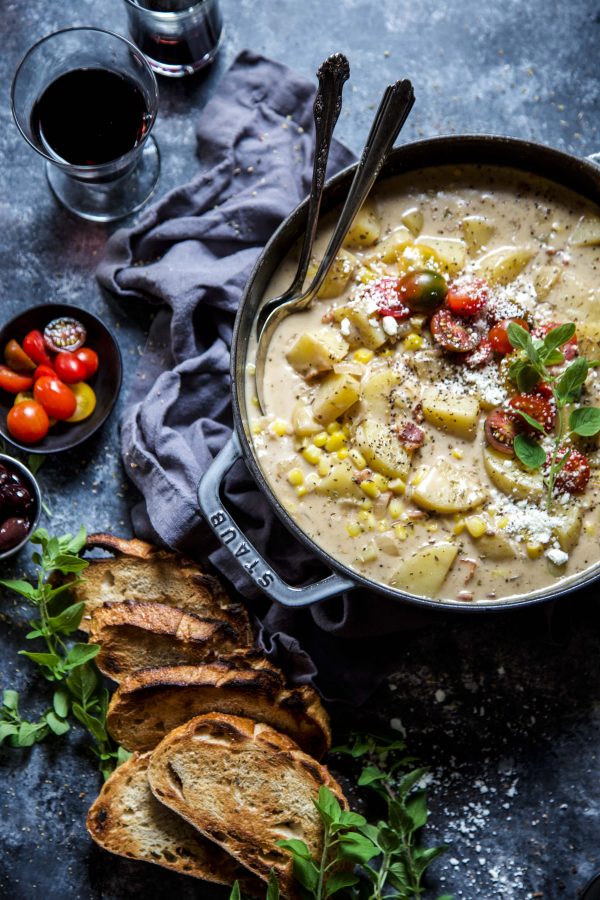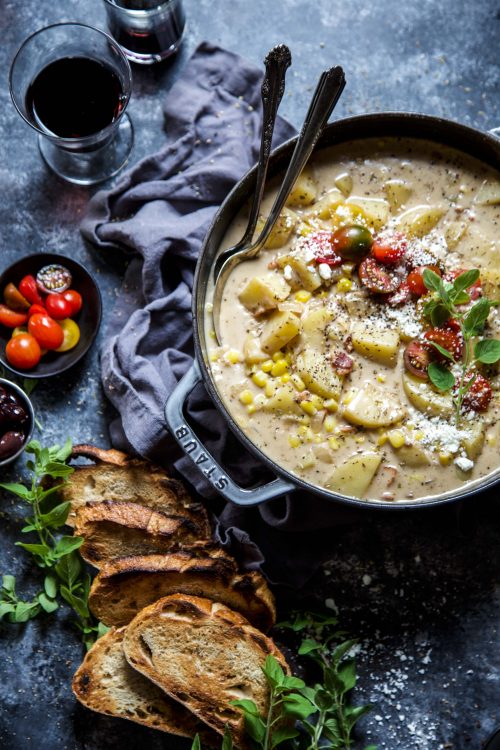 The chowder is quick and easy. Like 30 minutes or less and can feed a holiday gathering army. Plus, it gives you an excuse to say CHOWDA!
Wait. Do people say that?
If you need me, I'll be at Applebees.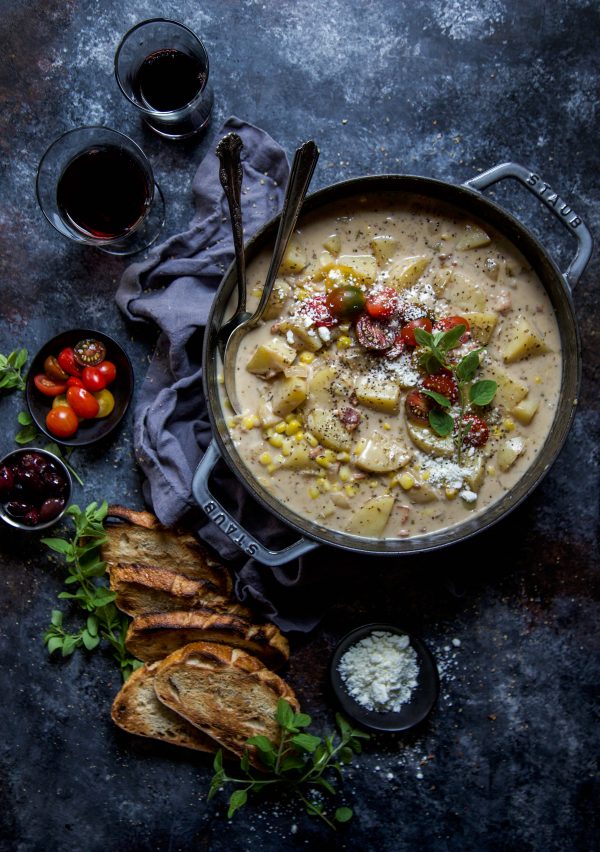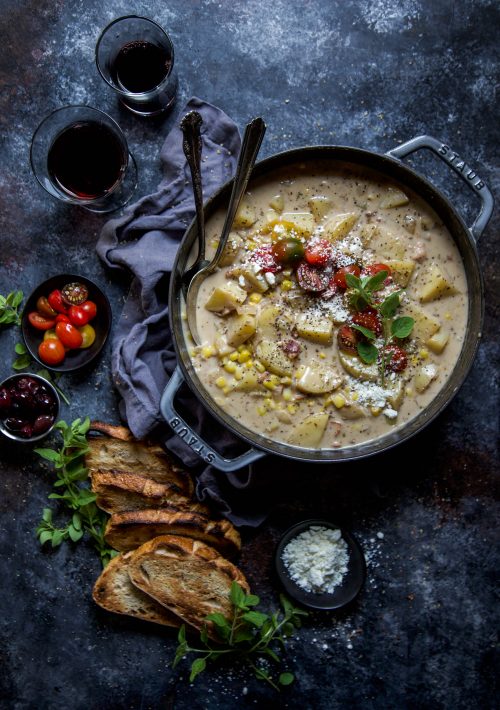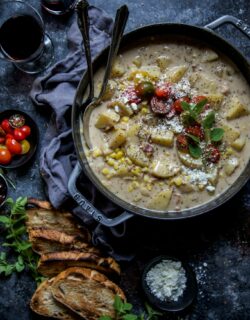 Greek Corn Chowder
Ingredients:
5 slices bacon, roughly chopped
1 yellow onion, diced
1 lb golden potatoes, cut into small cubes
4 cups chicken stock
2 tbsp all-purpose flour
1/2 cup milk
3 cups fresh or thawed frozen corn
1/2 cup heavy whipping cream
1 cup white cheddar cheese, shredded
1 tbsp dried oregano
salt and pepper to taste
Feta, for garnish
Grape tomato halves, for garnish
Olives, for garnish
Fresh oregano leaves, for garnish
Directions:
In a large Dutch oven pre-heated to medium heat add the chopped bacon. Cook the bacon until crisp and remove it with a slotted wooden spoon onto a plate lined with a paper towel.
In the same pot add the onions and cook for about three minutes or until translucent.
Next, add in the potatoes and chicken stock. Stir to combine and then bring the mixture to a boil. Reduce the heat, cover and simmer the potatoes for about 10 12 to minutes or until they are fork tender.
In a small bowl combine milk and all-purpose flour. Pour the mixture into the pot and stir. Next, add in the corn, whipping cream, white cheddar cheese, oregano, bacon, salt and pepper. Bring the chowder back to a boil and then a simmer for about five minutes or until everything is warmed through and had a chance to let the flavors combine.
Remove the Dutch oven from the heat. Ladle the chowder into bowls and garnish with feta, tomato, olives and fresh oregano.
adapted from delish.com
All images and text ©