hasselback fingerling potatoes with lemon basil goat cheese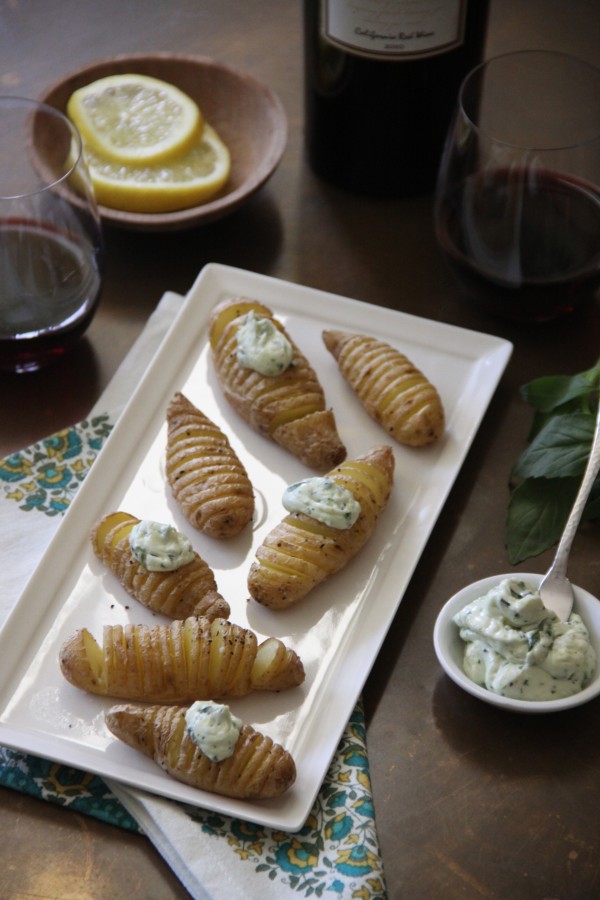 Oh, Monday, Monday, how I loathe today.
Okay, it's not entirely your fault.
It's not your fault that this past weekend I celebrated Cinco de Mayo, attended the Denver Derby Party, and drank far too much giggle juice. Hence, that's why I am a grumpy-grumperton. I do apologize; because, right now, I have a bad case of the Monday's.
Alright, enough with  my self-induced pity party, let's talk Mom's.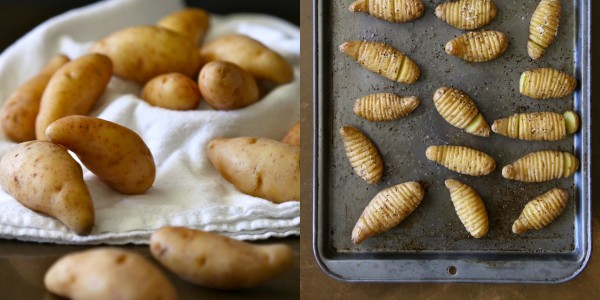 It's hard to believe this coming weekend is Mother's Day. Wasn't Easter like three days ago? I honestly can't tell by the way the weather has been acting. I think everyone is a little confused. Is it spring or winter? Winter or spring? I dunno know.
Growing up, I  had high regards for my mother. Yes, there were times when she completely embarrassed me in front of my friends. I will never forget my freshman year in high school when my mother picked me up from a friend's house with a botched hair dye that made Strawberry Shortcake look blonde. To say I was mortified is a gross  understatement.
Even though I was embarrassed from time to time by  her actions; I admired her curiosity, free spirit, and ability to listen without passing any judgment. She wasn't a "regular" mom; she was a "cool" mom. So this week I thought it would be fun to make my mom a few treats since I can't be with her on Mother's Day. Living a long distance apart can be a pain, I tell ya!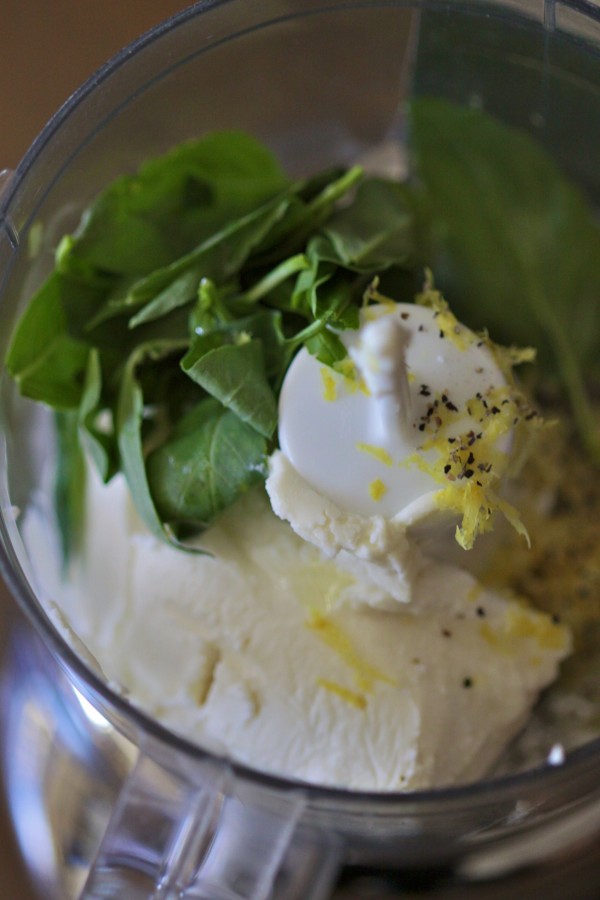 My mom has an obsession with small things in the kitchen, as do I. Small plates, glasses, and particularly, small portions  makes us happy. I thought it would be fun to make a quick appetizer or side dish to serve on Mother's Day. Okay, we've all heard of the Hasselback potato. Unfortunately, it has nothing to do with Mr. David Hasselhoff (tear) but rather it is named after a restaurant in Stockholm. So, instead of the usual russet potato, why not use fingerling potatoes? Are these not so fetch?
Top these bad boys with a little goat cheese, basil, and lemon, and you have one Mother approved dish!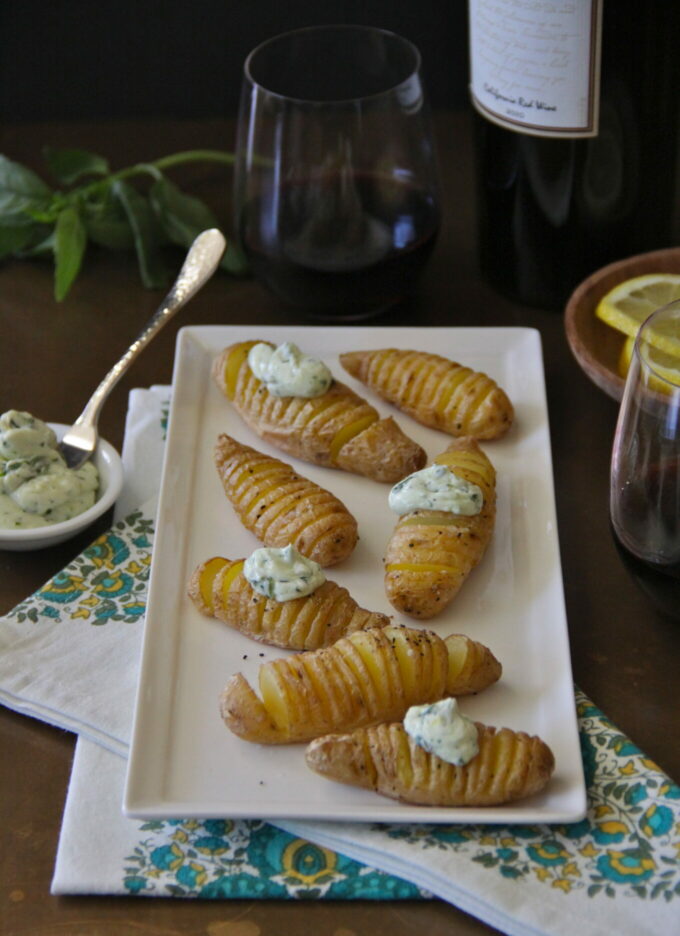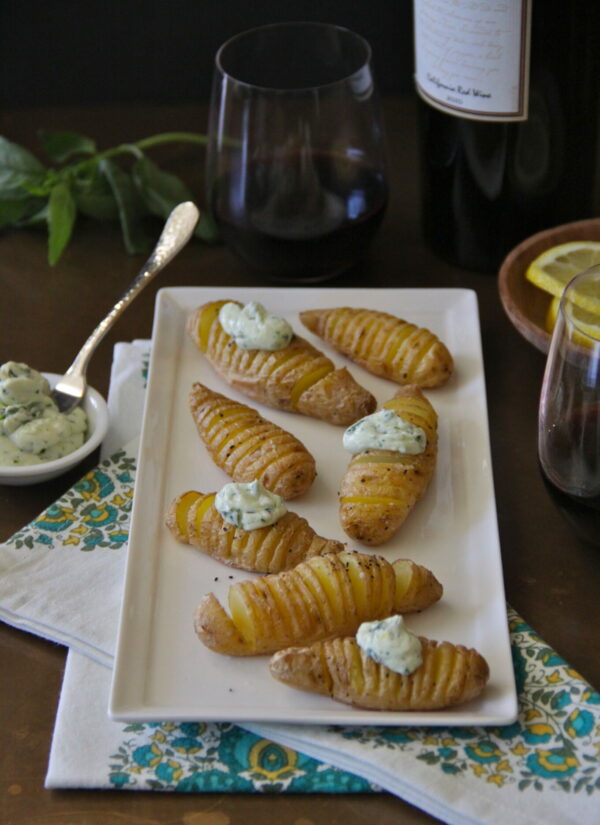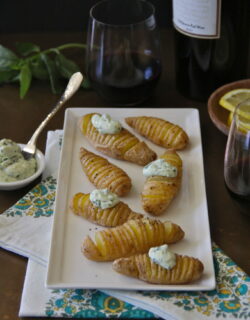 Hasselback Fingerling Potatoes with Lemon Basil Goat Cheese
Ingredients:
for the potatoes:
1 pound fingerling potatoes
olive oil
salt and pepper
for the goat cheese:
1 4 oz package plain goat cheese, room temperature
1 tablespoon basil, chopped
1 teaspoon lemon zest
Squeeze lemon juice
Directions:
Preheat oven to 375 degrees.
for the potatoes:
Line a baking sheet with foil and spray with non-stick cooking spray. Cut fingerling potatoes in a 1/8-inch intervals down the center of the potato, carefully not cutting all the way through. Place the potatoes on the baking sheet. Drizzle with olive oil on top of each potato and add a little salt/pepper as well. Bake for about 40 minutes until the potatoes are golden brown. Remove from oven, and dollop a little bit of the goat cheese mixture on top. Serve immediately.
for the goat cheese:
In a small bow, mix together goat cheese, basil, lemon zest, lemon juice, and salt/pepper. Set aside until ready to top potatoes.
hasselback fingerling potatoes adapted from Food and Wine
All images and text ©