foodie fridays: enchilada mexican meatball stacks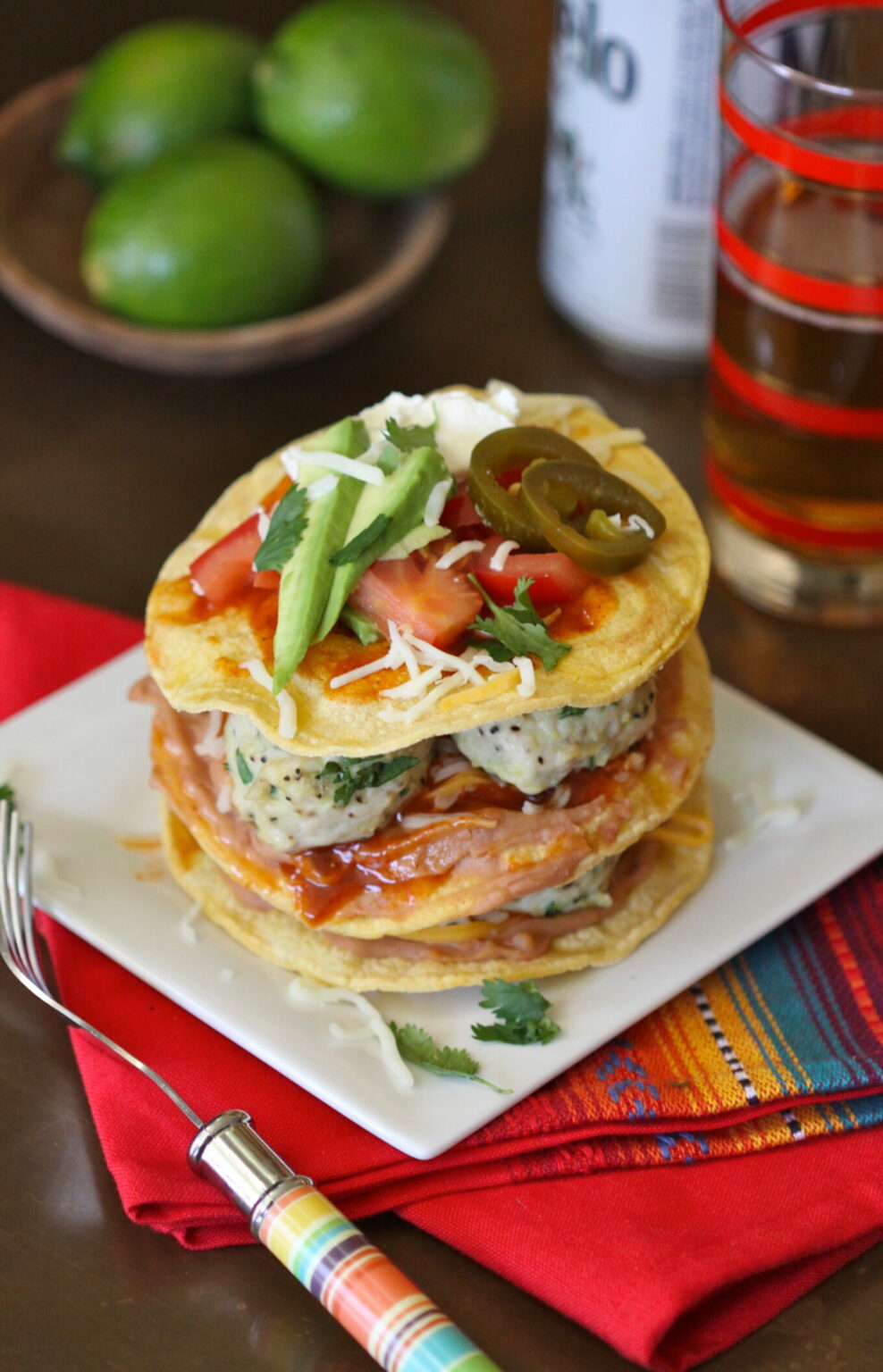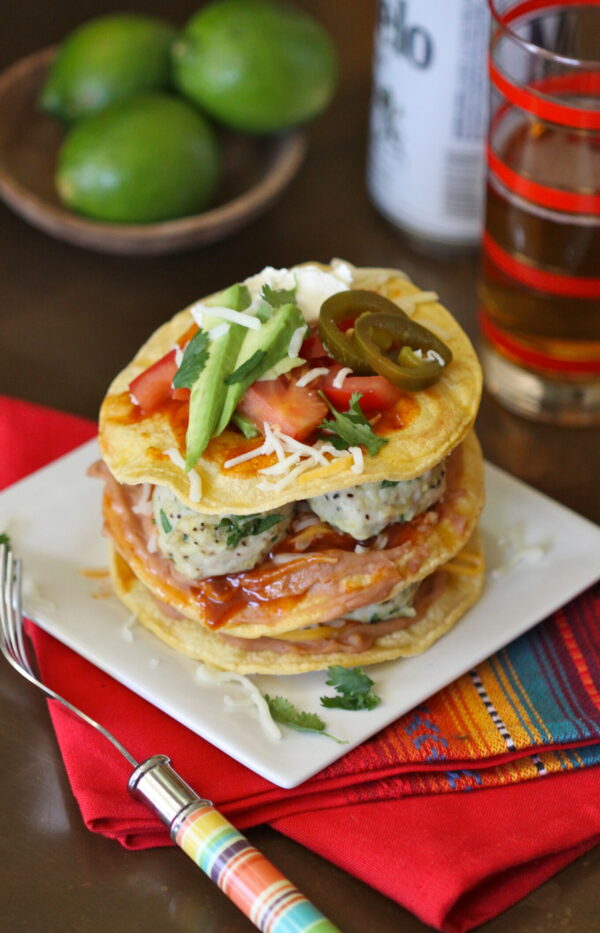 Let's get real for just a second.
Sometimes, I feel I do nothing but…..go, go, go, go, (still going), go, go, and never slow down to smell the sugary beignets. There are days whenI feel I can't even squeeze in a fart; because my mind is racing with thoughts about what to cook next, how am I going to tie said dish into a creative story, and @#%$ Food Gawker didn't except my picture because of poor lighting.
My race towards food blog perfection has no finish line in sight. 
But somewhere between this crazy, perfection goal and a sunny Friday afternoon, I finally asked myself during a shoot, "Why do you blog, Lauren?"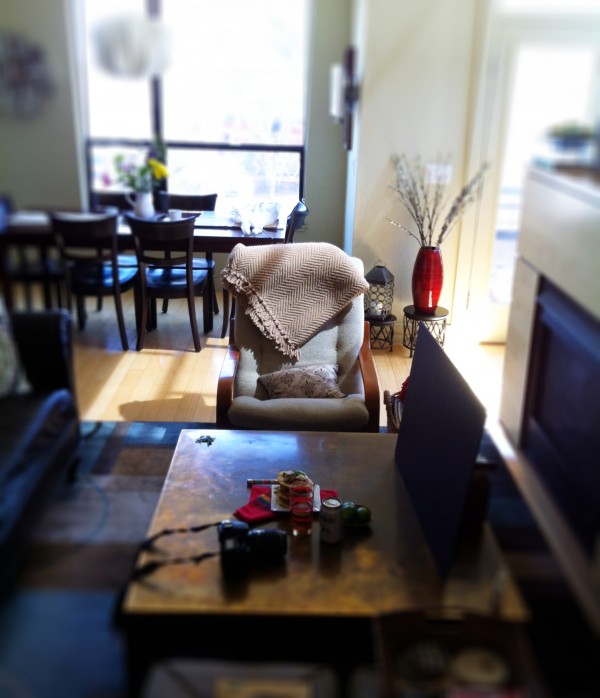 A simple question asked, yet, not so simply answered. If I was sitting on the couch across from Oprah and asked this question, I would go with my gut, and say, "I am passionate about food. I don't view food as just an ingredient or entree, but rather how it can be transformed into something greater. Food can create long lasting memories, new relationships, and grins from ear to ear. Yummy food is the one thing the whole universe can agree on."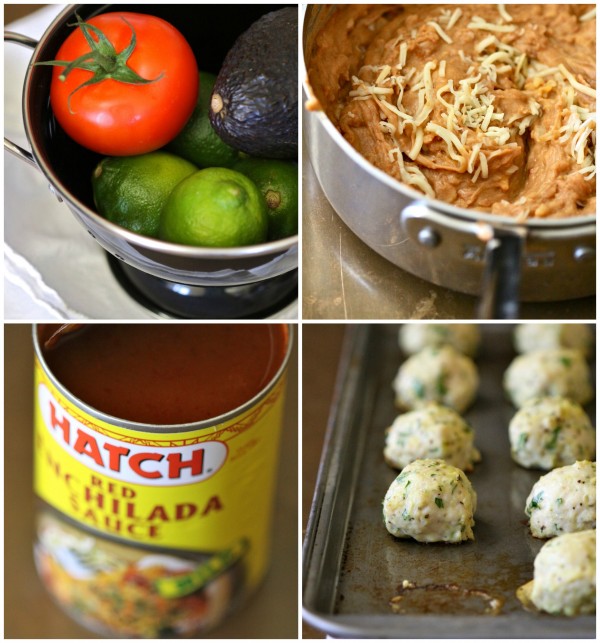 There are two essential parts to my answer. First, food is my passion, and second, so much of my blog is about forming relationships. That's where you come in! I love knowing that each day I get to connect with other food bloggers, friends, and readers. We all have a story to tell. In this vast Internet world, it's nice be able to have a spot where I can say, "HI! I like you. Let's hangout and sip some bubbly." 
Today, I want to say thank you for coming to my little haven in the food blogging world. I heart you big time! 
<tackleHUGGING>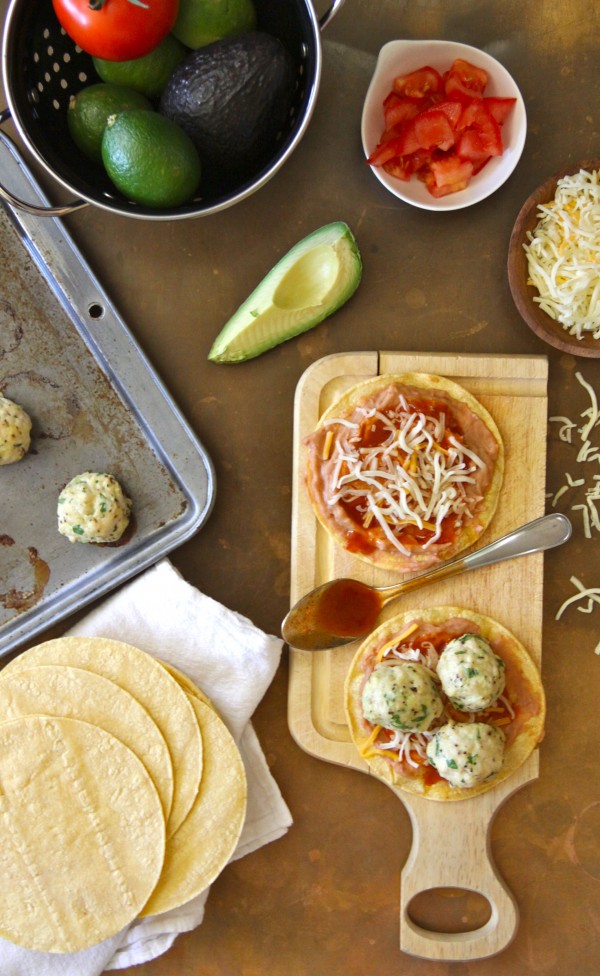 Okay, before I put on my DIY Derby Hat and pour myself a margarita, I need to tell you about these Enchilada Mexican Meatball Stacks. Phew Say that 10 ten times fast. I might have been off my rocker a little when coming up with this recipe, but it works. I believe meatballs can be brought to any Mexican fiesta, especially if the fiesta includes a pinata and lots of tequila.
What better dish to serve on Cinco de Mayo: cilantro infused meatballs, creamy refried beans, crispy corn tortillas, and spicy enchilada sauce. Ole!
Make sure and check some of my other Cinco de Mayo inspired dishes:
– Mexican Mac and Cheese Skillets
– Paloma
– Turkey Taco Burgers with Avocado Crema
– Sweet Potato Tacos with Chipotle Cream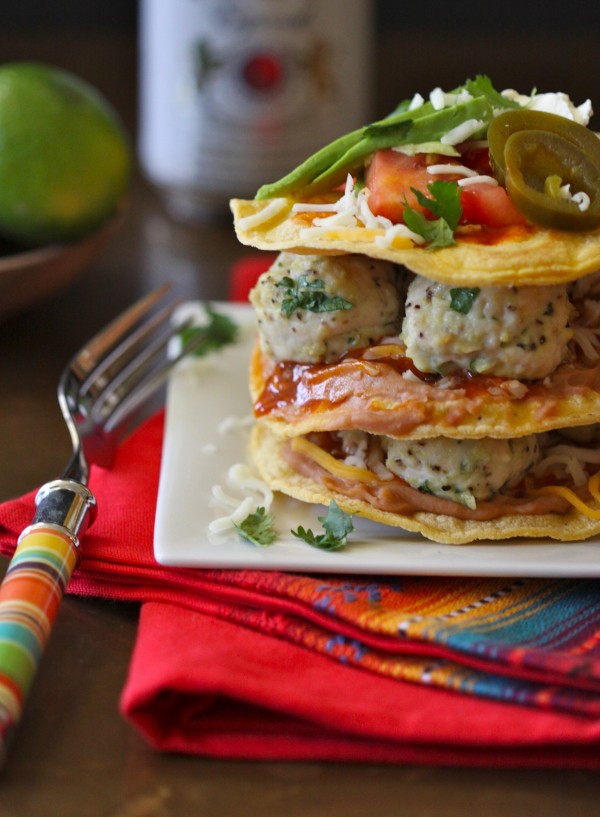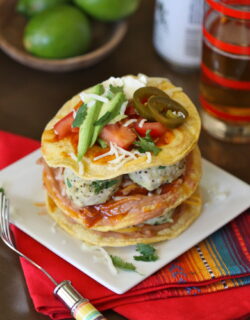 Enchilada Mexican Meatball Stacks
Ingredients:
for the meatballs:
1 pound ground chicken
1 egg
1/3 cup panko
1/4 cilantro
1/4 cup yellow onion, grated
2 garlic cloves, minced
salt and pepper
for the refried beans:
1 15 oz can refried beans
1/2 cup cheddar cheese, grated
2 tablespoons milk
6 corn tortillas, crisped in the oven
Tomato, chopped
1 15 oz can red enchilada sauce, heated
Sour cream, garnish
Jalapenos, garnish
Pepper Jack cheese, shredded, garnish
Directions:
Preheat oven to 400 degrees.
for the meatballs:
In a large bowl, combine all ingredients. Shape into 1 inch size balls (should be able to make about 12 meatballs). Place on a baking sheet. Bake for about 10 minutes or until golden brown. Set aside when done.
for the refried beans:
Preheat a small saucepan to medium-low heat. Add refried beans. Slowly add the cheese and milk. Stir to combine until the beans have softened and are smooth. Turn heat off and keep warm.
To serve: take tortilla and place about 2 tablespoons refried beans on top. Next, add a tablespoon of the warm red enchilada sauce on top of the beans. Top the sauce with three chicken meatballs. Cover with another tortilla. Repeat for another layer. Top with last tortilla. Garnish with more red sauce, tomatoes, sour cream, jalapenos, and cheese! Serve immediately
All images and text ©