dulce de leche milkshakes with caramel drizzle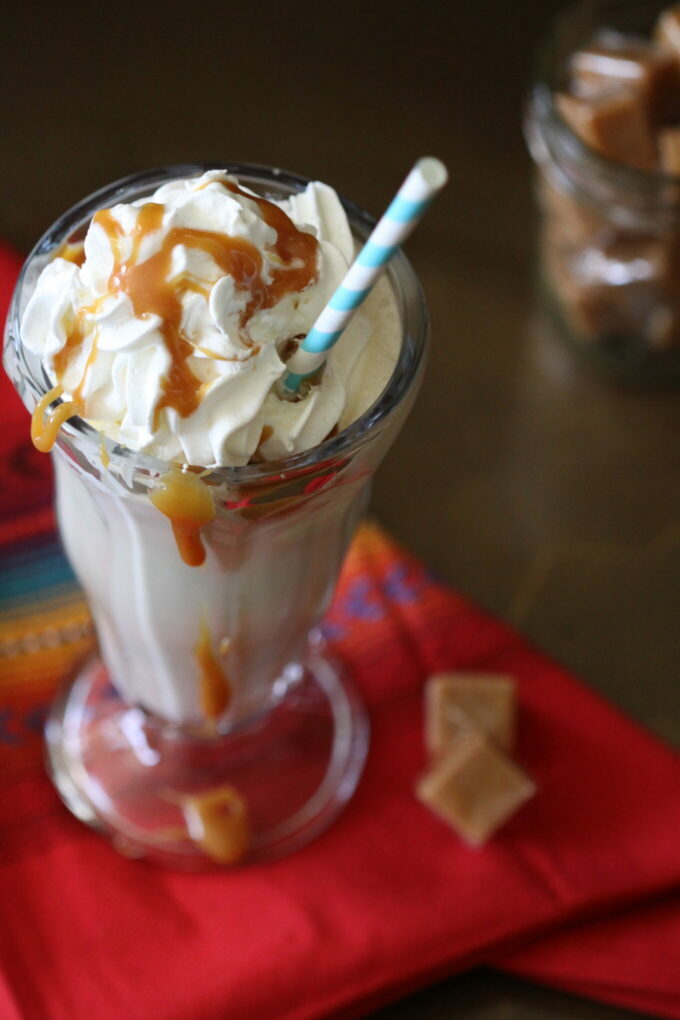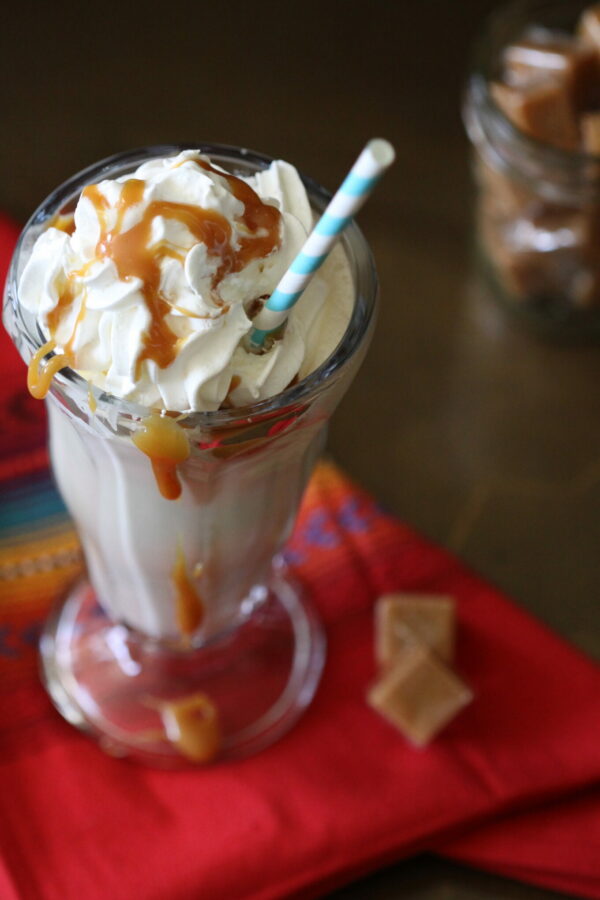 I think Snoop Dogg and I could be friends.
Maybe not the whole split-heart best friend necklace style, but more like, let's catch up over a 40 of beer kind of style.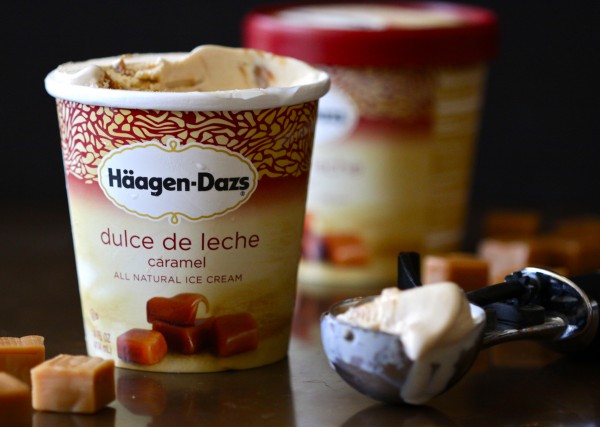 I feel we both enjoy similar things – an admiration for old school rap, the comfort of four-legged creatures (specifically dogs of course), and sparkle-y jewelry. It would be a unique, supportive friendship. I would provide the necessary encouragement needed in remaking one certain circa 1990 music video with Dr. Dre titled, "Nuthin' But A G Thang". Snoop Dogg in return would provide colorful commentary on my future cooking show.
Check it.
Yours Truly (YT): "Hi, friends! Today on LG's kitchen we are shaking things up."
Snoop Dogg (SD): "Fo, shizzle."
YT: "With Cinco de Mayo only a coupe of days away, I thought we would whip up a special treat that only takes a couple of minutes to make, milkshakes."
SD: "This shiz will not fizzle."
YT: "But this isn't your standard vanilla milkshake. Oh, no. We are making Dulce de Leche milkshakes!"
SD: "It's off the hizzle"
YT: "And with it being caramel week, I thought we needed some extra gooey sweetness to go on top of these milkshakes. Enter, the caramel drizzle."
SD: "My nizzle, this caramel drizzle is off the chainizzle. Ya, feel me?"
Even though the likelihood of said Food Network show, "In the Kitchen with LG and Snoop D-O Double G", will most likely not come to fruition, it's good thing these dulce de leche milkshakes will. I am completely smitten with this shake. In a Mexican dessert showdown these would give sopapillas a run for their sugary money.
But it's not just the decadent ice cream that brings the boys to yard in this shake. The caramel drizzle provides this extra layer of sugary goodness that keeps the boys coming back for more!
Alright, make sure and stop by to check out the rest of the ladies of caramel week! It's all sorts of gooey fun!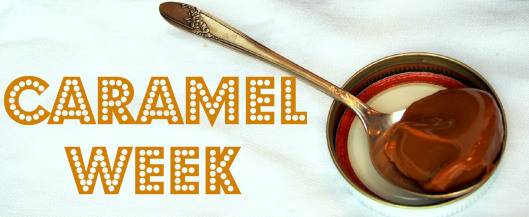 Monday:
Kirsten @ Comfortably Domestic – Crockpot Dulce de Leche
Beka @ Kvetchin' Kitchen – Caramel Apple Pie
Mads @ La Petite Pancake – Caramel Banana Bread Pudding
Tuesday:
Allison @ Decadent Philistines Saves the World – Salted Caramel Pork Loin w/ Shaved Brussel Sprouts & Apple Salad
Carrie @ Bakeaholic Mama – Chewy Milk Dud Brownies
Wednesday:
Jeanne @ Inside NanaBread's Head – Chocolate Alfajories with Salted Vanilla Bean Caramel
Haley @ The Girly Girl Cooks – Almost Famous Fairground Caramel Sauce
Yours Truly – Dulce de Leche Milkshakes with Caramel Drizzle
Thursday:
Kat @ Tenaciously Yours – Popcorn Crunch Sundae
Christina @ Buffy and George – Butterscotch Pudding
Friday:
Megan @ Country Cleaver – Pear Caramel Mini Cheesecakes
Madeline @ Munching in the Mitten – Caramel Cake
Saturday:
Kirsten @ Comfortably Domestic – DIY Dulce de Leche Coffee Creamer
Katie @ The Hill Country Cook  – Salted Caramel Pie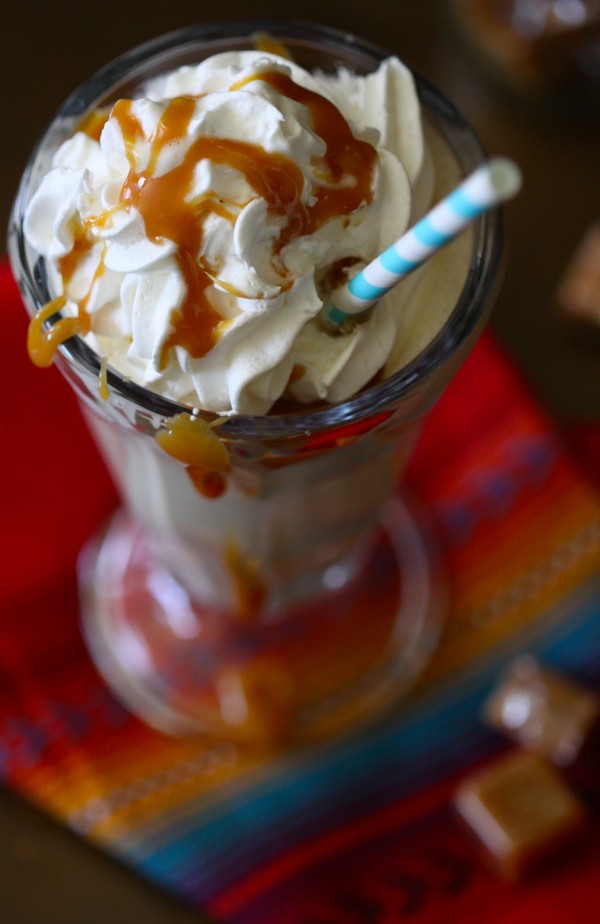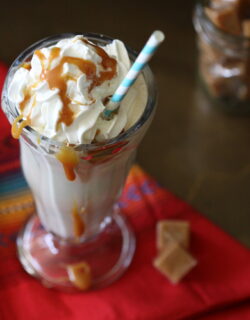 dulce de leche with caramel drizzle
Ingredients:
2 1/2 cups dulce de leche ice cream
1 cup whole milk
1/2 14 oz bag caramels candy
1/3 cup un-sweentened condensed milk
whipped cream, garnish
Directions:
In a small sauce pan, combine caramels and milk. Melt caramels over low heat. Set aside when done.
In a blender, combine ice cream and whole milk. Blend until thickened. Pour milkshake into two glasses. Garnish with whipped cream and drizzle of caramel.
All images and text ©