Lamb Wellington
***This post is in partnership with the American Lamb Board. As always, all opinions expressed are 100% my own.***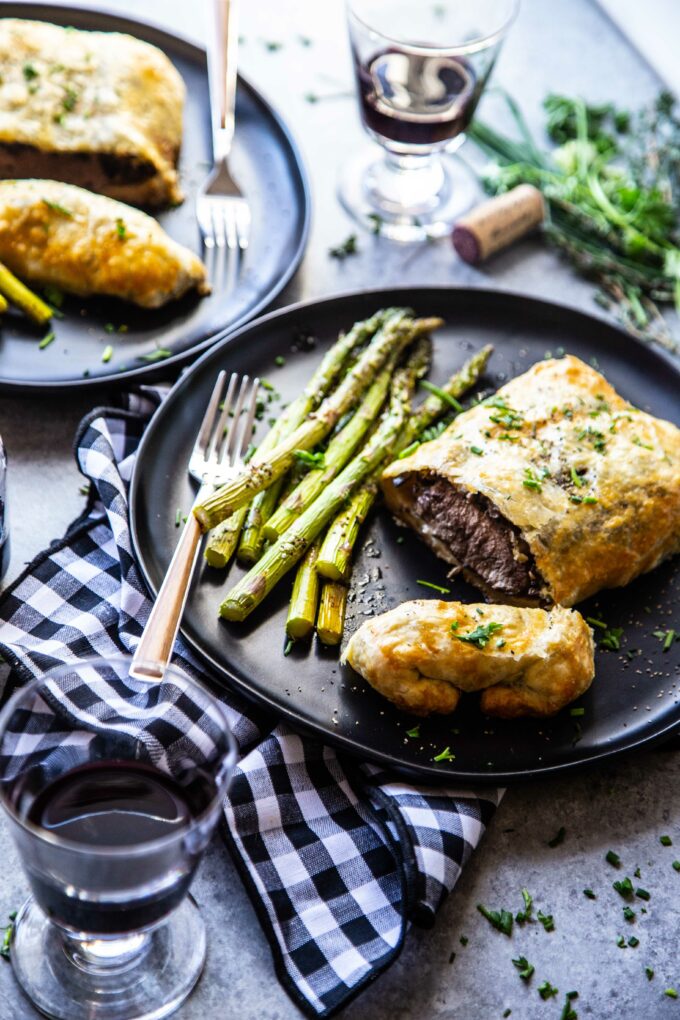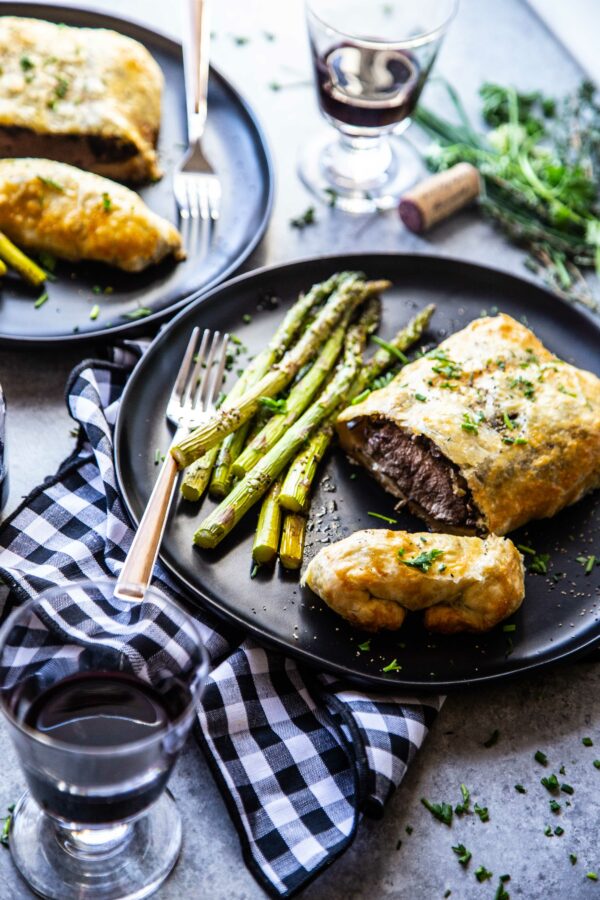 Dinner for two.
Best way to spend Valentine's Day.
The hubs and I always stay in and cook dinner rather than go out. Meals we've made in the past: scallops, risotto, and pizza. All are delicious and customizable when it comes to flavor.
However, since it's Lamb Lovers Month, I wanted to do something a little different this year. Something special which is why I've partnered with American Lamb Board to bring y'all: Lamb Wellington. GASP!
I know! Now, before you look at me and roll your eyes, Lamb Wellington is actually quite easy to make. No, really! So, let's dive in and see how to make this fabulous meal.
What's in Lamb Wellington?
The key to making Lamb Wellington, well, is the lamb itself. Let's talk real quick about the cut of lamb you will need to make this Lamb Wellington.
The lamb loin as a boneless roast ( about 2lbs) needs to be special ordered by your local butcher. Lamb loin chops are commonly available in the grocery store and you can simply request your butcher to remove the bone. Each lamb loin chop would be about 4 ounces.
I know it might sound like an extra step, but trust me, lamb loins are delicately marbled, and super tender. Once the bone is removed you will need roughly one pound of American lamb loins to make the Lamb Wellington. That's it. The rest of the ingredients are below:
1 lb boneless lamb loins
Rosemary
Garlic
Bacon
Shallot
Mushrooms
Thyme
Parsley
Chives
Apple Cider
Puff Pastry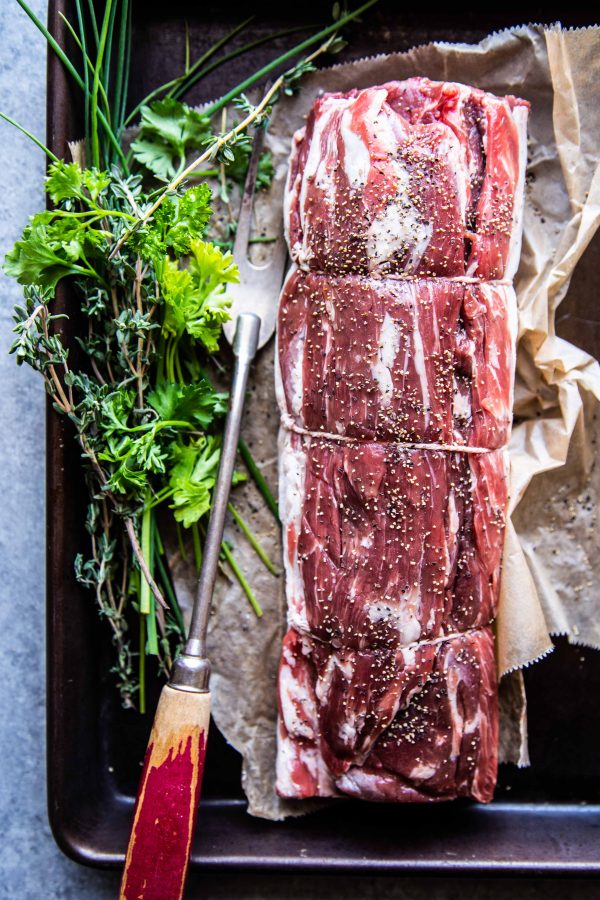 Tips for Making the Lamb Wellington:
1) Lamb Loin. Make sure to bring your lamb to room temperature for at least 1 hour prior to cooking. Next, you will want to sear the lamb in a hot skillet (on both sides) for a few minutes or until golden brown. This process will help lock in flavor!
2) Mushroom Mixture. You can prepare the mushroom mixture while the lamb loin comes to room temperature. Once you've cooked the vegetables you can actually set them aside and sear the lamb in the same skillet to add more flavor!!
3) Puff Pastry. If you are using store-bought puff pastry I would defrost the sheets in the fridge overnight. That way you know it will be completely unfrozen. While the lamb sears set the puff pastry out on the counter so it will be easier to wrap the lamb loins.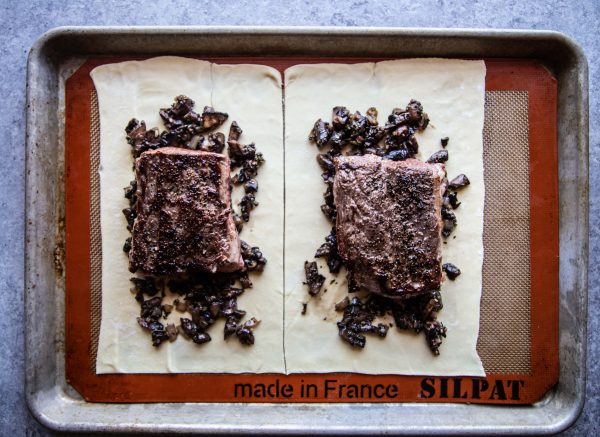 Where did you source your American Lamb?
I found my American lamb loins at Whole Foods. Most butcher shops will carry lamb, but you might need to order ahead of time so be prepared! Be sure to ask for American Lamb and if you need help finding a source you can always contact the American Lamb Board!
Can I make the Lamb Wellington ahead of time?
Yes! You can assemble all the ingredients and even wrap the lamb loins in the puff pastry. Store in the fridge until ready to use. You will just want to make sure to bring everything to room temperature prior to baking.
Can I sub out the Mushrooms?
Sure! You could do a mixture of chopped spinach and artichokes instead.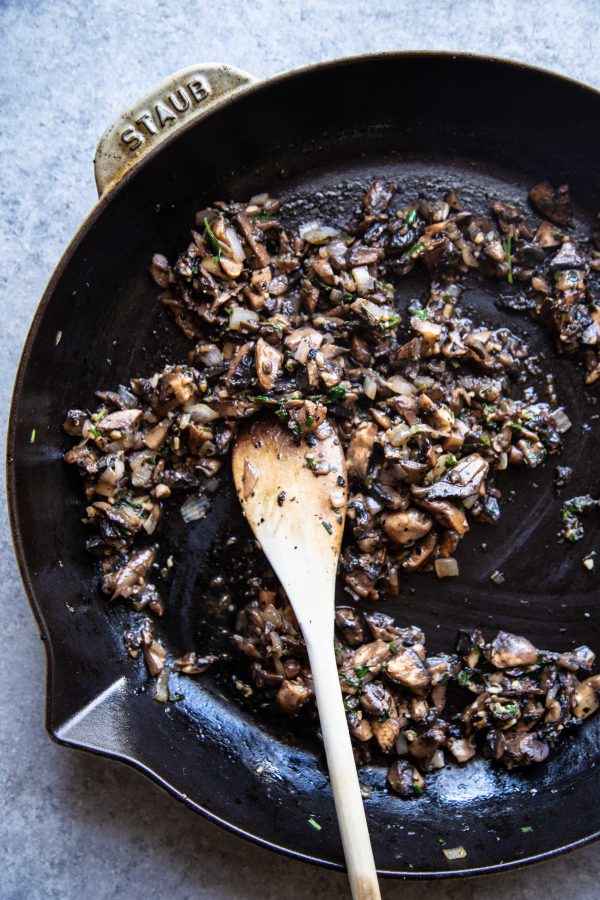 What's Lamb Lovers Month?
So glad you asked! Like I mentioned above the month of February is Lamb Lovers Month. It's a great way to incorporate American Lamb for that special person in your life. OH! The best part?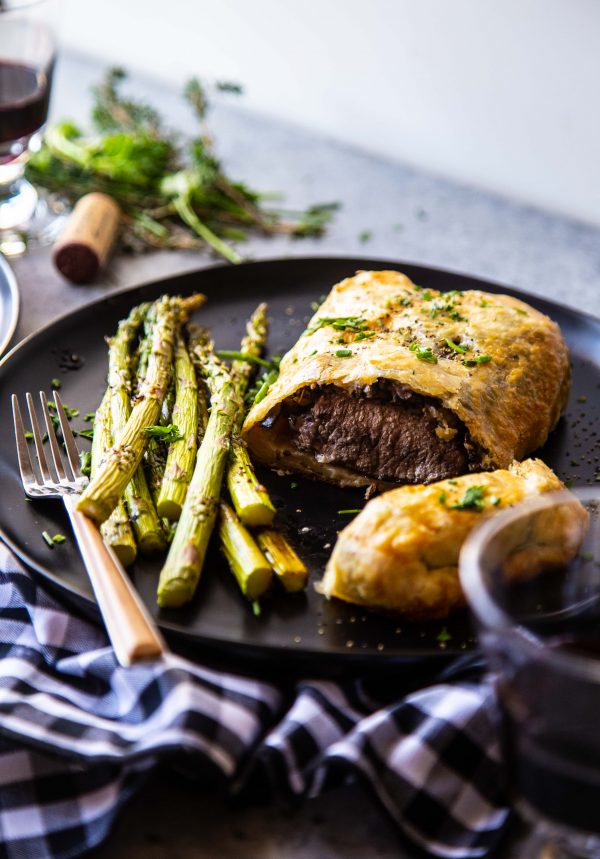 The American Lamb Board is running a contest the entire month of February on Instagram with one contest per week. Prizes will include a Faribault wool blanket and a Staub 2-in-1 Grill Pan & Cocotte. To enter, all you need to do is follow @fanoflamb, and tag a friend in a comment explaining why they love lamb. That's it!
For information and recipe inspiration make sure to visit: www.americanlamb.com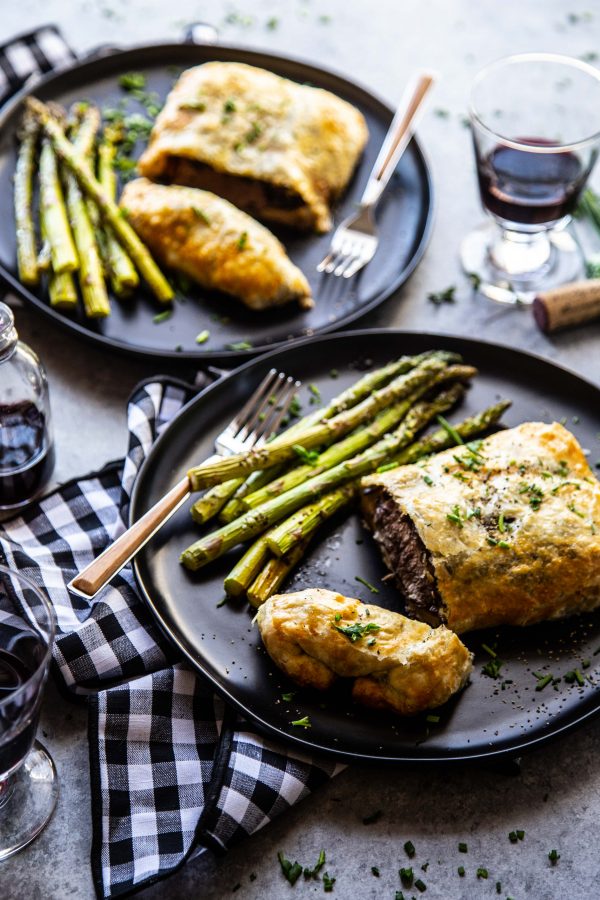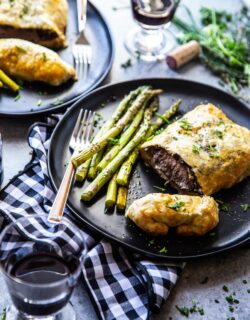 Lamb Wellington
Ingredients:
1 tbsp olive oil
2 shallots, finely chopped
2 garlic cloves, minced
1 1/2 cups chopped mushrooms
1 tsp fresh or dried thyme
1 tbsp chopped fresh parsley
1 tbsp chopped fresh chives
1 tbsp apple cider vinegar
1 lb boneless American lamb loin
salt and pepper to taste
1 sheet of puff pastry, thawed
1 large egg, whisked
Directions:
Preheat an oven to 400 degrees. Spray a large baking sheet with non-stick cooking spray.
In a large skillet preheated to medium-high heat add the olive oil, shallot and garlic. Cook for a few minutes and then add in the mushrooms, salt, and pepper. If you need to add more olive oil go ahead! Cook the mushrooms for a few minutes then add in the herbs and apple cider vinegar. Continue to cook for about five more minutes.
Remove the mushroom mixture from the skillet and place on a plate. Set aside.
In the same skillet use a bit more olive oil. Sprinkle the lamb loin with salt and pepper. Sear the lamb on high heat for about 2 minutes on each or until golden.
Remove the lamb from the skillet and place on a plate.
Next, lay the puff pastry on the prepared baking sheet. Take a rolling pin and gently roll the puff pastry out into a 9X13 rectangle. Next, take a sharp knife and cut the puff pastry into two sheets. Spread some of the mushroom mixture in the center of each sheet leaving a 1/2-inch border.
Place the lamb loin into the middle of each and wrap the puff pastry around it. Brush the edges with egg wash and seal well.
Place the wrapped loins, seam side down. Cut a small hole in the pastry to let steam escape. Brush with more egg wash and bake for about 15 minutes. I would check the temperature even at the 10 minute mark because this loin cooks quickly.
Once at desired temperature remove from the oven to rest for at least 5 minutes before slicing!
All images and text ©