Triple Chocolate Skillet Brownie
Triple Chocolate Skillet Brownie is the ultimate dessert that's made up of milk, dark, and white chocolate! Perfect for any occasion to show someday you care!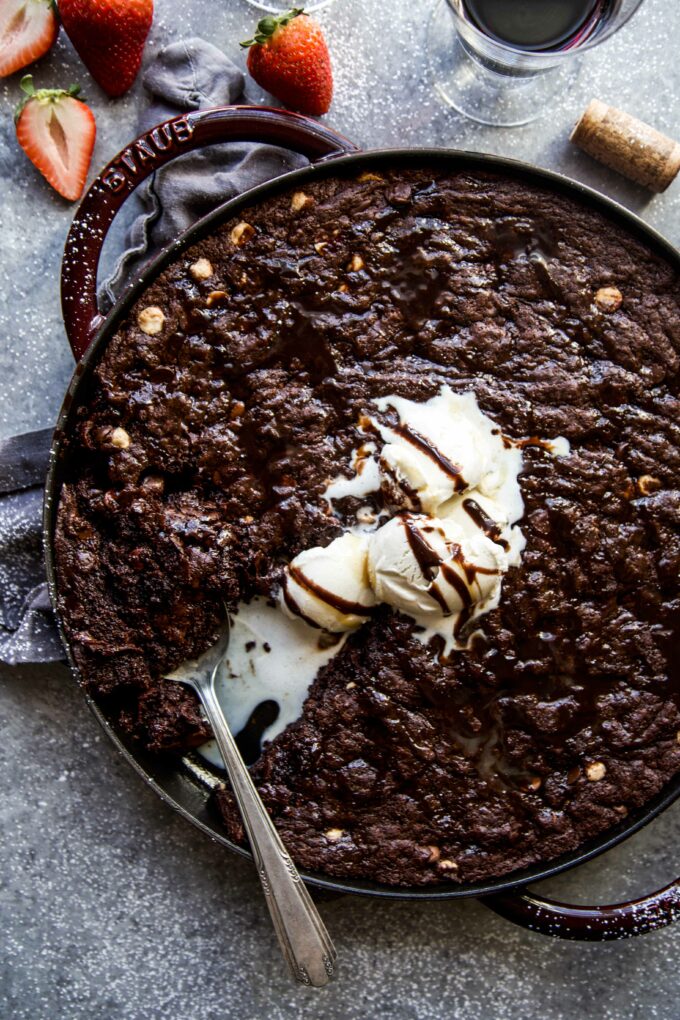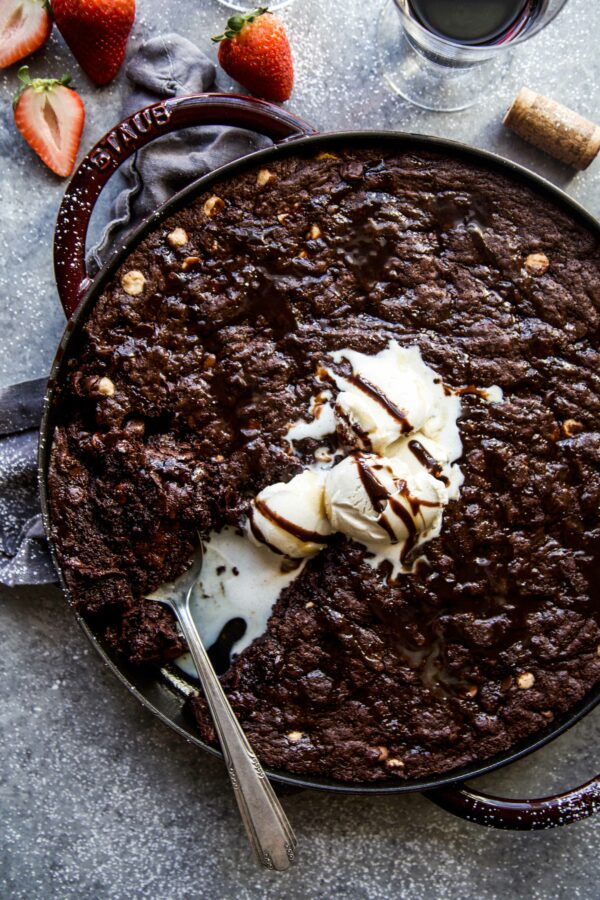 Truth: I'm not the biggest dessert eater.
I'd much rather have a glass of wine or a plate of nachos than a cupcake or slice of pie.
However, when it comes to chocolate I will not shy away. My go-to when I crave something sweet is a handful of frozen dark chocolate chips. Zero prep work required to eat and a little bit goes along away.
Now, when certain holidays come around or I want to step-up my dessert game, I love going all out. That's why I keep the ingredients for the Triple Chocolate Skillet Brownie in my pantry. This bad boy is full on decadent and is fit for any occasion. You'll only need a couple spoonfuls to satisfy that sweet tooth.
Okay, I say we make a big skillet full of chocolate goodness. Are you ready?
What's in the Triple Chocolate Skillet Brownie?
A sh$t load of chocolate. For real, though. This recipe has three different kinds of chocolate chips, plus the addition of cocoa powder for an extra, chocolatey kick. You'll find:
Dark Chocolate Chips
Milk Chocolate Chips
White Chocolate Chips
Butter
Granulated Sugar
Brown Sugar
Egg
Vanilla Extract
Cocoa Powder
Flour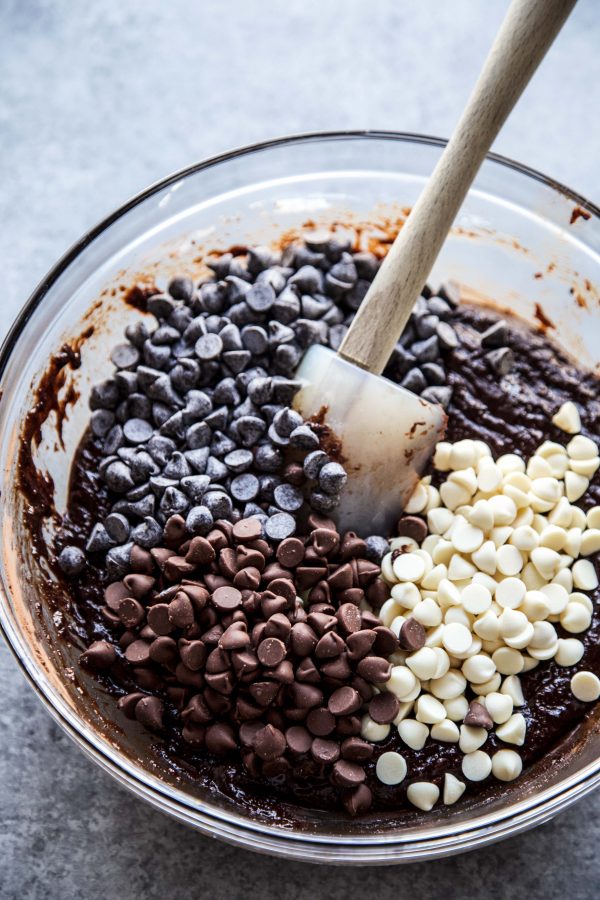 Tips for Making Triple Chocolate Skillet Brownie:
1) Room Temperature. If you can set your ingredients out at room temperature like the eggs, butter, chocolate chips, etc. for at least 30 minutes do it. It will help ensure that everything cooks evenly.
2) Dark Chocolate. Try to get at least 60%. This will help add flavorful and differentiate between the white and milk chocolate chips.
3) Garnishes. You can definitely add a couple of scoops of ice cream on top. Or if you want some chocolate or caramel syrup that would be delicious too!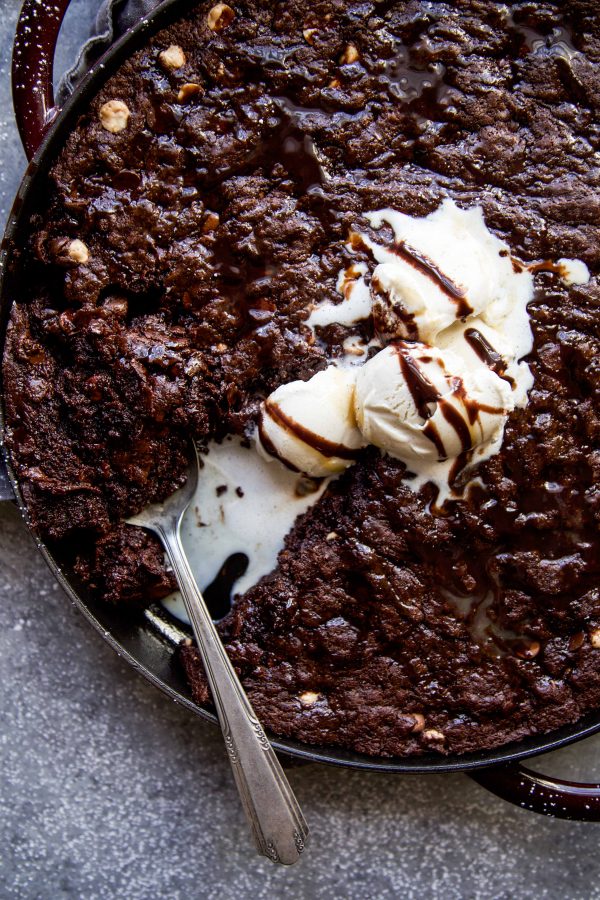 What Size of Skillet Do You Recommend to Bake the Brownie?
I would use a 10-inch cast-iron skillet or you could use two 5-inch skillets for a more individual approach. If you do that you will only need a 1/3 of the ingredients listed below.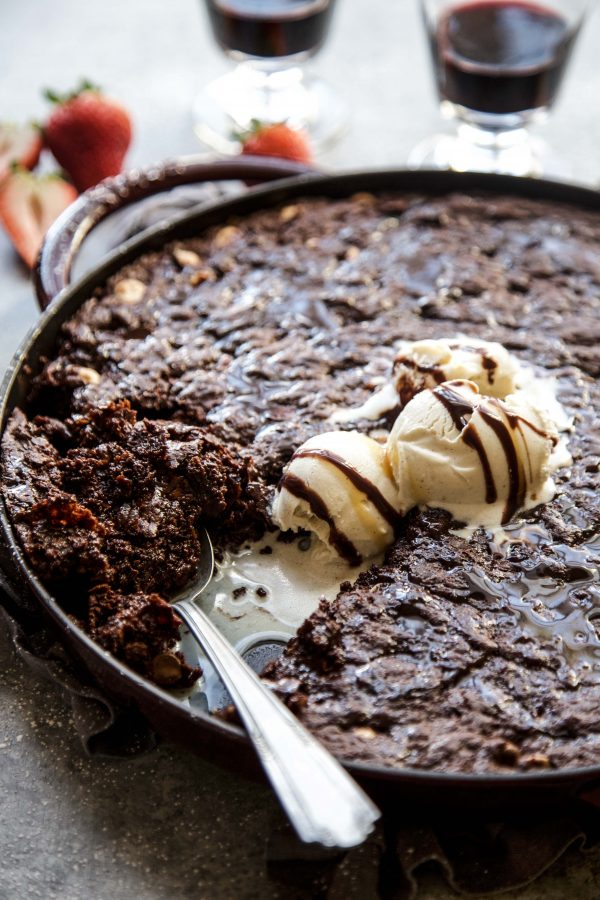 Can I add Peanut Butter Chocolate Chips?
You bet! I would sub out any of the chocolate chips for peanut butter. SO GOOD!
I hope y'all enjoy this Triple Chocolate Skillet Brownie. This was a hot commodity in our house and went quick! Let me know if you make it because I enjoy hearing from you.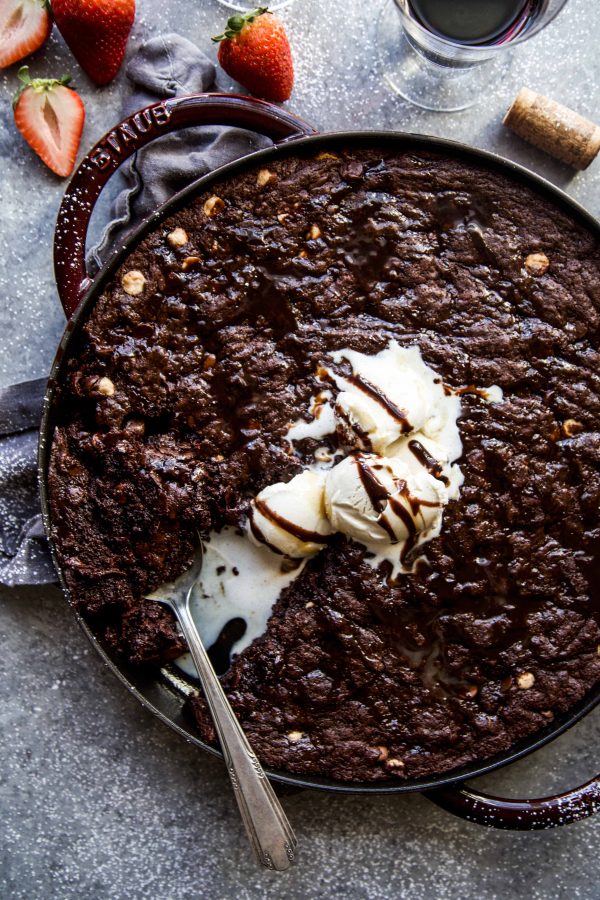 More Chocolate Recipes to Enjoy: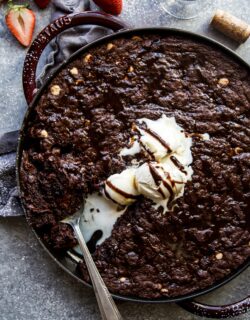 Triple Chocolate Skillet Brownie
Ingredients:
2 3/4 cups 60% dark chocolate chips, divided
3/4 cup 1 1/2 sticks unsalted butter, room temperature
3/4 cup granulated sugar
3/4 cup brown sugar
3 large eggs
1 tbsp vanilla extract
3/4 tsp kosher salt
3 tbsp unsweetened cocoa powder
1 cup all-purpose flour
3/4 cup milk chocolate chips
3/4 cup white chocolate chips
Chocolate syrup, for garnish
Caramel syrup, for garnish
Directions:
Preheat an oven to 350 degrees. Spray a 10-inch cast-iron skillet with non-stick cooking spray.
In a large microwave-safe bowl, melt 2 cups dark chocolate chips and butter. Best to do this in 30 seconds installments until completely melted and smooth.
Next, add in the granulated sugar and brown sugar. Stir to combine. Add in the eggs and vanilla, and continue to stir.
Add in the kosher salt, cocoa powder, and flour. Stir to combine. Fold in the white chocolate chips, milk chocolate chips, and remaining 3/4 cup dark chocolate chips. Pour the batter into the prepared cast-iron skillet.
Bake until the a toothpick comes out pretty clean about 25 to 30 minutes. Remove from oven and either serve warm with ice cream and syrups. OR let cool and enjoy later!
All images and text ©