Bibimbap Casserole with Ground Pork
Bibimbap Casserole with Ground Pork is a delicious meal that's versatile and great served any night of the week!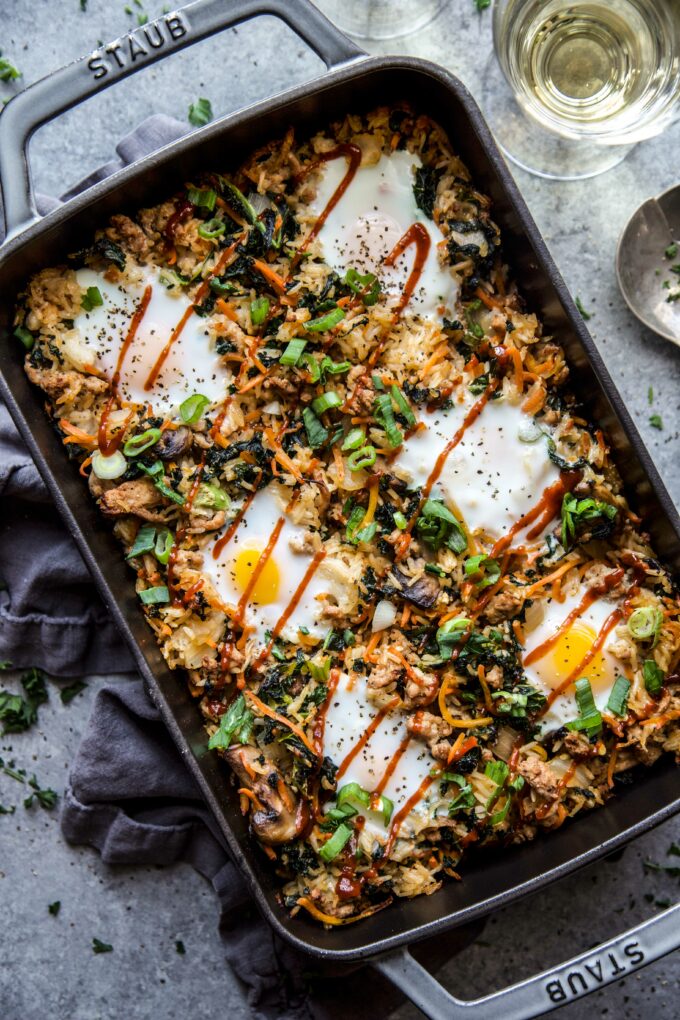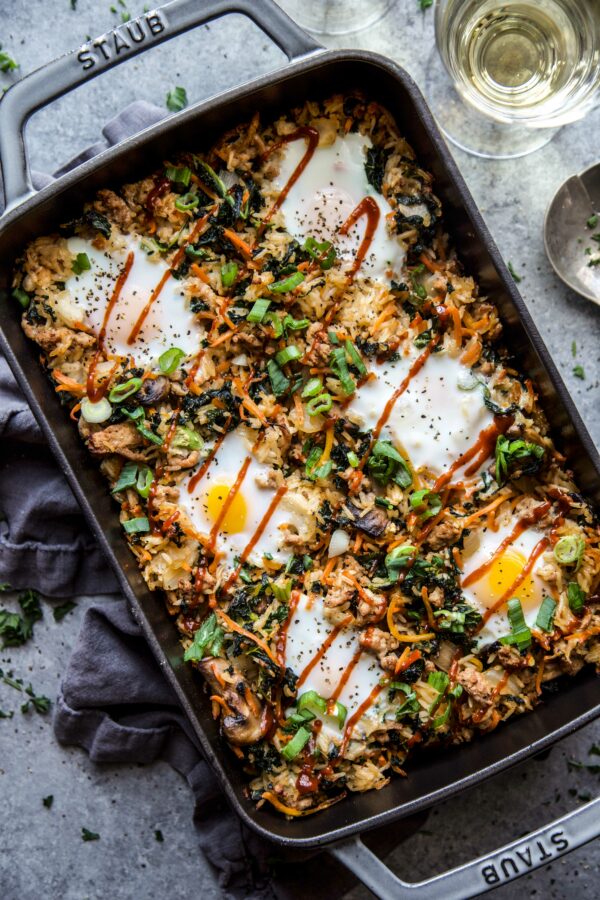 I'm always on the hunt for easy dinner meals.
Specifically ones that don't revolve around chicken and veggies. There are only so many nights a girl can consume roasted chicken thighs and cauliflower. Am I right?
Well, if you are constantly on the same hunt let me introduce you to a winner. Y'all this Bibimbap Casserole with Ground Pork will slap some flavor into your weeknight dinner menu. The best part? This casserole is completely customizable. You can switch out the veggies, rice, protein, etc.
Alright, shall we dive in?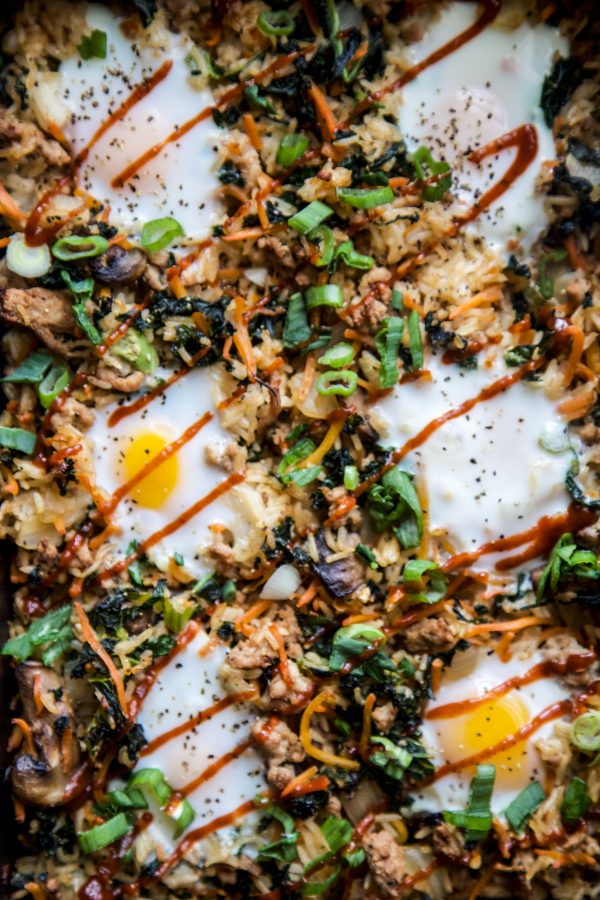 What's in a Bibimbap Casserole with Ground Pork?
Fun fact: Bibimbap means "mixed rice." Besides the Gochujang sauce you will have most of the ingredients in this casserole in your pantry. You'll find: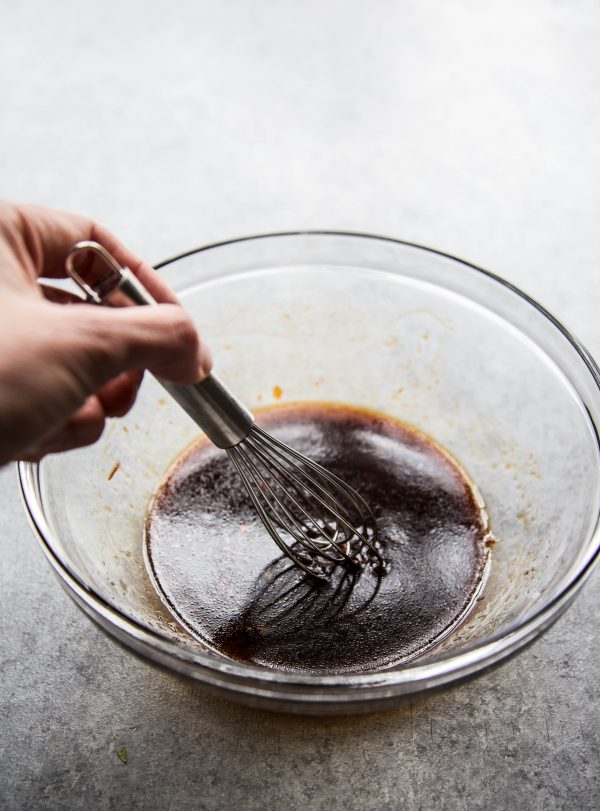 Gochujang (Korean Hot Paste)
Soy Sauce
Toasted Sesame Oil
Honey
Rice Vinegar
Mushrooms
Onion
Garlic
Kale
Carrots
Sticky Rice
Eggs
Tips for Making Bibimbap Casserole with Ground Pork:
1) Sticky Rice. Don't judge, but get either rice from your favorite local restaurant or purchase a few 90 second microwave sticky rice pouches. SO MUCH EASIER than trying to make homemade sticky rice. If you do want to make it at home, let me know how it turns out!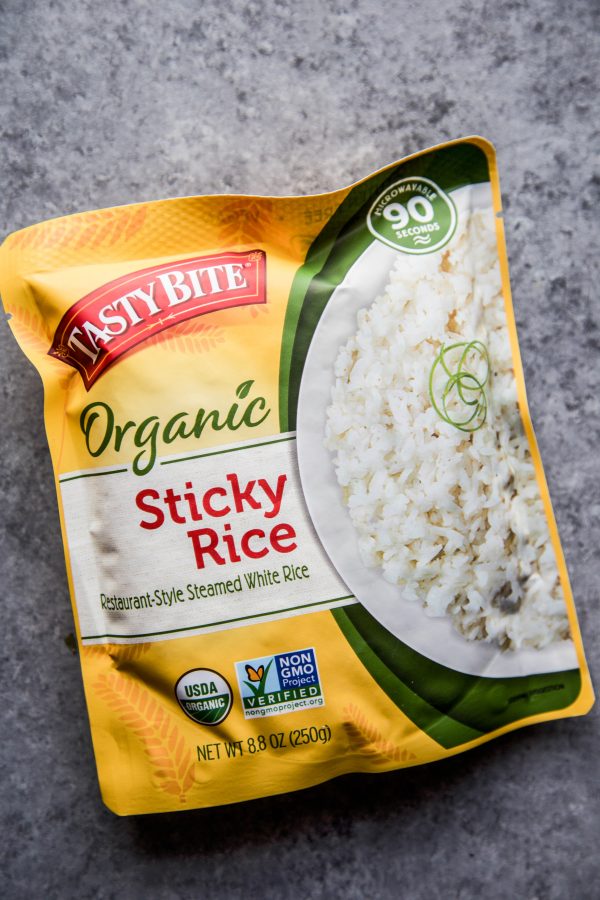 2) Ground Pork. Let the pork come to room temperature before cooking. It helps take the chill off.
3) Vegetables. You can use any assortment of veggies you have on hand! It's a great casserole to empty out the fridge.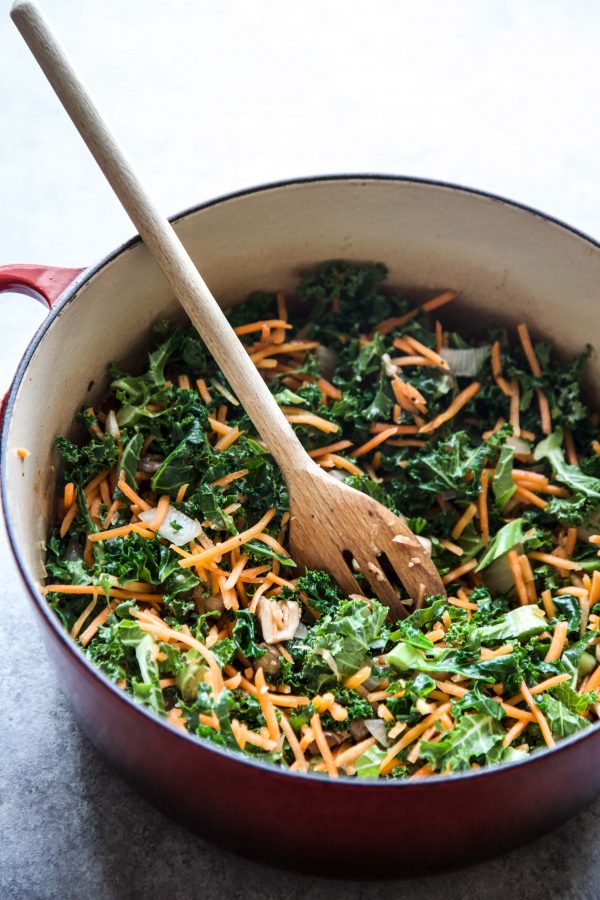 4) Eggs. If you want to keep this dairy free you can certainly omit the eggs altogether.
What's Gochujang?
It's a Korean hot pepper paste! You can find it in Asian markets or some grocery stores. If you can't find it try using Sambal Oelek which is a fresh chili paste instead!  
Can I Make this Casserole Meatless or Change the Protein?
Absolutely! You can make the casserole without any protein. Just simply omit. If you want to change up the protein try ground beef, chicken, or turkey. Tofu works as well too!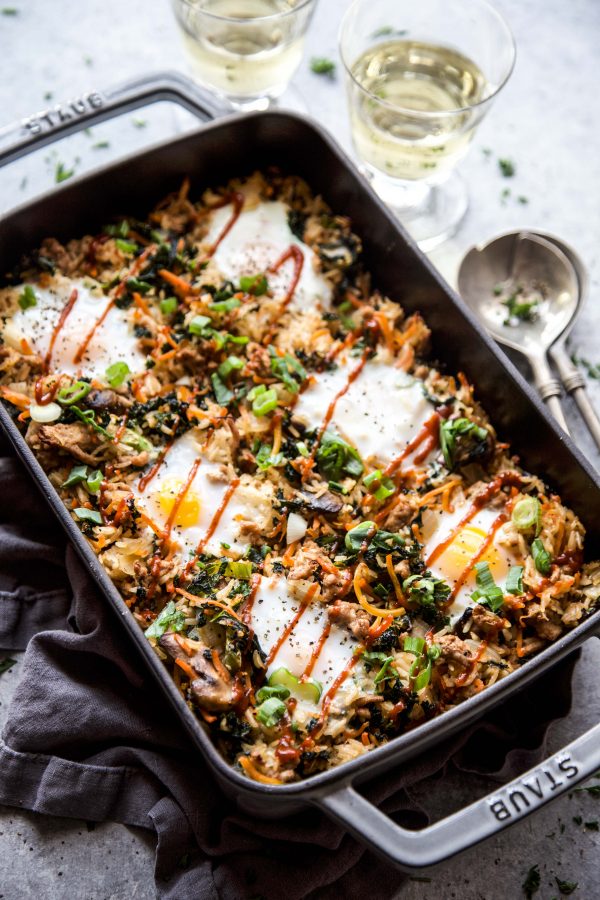 Do I have to use Sticky Rice?
Nope! Brown rice would be awesome or even cauliflower rice to keep things low carb!
Hope you enjoy this recipe! If you do make it please let me know! Love hearing from you!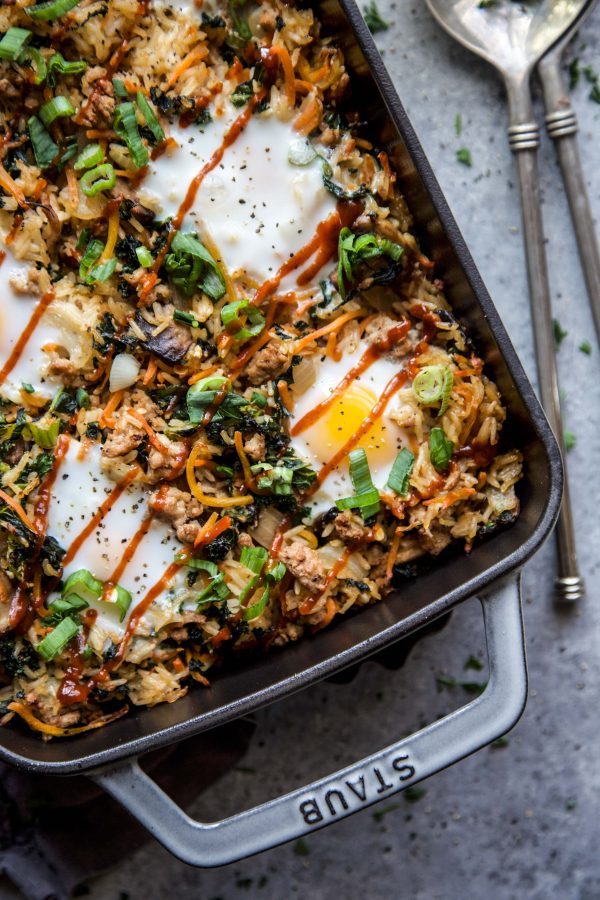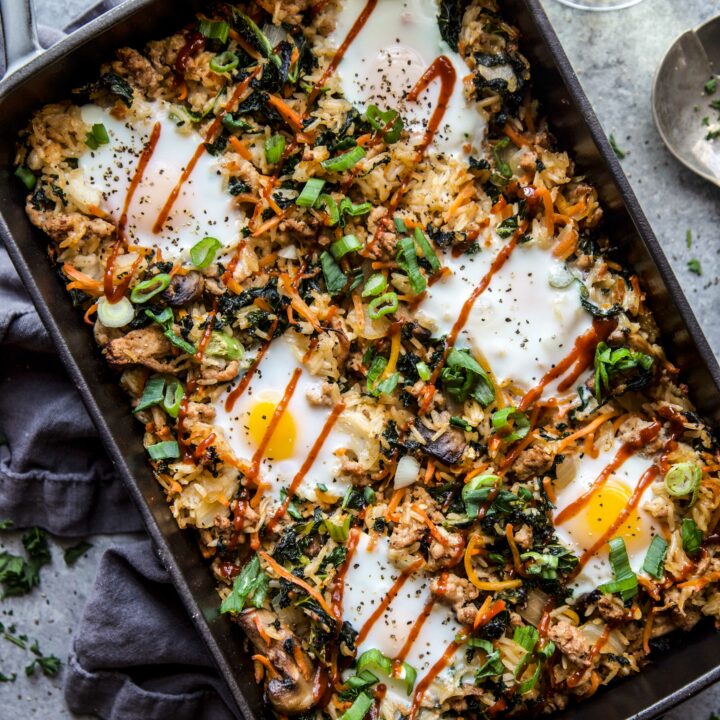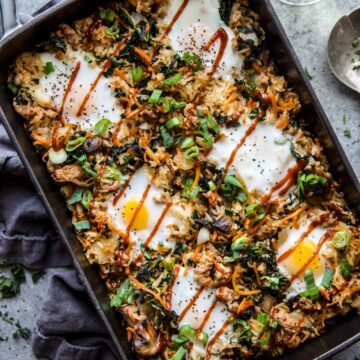 Bibimbap Casserole with Ground Pork
Bibimbap Casserole with Ground Pork is a delicious meal that's versatile and great served any night of the week! 
Ingredients
2 tbsp  Gochujang (Korean Hot Pepper Paste) or Sambal Oelek
2 tbsp low sodium soy sauce
1 tbsp toasted sesame oil
1 tbsp honey
1 tsp rice vinegar
1 lb ground pork
2 tbsp olive oil, divided
8 ounces sliced mushrooms
1½ cups chopped yellow onion
4 garlic cloves, minced
4 cups chopped kale
2 cups shredded carrots
3 cups cooked sticky rice
6 eggs
Sliced green onions, garnish
Sriracha sauce, garnish
Instructions
Preheat oven to 425 degrees. Spray a 3-qt rectangle baking dish with non-stick cooking spray and set aside.

Next, in a mixing bowl whisk together Gochujang, soy sauce, toasted sesame oil, honey, and rice vinegar. Set aside.

In a large Dutch oven preheated to medium-high heat add 1 tbsp olive oil to the skillet. Add the ground pork and break up using a wooden spoon. Cook the pork until no longer pink about five minutes. Remove the pork from the Dutch oven using a slotted spoon and set aside on a plate.

In the same skillet add the remaining 1 tbsp olive oil. Add the mushrooms, onion and garlic. Cook for a few minutes until the mushrooms have browned.

Next, add in the kale and carrots. Cook for additional two minutes. Add the rice, reserved ground pork, and stir in the Gochujang mixture. Toss to make sure everything is combined.

Spoon the entire mixture into the prepared baking dish. Spread everything into an even layer. Next, make 6 indents in the mixture with a back of a spoon. Crack an egg into each indent. Place the baking dish into the oven and cook for about 20 minutes or until the eggs are set.

Remove from oven and garnish with green onions and Sriracha.
Did you make this recipe?
Please leave a comment below and share a photo on Instagram with the hashtag #thecuriousplate!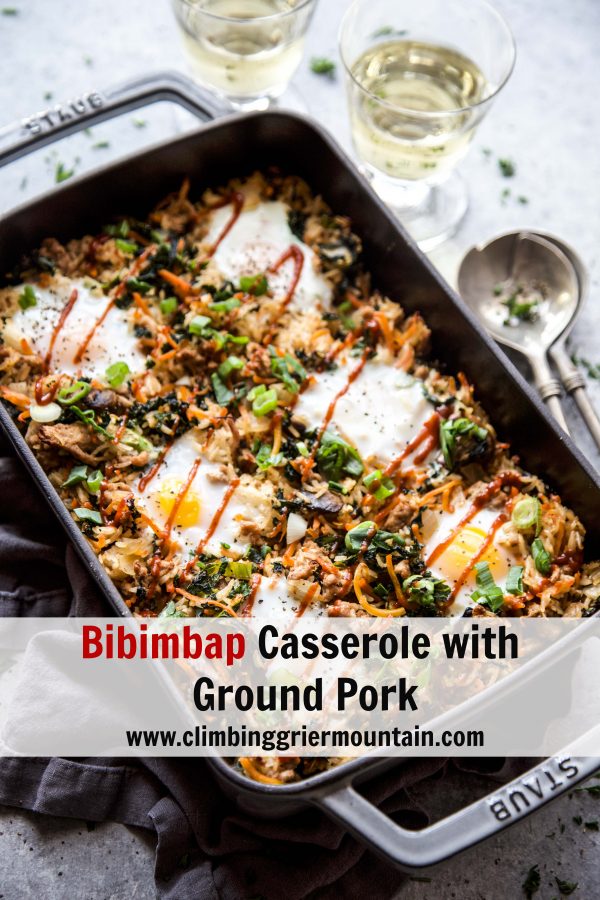 In conclusion, Bibimbap Casserole with Ground Pork offers a harmonious blend of flavors and textures, creating a comforting and satisfying meal that's perfect for any occasion. Enjoy!