Fajita Shrimp Tamale Bowls
Fajita Shrimp Tamale Bowls are a delicious and easy meal to make for dinner!
Got 15 minutes?
That's all it takes to make these Fajita Shrimp Tamale Bowls. I know! Kind of sounds too good to be true. BUT! I promise, it's legit.
The two components of the dish: shrimp and polenta are probably the most underutilized ingredients. Both are easy to prepare and so versatile when it comes to adding to meals during the week!
So, let's get started making these Fajita Shrimp Tamale Bowl.  And I promise, it will take less than 15 minutes to explain! GO!
What's in these Fajita Shrimp Tamale Bowls?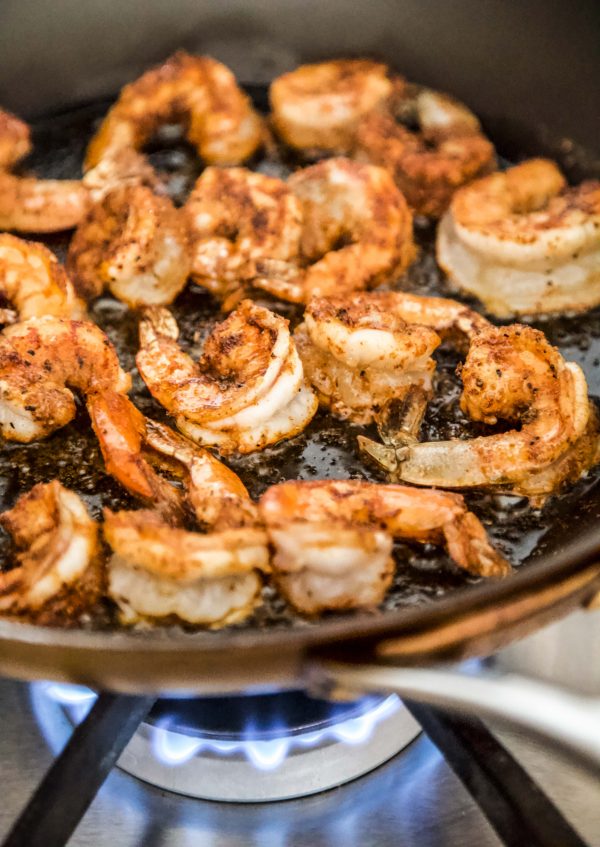 If we are going to make a meal that only takes 15 minutes to make you can bet your sweet tookus that I am only using a handful of ingredients. You'll find:
Shrimp (fresh or frozen)
Fajita Seasoning
Polenta
Cream
Butter
Jalapeno
White Cheddar Cheese
Tips for Making Fajita Shrimp Tamale Bowls:
1) Shrimp. The key to making these bowls is with large, peeled, and deveined shrimp. You can use fresh or frozen. To quickly defrost you can run cold water over the shrimp. Just make sure to pat dry before tossing with the fajita seasoning.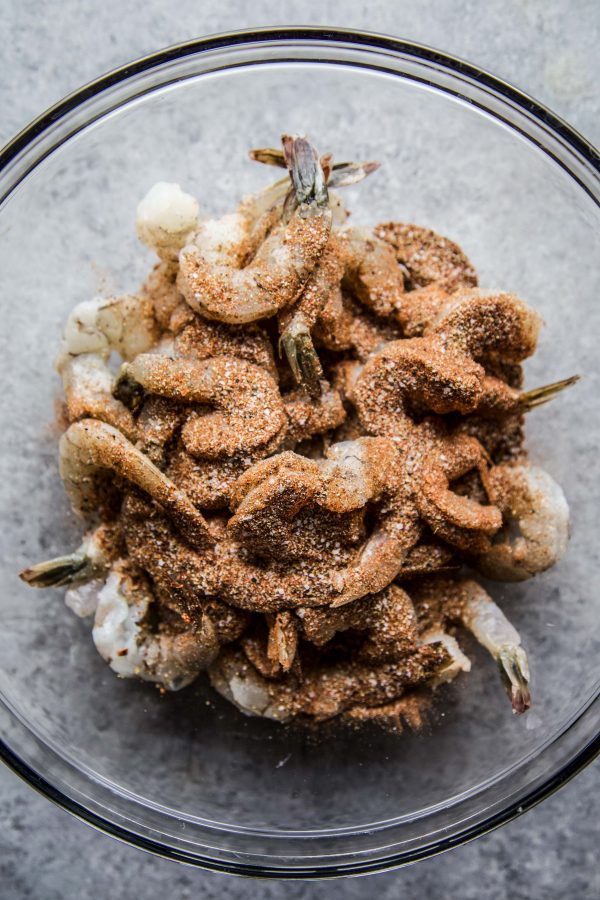 2) Polenta or Yellow Corn Grits. I use Bob's Red Mill quick cooking polenta. It takes like five minutes to make and tastes luxurious. Whatever you can find at the grocery store that's yellow corn will work great!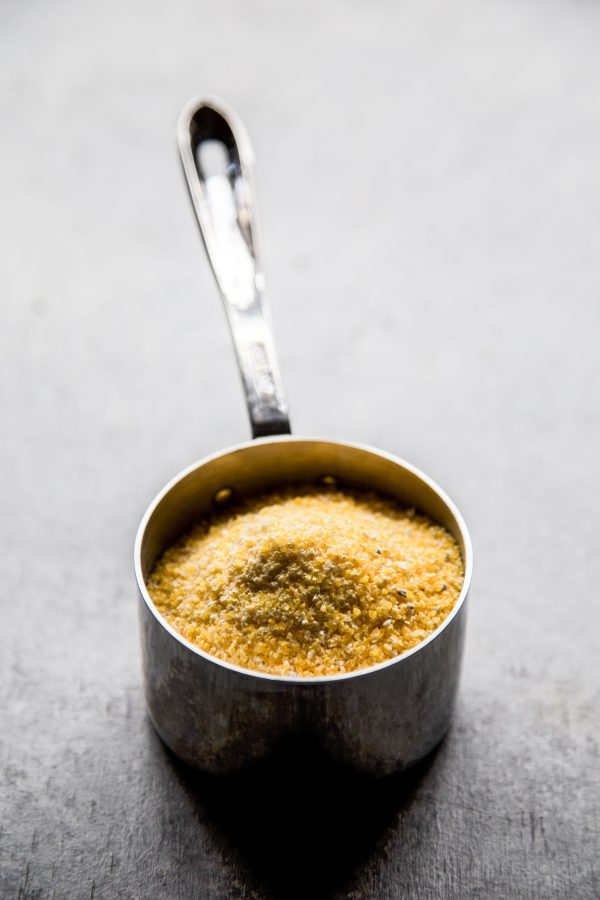 3) Fajita seasoning. Feel free to purchase store-bought or make your own! Again we are looking for ease!
4) Toppings. GET WILD. Think of these bowls as a blank canvas and add whatever makes you happy!
What if I Can't Find Polenta?
No worries! Try using regular rice or cauliflower rice instead!
I'm Allergic to Shellfish!
Not a problem! You can definitely use chicken or beef in place of the shrimp. 
More Shrimp Recipes to Enjoy:
Fajita Shrimp Tamale Bowls
Ingredients:
1 lb large fresh or frozen shrimp, peeled, deveined
1 tbsp chili powder
2 tsp ground cumin
2 tsp paprika
2 tsp garlic powder
1 tsp onion powder
1/4 tsp cayenne pepper
salt and pepper to taste
2 tbsp olive oil
3 cups water
1 cup quick cooking polenta
1 tbsp unsalted butter
1/4 cup whipping cream
1/2 cup shredded white cheddar cheese
1/2 jalapeno, diced, seeds removed
Directions:
In a large mixing bowl combine the shrimp through the salt and pepper. Make sure everything is well combined.
Next, heat a large skillet to medium-high heat. Add the olive oil followed by half the shrimp. If you need to cook the shrimp in batches that's okay. Just add more olive oil as needed. You'll cook the shrimp for about 1 to 2 minutes per side or until no longer pink. Once the shrimp are all cooked set them aside on a plate.
Meanwhile, make the polenta. Add water to a large stock pot and bring to a boil. Pour the polenta into the stock pot and stir to combine. Continue to stir until the polenta has absorbed the water and is nice and thick. Turn off the heat and stir in butter, cream, cheese, jalapeno, salt and pepper.
 To serve, divide the polenta among four bowls and top with shrimp. Top with desired toppings. Enjoy!
All images and text ©