Sheet Pan Corned Beef Sliders
Sheet Pan Corned Beef Sliders are a delicious, one-pan meal to make any night of the week!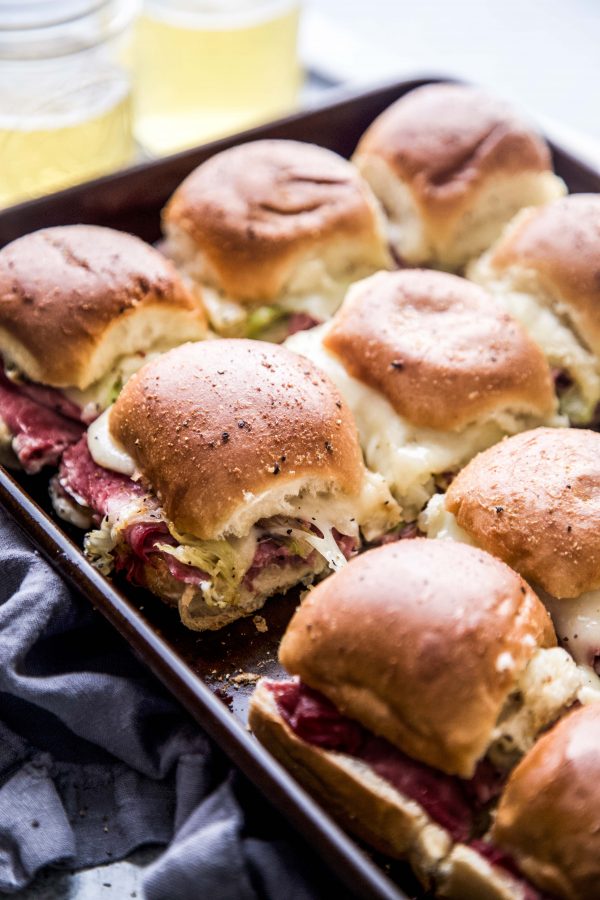 Let's chat about sandwiches real quick.
Do you love them or hate them?
For me, I'd rather have a cheeseburger before a turkey sandwich. Something about eating cold deli meat between two pieces of bread just makes me feel sad. Is that weird?
Anyway, I think my aversion to cold sandwiches led me to making these Sheet Pan Corned Beef Sliders! I don't know who came up with the brilliant idea of taking a bunch of rolls, slicing them in half, adding your deli toppings and baking until toasty and warm. Whoever you are…..YOU ARE MY HERO!
These Sheet Pan Corned Beef Sliders are legit and actually are very customizable. I threw some sauteed cabbage on top because the combo is incredible. Also, these sliders can be eaten year-round and not just on a certain Irish holiday with a pint of green beer.
Okay, let's dive in!
What's in these Sheet Pan Corned Beef Sliders?
Like I mentioned above these sliders are completely customizable. BUT! If you want to stick to the original recipe here's what you will need:
Package Hawaiian rolls or slider buns
Corned beef
Cabbage
Swiss cheese
Dijon mustard
Mayo
Garlic Powder
Onion Powder
Butter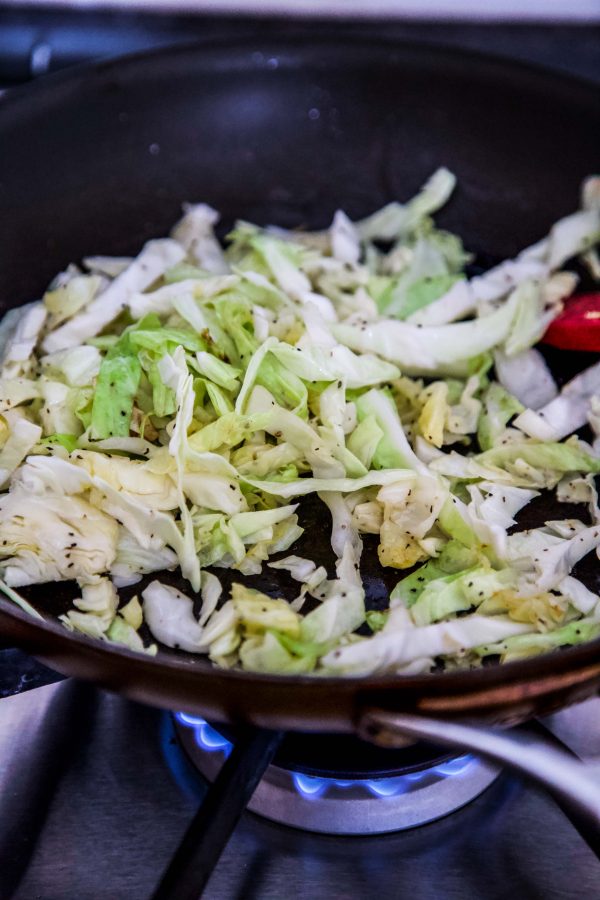 Tips for Making Sheet Pan Corned Beef Sliders:
1) Corned Beef. You can definitely use leftover corned beef. I have an amazing recipe using the slower cooker here. BUT! If you want a shortcut then grab some thinly sliced corned beef at your deli counter.
2) Cabbage. Sauteing the cabbage in a little bit of butter will make these sliders taste luxurious. Also, cabbage cooks up pretty quick and is very healthy for you!
3) Swiss Cheese. If you aren't a fan of swiss cheese you can certainly use provolone or even fontina!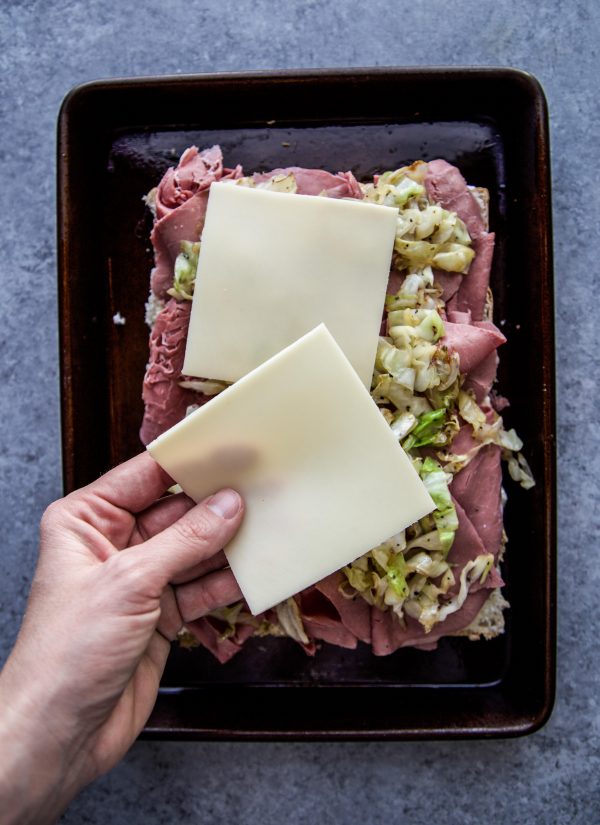 4) Hawaiian rolls. You can use whatever rolls you have on hand or even bread slices. However, if you can get your hands on King Hawaiian's rolls they are best and super buttery!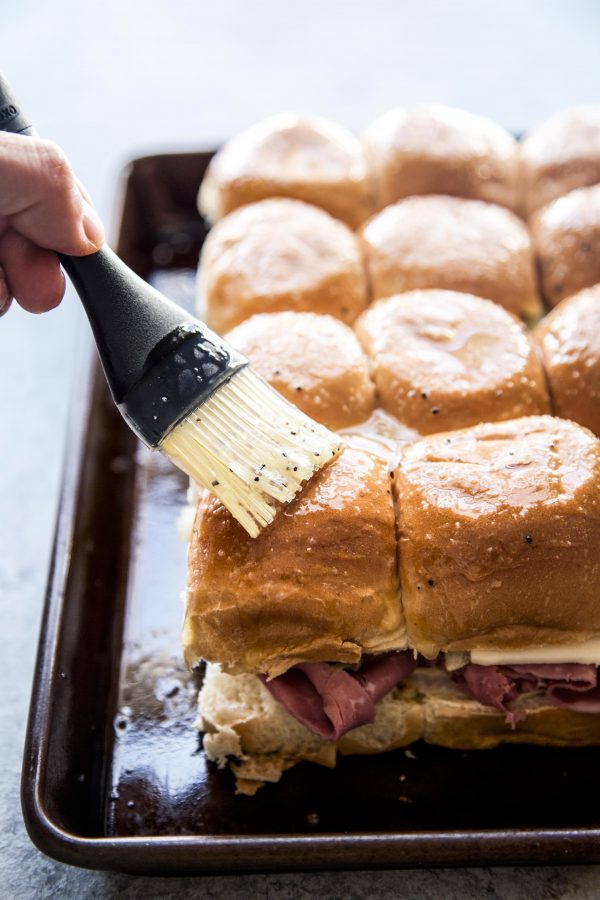 Can this be made Gluten Free?
You bet! Simply swap out the Hawaiian rolls for your favorite gluten free rolls!
Can these be made in a toaster oven?
Absolutely! I would only do a couple sliders at a time so you don't overcrowd the toaster oven.
Hope you enjoy these Sheet Pan Corned Beef Sliders. Such a fun way to enjoy a deli sandwich!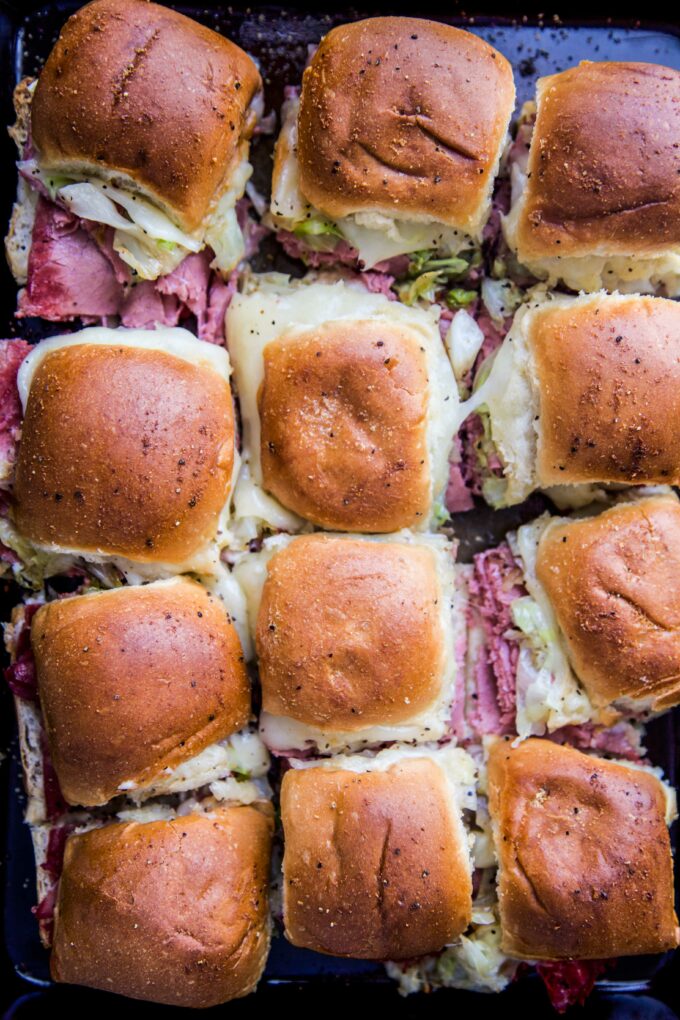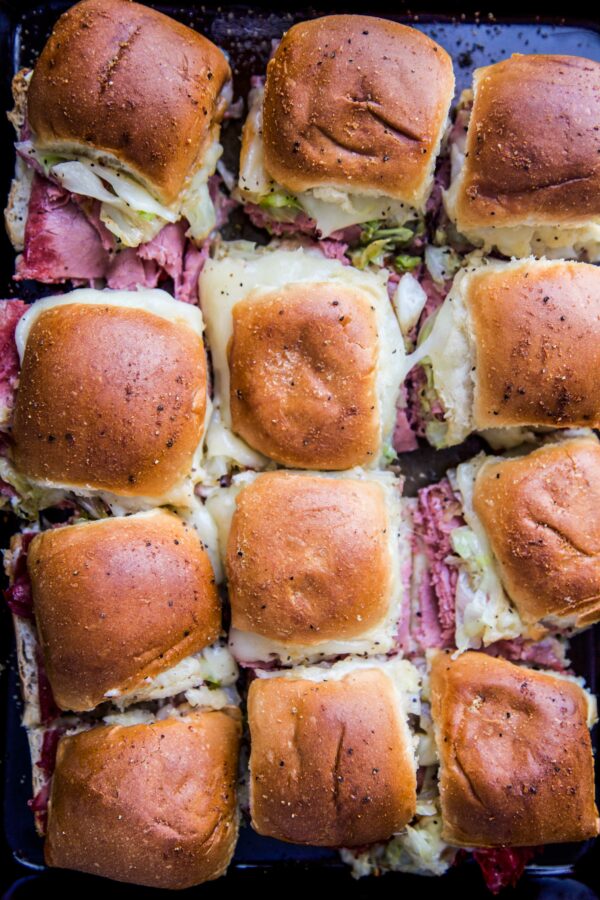 More St. Patrick's Day Themed Recipes to Enjoy: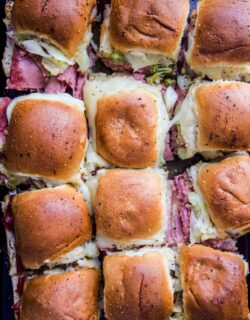 Sheet Pan Corned Beef Sliders
Ingredients:
10 slider buns or dinner rolls, slice in half
1 lb thinly sliced corned beef
10 slices of Swiss cheese
1/4 cup mayonnaise
1/4 cup Dijon mustard
4 tbsp unsalted butter, divided
2 cups shredded green Napa cabbage
2 tsp onion powder
2 tsp garlic powder
salt and pepper to taste
Directions:
Preheat your oven to 350 degrees. Spray a 9X13 baking dish with non-stick cooking spray.
Next, place 10 bottom roll halves into the prepared baking dish. Take the mayo and mustard, and spread it all over the roll halves.
Take the corned beef and Swiss cheese and layer them on top of each dinner roll.
In a skillet preheated to medium-high heat melt 2 tbsp unsalted butter. Once melted add the cabbage, salt, and pepper. Cook the cabbage until softened about five minutes. Take the cooked cabbage and place it on top of the corned beef.
Take the top dinner rolls and place it on top of the cooked cabbage.
In a microwave safe bowl melt the remaining 2 tbsp unsalted butter. Once melted stir in the onion powder, garlic powder, salt, and pepper. Using a brush, brush the melted butter on top of each roll.
Bake the sliders for about 15 minutes or until the cheese has melted. Serve and enjoy!
All images and text ©