Cheeseburger Shepherd's Pie
Cheeseburger Shepherd's Pie is a cozy, comforting one-pot meal that is perfect to serve any night of the week!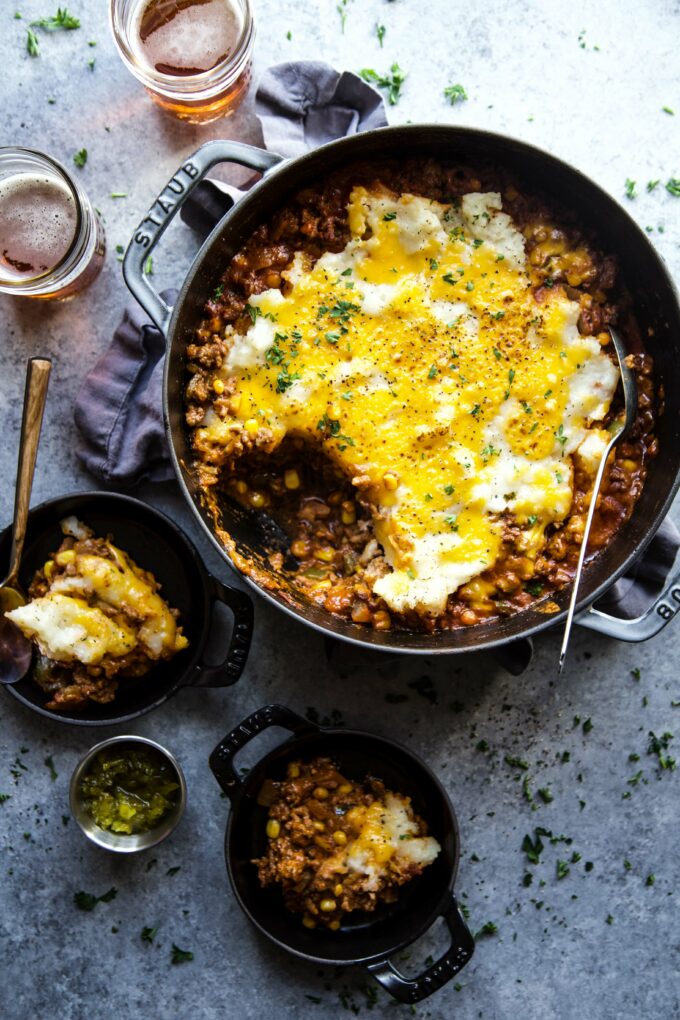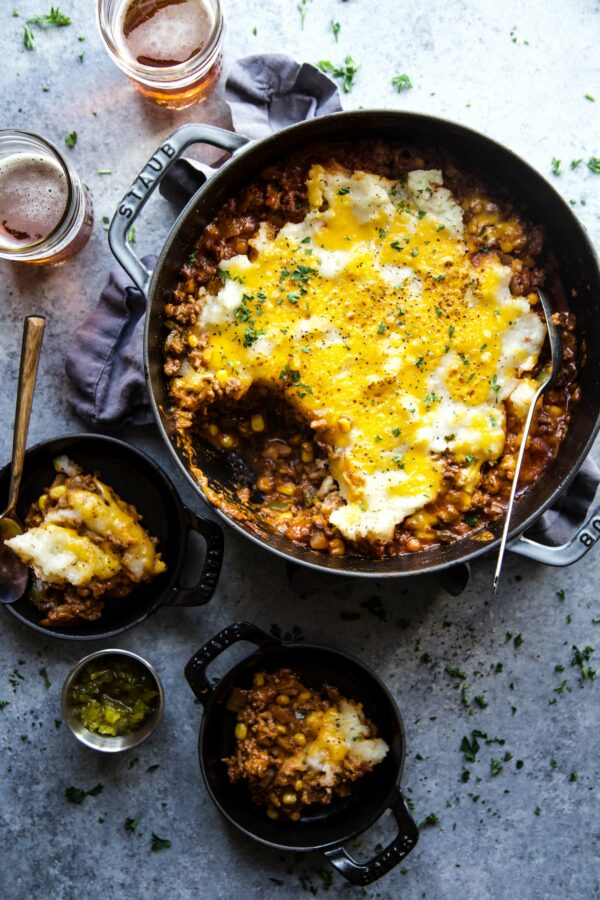 Comfort food.
Always in need especially during those chilly nights. Well, if you need another one-pot wonder to add your dinner arsenal this Cheeseburger Shepherd's Pie will do the trick.
A combination of ground beef, mustard, relish, cheese, corn, etc. topped with mashed potatoes. This is the ultimate cozy, comfort food.
Let's dive in and make it!
What's in Cheeseburger Shepherd's Pie?
This recipe is really a mash-up of two recipes: a cheeseburger & shepherd's pie. Both are easy to make and taste great when combined. In this version you will find:
Ground Beef
Green Pepper
Onion
Garlic
Tomato Paste
Relish
Mustard
Cheddar Cheese
Mashed Potatoes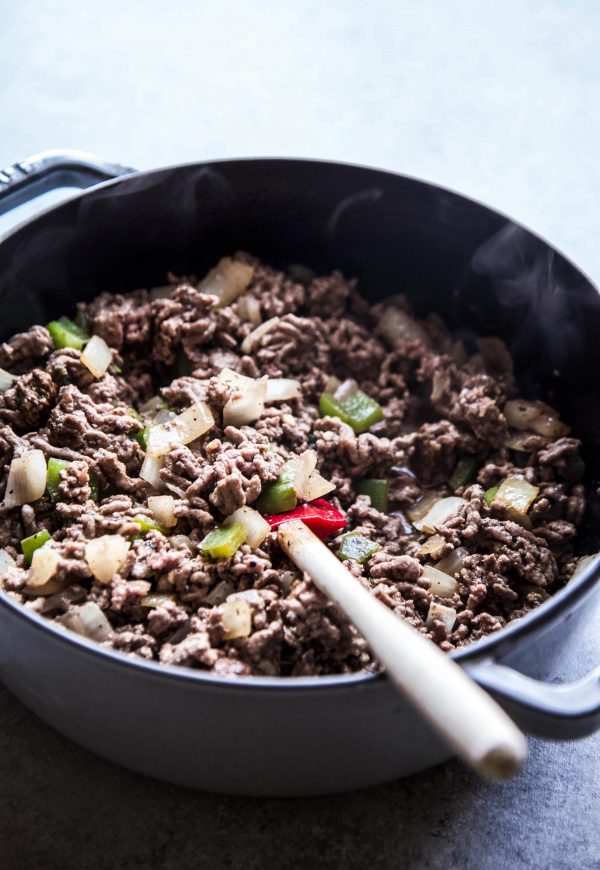 Tips for Making Cheeseburger Shepherd's Pie:
1) One Skillet. Since everything is made in one skillet try having all the ingredients prepped and ready to go prior to cooking. This will make the recipe come together quicker!
2) Mashed potatoes. If you don't want to make homemade you can certainly buy store-bought. OR the box kind works too. Don't judge!
3) Relish. If you aren't a fan of relish you can always use chopped up dill pickles! OR you could omit the pickles all together and use salsa instead!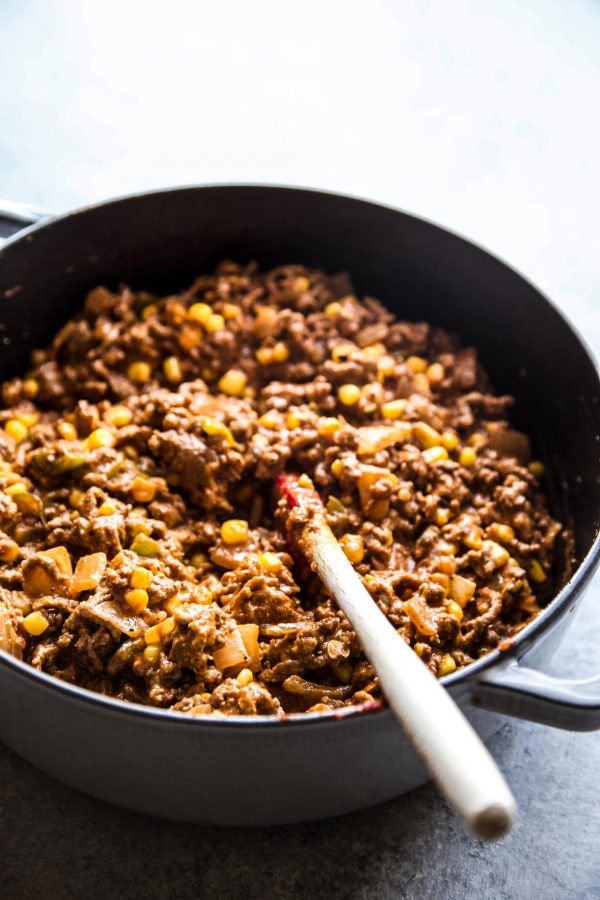 Can I substitute the Ground Beef?
You bet! Ground turkey, chicken, or plant-based protein would be an excellent substitute!
Can I substitute the Cheddar Cheese?
Oh, yeah! White cheddar would be amazing or Gouda. Gouda is always a good idea. OR provolone would be delicious as well.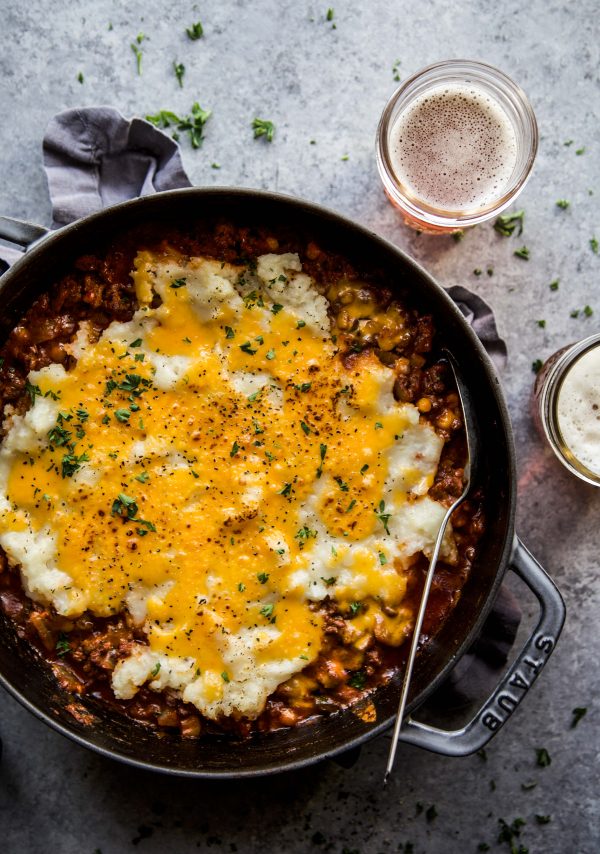 Can I freeze this dish?
YEP! You can freeze this entire skillet in an air-tight container for up to one month. Also a great meal to make for a friend to reheat and serve.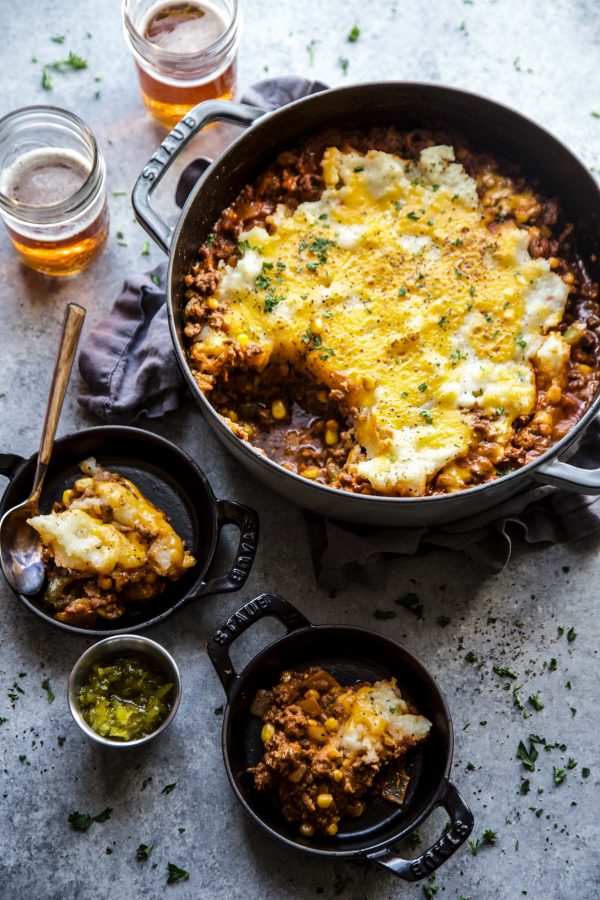 More Cozy Recipes to Enjoy: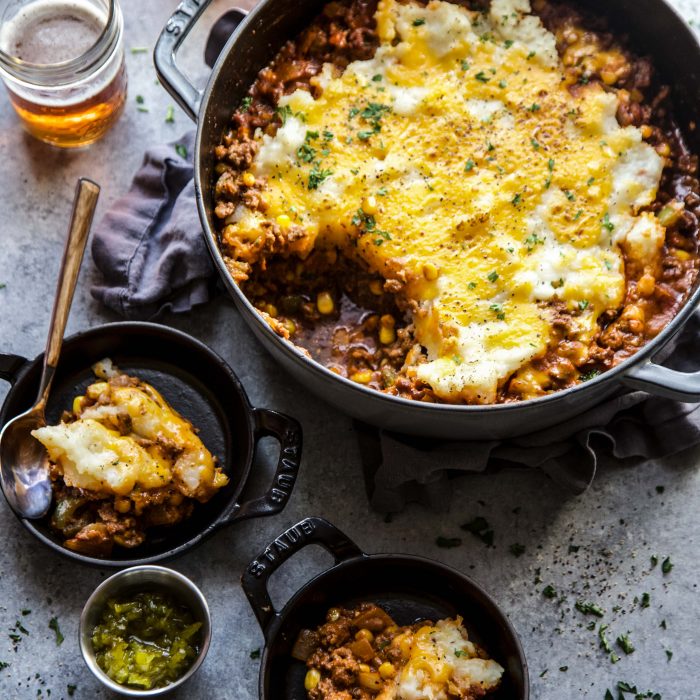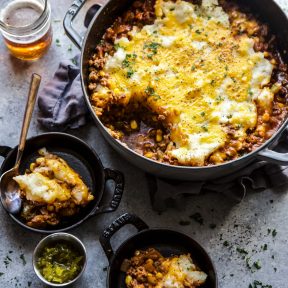 Cheeseburger Shepherd's Pie
Cheeseburger Shepherd's Pie is a cozy, comforting one-pot meal that is perfect to serve any night of the week! 
Ingredients
1 tbsp olive oil
1½ lbs ground beef
½ cup chopped green pepper
⅓ cup chopped yellow onion
2 garlic cloves, minced
1½ cups frozen or fresh corn
¾ cup water
16 oz can tomato paste
¼ cup dill pickle relish
¼ cup yellow mustard
1 cup shredded cheddar cheese, divided
Homemade mashed potatoes or store-bought, enough to cover
Fresh chopped parsley, for garnish
salt and pepper to taste
Instructions
Preheat your oven to 350 degrees.

In a large Dutch oven preheated to medium-high heat add the olive oil, ground beef, green pepper, onion, garlic, salt and pepper. Cook the vegetables and meat until no longer pink about five minutes. Make sure to drain off any fat.

Next, stir in the corn, water, tomato paste, relish, and mustard. Bring to a soft boil and then reduce heat to a simmer. Simmer for a few minutes uncovered.

Stir in a 1/2 cup of the cheddar cheese. Remove the Dutch oven from the heat and top with cheeseburger mixture with mashed potatoes. Top the mashed potatoes with the remaining 1/2 cup cheddar cheese.

Place the Dutch oven in the oven (uncovered) for about 20 minutes or until heated through. Garnish with fresh parsley!
Did you make this recipe?
Please leave a comment below and share a photo on Instagram with the hashtag #thecuriousplate!