pumpkin swiss burger with fried sage
Embark on a culinary adventure with our Pumpkin Swiss Burger featuring the aromatic touch of fried sage. Fall in love with the harmonious blend of savory Swiss cheese and the rich, earthy notes of pumpkin—a mouthwatering symphony of flavors awaits in every bite. Elevate your burger experience and embrace the essence of autumn with this uniquely crafted delight.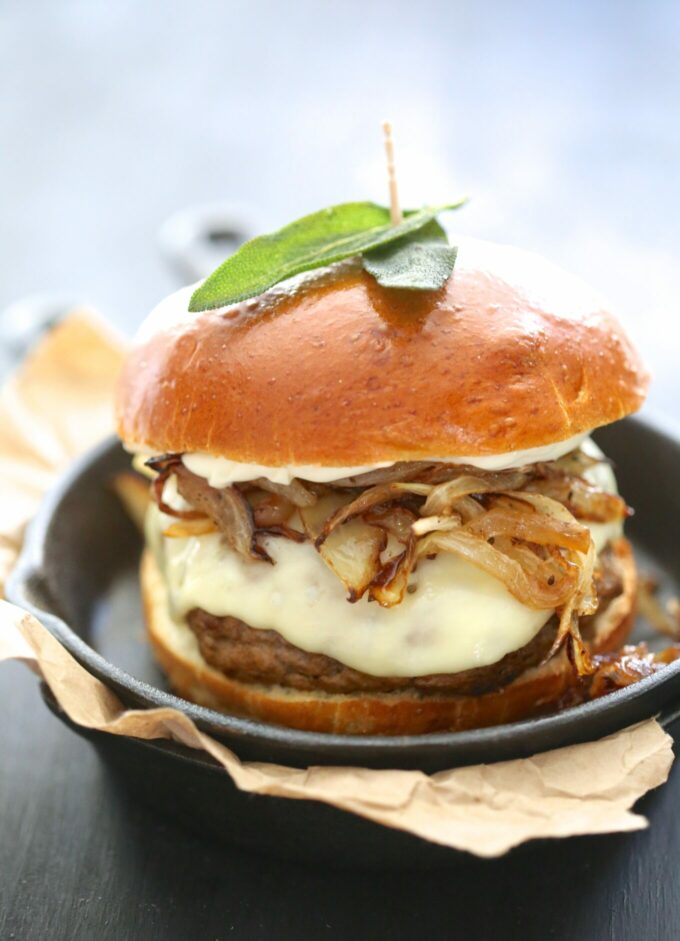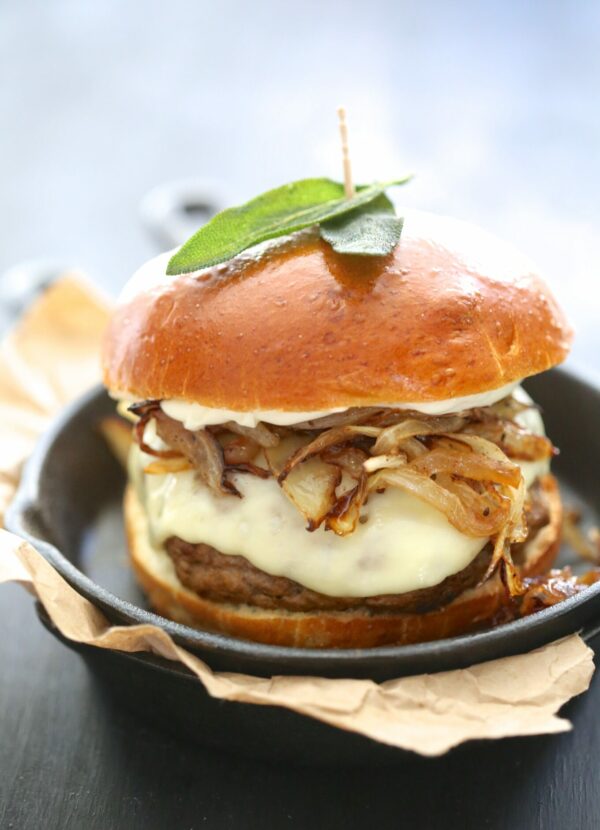 Have you ever been caught staring at someone?
Nine times out of ten, I generally stare at people for three reasons: 1) they look familiar, 2) they are doing something wacky, or 3) they are attractive. More often then not, it's because of number two. Traveling and being at airports you get the full spread of humanity.
When Mr. B and I traveled back to Kansas City for my cousin's wedding, I was walking to the gate and noticed a dude wearing a bonkers outfit, and I immediately started to stare. Well, he caught me staring and started smiling. And in my mind, I was like your outfit is major sad town population you bro and in that thought, I said to myself, "Wait. He thinks I'm staring at him because he thinks I find him attractive!!!"
NOOOOOOOOOOOOOOOOOOO!.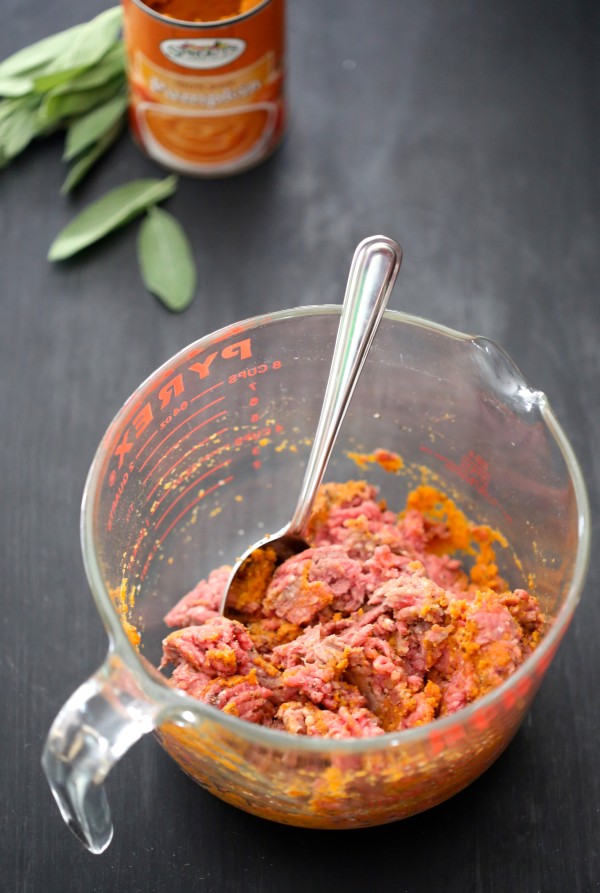 This is were if we could create an undo stare button life would be way better. If we can make an unsend email possible then undo stares are so doable, right? Maybe not quite like the mind eraser style from Men In Black, but something that prevents false assumptions.
Clearly, I have given way too much thought into this idea. Google if you are reading this, you have my permission to run with the it. So……….technically Wednesday is the first day of autumn. Even though it's been eighty plus degrees outside, I can still smell fall in the air. I'm ready to get my foliage viewing on. Maybe a trip to the mountains is in order before my heavy October travel begins!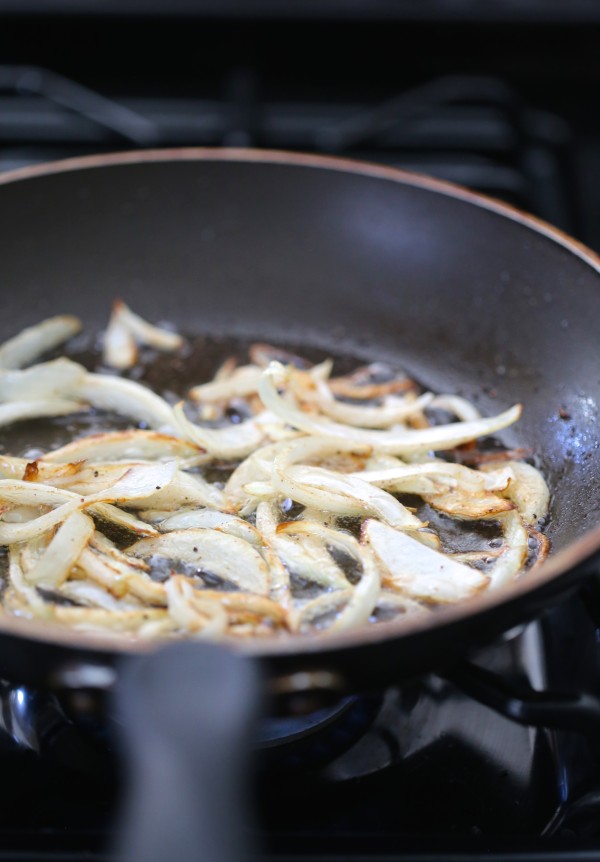 Well, I can only think of one way to welcome autumn and all of her golden glory. This Pumpkin Swiss Burger with Fried Sage are what fall dreams are made of. Lean ground beef mixed with pumpkin puree, allspice, cinnamon, garlic powder, cumin and topped with caramelized onions and fried sage. This burger is the MUST-MAKE for any foliage or football viewing partying!
But whatever you do, don't eat this burger at the airport.
The stares will come.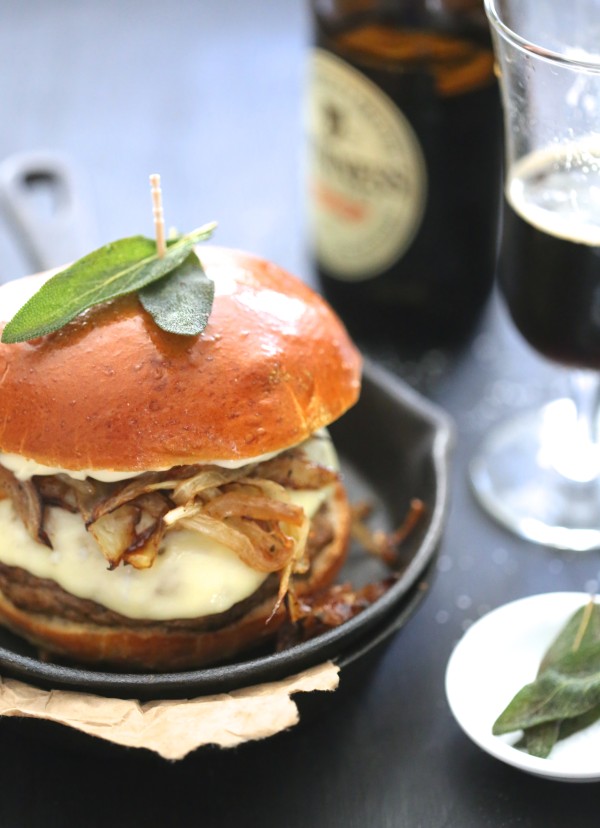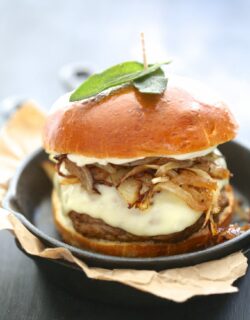 Pumpkin Swiss Burger with Fried Sage
Ingredients:
3 tablespoons olive oil
2 lbs lean ground beef
1/3 cup pumpkin puree
1/2 teaspoon garlic powder
1/8 teaspoon cinnamon
1/2 teaspoon cumin
1/8 teaspoon allspice
1/8 teaspoon cayenne pepper
6 tablespoons unsalted butter
1 yellow onion, sliced thinly
4 slices Swiss cheese
9 fresh sage leaves
4 hamburger buns
salt and pepper to taste
Directions:
In a large bowl combine, beef, pumpkin, garlic powder, cinnamon, allspice, cayenne pepper, salt and pepper. Form four hamburger patties and set aside. Preheat a skillet to medium-high heat and add the olive oil. Place hamburger patties into the skillet and cook for five minutes on the first side. Flip and cook an additional four minutes with last minute placing cheese slices on top of each patties allow it to melt. Once the cheese has melted and the burgers are cooked, remove from skillet and set aside on a plate.
In another skillet preheated to medium heat, add 3 tablespoons unsalted butter. Add the onion slices, salt and pepper to the skillet. Saute until soft and golden brown about 15 to 20 minutes. Make sure to stir often to keep the onions from burning. Remove from skillet and set aside when done.
In another skillet preheated to medium-high heat, add the remaining butter to the skillet. Add sage leaves and fry them in the butter until crispy about three minutes. Remove sage leaves with a slotted spoon and set aside.
To assemble, place burger patty on a bottom bun. Top patty with caramelized onion and the top pun. Using a toothpick place two fried sage leaves on top of the bun to make sure they stay in place. Serve immediately.
All images and text ©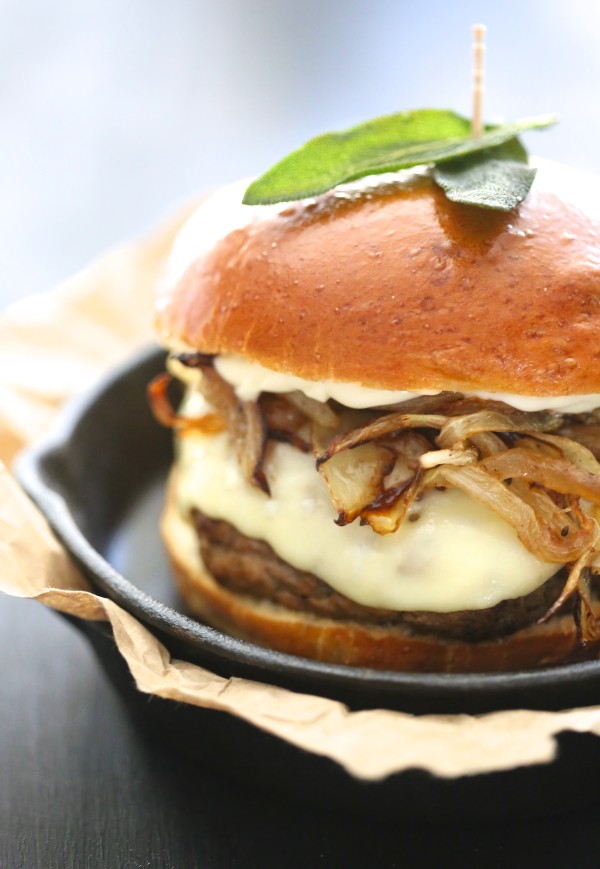 In conclusion, the Pumpkin Swiss Burger with Fried Sage offers a symphony of autumn flavors. From the rich pumpkin essence to the crispy sage, each bite is a celebration of seasonal delight—a culinary experience that elevates the classic burger to a fall-inspired masterpiece. Enjoy the warmth and depth of these unique flavors in every satisfying bite. Embrace the taste of autumn with this unforgettable burger creation.