Roasted Jerk Chicken with Rice & Peas
Roasted Jerk Chicken with Rice & Peas is a flavorful meal! Roasted chicken marinaded in jerk spices and served with rice and peas!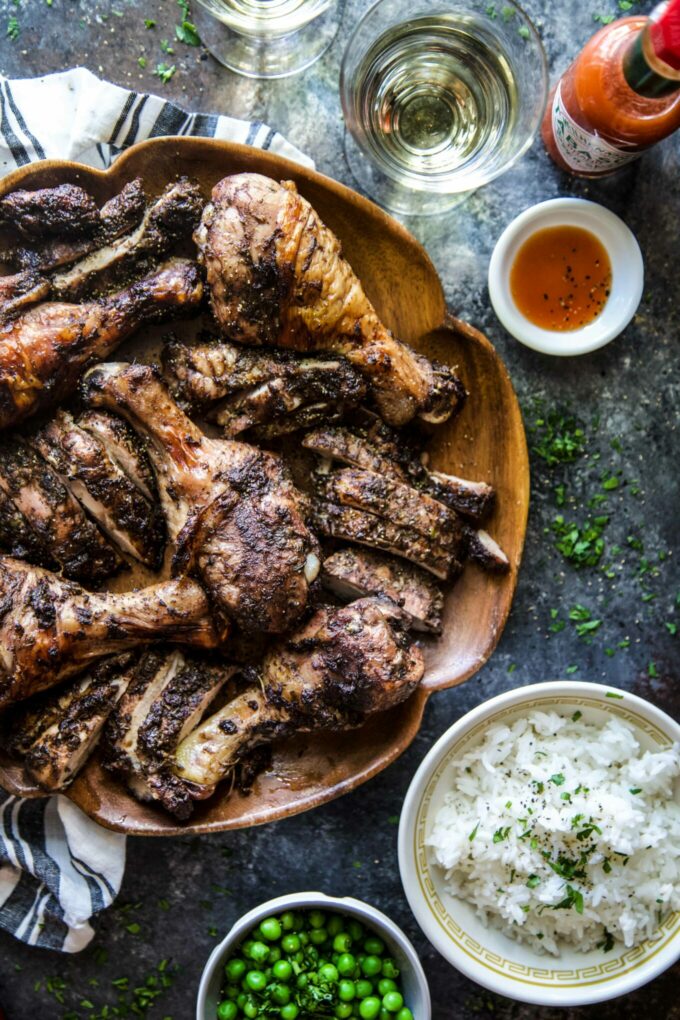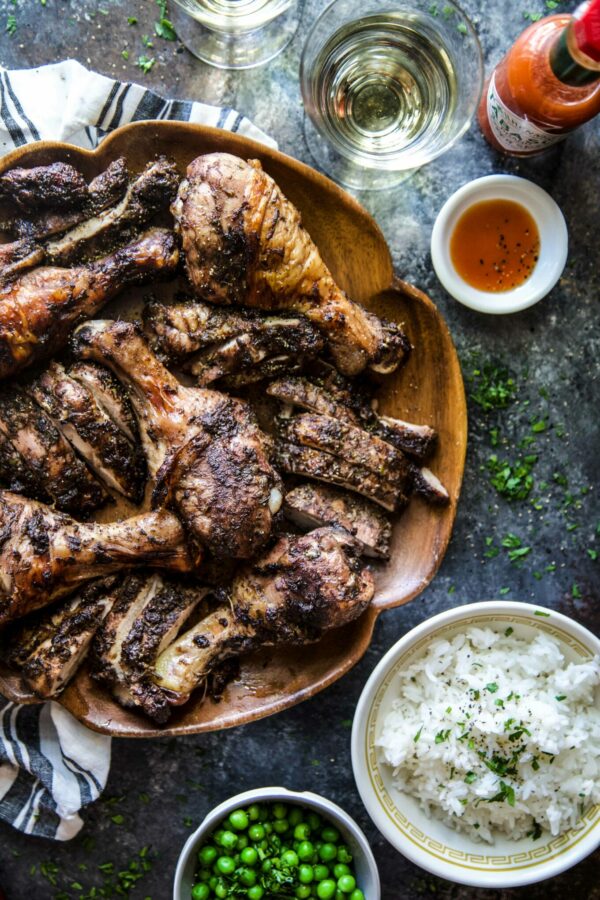 I am fired up!
I don't know if it was the weekend away from the house, my expanding belly, or the fact that in 14 weeks I will be having this baby. My motto for this week: GET SH$T done.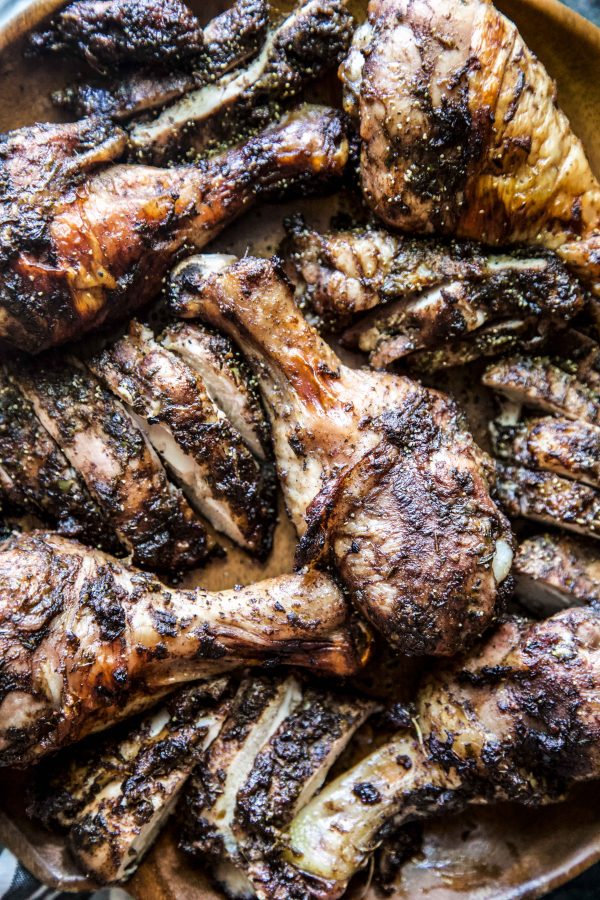 I'm talking about all the little annoying things that I look at and think, meh, manana. Well, no more manana, folks. My plan is to attack each room that's not being demoed and organize it, label things (you bet your sweet tookus I bought a label maker!!), and make room for baby stuff.
Also, I feel like this is a great way to keep myself distracted from all the construction upstairs. I know that I will be spending a lot of time either in my room nursing or downstairs in the TV room. I want to make each room very zen like and accessible. I'm laying out where to put the nursing kit, changing table, bath stuff, etc. Good lord, do I sound like a crazy person????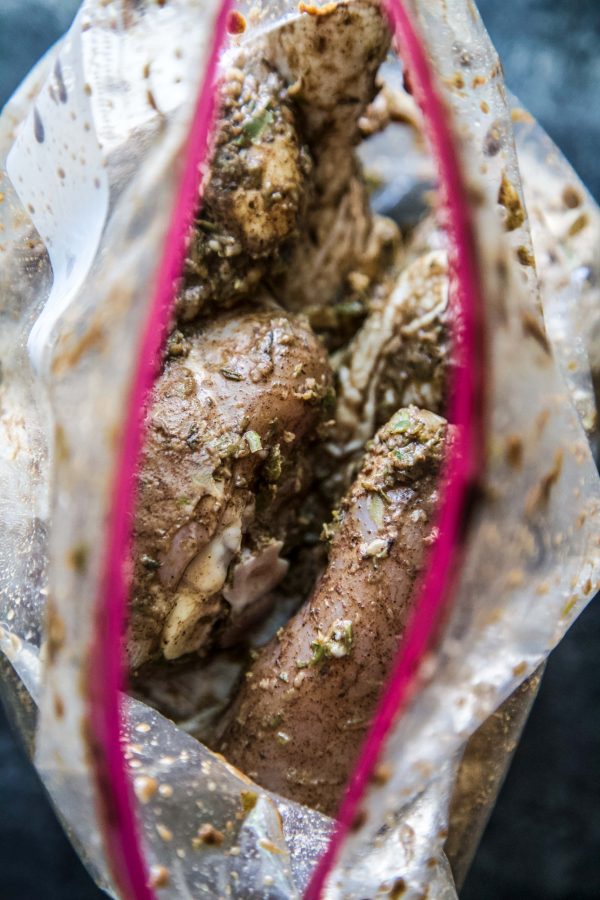 I probably do, but at this point if I don't get my sh$t together I don't know when I will have time. Because tick-tock goes the baby clock! Also, if you have any organizational tips on preparing to bring home a baby LET ME KNOW!
In the meantime, I will be over here making a master list of what to add to my freezer meal prep. This Roasted Jerk Chicken with Rice & Peas is definitely on the rotation. A simple marinade is all you need to dazzle the taste buds. There's something about jerk chicken that makes me think of a tropical breeze and sunshine. And who couldn't use more of that?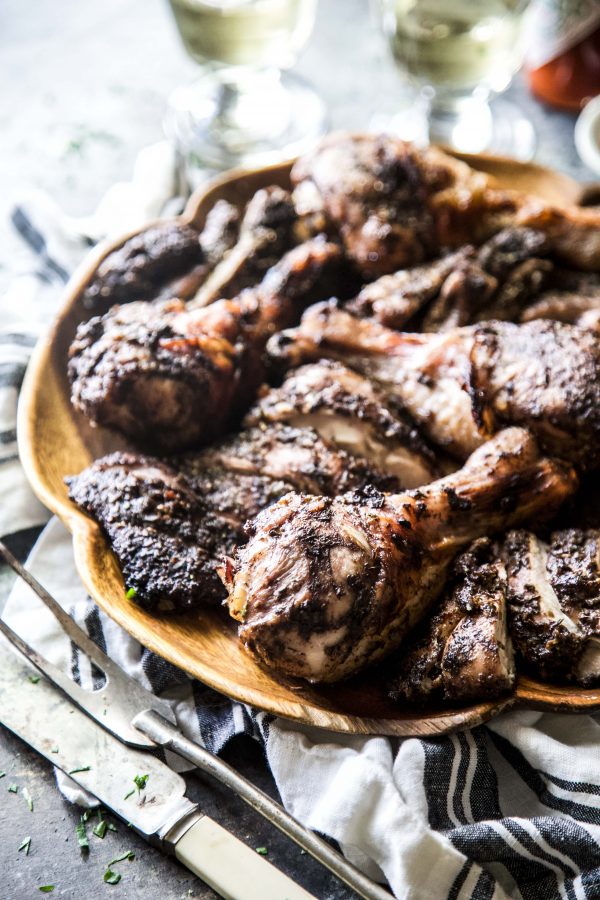 Once the chicken is marinated just roast and add whatever sides you desire. I'm a sucker for rice and peas. Pretty easy, huh? Give it try this week and let me know! I'll be over here just organizing the junk draw and labeling my hooters. I mean boob kit.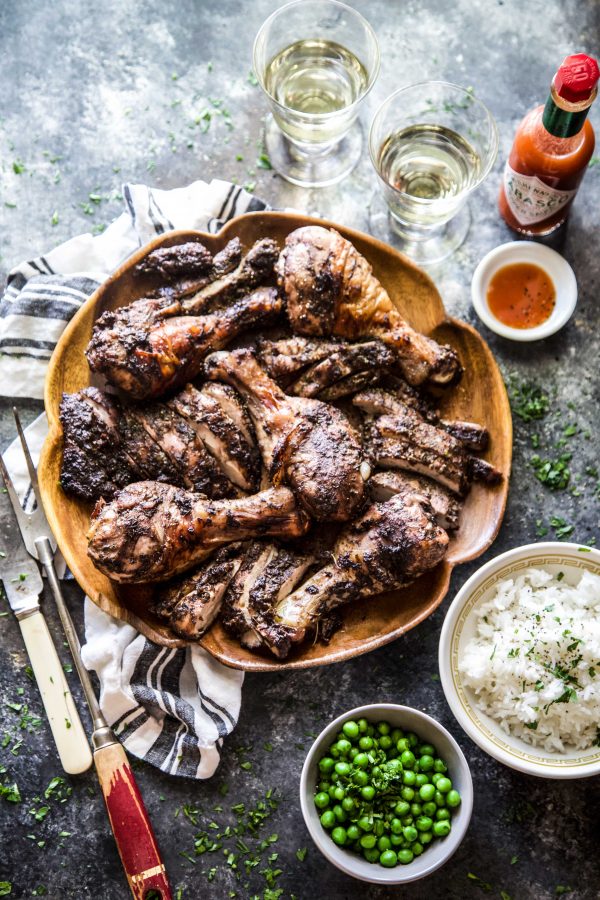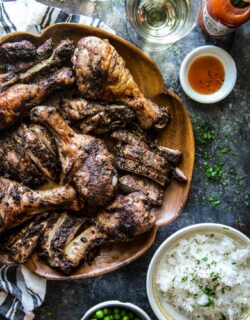 Roasted Jerk Chicken with Rice & Peas
Ingredients:
5 to 6 green onions
2 cloves garlic
1 jalapeno, seeds removed, roughly chopped
2 tbsp lime juice
2 tbsp olive oil
1 tbsp brown sugar
1 1/2 tsp ground allspice
1 tsp dried thyme
1/2 tsp ground cinnamon
1 tsp kosher salt
1 tsp ground pepper
4 chicken drumsticks
4 boneless chicken thighs
Cooked white rice, for serving
Cooked peas, for serving
Directions:
In a food processor, add the green onions, garlic, jalapeno, lime juice, olive oil, brown sugar, allspice, thyme, cinnamon, salt, pepper and 2 tbsp water. Pulse until smooth.
Place chicken in large Ziploc bag and cover with marinade. Place the chicken in the fridge to marinate for at least 2 hours and for better results overnight.
Next, preheat your oven to 400 degrees. Line a baking sheet with foil and spray with non-stick cooking spray. Place the chicken onto the baking sheet and cook for about 45 minutes or until golden brown.
Remove chicken from oven and serve on a big plate along with rice and peas! Enjoy!
All images and text ©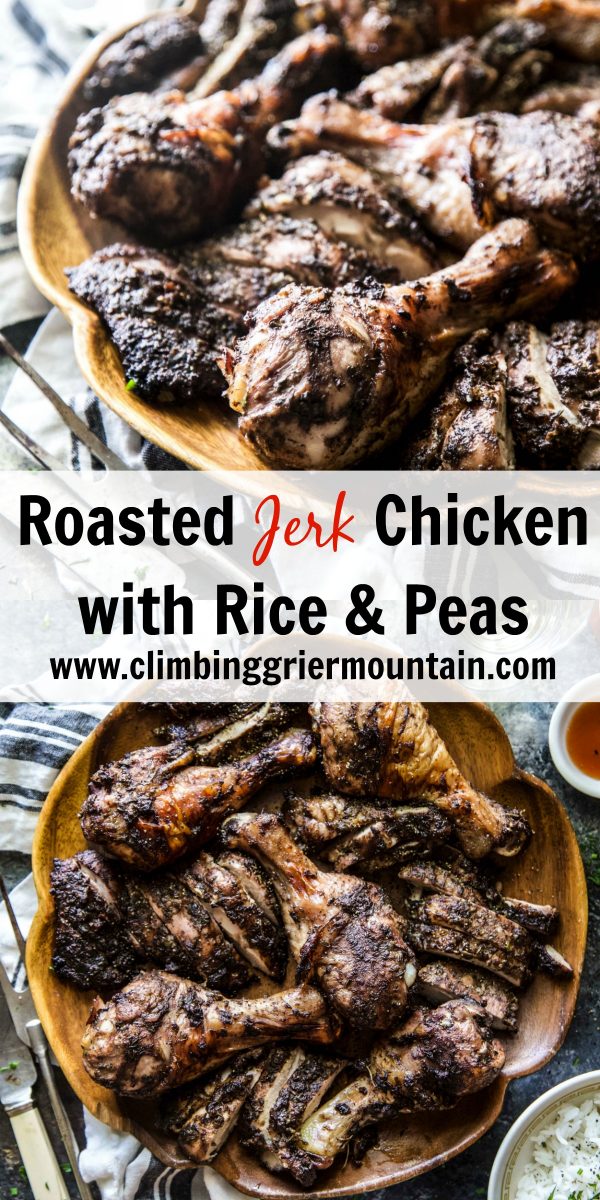 In conclusion, Roasted Jerk Chicken with Rice & Peas is a culinary journey of bold flavors. The succulent chicken, aromatic rice, and peas create a harmonious dish, offering a satisfying and memorable conclusion to a Caribbean-inspired dining experience. Enjoy the vibrant taste of adventure in every bite.