14 unique valentine's day gifts
Mix up your Valentine's Day gift routine for your special sweetie with one of these 14 Unique Valentine's Day Gifts!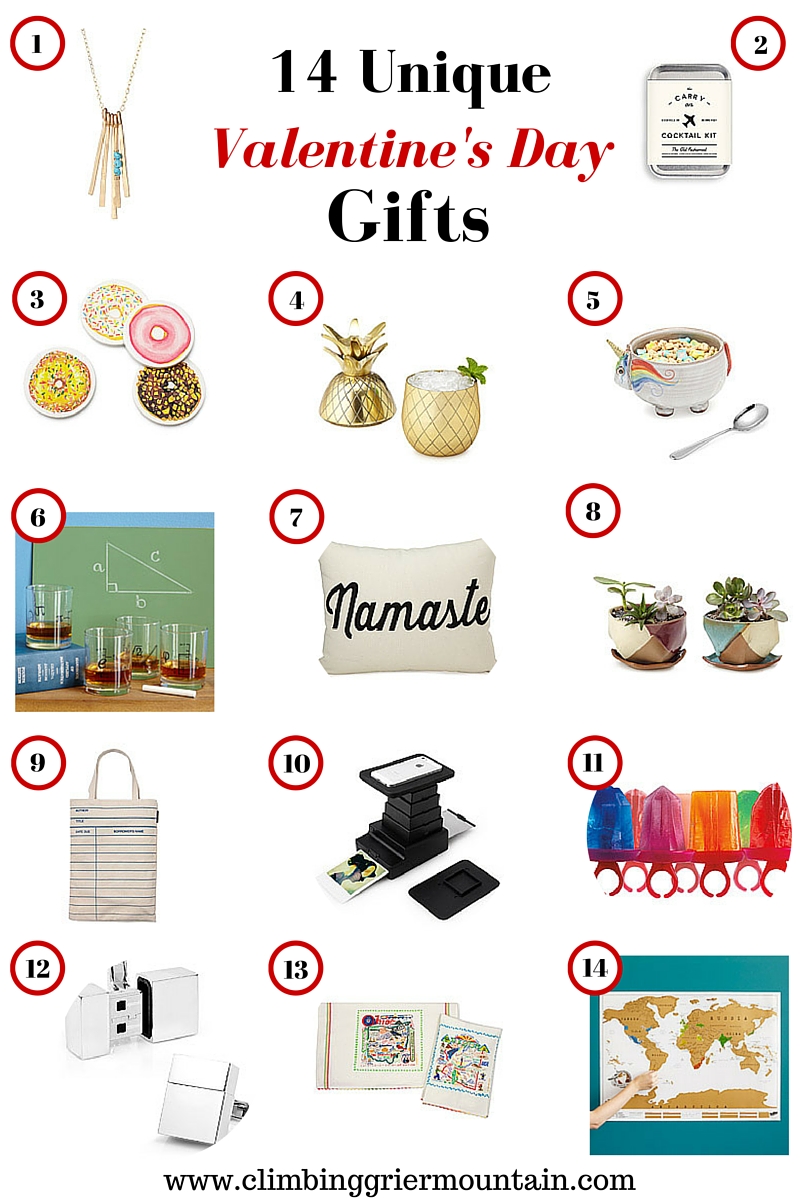 We are t-minus ten days away from Valentine's Day.
Are you ready?
In usual Grier household fashion, Mr. B and I will assume our Valentine's Day celebrating positions in the least sexiest way possible. I'm talkin' about having pizza delivered, pouring endless amounts of red wine, snuggling in our pj's, and watching a movie. I can feel Russel Stovers rolling his eyes right about now.
But hey! We all show love differently as my friend Listy would say. With that, I have teamed up with a super fun company, UncommonGoods to bring you as list of 14 Unique Valentine's Day Gifts. UncommonGoods is a fantastic company that brings a community of artists together to showcase their work and to promote the stories behind these creative folks.  You can check out  more Valentine's Day gift ideas here to get those creative juices flowing. Or if you have an anniversary coming up, check out some fun ideas here. And lastly, if you need anything personalized, I recommend checking out their gift ideas here.
The 14 gifts below are some that I personally would love to have, but it's also a mixture of fun presents to give to your BAE, parents, foodies, office mates, etc. So, take a look around because I am also giving away a $25 gift card to shop at UncommonGoods!
To enter leave a comment below telling me, who is your Valentine this year?
1) Hand Hammered Gold and Turquoise Necklace – gold and turquoise together is the way to your girl's heart. $98.00
2) Old Fashioned Carry on Cocktail Kit – this kit is perfect for the guy or gal in your life that travels a lot and doesn't feel like paying $8 for cocktail in a plastic cup. $24
3) Donut Coasters – these coasters are hysterical and would be the perfect gift for that foodie in your life. $40
4) Pineapple Tumbler – everyone needs a sturdy tumbler to complete their bar set and this pineapple version has a touch of sunshine. $29
5) Unicorn Cereal Bowl – every morning should be magical and what better way to enjoy some oats or cereal than in a unicorn bowl. $38
6) Math Glasses – I adore these glasses because they make for great cocktail conversations about the dislike of eighth grade geometry. $38
7) Namaste Pillow – for the yoga lover in your life! $98
8) Mauna Planter and Dish – your succulents called and would like to be planted in these. $44
9) Library Card Tote Bag – this simple tote is a total throwback and would be fun to take to the local farmers market. $20
10) Smartphone Instant Photo Lab – for the family member who keeps that photo album from collecting dust. $169
11) Ring Jewel Ice Pop Molds – every girl born in the 80's needs this in her life. $12
12) Silver USB Cufflinks – stylish and sleek. these cufflinks are the way to your techie guys heart. $100
13) State Dish Towels – show your state love with these super cute towels! $20
14) Scratch Map – forget pinning the places you've been on a map, why not scratch it off? totally genius. $28
***THIS GIVEAWAY IS NOW CLOSED. CONGRATS to Entry #2, Daria!***
Giveaway details: One U.S. resident will receive a $25 gift card to shop at UncommonGoods. The winner will be chosen randomly and will have 48 hours to respond. This giveaway will run from Thursday February 4th to Sunday February 7th at 9pm EST!
Happy Valentine's Day shopping, friends!
***This post was sponsored by UncommonGoods. As always, all opinions expressed are 100% my own!***