baked chicken parmesan with salami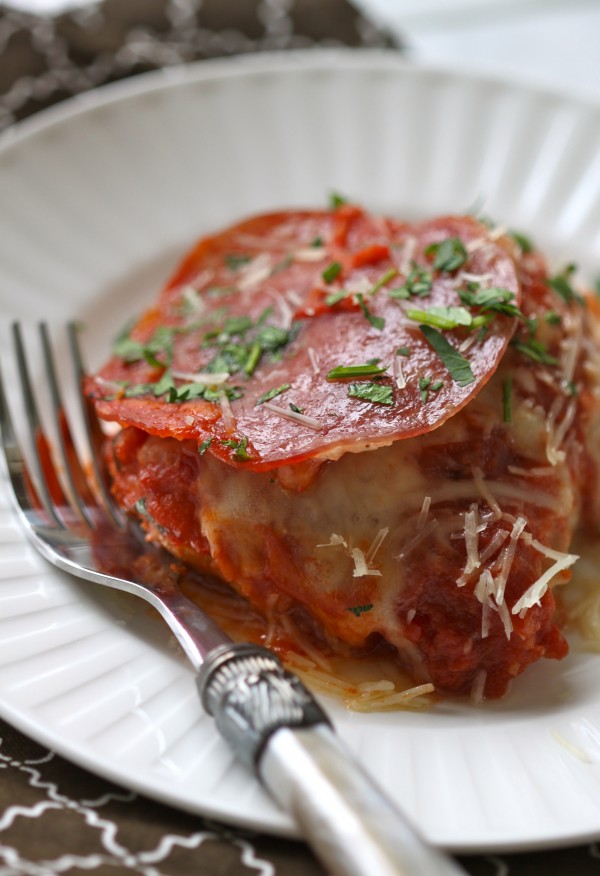 This past weekend I got to thinking.
I thought about the warm rays of summer sun. I thought about backyard barbecues and rooftop happy hours. I thought about all the trips the hubs and I have teed up between June and August (Charleston, Bahamas, and Table Rock Lake to name a few). I thought about flip flops, freshly painted pedicures, and flow-y sundresses. To say that I totally dig summer would be an understatement.
But in my giddy, jazz-hands, can't-wait-for-summer moment, I noticed something out of my perif. There, in my closet, dangling on the back of the wooden door, was my bathing suit staring back at me. What is it about this "suit" that has a sobering effect on my summer-time fun? How is it that stretch lycra spandex material can take my sunshine and lollipop moments and transport me to the swimsuit round of the Miss U.S.A pageant? Oh, the HORROR!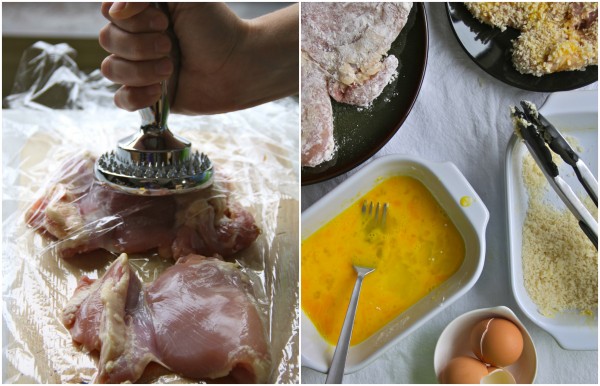 Well, seeing that spring won't be official for at least another week, I gave my bathing suit an inner monologue middle finger, and marched my happy tookus downstairs. Knowing I could save my spandex battle for another day, I decided I need to bake.
I find it humorous the way my mind wanders when it doesn't want to make healthy dishes. Sometimes it's hard to keep the mind on a straight path. So many delicious, fried, dipped, and salty options! However, I thought it would fun, and totally appropriate, to make chicken parmesan. Who doesn't love a big dish of baked chicken covered in oozing cheese and tomato sauce? Wait. Don't answer that just yet.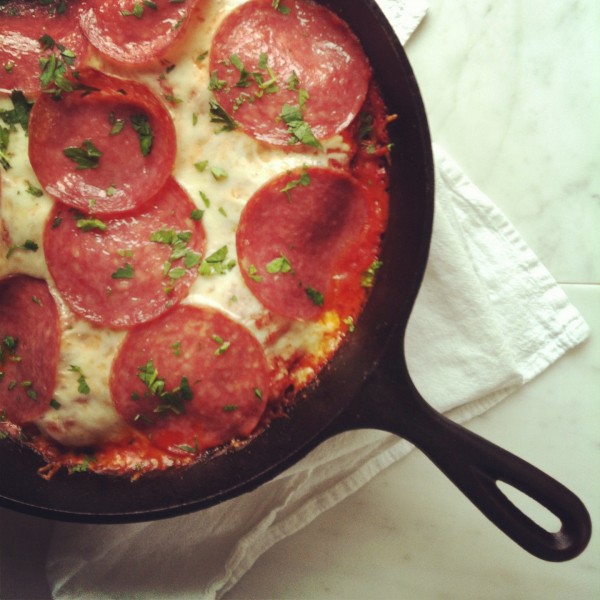 What if I told you this new version of chicken parmesan was made in a giant cast iron skillet? What if I told you said chicken was boneless chicken thighs instead of chicken breast? What if I told you that instead of just cheese added on top there were slices of salami as well? I would say my friends, this would be the dish to get down on.
So, light up the fireplace, open a bottle of vino, grab a fork, and savor the last few moments of winter.
Summer can wait, for now.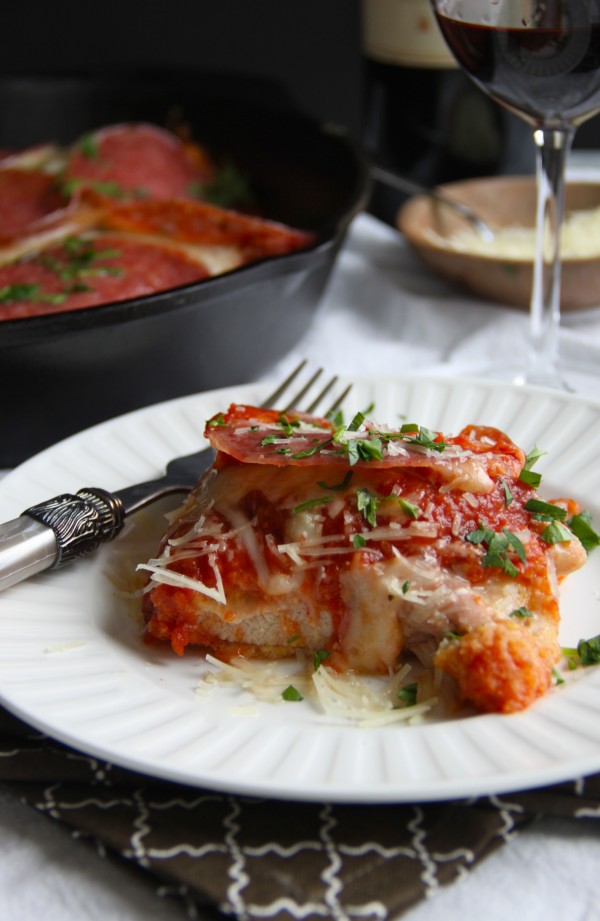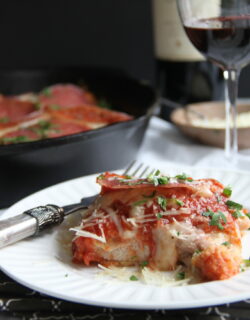 Baked Chicken Parmesan with Salami
Ingredients:
1 pound boneless skinless chicken thighs, pounded 3/4 inch thick
1 cup all-purpose flour
3 large eggs
2 1/2 cups panko bread crumbs
2 cups tomato sauce
1 cup Parmesan, shredded
1 cup mozzarella, shredded
8 slices of salami
parsley, garnish
Directions:
Preheat oven to 425 degrees.
Set out three large bowls. Crack eggs, mix, and add eggs to one bowl. Add the panko to one, and the flour to the final bowl. You're creating a dredging station!! Take chicken thigh and dip in flour. Dust off any extra. Dip in egg and then coat with panko. Repeat process until all chicken is covered. Set aside.
Preheat a cast iron skillet to medium-high heat. Add 3 tablespoons olive oil to the pan. Working in batches, brown chicken thighs on each side. Should take about 7 to 8 minutes. Don't cook through! Once all the chicken thighs are browned, turn off heat. Place all the chicken thighs in the skillet. Top with tomato sauce, cheese, and salami slices. Bake for about 15 minutes. Remove from oven and garnish with parsley!!
adapted from Food and Wine Magazine
All images and text ©