foodie fridays: sweet potato corned beef hash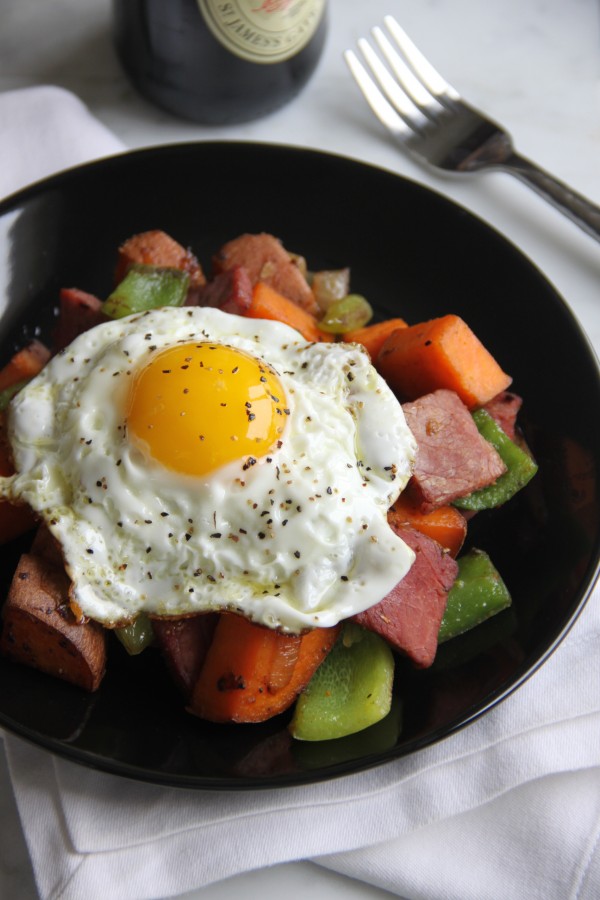 St. Paddy's Day.
A day filled with flowing pints of green beer. A day of copious amounts of beef, taters, and chocolate stout cakes. A day where no matter what ethnicity you represent, the world gets together and swims in one giant bowl of Lucky Charms.
There's nothing like a good St. Paddy's celebration. About five years ago, I lived in Chicago and had the pleasure of seeing the giant neon green river in person. Did you know that they use powdered vegetable dye to turn the whole thing green? Yep, yep! Use that factoid at your next cocktail party.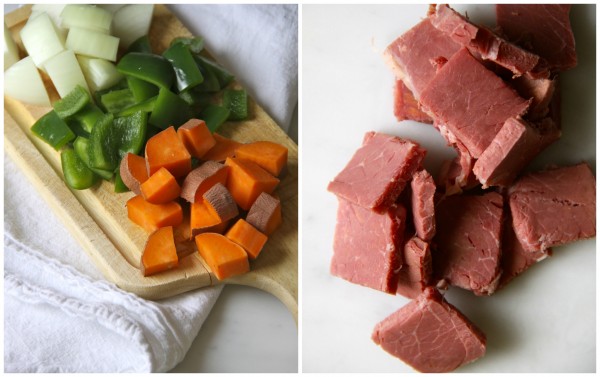 Even though Chi-town puts on one heck of a party in honor of "Pat", the home-town of my alma mater knows hows to throw one giant green bash. Which is funny because I'm heading back there this weekend to see family and take care of a few biz things (more about that later).
Now, that I'm officially 3-0, I won't getting up at 6am, hitting the bars, wearing beer soaked green t-shirts all day, or engaging in endless amounts of shenanigans. My 22 year-old self just shed a tear. I'm still planning on celebrating in style. Yes, I will be wearing my "Kiss Me I'm a Wildcat" t-shirt. Gotta keep tradition folks! I might coax the hubs and myself into drinking a green beer in honor of our adolescent past. But I definitely will be making this sweet potato corned beef.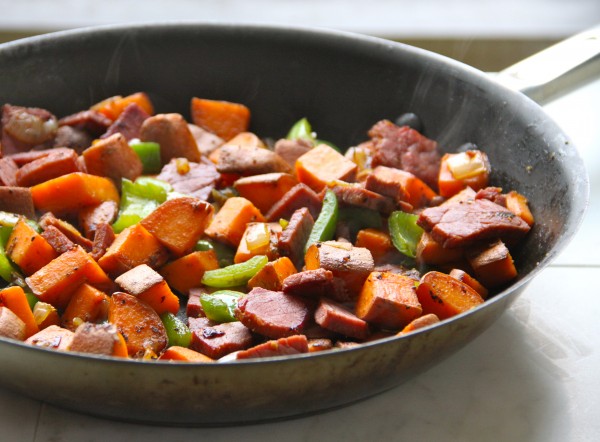 I know sweet potato in a corned beef hash isn't traditional. But I figured since I'm not 100% Irish, I can get away it. Beside the fact that sweet potatoes are healthier for you, I love the color combo of the peppers, onions, and corned beef. I could see a couple of Leprechauns getting down on this.
Just don't try and steal their lucky charms.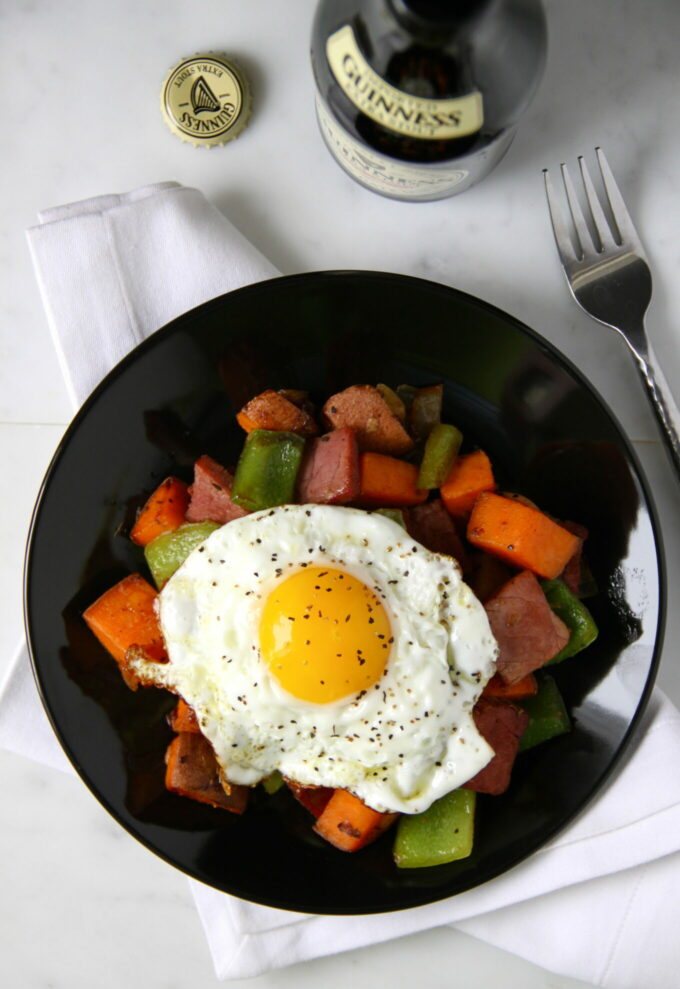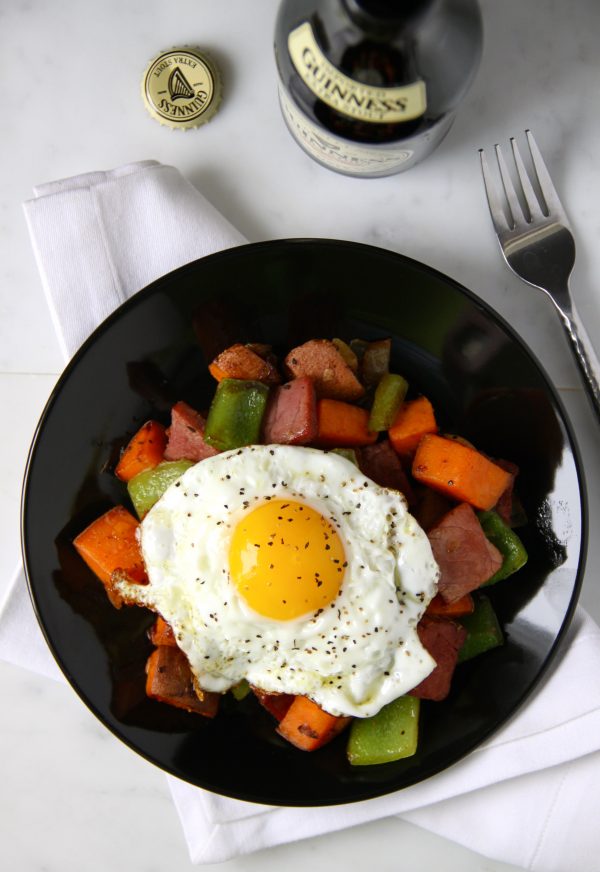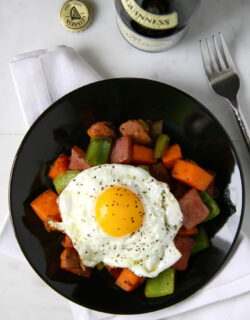 Sweet Potato Corned Beef Hash
Ingredients:
3 tablespoons olive oil
2 medium sweet potatoes, diced
2 medium green peppers, diced
1 medium onion, diced
1/2 pound corned beef sliced a 3/4 inch thick, diced
3 large eggs
salt and pepper
Directions:
Preheat oven to 375 degrees.
Place sweet potatoes on a baking sheet and bake for 25 minutes. Remove when done and set aside to cool before dicing. In a large cast iron skillet, preheated to medium heat, add olive oil, sweet potatoes and salt/pepper. Saute the potatoes for about 10 minutes, until they are slightly crispy. Then add peppers, onions, corned beef, and salt/pepper. If you need to add more olive oil to the pan, do it! It's a feel thing.
Once everything is crispy, turn off heat. In another skillet, preheated to medium heat. Add 1 tablespoon olive oil and crack three eggs into skillet. Cook the eggs until a little opaque.
To serve: place corn beefed mixture into a bowl and top with sunny-side up egg. And of course, serve it with a tall glass of Guinness.
adapted from Food and Wine Magazine
All images and text ©