baked doughnuts with red, white, & blue marshmallow frosting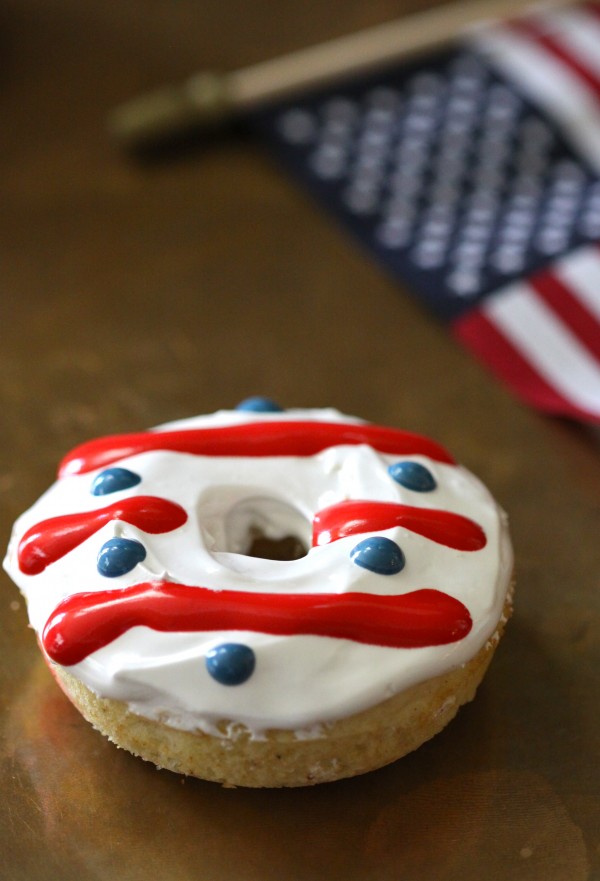 Ameri-CAN.
That's what these doughnuts whispered to me while I was sifting cake flour and measuring buttermilk.
I didn't know doughnuts could talk, did you? Wait. I'm totally hearing voices, aren't I? I knew it! Mommmmmm!
As we celebrate our country's birthday tomorrow, can you believe she is going to be 237 years old? That's like 26 in Middle East years. America is looking good; although, I'm thinking a facial needs to be a part of her beauty regimen. No one wants blemishes like  doubling of interest rates for school loans, NSA leaks, or giving money to the Kardashian family. America isn't perfect, but let's at least clean up some of this dirt, shall we?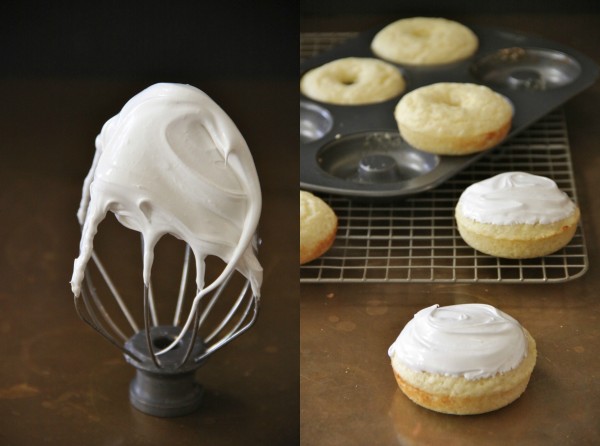 Anywho, I will be celebrating the 4th of July weekend in Steamboat Springs, Colorado. This will be our fourth year up in the high country with Mr. B's family. This time, there won't be all fourteen us nestled under the stars, but it still should be a grand ol' time. I'm planning on doing a little fly fishing, running, jeep trailing, BARBECUING, and marg-thirtyin'.
Two years ago, I made  patriotic cupcakes that my nieces and nephews gobbled up. But I'm thinking this year, it might be fun to mix it up and make doughnuts.  Not normal doughnuts, my friends. Oh, no. These have marshmallow frosting. Have you ever made marshmallow frosting? The recipe is little funky because you heat up a cup of corn syrup in the microwave until it boils, and then add it slowly to egg whites. But trust me, what you get is  glossy, sugary whipped frosting that tastes like heaven.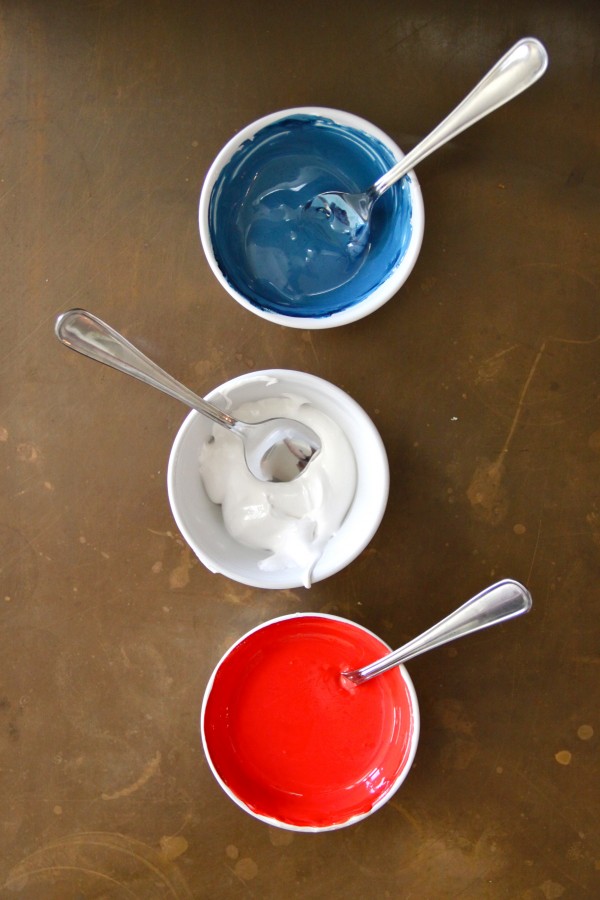 From there, divide up the frosting into three bowls using the Ameri-CAN colors – red, white, and blue- and start decorating! These will be a hit with the kids and especially the adults.
Now, blow out your candles.
Happy Birthday, America!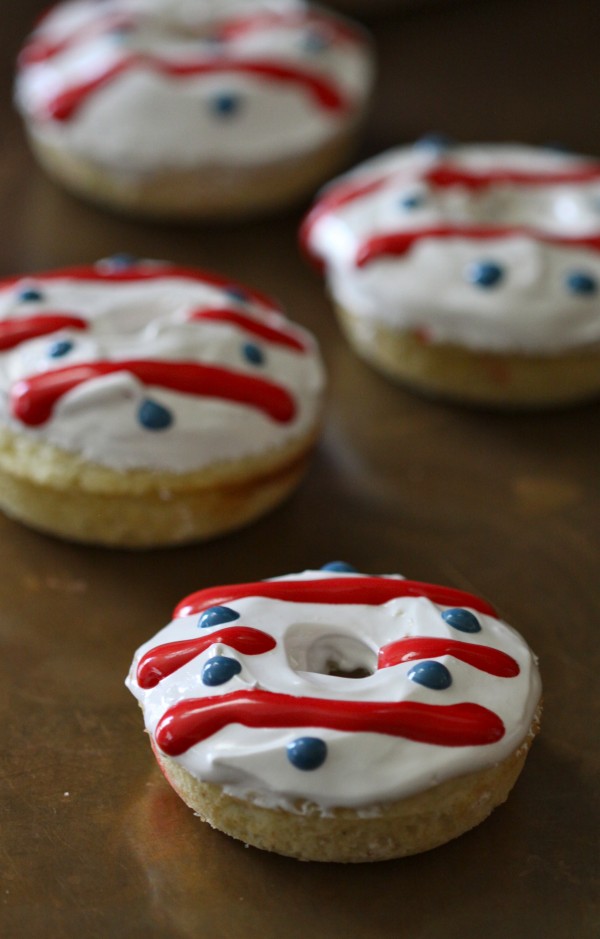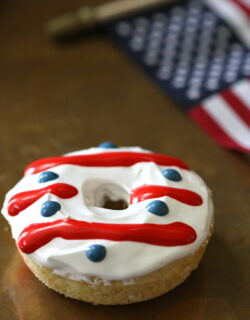 Baked Doughnuts with Red, White, & Blue Marshmallow Frosting
Ingredients:
for the doughnuts:
2 cups cake flour, sifted
3/4 cup granulated sugar
2 teaspoons baking powder
1/4 teaspoon ground nutmeg
1 teaspoon kosher salt
3/4 cup buttermilk
2 eggs
2 tablespoons butter, melted
for the marshmallow frosting:
2 egg whites
1/4 teaspoon salt
1/4 cup granulated sugar
3/4 cup corn syrup
1 teaspoon vanilla extract
red food coloring
blue food coloring
Directions:
for the doughnuts:
Preheat oven to 425 degrees. Spray doughnut pan with nonstick cooking spray. In large mixing bowl, sift together cake flour, sugar, baking powder, nutmeg and salt. Add buttermilk, eggs and butter. Beat until just combined. Fill each doughnut cup approximately 2/3 full.
for the marshmallow frosting:
In a stand mixer with a whisk attachment, beat 2 egg whites with salt until frothy. Gradually add sugar, beating until soft peaks form. Heat syrup in a glass microwaveable dish until it boils. Pour syrup in thin stream over egg white mixture, a little at a time. Beating on high speed until harder peaks form. Add vanilla and beat until glossy!
Separate the frosting into three bowls. Keep one white and make the other two blue and red. Spread the white frosting all over the doughnut. Next, add the red frosting to a piping bag and make three lines across the doughnut. Once you do this, place the doughnut in the fridge for a few minutes to the let the frosting set. After a few minutes take the doughnut out of the fridge, add the blue frosting to a new piping bag and make blue dots wherever your heart desires. Once you complete the dots, set the doughnut back in the fridge so the blue frosting sets. After a few minutes, take out of fridge and eat!
doughnut recipe from a doughnut pan purchased at Sur la Table.
All images and text ©