Buffalo Chickpea Salad
"Buffalo Chickpea Salad is a delightful, light, and crispy salad that suits any occasion. Whether you're looking for a satisfying side dish or a tasty entrée, this versatile and flavorful salad option will surely please your palate."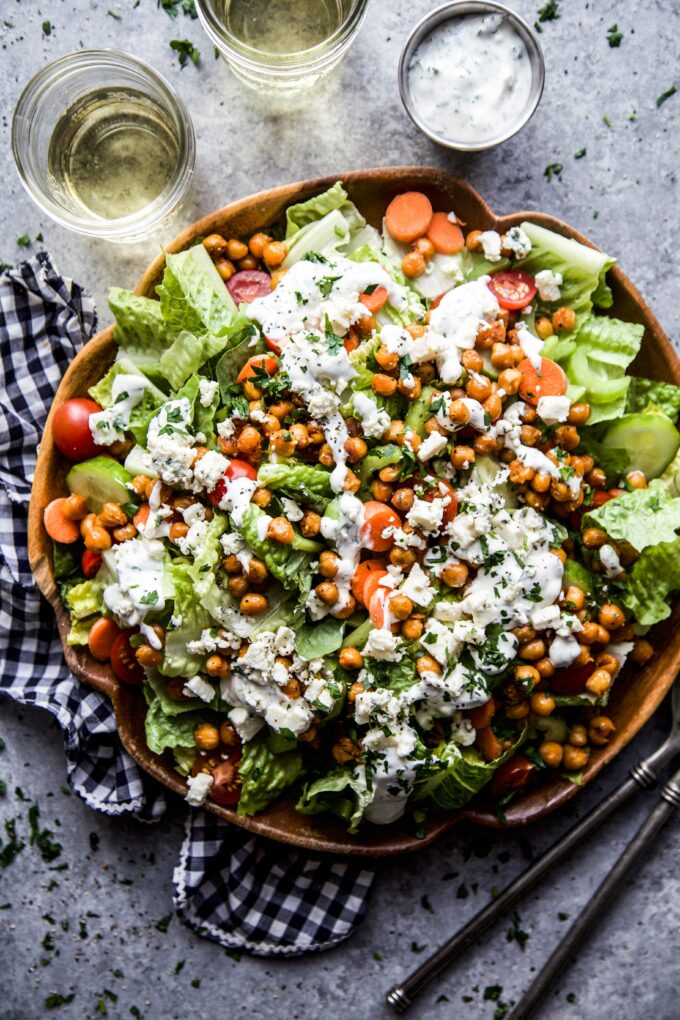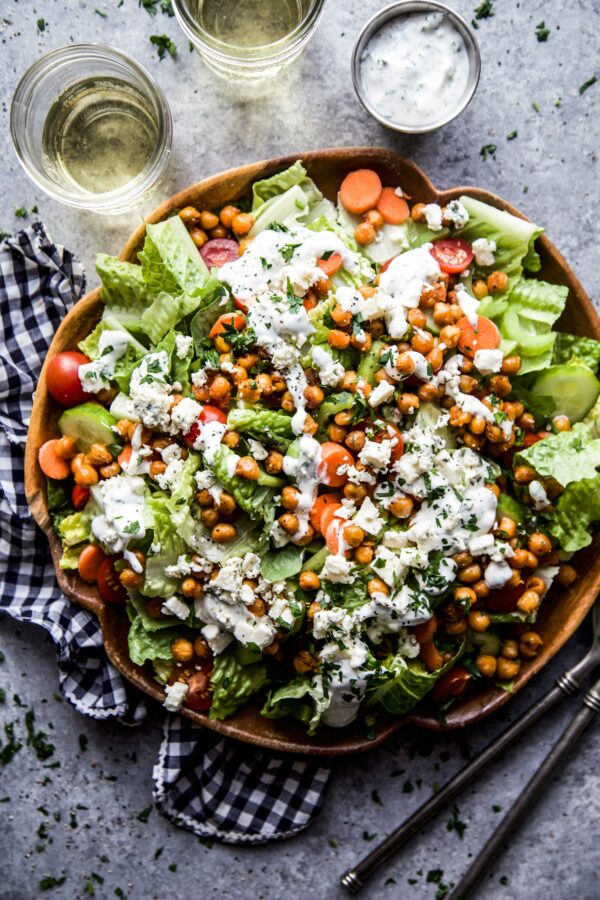 Sometimes you just need a salad.
A mixture of your favorite greens topped with crisp vegetables and a staple dressing. I always try to keep some sort of salad situation readily available in my fridge. Lord knows I need my strength to keep up with a toddler.
Anyway, I've recently jazzed up my rabbit food making routine and made this Buffalo Chickpea Salad. OH MY! There's something about romaine lettuce piled-high with buffalo roasted chickpeas and tossed with a creamy Greek yogurt dressing. I'm telling you this salad is one to keep in the meal time rotation.
Let's dive in to see how to make this delicious salad.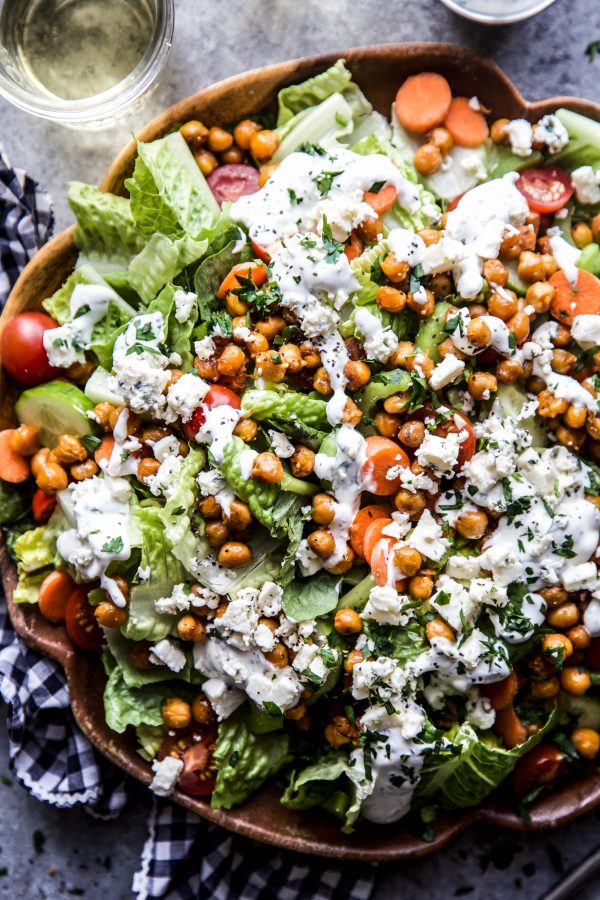 What's in this Buffalo Chickpea Salad?
One of the many reasons why I like this salad is because you can use up ingredients in your fridge or pantry. It's definitely a clean out crisper type of salad. BUT! If you want to make this version you will need:
Chickpeas
Buffalo Sauce
Butter
Mayo
Greek Yogurt
Sour Cream
Herbs
All the vegetables you love! (carrots, celery, avocado, red onion, cabbage, etc.)
Romaine
Fun Fact about Chickpeas:
Chickpeas are a legume similar to a kidney bean. They have amazing health benefits like lowering cholesterol, improving bone density, and help with mental health. Also, packed with a lot of protein like 10 to 15 grams per can!
Tips for Making Buffalo Chickpea Salad:
1) Chickpeas. If you want a crispier chickpea then you will need to remove the skin off the chickpea. It's a bit of labor, but definitely worth it if you want that full crunch. If you don't have time to remove the skin, don't worry about it!
2) Buffalo Sauce. I use Frank's Hot Buffalo Sauce because it's what we have in the fridge. However, use whatever kind of buffalo sauce you like!
3) Dressing. For this version I used Greek yogurt instead of buttermilk. I like the tang of Greek yogurt. However, if you find yourself using Greek yogurt and it's a little too thick simply stir in some milk to help thin the dressing out.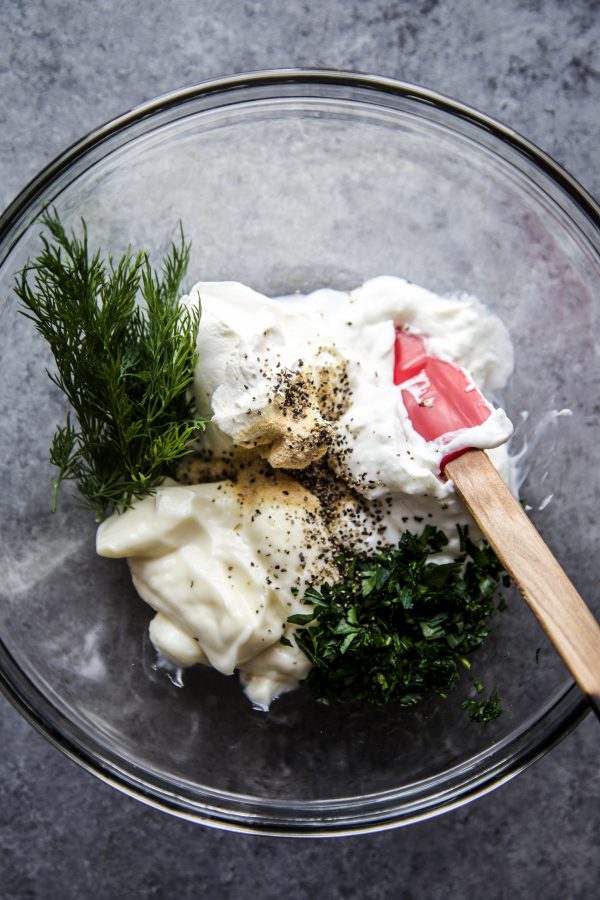 Do I Have to Use Buffalo Sauce?
Nope! Barbecue sauce, salsa, or really any bottled sauce that you prefer would be a great substitute!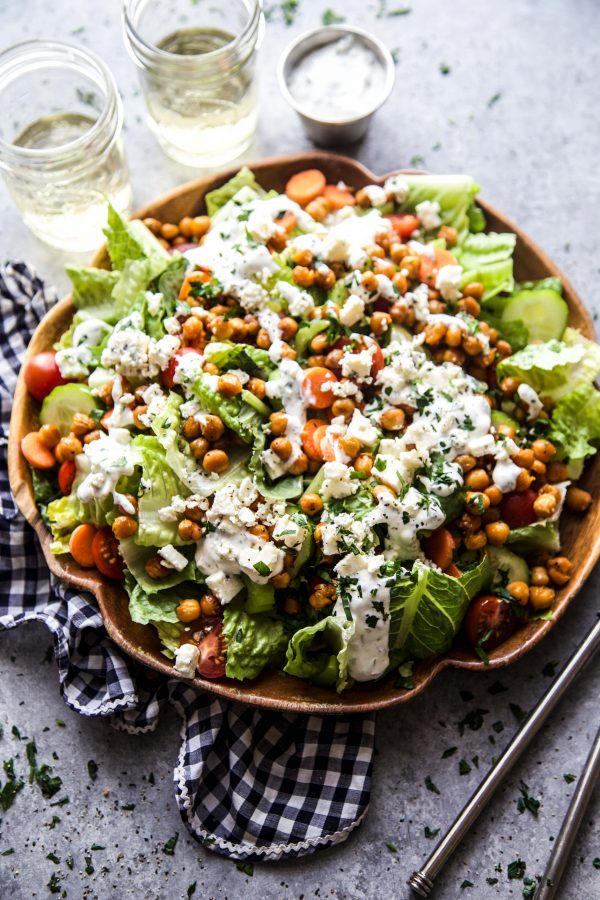 How Long Will the Dressing Keep?
The dressing will keep up to a week in the fridge! 
I hope you enjoy this recipe! If you make this Buffalo Chickpea Salad please let me know. I love hearing from you!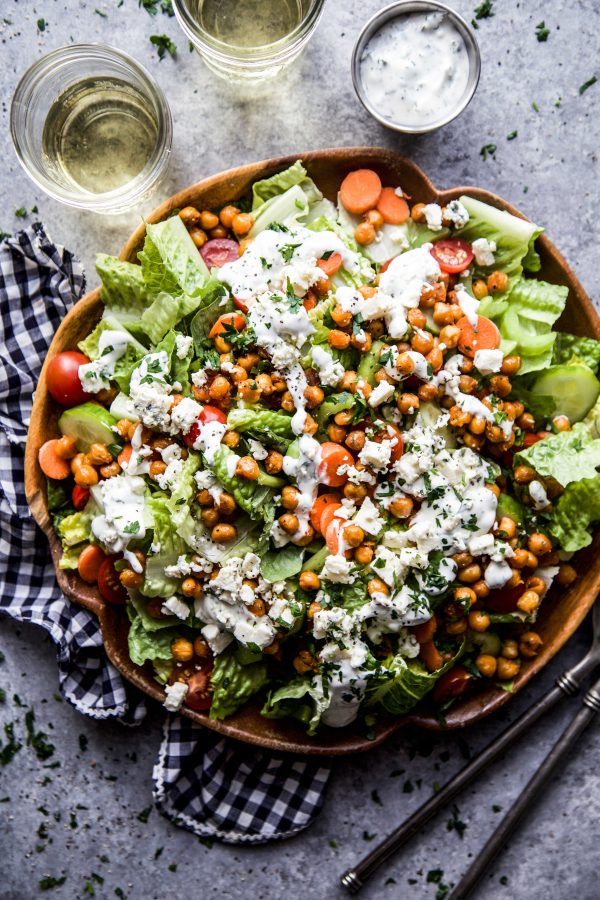 More Delicious Salad Recipes to Enjoy: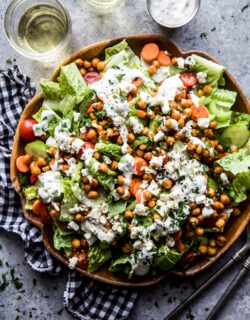 Buffalo Chickpea Salad
Ingredients:
for the chickpeas:
2 (13.5oz) cans chickpeas, drained and rinsed
3 tbsp olive oil
1/3 cup Favorite Buffalo Hot Sauce
2 tbsp unsalted butter, melted
salt and pepper to taste
for the Greek yogurt dressing:
1/4 cup mayo
1/4 cup sour cream
1/4 cup plain Greek yogurt
1/2 tsp garlic powder
2 tbsp each of: parsley, dill, and chives
for the salad:
8 cups chopped romaine lettuce
2 stalks celery, sliced
2 carrots, cut into rounds
1 cup cherry tomatoes, halved
1/2 red onion, sliced thinly
3/4 cup blue cheese crumbles
Directions:
Preheat an oven to 425 degrees. Spray a baking sheet with non-stick cooking spray. Spread the chickpeas out onto the baking sheet into an even layer. Drizzle with olive oil, salt, and pepper. Cook the chickpeas for about 20 minutes.
Next, combine the hot sauce and melted butter. Remove the chickpeas from the oven and toss with buffalo sauce mixture. Place the chickpeas back into the oven for 5 more minutes. Once cooked, remove and set aside.
Meanwhile, make the dressing. In a mixing bowl combine mayo, sour cream, and Greek yogurt. Stir in the remaining ingredients. If the dressing is too thick add a splash of milk to thin it out.
In a large serving bowl add the romaine, celery, carrots, tomatoes, and red onion. Next, top with the buffalo chickpeas. Garnish with blue cheese crumbles and drizzle dressing on top. Serve and enjoy!
All images and text ©