Pimento Cheese Smashed Potatoes
Pimento Cheese Smashed Potatoes are a crispy, cheesy side dish that goes great with any meal!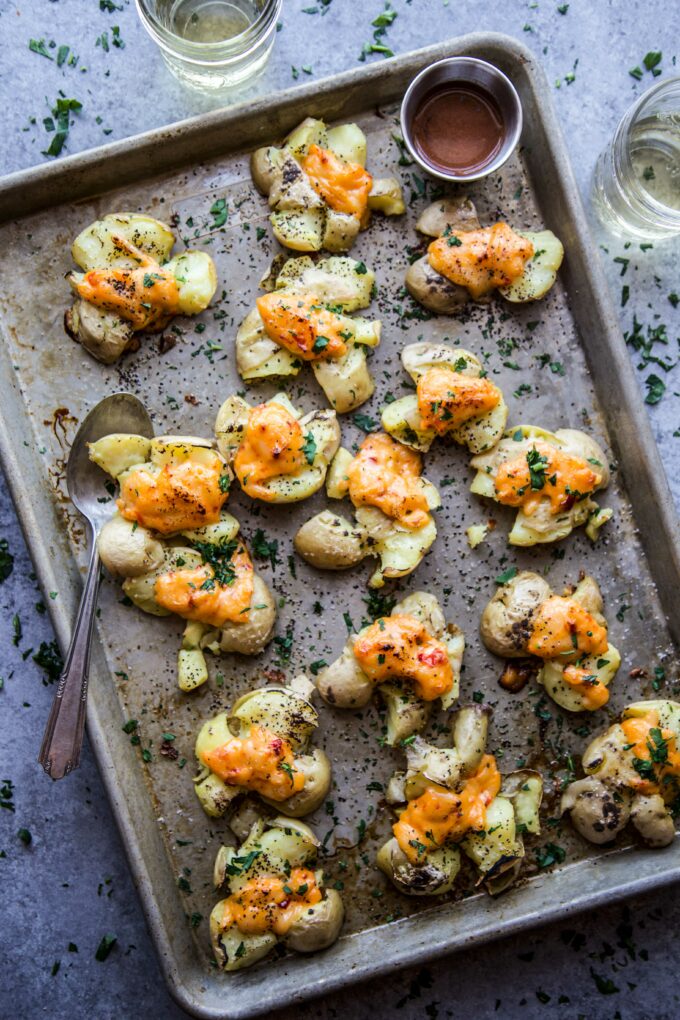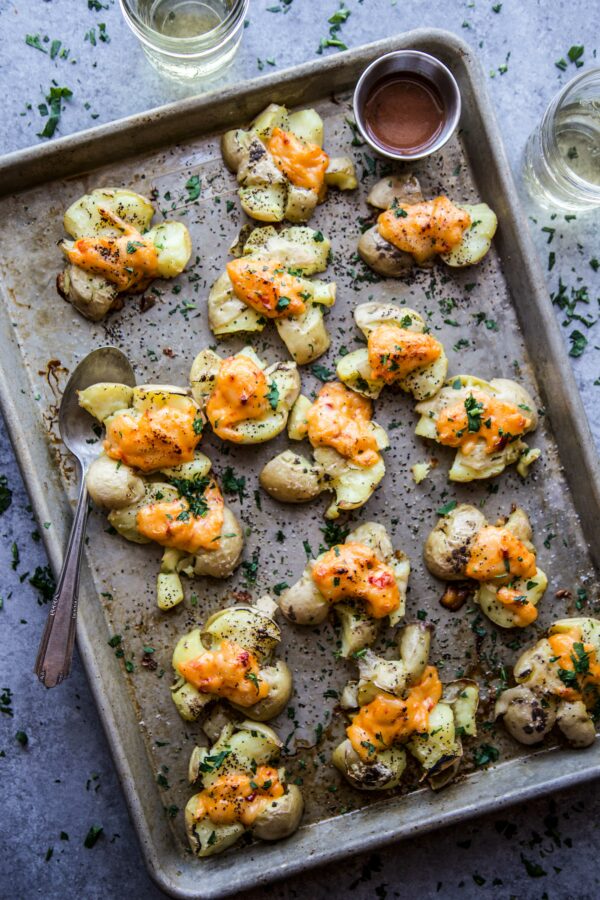 Cheese and Potatoes.
Is there anything better?
What if I told you that these Pimento Cheese Smashed Potatoes would change your life? BONUS? They are also easy to make and can be made ahead of time!
As much as I love making basic roasted potatoes there's something about smashed potatoes that makes eating carbs so much fun. Plus, the addition of melted pimento cheese just takes this side dish to another level.
So, I think we should jump right in and make these bad boys. READY. SET. GO!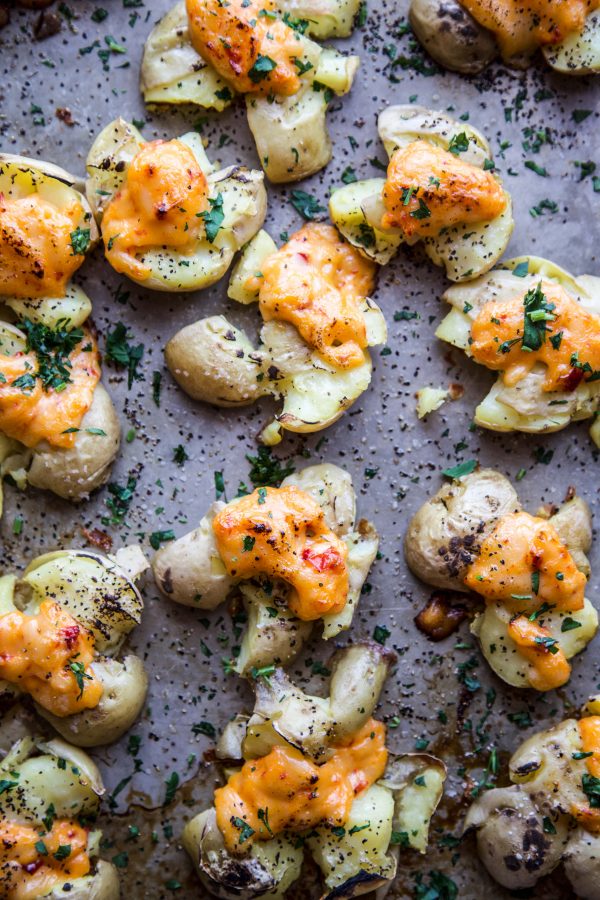 What's in Pimento Cheese Smashed Potatoes?
Um, two of my favorite things in the whole wide world: cheese and potatoes! Okay, there are few more ingredients, but still this cheesy side dish is super simple to make. You'll need:
Golden baby potatoes
Olive oil
Kosher salt
Coarse ground pepper
Pimento cheese
Parsley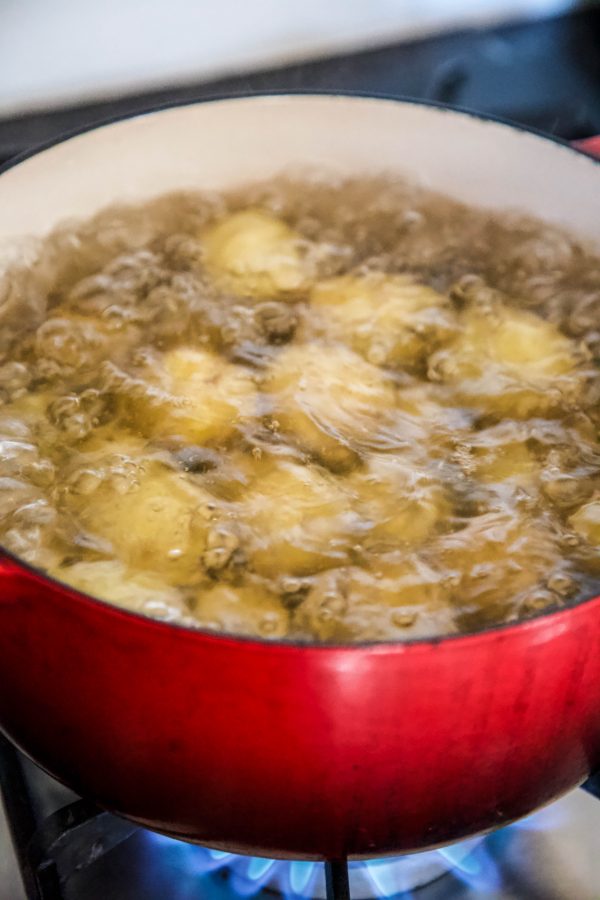 Tips for Making Pimento Cheese Smashed Potatoes:
1) Cold water. Whenever you boil potatoes fill a large stock pot with cold water and then place the potatoes in the pot. They will cook more evenly!
2) Pimento cheese. The best pimento cheese in my opinion is Price's! The distilled vinegar gives this spread a little zing which makes it irresistible.
3) Glass. To help keep the bottom of a glass from sticking to the potato when smashing spray the bottom with non-stick cooking spray.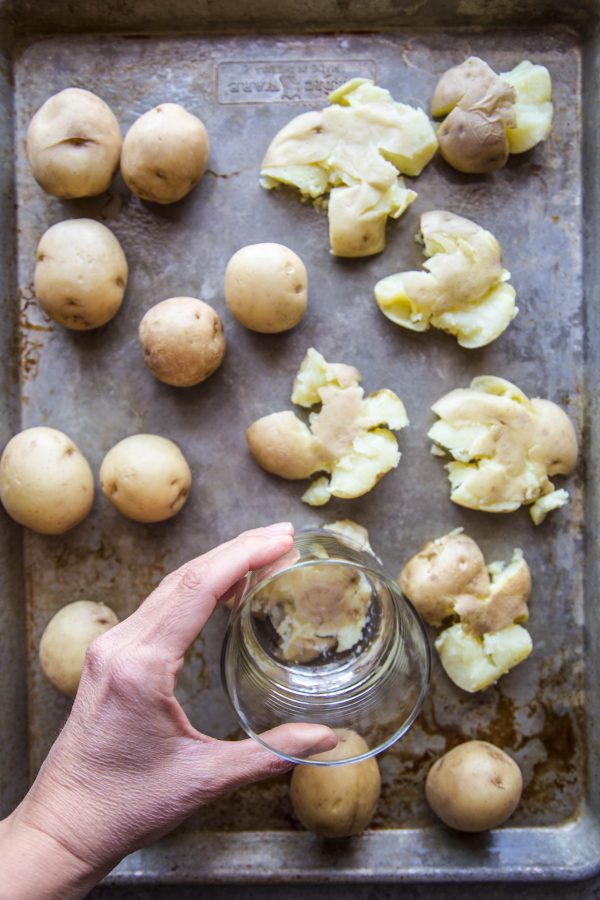 Is Pimento Cheese Spicy?
Nope! It's a great mixture of sweet and tangy, but little to no heat.
What Can I Serve with the Pimento Cheese Smashed Potatoes?
Like I mentioned above you can serve these potatoes with so much. My favorites are Spiced Pecan Chicken Nuggets, Spiced Chicken Burgers, or Roasted Beef Tenderloin.
Can I Freeze the Potatoes?
Yes! I would boil the potatoes and let them freeze prior to roasting in the oven. Once you want to serve the smashed potatoes remove them from the freezer to thaw. Smash the potatoes and then roast! That's it. Potatoes will keep up to a month in the freezer!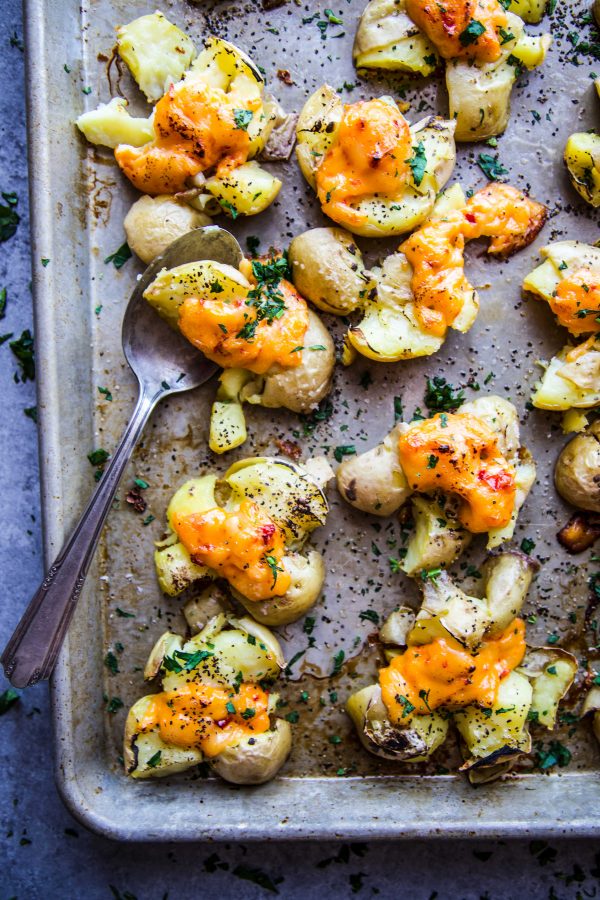 Can I Substitute the Pimento Cheese?
You bet! Any cheese you fancy would work great! 
I hope you enjoy this recipe! If you make these Pimento Cheese Smashed Potatoes please let me know. I love hearing from you!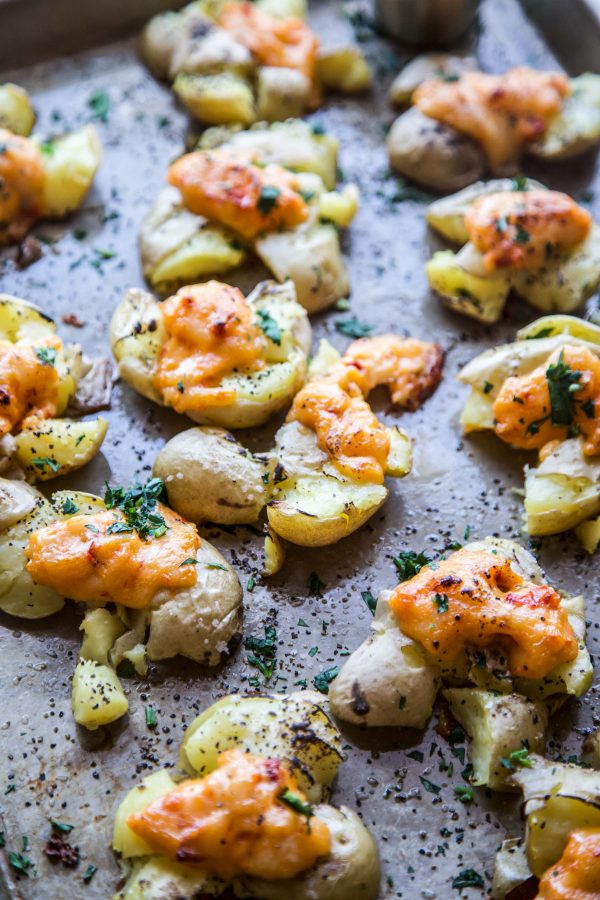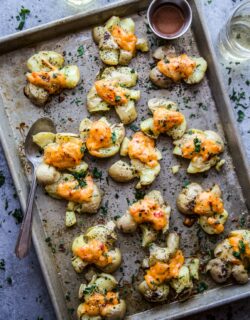 Pimento Cheese Smashed Potatoes
Ingredients:
2 lbs Yukon gold pantoates
Olive oil
Kosher salt
Coarse ground pepper
1 1/2 cups pimento cheese, room temperature
Directions:
Preheat your oven to 425 degrees. Line a baking sheet with foil and spray with non-stick cooking spray. Set aside.
Meanwhile, place the potatoes in a large pot filled with salted water. Bring to a boil and cook until fork tender about 20 minutes. Drain well and let cool slightly.
Next, place each potato on the prepared baking sheet. Spread them out evenly and then take a bottom of glass and press gently to smash the potato. Be careful not to push really hard or they will crumble.
Drizzle the tops of the potatoes with olive, salt, and pepper. Cook for about 15 minutes and remove from oven.
Next, take a dollop of the pimento cheese and place it on top of each potato. Place the baking sheet back into the oven and continue to the potatoes until crispy and the cheese has melted; about 15 minutes.
Remove from oven and enjoy!
All images and text ©