Carrot Cake Blondies
Carrot Cake Blondies are a festive spring-time dessert to make for Easter!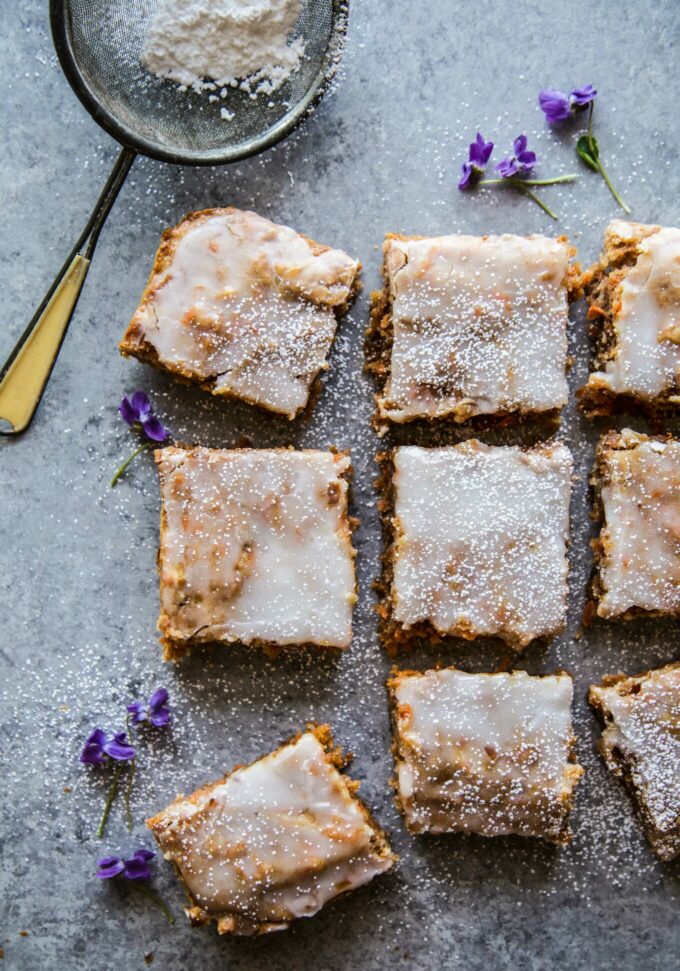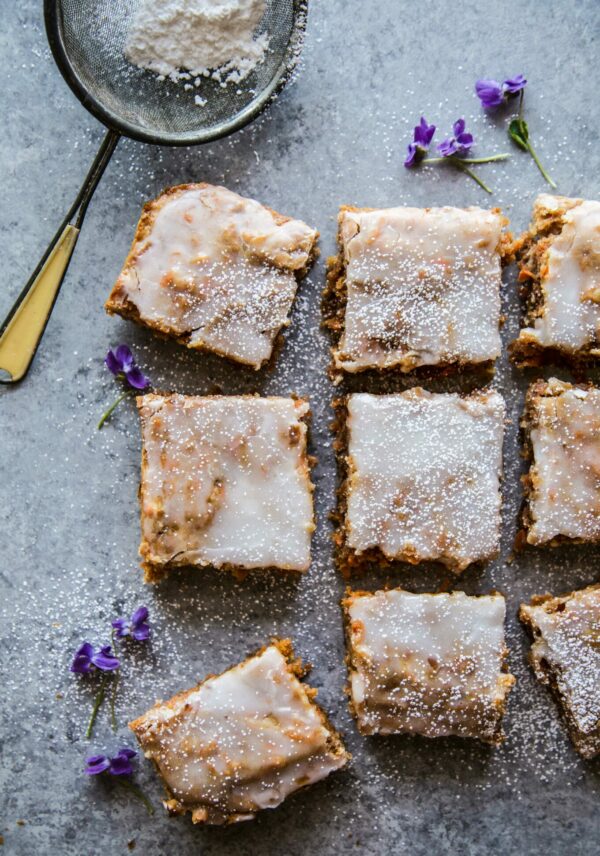 Party foul.
Not that the current situation we are in doesn't feel like one giant party foul. BUT! It's supposed to snow here on Sunday. WTF?
I had planned on hiding some plastic eggs, getting Charlie dressed up in a cute Easter outfit, and then making a small dinner. As of this moment, one out of the three planned options will probably happen.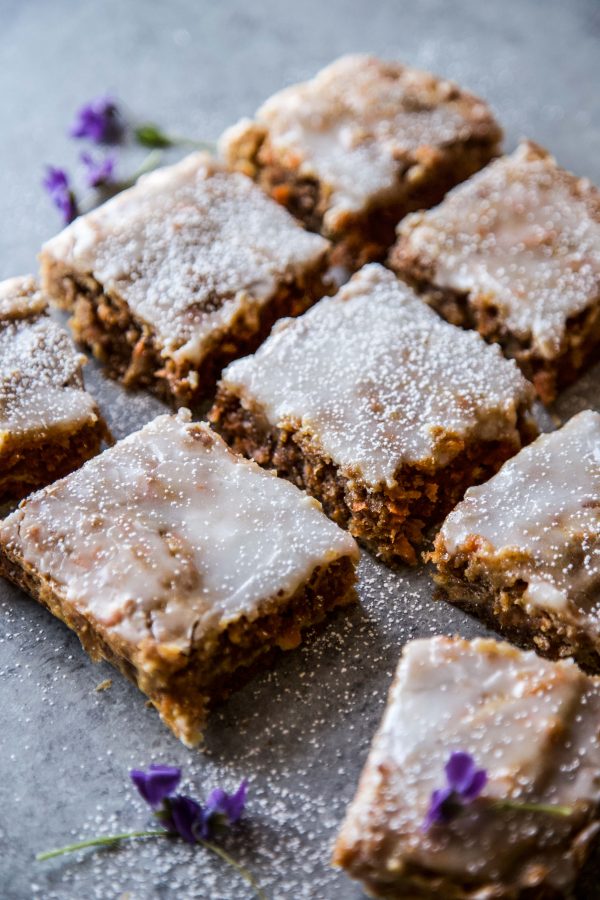 Truth: I just lost my motivation. Darn you Old Man Winter! Something about wearing a festive spring outfit with a foot of snow outside just isn't appealing. OH, well! At least there is food. Very thankful to be able to stay home with my family and cook a delicious feast.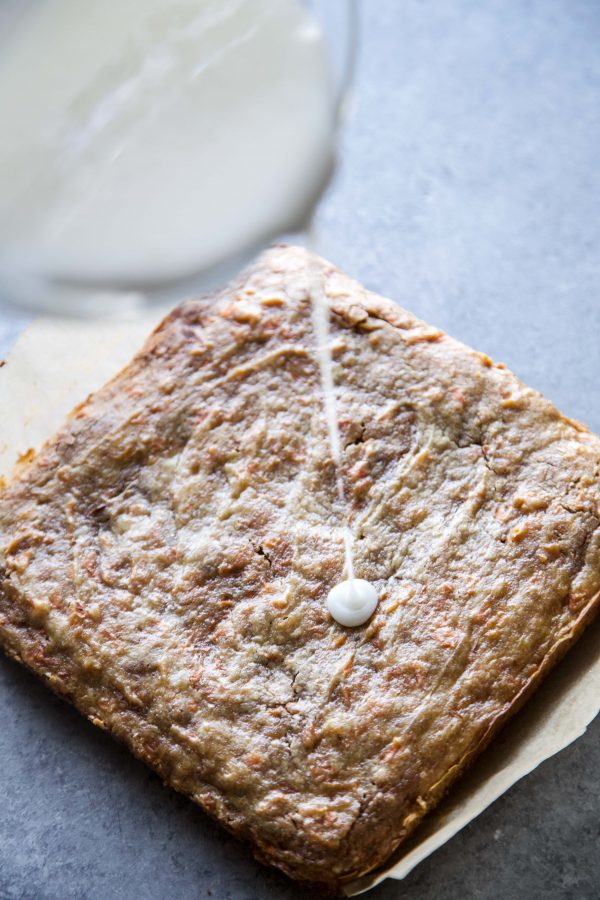 What are you doing to celebrate Easter or Passover? Hopefully, it isn't snowing where you are!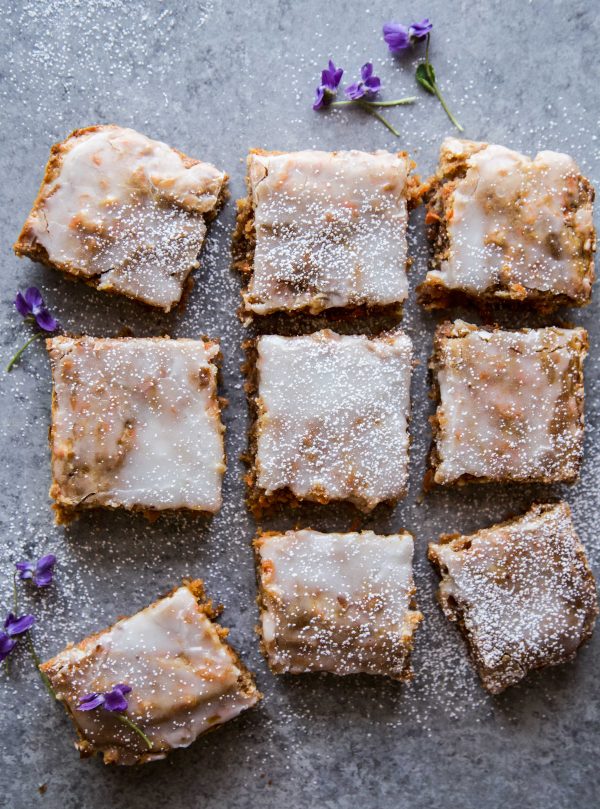 Anyway, if you are looking for an easy Easter dessert then y'all gotta try these Carrot Cake Blondies. It's like a mash-up between a cake and a brownie. Fluffy with a slightly gooey center. Oh, my. Bonus: I drizzled the top with a sugary glaze. You don't have to, but it gives these blondies a hint of luxuriousness. 
Hope y'all have a great rest of the week!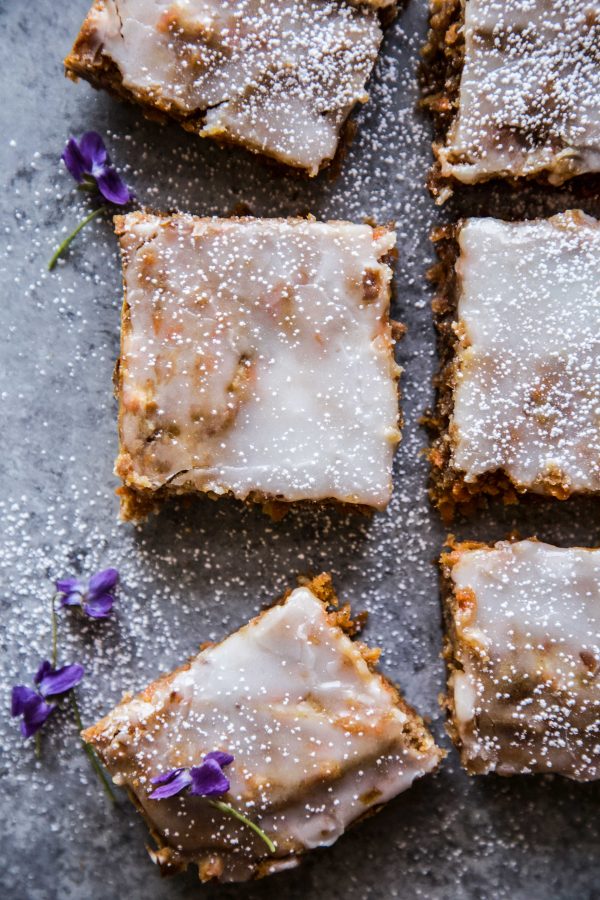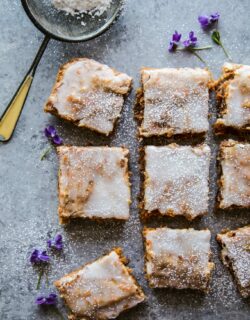 Carrot Cake Blondies
Ingredients:
for the blondies:
1/2 cup unsalted butter, melted, slightly cooled
1 cup dark brown sugar
1 large egg
1 tbsp vanilla extract
1 cup all-purpose flour
1 tsp ground cinnamon
1/4 tsp baking powder
1/4 tsp kosher salt
1 cup shredded carrots
for the cream cheese swirl:
4 oz plain cream cheese, room temperature
1/4 cup granulated sugar
1 large egg yolk
3/4 tsp vanilla extract
for the glaze (optional): 
1 cup confectioners sugar
1 tbsp lemon juice
1/4 cup milk
Directions:
Preheat your oven to 350 degrees.  Line an 8X8 pan with parchment paper and spray with non-stick cooking spray.
To make the blondies, combine melted butter and brown sugar in a large mixing bowl. Add in the large egg and vanilla, whisk to combine.
Next, add the flour, cinnamon, baking powder, and kosher salt to the egg mixture. Fold in the shredded carrots. The batter will be thick, but I promise it will spread!
To make the cream cheese swirl in a large mixer fitted with a paddle attachment combine all the ingredients until fluffy.
Take half of the blondie batter and smooth it out into the bottom of the prepared baking dish. Next, take half of the cream cheese mixture and spread it on top of the carrot batter. Cover the cream cheese with the remainder of the carrot batter. Dollop the remaining cream cheese on top and use a sharp knife to create swirls. You don't have to do the swirls if you don't want to! You can simply just spread the remaining cream cheese mixture over the carrot batter.
Bake until the bars are set (start to pull away from the sides) and a tooth pick inserted in the middle comes out clean; about 35 minutes. I would check at the 30 minute mark just to make sure. The batter for me took about 36 minutes and I used a glass dish. Remove the pan from the oven and let it cool completely before slicing.
To make the glaze (again optional), whisk together sugar, milk, and lemon juice. Pour it over the blondies, slice into squares, and enjoy!
All images and text ©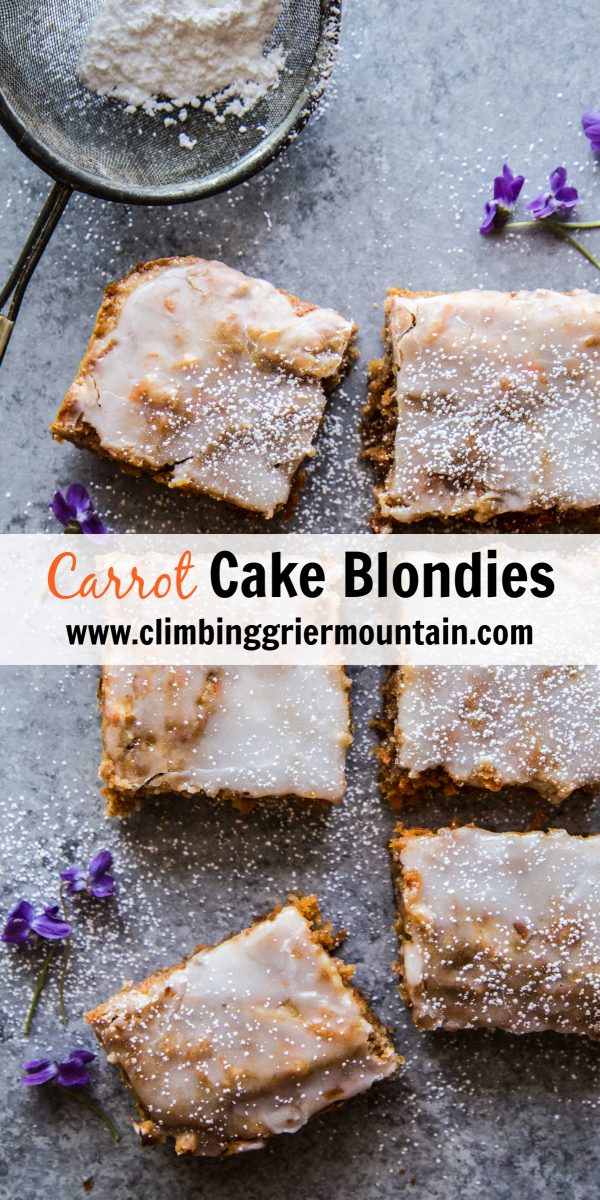 In conclusion, Carrot Cake Blondies offer a harmonious blend of sweet, spiced flavors. These delectable treats are the perfect indulgence for carrot cake lovers in a convenient, handheld form. Enjoy their irresistible taste today!