Solitude Mountain Resort: Family-Friendly Travel Guide
Solitude Mountain Resort: Family-Friendly Travel Guide! Nestled in Big Cottonwood Canyon, Solitude Mountain Resort is a wonderful destination for a family trip. Cozy accommodations, gourmet dining, thousands of skiable acres, and beautiful scenery make for an easy and accessible getaway to Utah! Check out my full family-friendly guide on where to stay, what to do, and eat!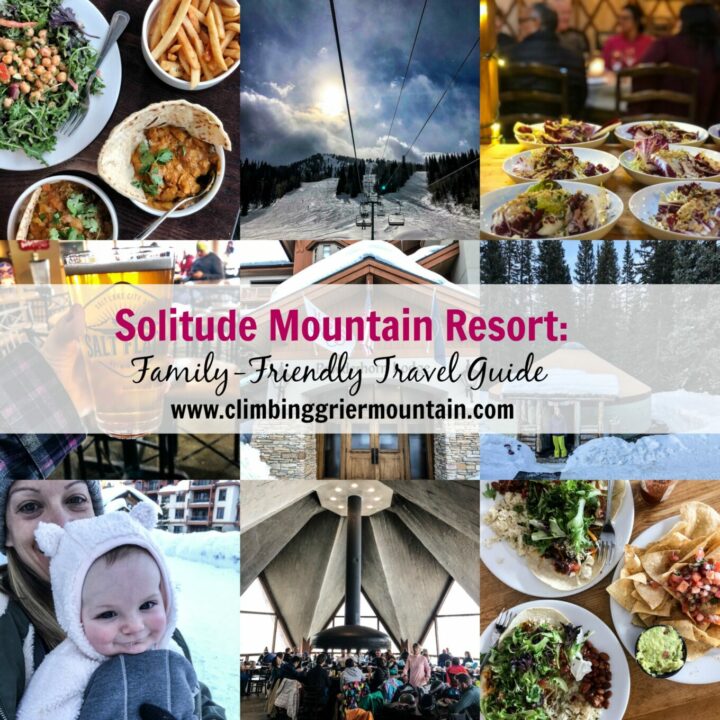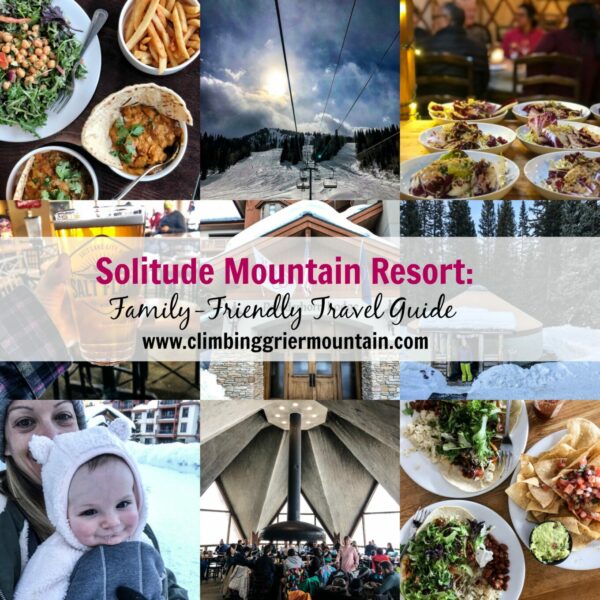 When you think of "family-friendly" destinations, what comes to mind?
The beach? Hardly ever a bad idea. Camping? I might take a hard pass on that. Disney? Hard to say no to Mickey. Yet, what if I told you to skip all of those destinations when we get out of quarantine?
The reason I say skip all that is because if you haven't been to Solitude Mountain Resort than you're definitely missing out! This Utah resort boasts fewer crowds, gourmet dining, centralized village of cozy accommodations, and a local-feels atmosphere. Everything you would ever want!
Below is my full family-friendly travel guide of Solitude Mountain Resort!
Where to Stay:
Lodging and Transportation
Getting to Solitude is rather a breeze. With a quick 45-minute flight from Denver International to Salt Lake City (that is the same time, as it takes to get from Denver proper to the mountains in Colorado!), we landed eager to hit the road. You can certainly arrange for a shuttle, but we decided to rent a car because toting a six-month old around you need to be flexible!
Solitude Mountain Resort, nestled in Big Cottonwood Canyon, is about 40-minute drive from the SLC airport. The mountain is a local legend in Utah, where the atmosphere is casual and also arguably has the best snow. With over 77 runs, 1,200 acres of skiing, and some of the best bowl-skiing around Honeycomb Canyon, there is something for everyone at this laid- back resort.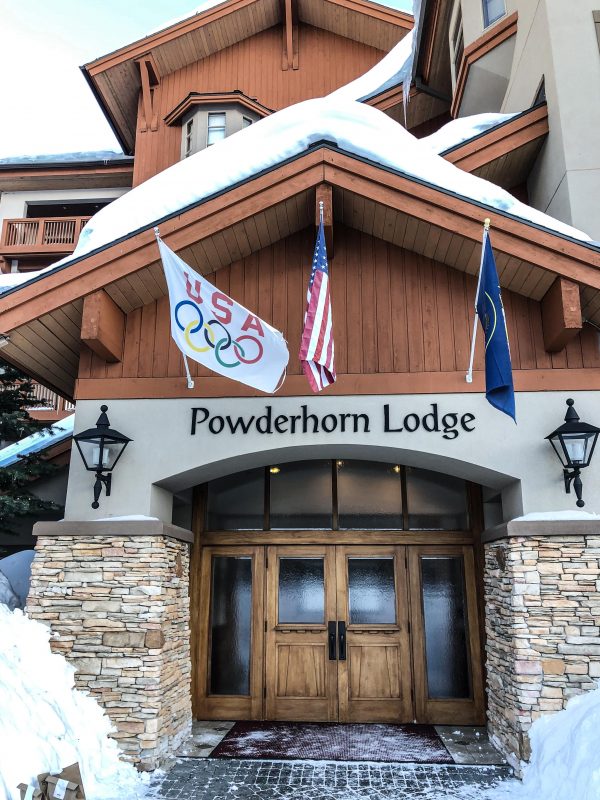 Of course, when I say laid-back I'm also speaking about our cozy accommodations. Powderhorn Lodge was our sanctuary for our little family. Right smack in the middle of Solitude Village, the resort is a collection of condos that are perfect for families. We nestled into a one-bedroom/one-bathroom condo fitted with a big kitchen, dining room, big master bed, and a large balcony with mountain views.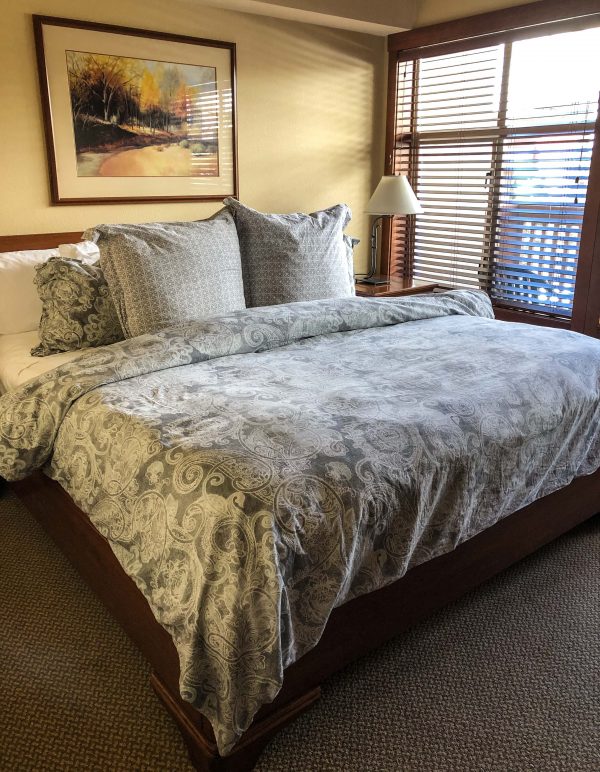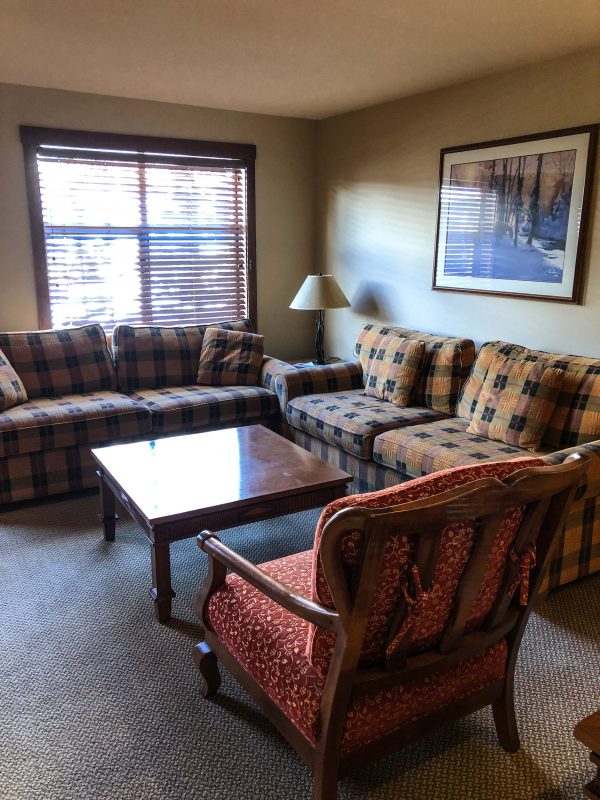 Having room to stretch out as a family was priceless. Plus, having a dishwasher for bottles and an extra loft bed near by made for a great changing area for Charlie. We couldn't have asked for a better spot.
What to Do:
Even though Charlie isn't old enough to ski, Mr. B and I still had a great time cruising around the mountain while we had a sitter come to the condo. One of major reasons we choose to ski at Solitude was access to different kinds of terrain and there are zero crowds. As in no lift lines! To a Colorado skier this is a breath of fresh air. We were able to ski more runs, go from one side of the mountain to the other without running into other folks, and ski fresh tracks. Solitude is a skier's paradise.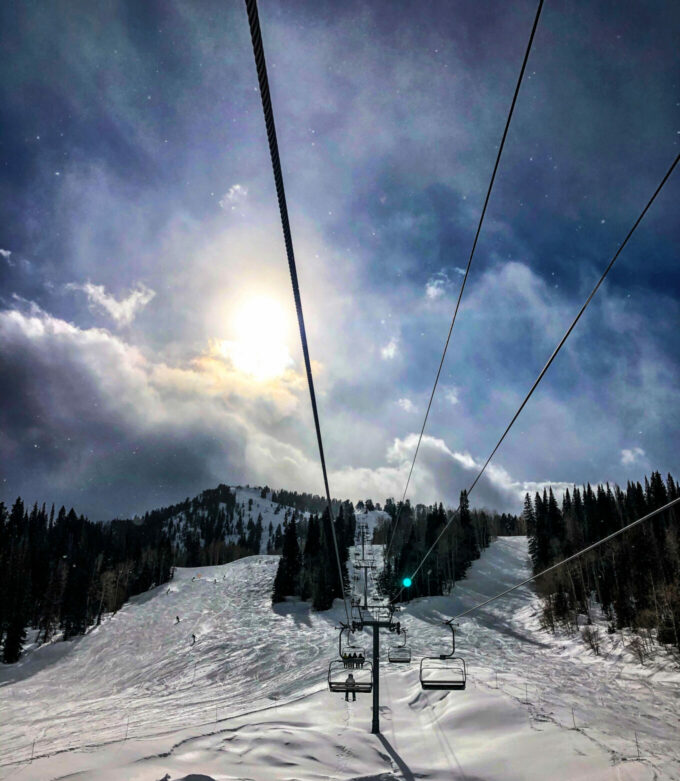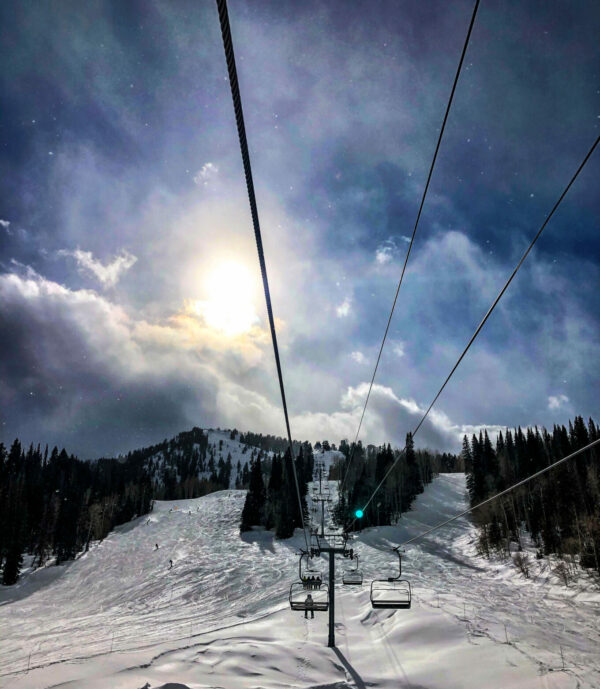 Since this was Mr.B's first time at Solitude, I took him to Honeycomb Canyon which has some of the best bowl terrain. Plus, the views aren't too shabby.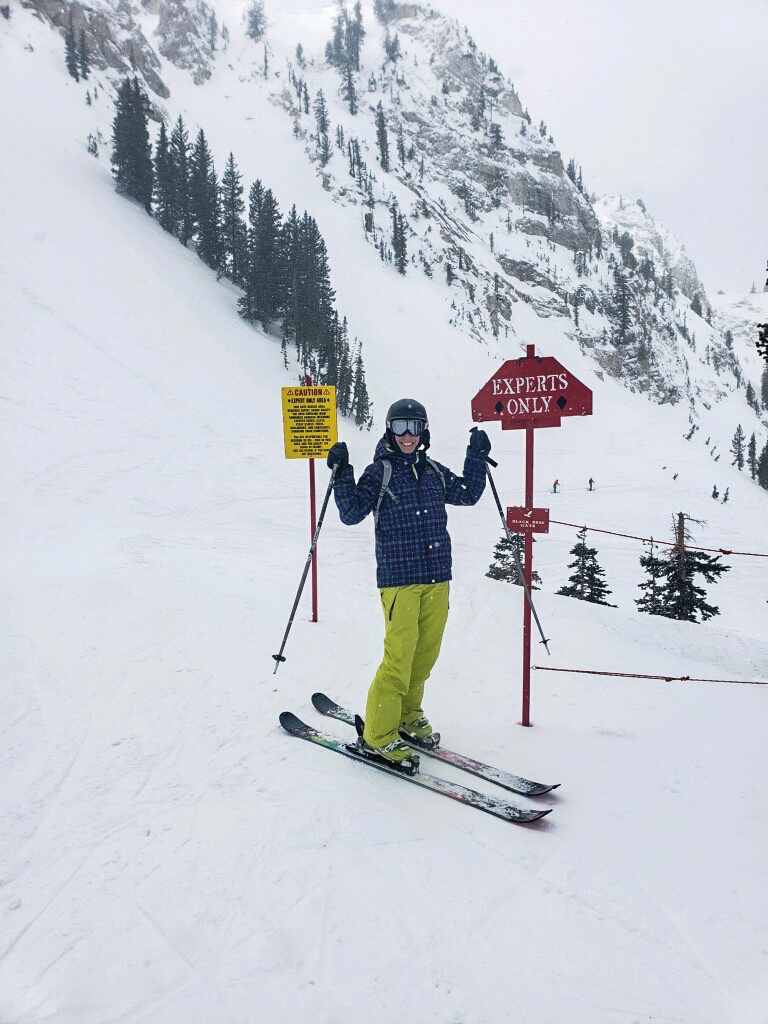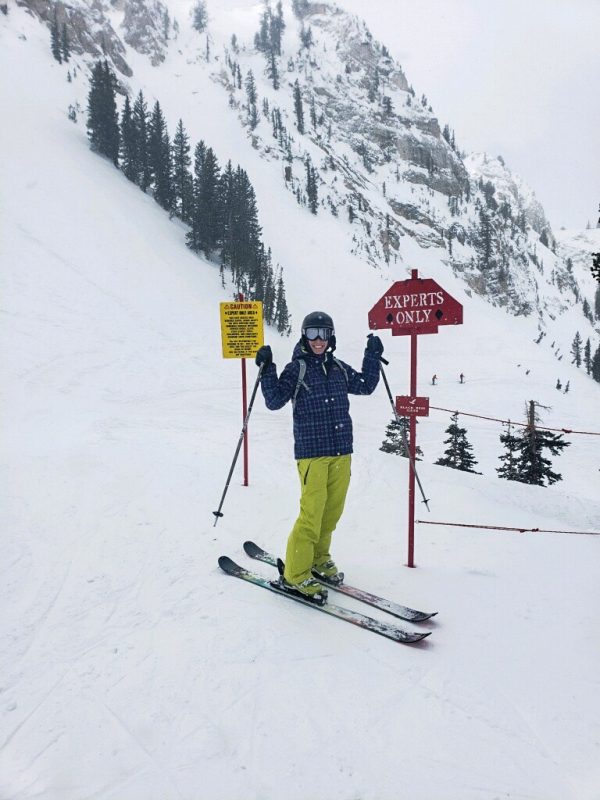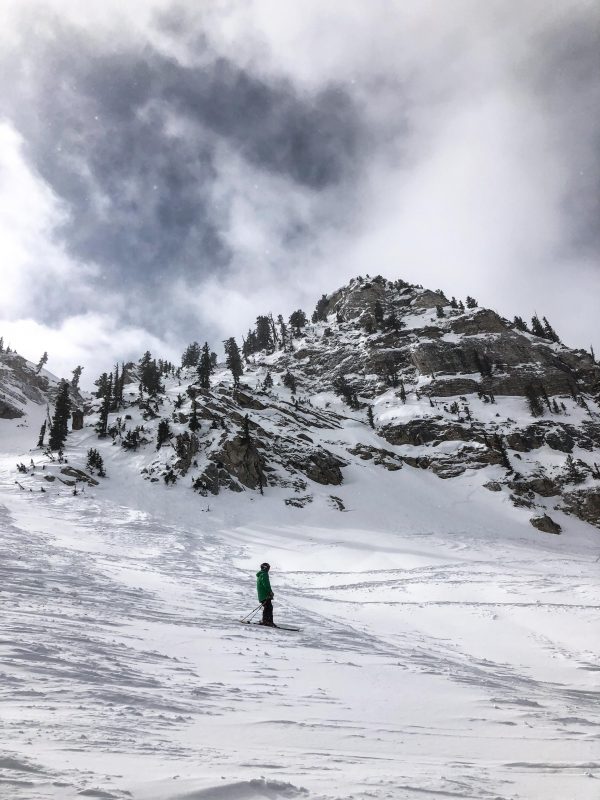 If you have younger kiddos definitely check out Moonbeam base area. There's a bunny hill and a bunch of greens for them to cruise around! Can't wait to bring Charlie back to crush it!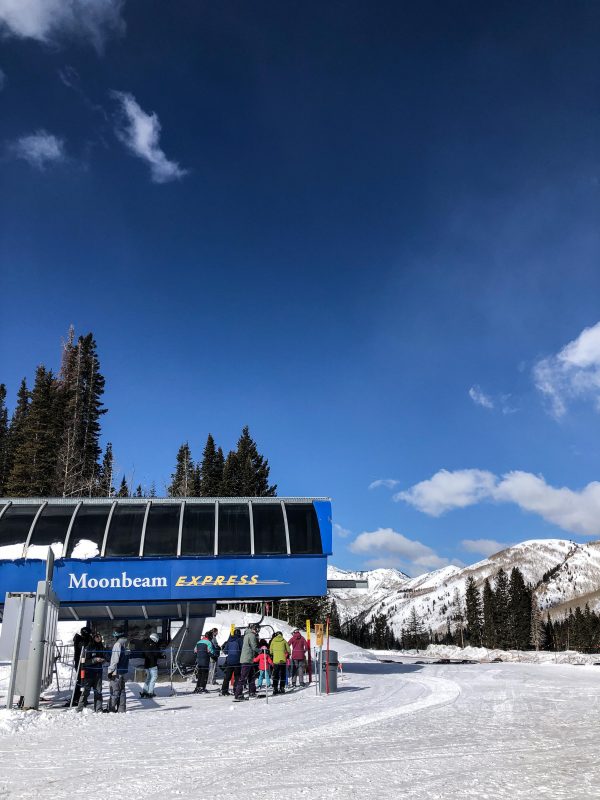 Other Fun Activities:
If your family doesn't fancy downhill skiing there are plenty of other activities to enjoy. Solitude has a wonderful Nordic center where you can cross country ski or snowshoe over 20km of trails. It was a little too cold for Charlie so we had to skip this adventure! Next time, for sure!
If you are looking for more rest and relaxation on your trip, don't miss the Solitude Mountain Spa. Being pampered by a massage therapist with a luxurious body treatment, you can't ever go wrong!
Where to Eat:
One of the many reasons I love Solitude is that all the dining options are so accessible. We could walk with Charlie while carrying her in the Baby Bjorn, show up at the restaurant, eat, and no one would blink. People at Solitude are just so pleasant and welcoming. As a first time parent it was so refreshing.
St. Bernard's
Every morning as a family we would walk over to St. Bernard's (just around the corner from our condo) for their continental skiers breakfast. Here awaits a smorgasbord of delicious treats like fresh fruit, bagels, pastries, yogurt bar, but I definitely recommend ordering the hot plate. It includes a mixture of bacon, sausage, potatoes, and eggs. Oh, and make sure to sit by the fire and sip your cup of joe.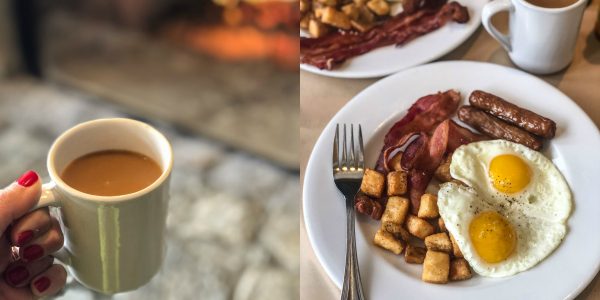 Roundhouse
While Mr. B and I skied for the day we stopped in for lunch at Roundhouse. Roundhouse is as exactly as it sounds – a round house complete with a cozy fire pit and sweeping views of the ski resort. Located just off the Moonbean and Eagle Express lifts, this Himalayan and Wasatch inspired mountain food will not only feed your belly, but also warm your soul. Lunch items not to miss are vegetable curry, curry french fries, and chickpea salad!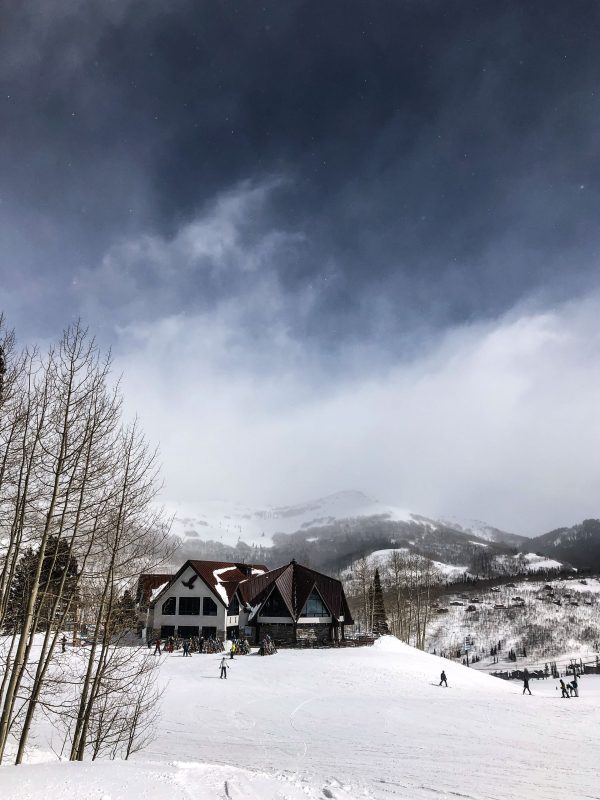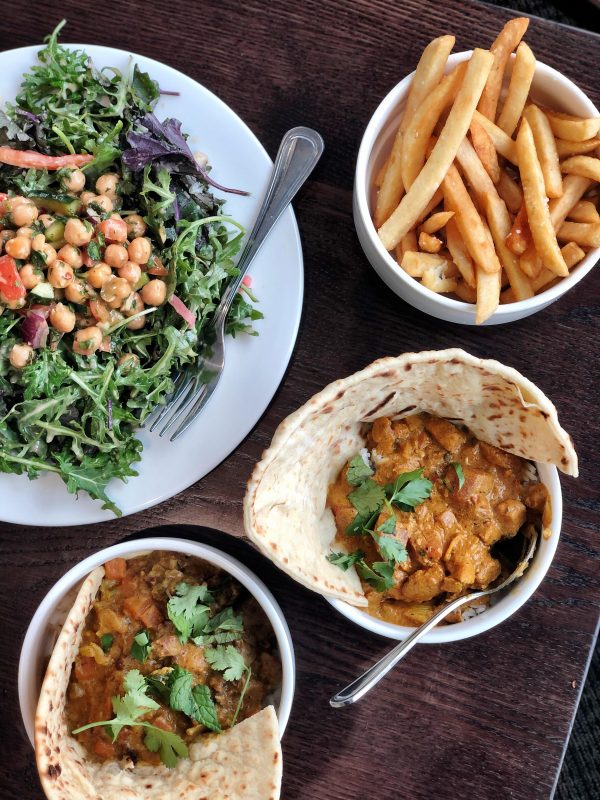 Last Chance Southwest Grill
Another lunch or apre ski spot (located by Apex Lift) that is not to be missed is Last Chance Southwest Grill. Since it's located right off the bunny hill we took Charlie up the lift and decided to have tacos as a family! I could have spent all day here as an outdoor patio enthusiast. Perfect place to relax in the sun, drink a beer and devour some Mexican eats.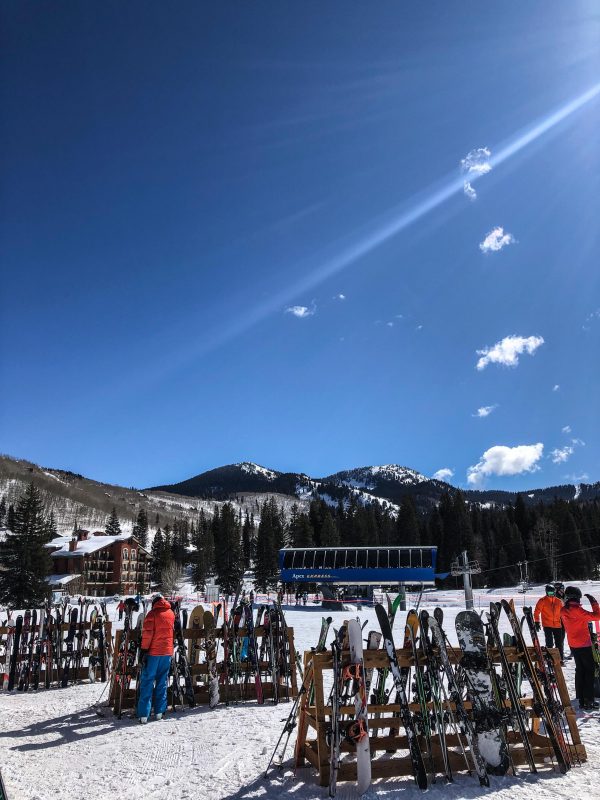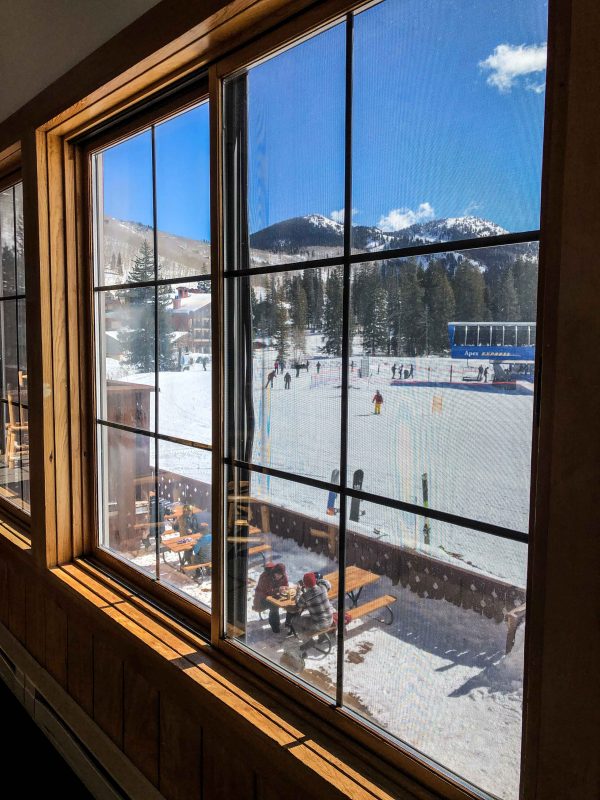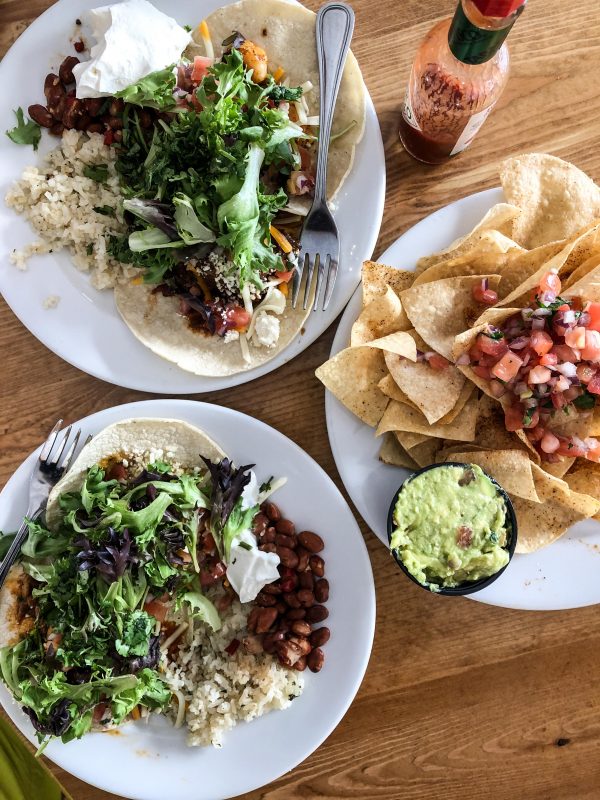 Thirsty Squirrel
In case you are in need of an apre ski refreshment pop in to the Thirsty Squirrel which is right across from St. Bernard's. This is the local's favorite joint complete with live bands and lots of legroom to rest those tired feet. After a long day doing laps in Honeycomb Canyon nothing beats a cold pale ale.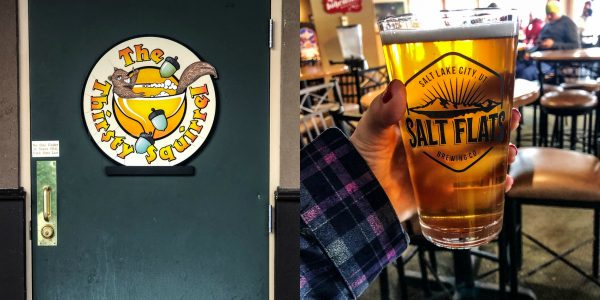 Honeycomb Grill
A great option for a family meal is at Honeycomb Grill. Located the in Solitude Village, and again, within walking distance of our condo, we dined with mountain (and baby views). Honeycomb Grill is a delicious restaurant serving contemporary cuisine. I fell in love with their wine selection, tuna poke, steak, burger, and meatballs!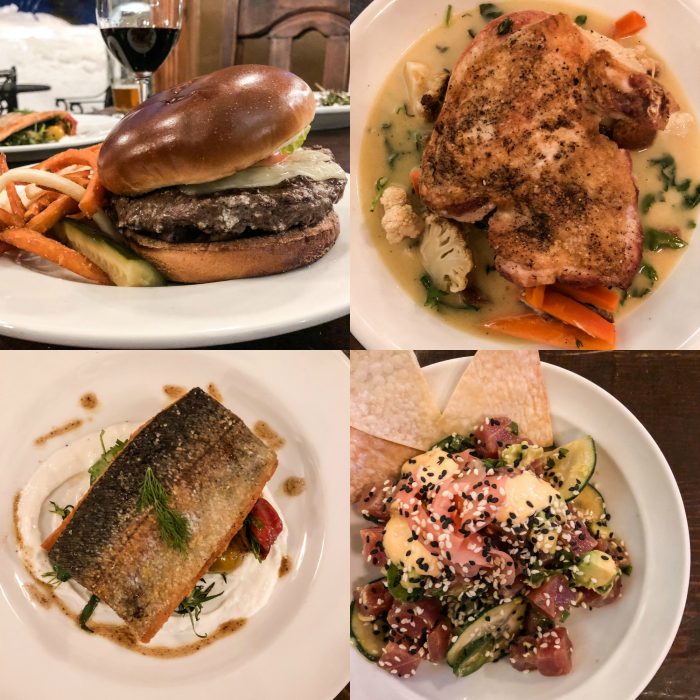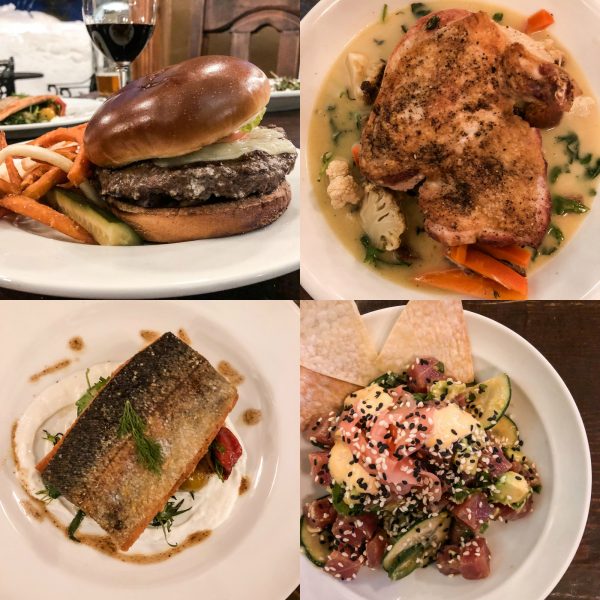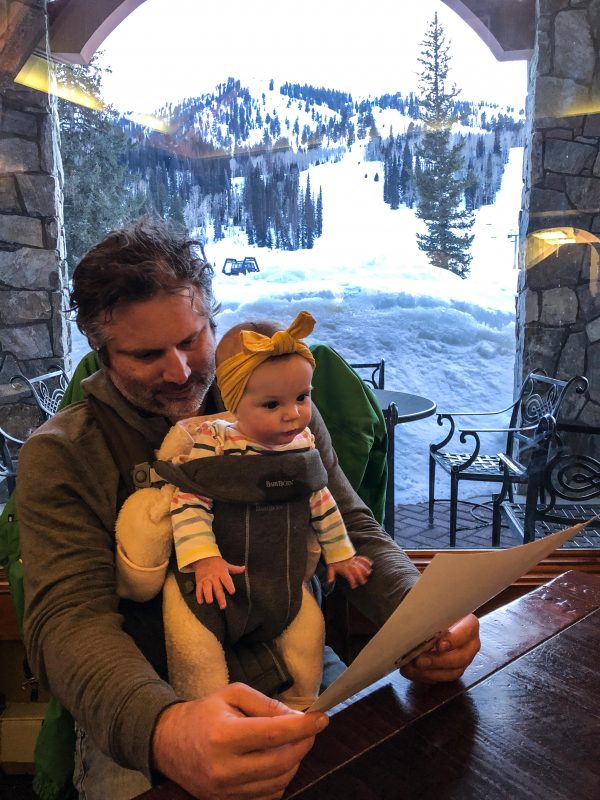 The Yurt
Okay, if you have a second as parents to sneak away and dine at the yurt…DO IT!!!! This was hands down the best meal I've had in a very long time. To have this fine dining experience while using propane is insane. I was seriously blown away. One thing I will note, you get to hike to the yurt which is about a 1/4 mile. It's a beautiful stroll through the forest!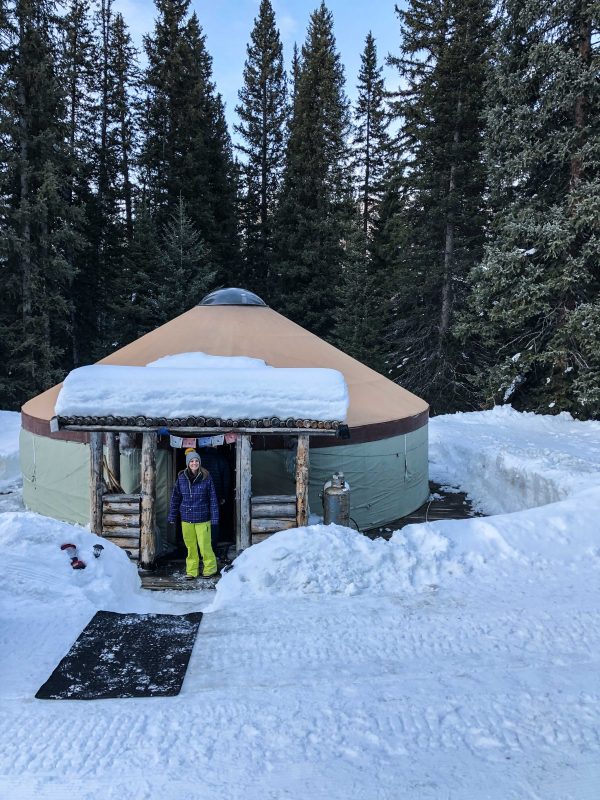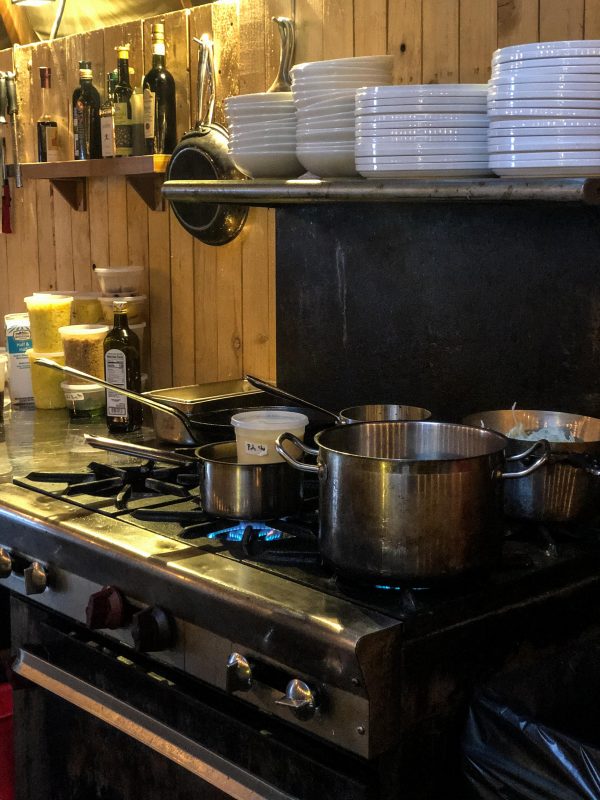 For our four-course dinner, Chef Craig Gerome prepared for us:
First: Winter chicories, Laura Chenel goat cheese (Sonoma County), fried breadcrumbs, pine nuts, barrel-aged balsamic vinegar, olive oil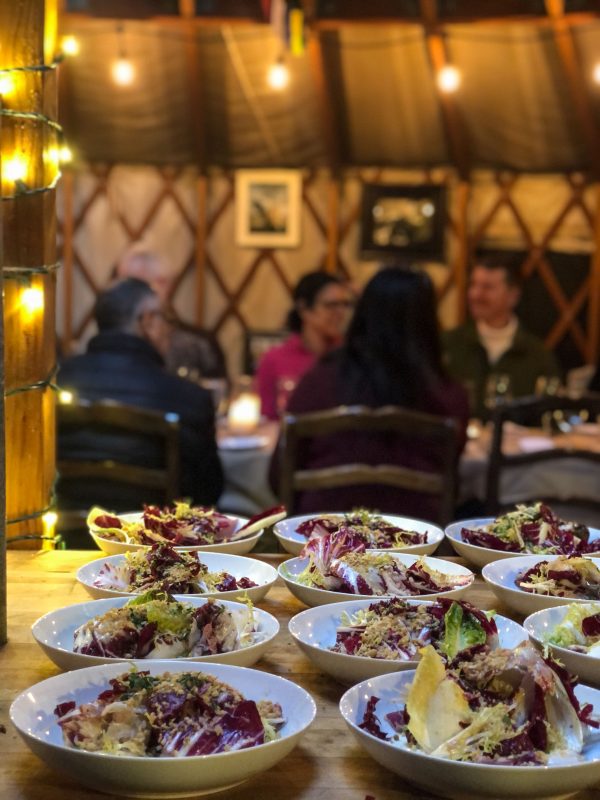 Second: Meyer lemon-saffron risotto, diver sea scallops (Nantucket), Dungeness crab claw, fennel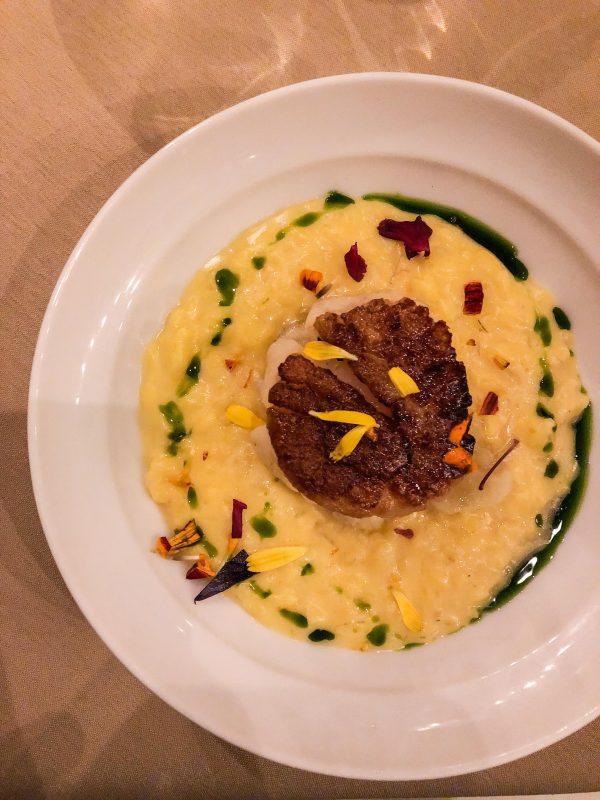 Third: Beef short rib, American Wagyu gold-grade New York strip steak (Snake River Farms, Twin Falls, ID), white asparagus, cipollini onions, rutabaga puree, fried leeks, sauce Bordelaise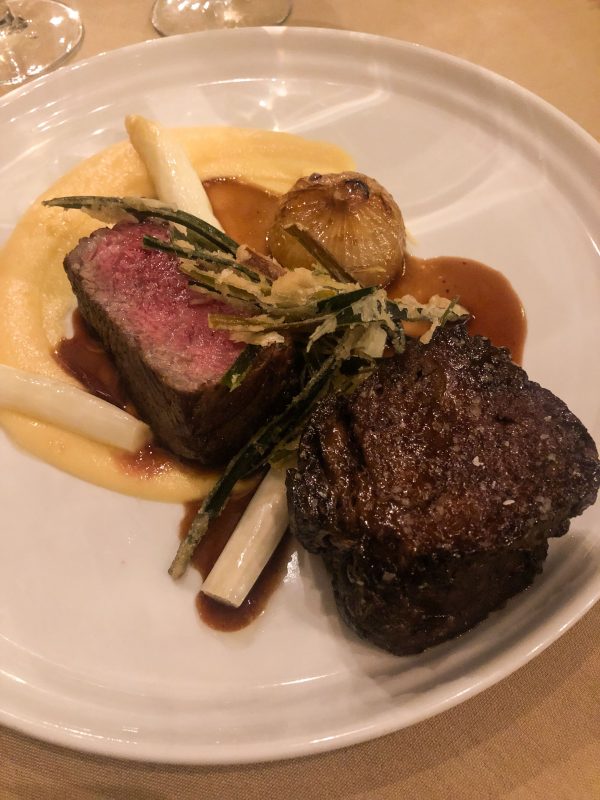 Fourth: Dark chocolate mousse tarte, salted caramel gelato, chocolate in many textures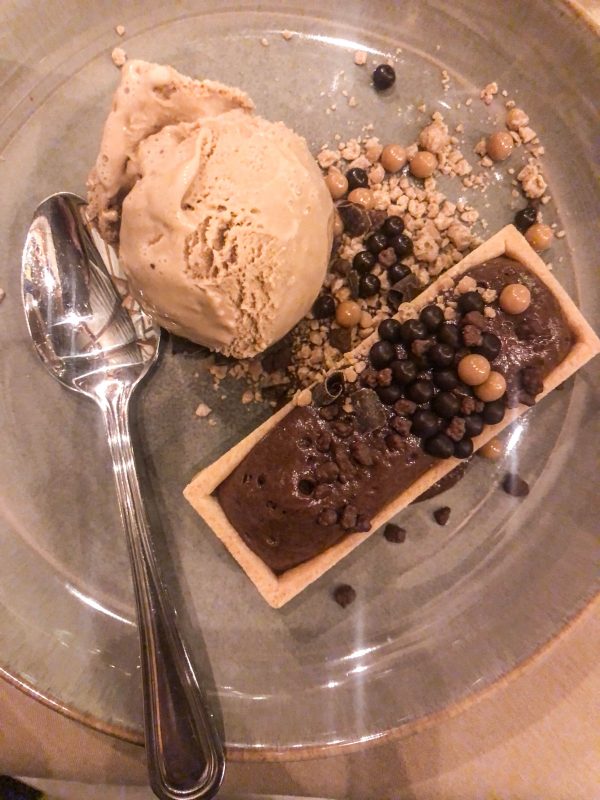 Are you drooling yet? If you are at Solitude this location is an absolute must try for at least one dinner. 
And that's a wrap on our family trip to Solitude Mountain. A big thanks to Solitude for hosting us Coloradans. We can't wait to come back!
Until next time, Utah!