CGM 2018 HOLIDAY GIFT GUIDE: FOR THE HOME COOK
25 amazing gifts for the home cook! Kitchen utensils, air fryer, spice mixes, and the perfect skillet. You'll find something in this list for the home cook or the chef who has everything!
As a food blogger, I get a lot of questions regarding what I use to cook with in the kitchen. Honestly, I keep it simple. I'm a big believer in good mixing bowls, sharp knives, sturdy cutting boards and non-stick skillets. From there it's just a matter of diving in!
So, below are 25 amazing kitchen gifts that I use on a regular basis. I thought this would a great place to continue to refer back to because I can't live without some of these products. These are great for the home cook, but also for the chef who thinks he/she has everything! Take a peek and get slicing!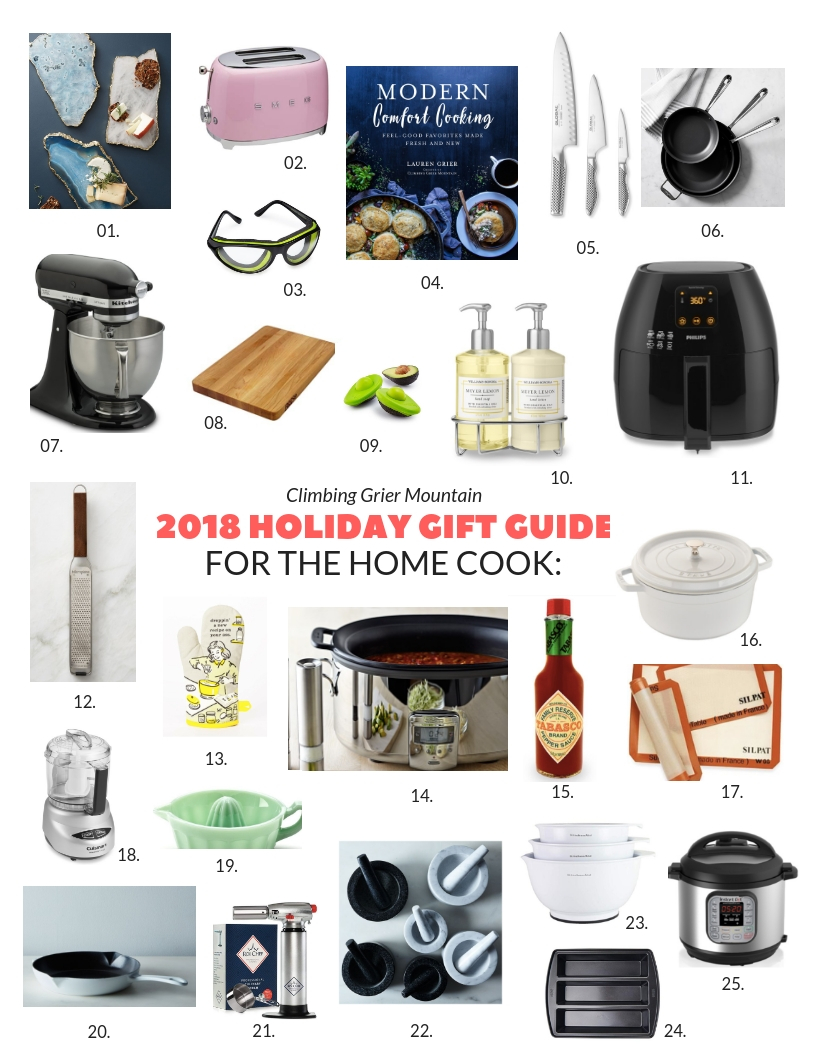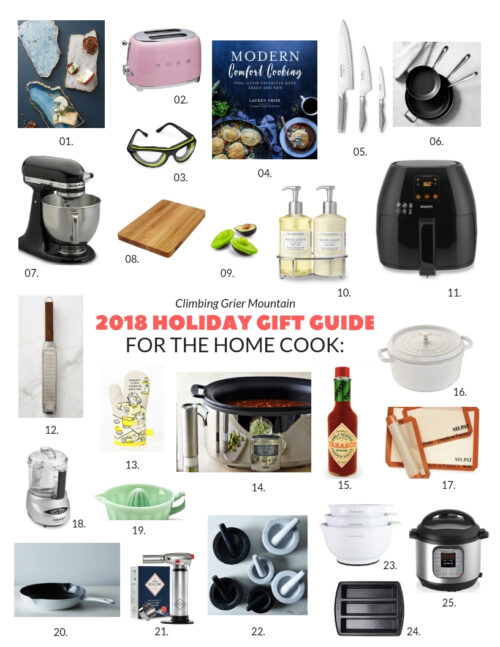 1.) Up your charcuterie game with these fancy AF Agate Cheese Boards.
2.) I am obsessed with this Smeg Toaster. Besides the different color options, it has six browning options, a defroster and the dividers are extra large. Feeling toasty?
3.) Onion goggles. My most treasured kitchen item.
4.) Modern Comfort Cooking Cookbook because I'll toot my own horn and say this is definitely a must!
5.) These are the only knives I use! Global Knives have a smaller handle which are great for women! They are extremely light and cut like butter.
6.) My aunt gave us this All-Clad Three Piece Fry Set as a wedding gift. We use these bad boys everyday!
7.) We've had our Kitchen Aid Stand Mixer for over a decade now. It's the workhorse in my kitchen and I would probably fall a part if this wasn't at my side!
8.) True story. This Boos Cutting Board was the first Christmas present I ever gave to Mr. B. Now that I've taken over the kitchen I chop everything on the flawless cutting board.
9.) Avocado huggers. Save the other half of your avocado for later with these huggers.
10.) If you're going to cook you've got to be clean. Meyer Lemon Hand Soaps will keep you on top of your germ game.
11.) Air Fryer. Jump on the bandwagon.
12.) Never understand the power of a Microplane. Grate garlic, lemon zest, fresh nutmeg, etc. It will become your right hand.
13.) Have a sense of humor while cooking in the kitchen with these super funny Oven Mitts!
14.) I use my All-Clad Slow Cooker every day. For reals. It cooks everything beautifully but what I love about this particular brand is after it's done cooking it switches automatically to a warm setting!!
15.) Tabasco Family Reserve. This is not your ordinary hot sauce. Aged for over eight years and is the best sauce for any palate!
16.) Everyone loves Le Creuset. Not I. Staub Dutch Oven is where it's at and will blow your mind!
17.) Silpat Baking Mats. Scouts honor: nothing will ever stick to your baking sheets again with these mats.
18.) Would you believe me if I told you had two Mini Food Processors? They are much more versatile than the big food processors. Easy to store, handle and chops like a dream.
19.) Glass Juicer. Love the vintage feel and the pourable bottom!
20.) Staub Fry Pan will change your cooking game. I have one and use it for pasta bakes, pizza, roasting chicken, etc.
21.) Culinary Torch. Flames are must when you need to add a little somethin', somethin' to your steak, dessert or fruit!
22.) Up your herb game with this super sexy Mortar and Pestle. I've had mine for a few years and don't know what I would do without it.
23.) You can't put a price on good mixing bowls. I have a stack of these Kitchen Aid Mixing Bowls and they make prepping food a breeze!
24.) Trio Lasagna Pan. Why the EFF not?
25.) Instant Pot. You know the drill.
***This post is not sponsored. I have purchased a few of these items myself! Also, a few of these links are affiliate! Thanks for supporting CGM!***