Peri-Peri Turkey & Rice Soup
Peri-Peri Turkey & Rice Soup is a super flavorful, heart warming soup!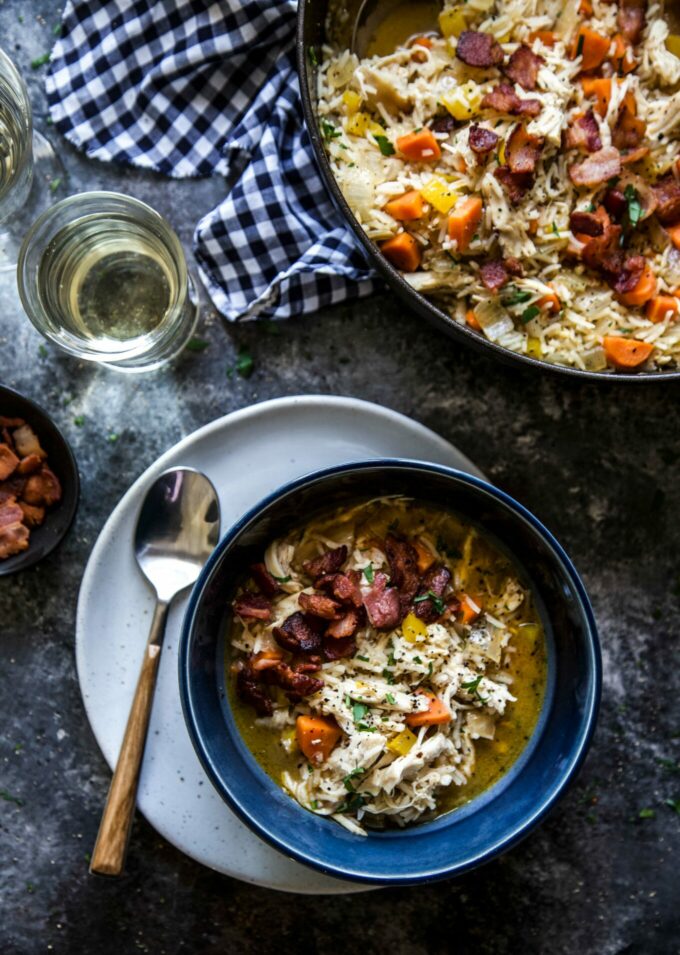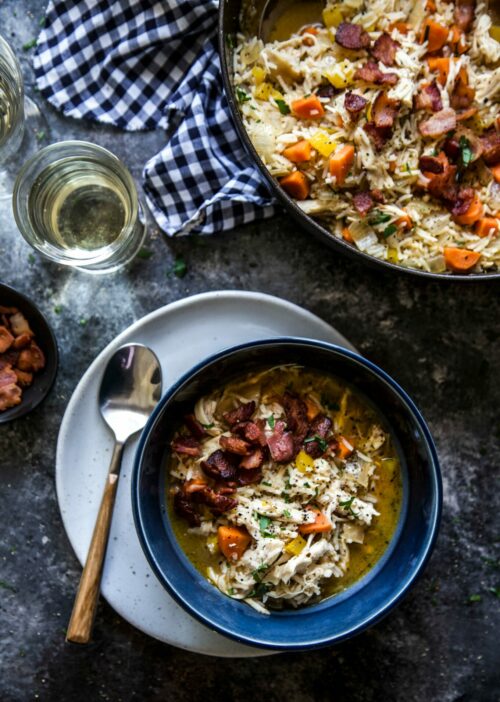 Back to the grind.
I don't know about you, but I'm exhausted.
I think I might be coming down with a cold, my pants are tight and I'm pretty sure our newly installed water heater is making my hair look frizzled. UGH. The good news is we did get the water heater installed. The bad news we need a water softener because our skin and hair feel like we bathed in front of a firehose.
Even though I'm feeling a little below average on this Monday morning, I had the best time with my family over Thanksgiving. We fried a turkey and didn't burn down the house. We watched football and put together legos. The best part? Our impromptu Britney Spears dance party in the kitchen.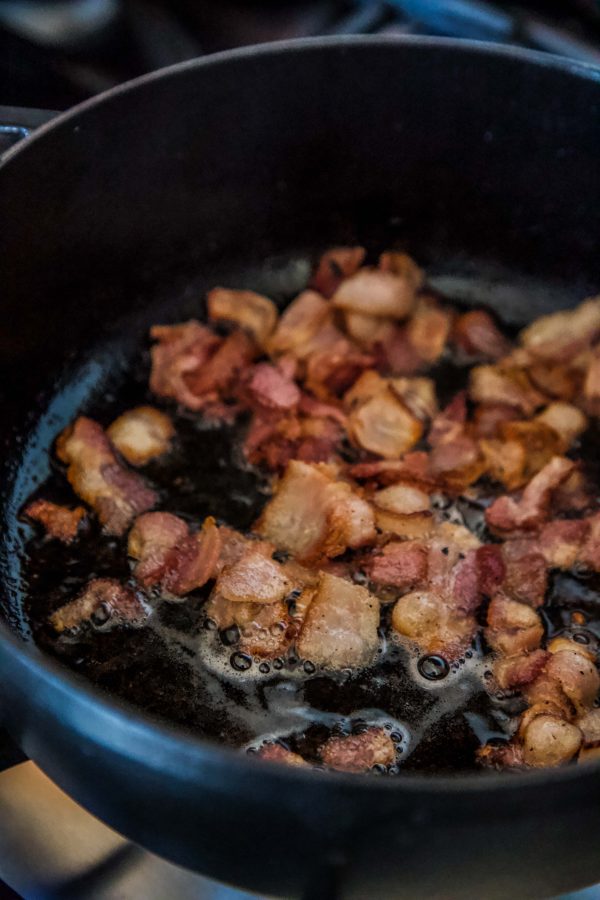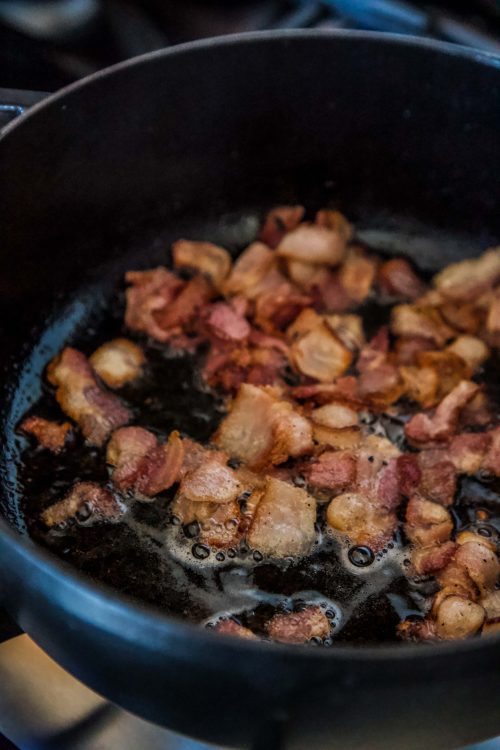 I wish we had a few extra days to hang, but you know what, it will be Christmas in less than a few weeks! Crazy, huh? Anyway, before we go down the holiday road, let's chat about what y'all made with your Thanksgiving leftovers. I saw a lot of turkey hash bowls floating around the interwebs.
Todays recipe is definitely a great way to use up leftover turkey or you can sub in rotisserie chicken for a quick meal! You guys, this Peri-Peri Turkey & Rice Soup is the ultimate comfort food in a bowl. Made with the usual suspects of it's famous cousin – chicken and rice soup. Simply add the peri-peri spice blend to kick this bad boy up a notch.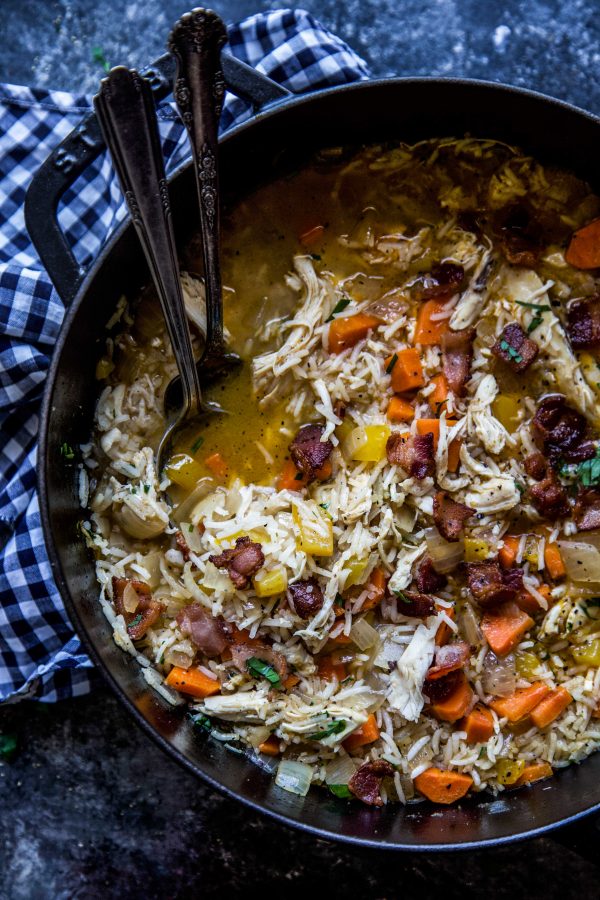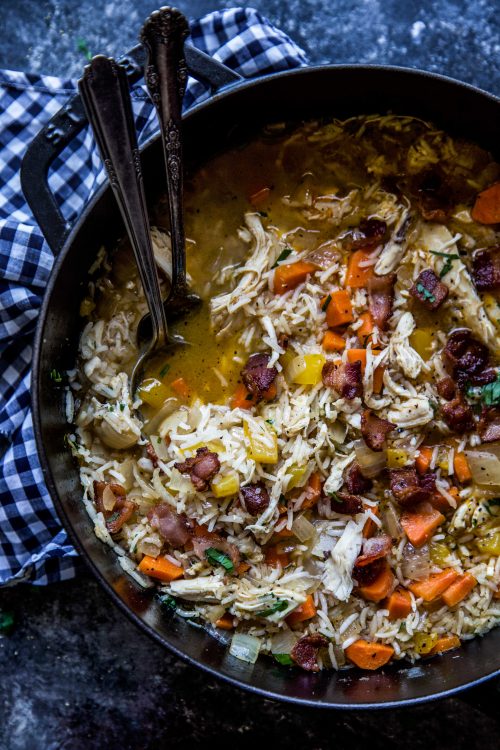 Besides the flavor profile what I love most is everything is made in one-pot! And after cooking a giant feast I need simplicity! Once you've got all the ingredients in the pot, let it simmer, and then serve up a hearty bowl full of goodness!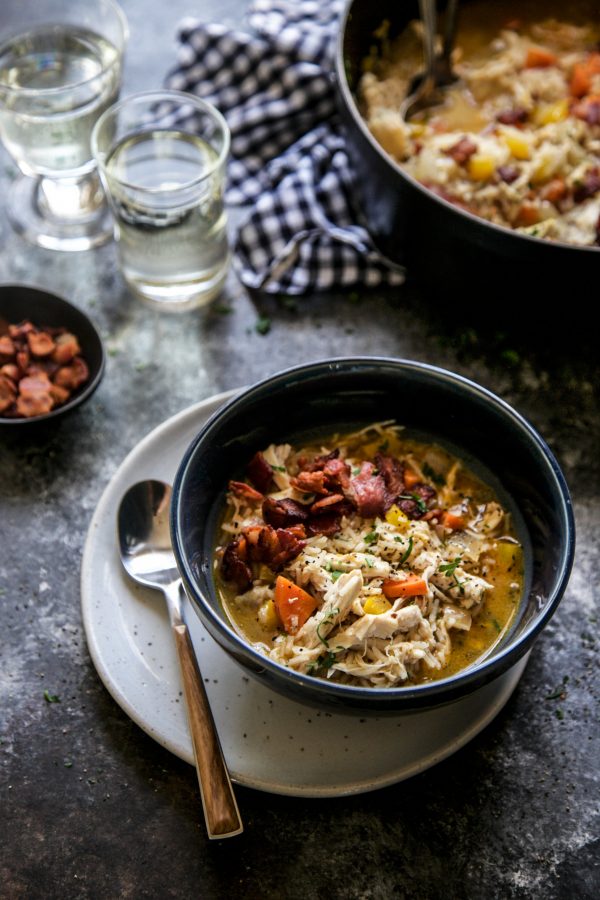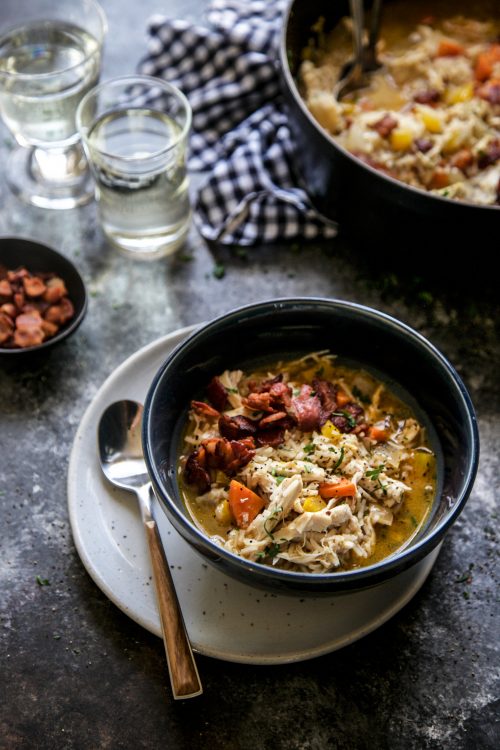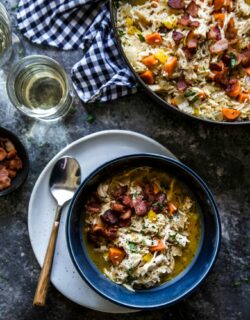 Peri-Peri Turkey & Rice Soup
Ingredients:
1 1/2 tsp ground paprika
1 tsp ground dried oregano
1 tsp ground dried ginger
1 tsp ground cardamom
1 tsp garlic powder
1 tsp onion powder
1/2 tsp kosher salt
1/2 tsp ground peri-peri pepper or cayenne pepper
5 slices bacon, chopped
1 yellow onion, diced
1 carrot, peeled, diced
1 yellow pepper, chopped
3 garlic cloves, minced
1/2 cup dry white wine
4 cups unsalted chicken stock
1 cup white rice
2 cups shredded turkey or chicken
Fresh chopped parsley, for garnish
Directions:
In a small bowl combine the first eight ingredients. Set aside.
In a large Dutch oven preheated to medium heat add the bacon. Cook the bacon until crispy. Using a wooded slotted spoon, transfer the bacon to a plate lined with a paper towel making sure to leave at least 1 tbsp of bacon fat in the pot.
In the same pot as the bacon add the onion, carrot, bell pepper, garlic, and 2 tsp of the seasons you mixed above. Cook the veggies until softened about five minutes.
Next add the white wine, chicken stock, and rice. Bring the mixture to a boil. Simmer the rice until it's tender about twenty minutes.
Stir in the shredded turkey or chicken and parsley. Ladle the soup in to a bowl and garnish with bacon.
All images and text ©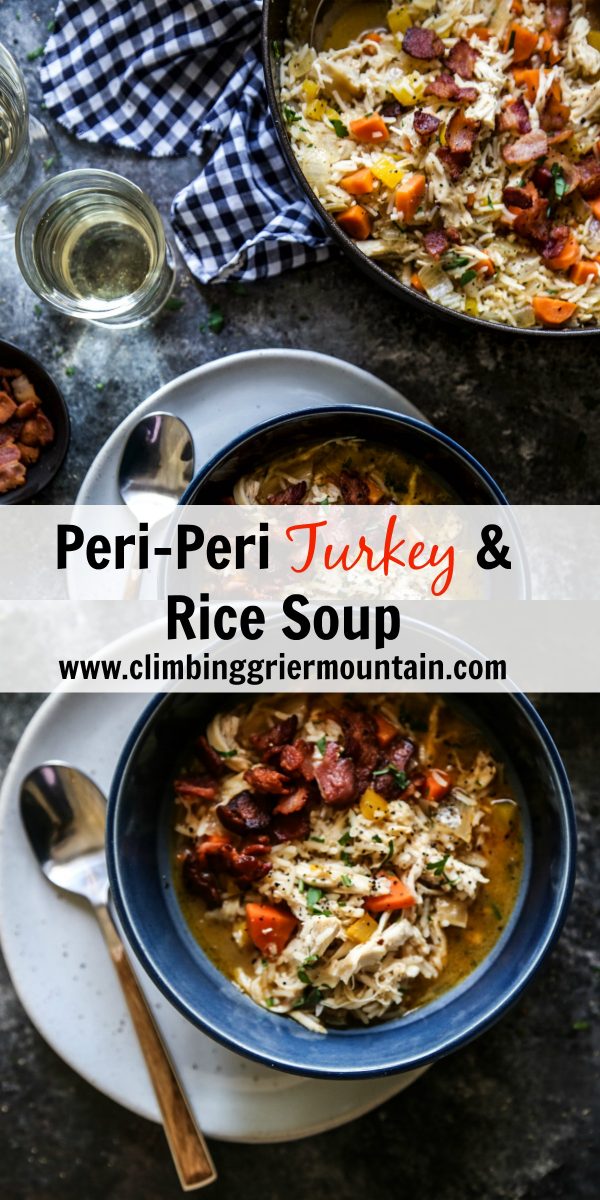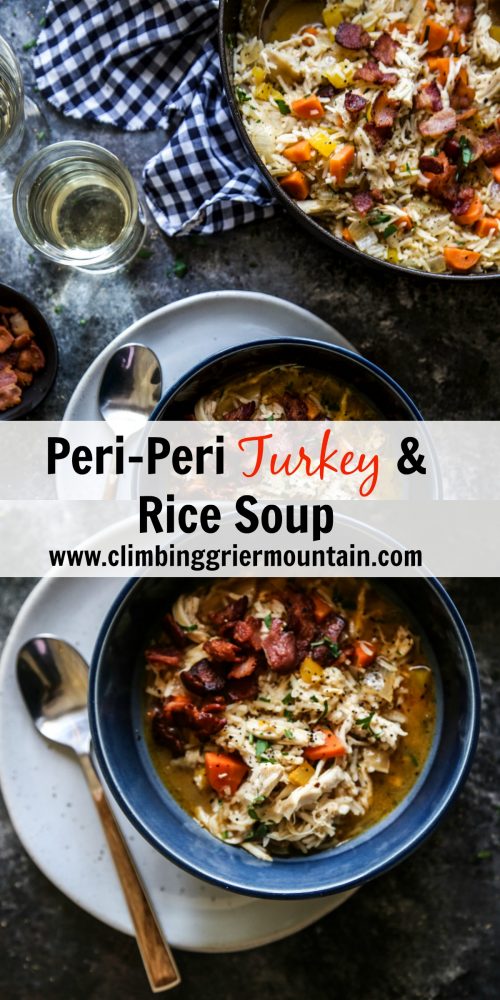 In conclusion, our Peri-Peri Turkey & Rice Soup is a delightful fusion of comfort and bold flavors. With each spoonful, you'll experience warmth and satisfaction, making it the perfect choice for a hearty, delicious meal. Enjoy the culinary adventure!