CGM 2018 HOLIDAY GIFT GUIDE: FOR HIM
25 amazing gifts for that special man in your life! Comfy robes, throwback watches, the perfect bourbon and spa like treatments for the beard. You'll find something in this list for your dad, boyfriend or co-worker!
Shopping for the men in your life can be tricky.
So Mr. B and I took a hot second to put together a very useful gift guide this year!
Below are 25 amazing gifts that will make him grin ear-to-ear. There's something for tinkerer, the techie, the roadie or for the guy that needs to up his basic hoodie game. Take a look around and get ready to shop!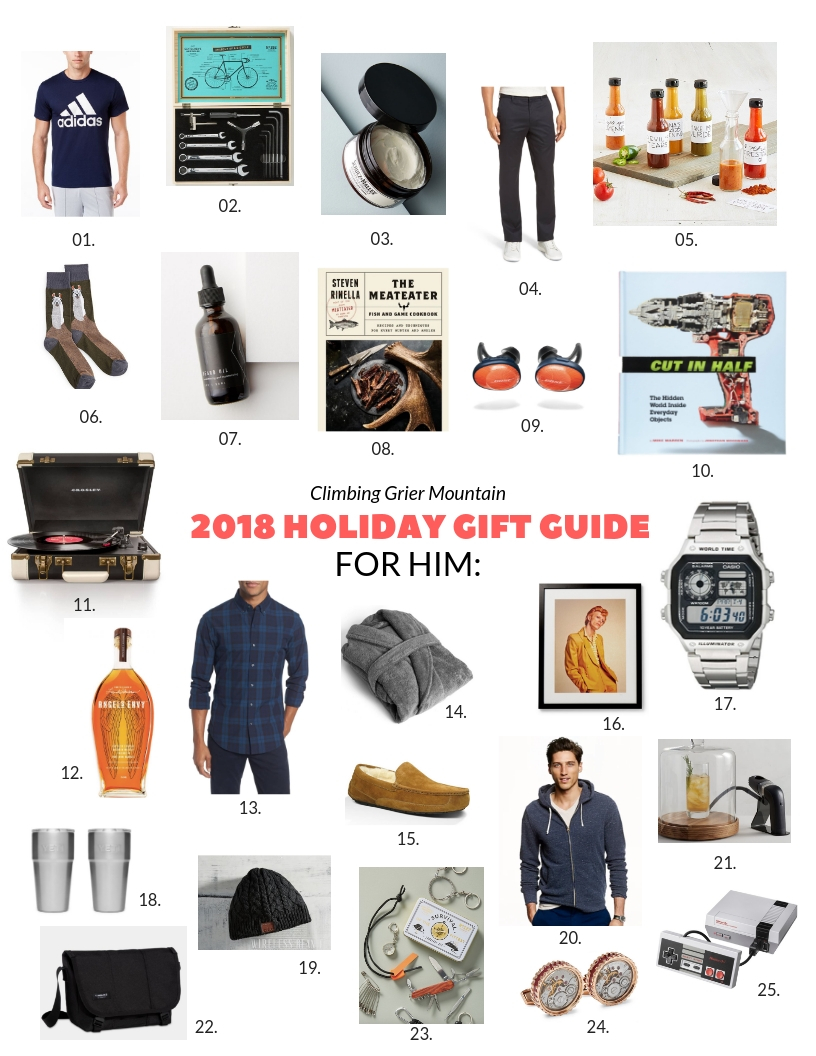 1. ) This Adidas Men's Classic Logo T-shirt is a must for the guy in your life that wants to kick it old school while he hits the bench. I actually have this shirt and I am completely obsessed!
2.) Have a "roadie" in your life? This Gentleman's Hardware Tool Kit is packed with everything a cyclist needs to keep on spinning. Plus, it's easy to carry in his messenger bag too!
3.) Foam is out. Brushless Shave Cream is in. So soothing, easy to pack if traveling, and will keep that razor burn at bay!
4.) Mr. B lives in these Bonobos Weekday Warrior Pants. Super comfy and can be dressed up or down!
5.) Does your man put hot sauce on hot sauce? Then he definitely needs his own Make Your Own Hot Sauce Kit. 
6.)  Add a little llama drama to your guys wardrobe with these Llama Socks!
7.) Want to kiss a soft, smooth beard? This Formulary 55 Beard Oil will do the trick!
8.) For the hunter or angler in your life. The Meateater Cookbook is full of recipes and techniques on how to cook wild game. I've got this on my Christmas wish list!
9.) Bose Wireless Sport Buds rain king when it comes to active comfort. These bad boys are made to make his workout feel like a breeze.
10.) Cut in Half is a book for the tinkerer in your life. This book explains all the hidden layers that are in a laptop, boxing gloves, fishing rod, etc.
11.) Executive Turntable is a must for any guy that likes to drop some beats!
12.) Angel's Envy Kentucky Straight Bourbon is a great gift for the bourbon lover. Aged for four to six years and finished in a port cask. He'll spread cheer all year round.
13.) No man is complete without a flannel shirt. This one from Bonobo's will be his new favorite go-to!
14.) Parachute Classic Bathrobe is the ultimate comfort made with Turkish cotton. Weighted perfectly for all-year round use!
15.) Slide into comfort with these Ascot UGG Slippers.
16.) This limited edition David Bowie print would look slaying in any man cave.
17.) Kicking it old school with this Casio's Men Digital Watch.
18.) Say goodbye to your standard plastic cup with this 16oz. insulated Yeti Stackable Pint. Perfect for that hefty happy pour!
19.) Wireless Beanie makes staying connected and warm super easy!
20.) I buy Mr. B a JCrew hoodie every year. He swears it's the most comfortable item in his closet!
21.) Make jaw dropping tasty cocktails with this Crafthouse Smoking Cloche!
22.) Another Mr. B favorite is this Timbuck2 Messenger Bag. Perfect for that cycling commute!
23.) Hardware Survival Kit is a must, well, for any gent. Kit includes a compass, fire starter, penknife, tweezers, rope, wire saw and safety pins!
24.) Gear Rose Gold-Plated and Enamel Cufflinks are on point. The detailed design make for a flashy statement without having to wear a watch!
25. ) Nintendo. Make his inner nine year-old self happy.
***This post is not sponsored. I have purchased a few of these items myself! Also, a few of these links are affiliate! Thanks for supporting CGM!***