Salted Dark Chocolate Tahini Brownies
Salted Dark Chocolate Tahini Brownies are the perfect treat for your Valentine's sweet!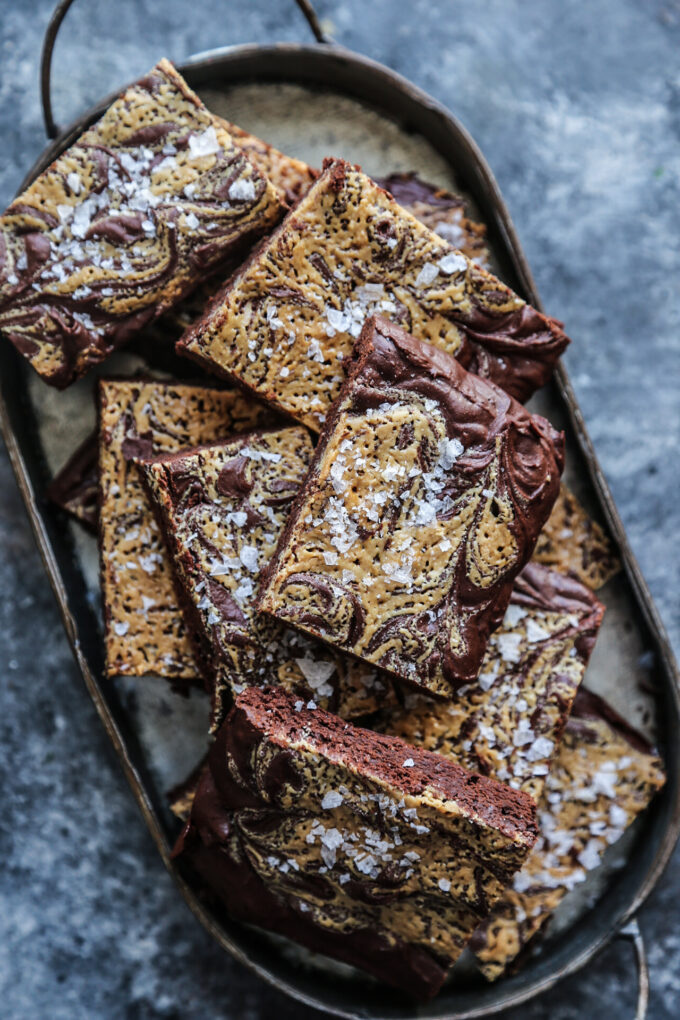 T-minus a week away from Valentine's Day.

Are you ready?

Curious, if you celebrate Valentine's Day, what is your course of action? Do you go out? Give gifts? Stay in? We are definitely the latter. The last time we went out for Valentine's Day was back in 2008 and after a mediocre, over-priced meal we bid adieu to going out.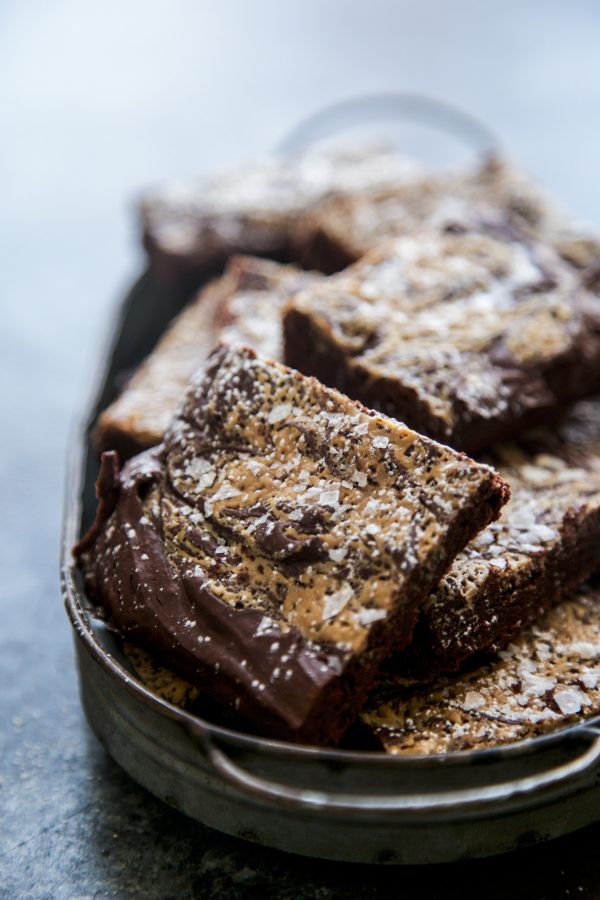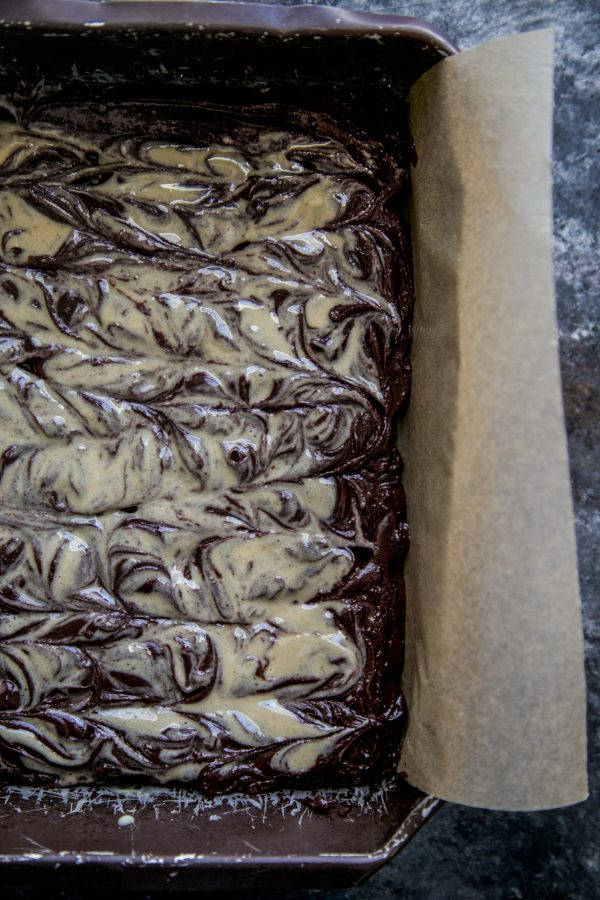 Now, there's nothing wrong with going out. You can definitely feel the love in the air. However, I am so happy with a homemade pizza, a glass of vino, chocolate dessert, and a cute hubby all to myself. The reason I say that is because let's be real, Valentine's Day is a marketing holiday. Can we all agree on that? 

I won't get on my high horse again about how much this country just consumes and consumes. And believe me, I am guilty as the next person. But do we really need a holiday that we need to buy teddy bears, chocolates, extravagant gifts, dinners, etc.? I am a romantic at heart, but this should be cray.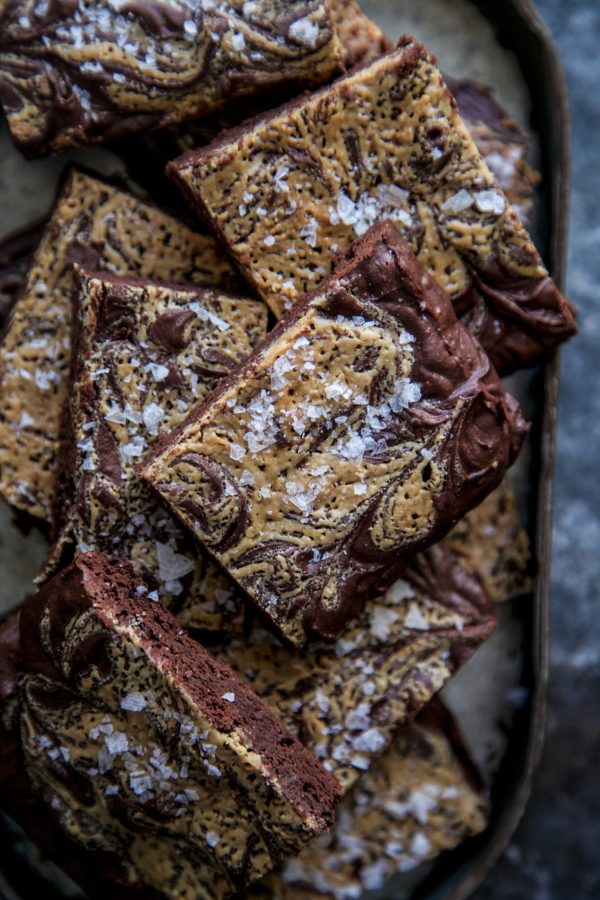 The only reason I feel the need to keep Valentine's Day going is to protect those sweet folks over at "Conversation Hearts." Those messaged hearts are the gift that keeps on giving and it would be weird to be on this planet without those little "BE MINE" hearts around. Right?
Anyway….moving on. If you're in the Valentine's spirit and want to make something for yourself or a certain loved one you've gotta make these Salted Dark Chocolate Tahini Brownies. Super easy to make and the dark chocolate is intense which I love. Sprinkle some flaky salt on top and these will bring a smile to your Valentine.
Salted Dark Chocolate Tahini Brownies
Ingredients:
3 tbsp cornstarch
2 tbsp unsweetened cocoa powder
6 ounces bittersweet chocolate, roughly chopped
3 tbsp olive oil
4 tbsp tahini, stirred and divided
2 large eggs
1/3 cup granulated sugar
1/4 cup brown sugar
1 tsp kosher salt
1 tsp vanilla extract
1 tbsp honey
Sea Salt flakes, for garnish
Directions:
Preheat your oven to 350 degrees. Line an 8X8 baking dish with parchment paper. Spray with non-stick spray for extra insurance.
In a small bowl whisk together cornstarch and cocoa powder making sure there are no visible lumps.
In a medium saucepan add the bittersweet chocolate, olive oil, and 1 tbsp tahini. Heat to medium low stirring until the chocolate has melted and everything is well combined and smooth.
Next, using a mixer fitted with a whisk attachment, beat the eggs, granulated sugar and brown sugar until light, smooth and doubled in volume. Add the salt and vanilla extra and continue to whisk. Take the melted chocolate and add it to the egg mixture until well incorporated. Add the the cornstarch mixture and keeping whisking until the batter can hold it's shape about 30 seconds.
In a small bowl combine the honey and remaining 3 tbsp tahini. Take the batter and pour into into the prepared baking dish. Next, dollop the tahini-honey mixture over the top of the batter. Using a toothpick swirl the batter.
Bake the brownies for about 20 to 25 minutes or until a toothpick inserted comes out clean. Cool completely before slicing and garnishing with sea salt flakes!
recipe inspired by Bon Appetit
All images and text ©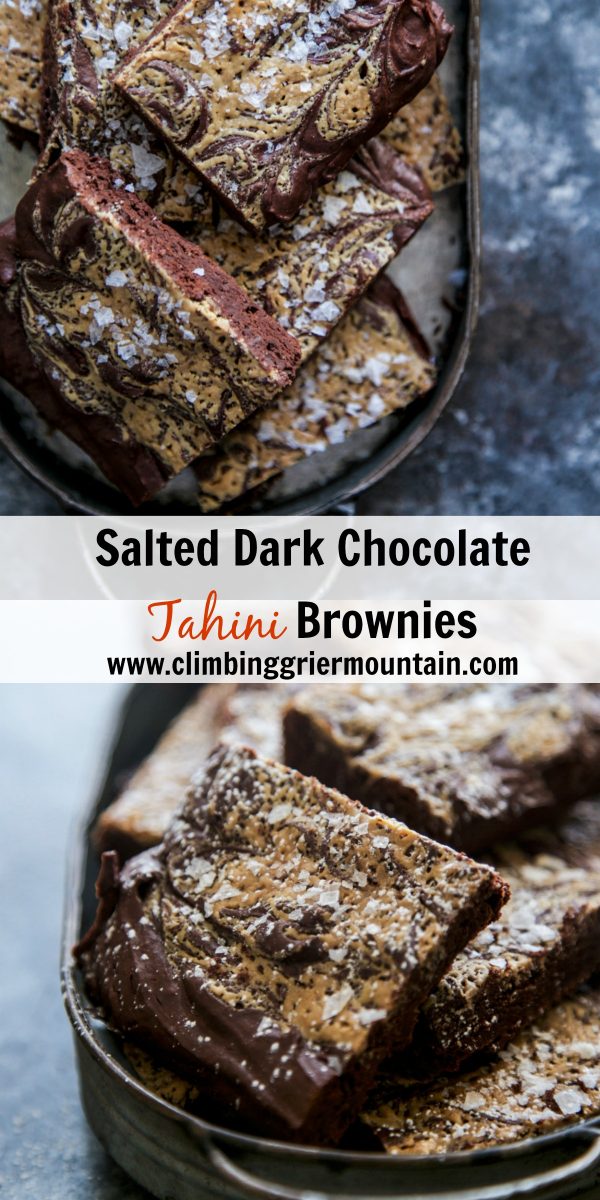 In conclusion, these Salted Dark Chocolate Tahini Brownies are a delectable treat that balances sweetness with a hint of saltiness, offering a truly satisfying culinary experience. Enjoy every bite!