Easy Tuscan Fried Rice
Easy Tuscan Fried Rice is an easy and delicious meal to make! Made with peppers, Italian turkey sausage, parmesan cheese, white wine, mozzarella, and rice!
***This recipe is in partnership with Minute Rice. As always, all opinions expressed are 100% my own.****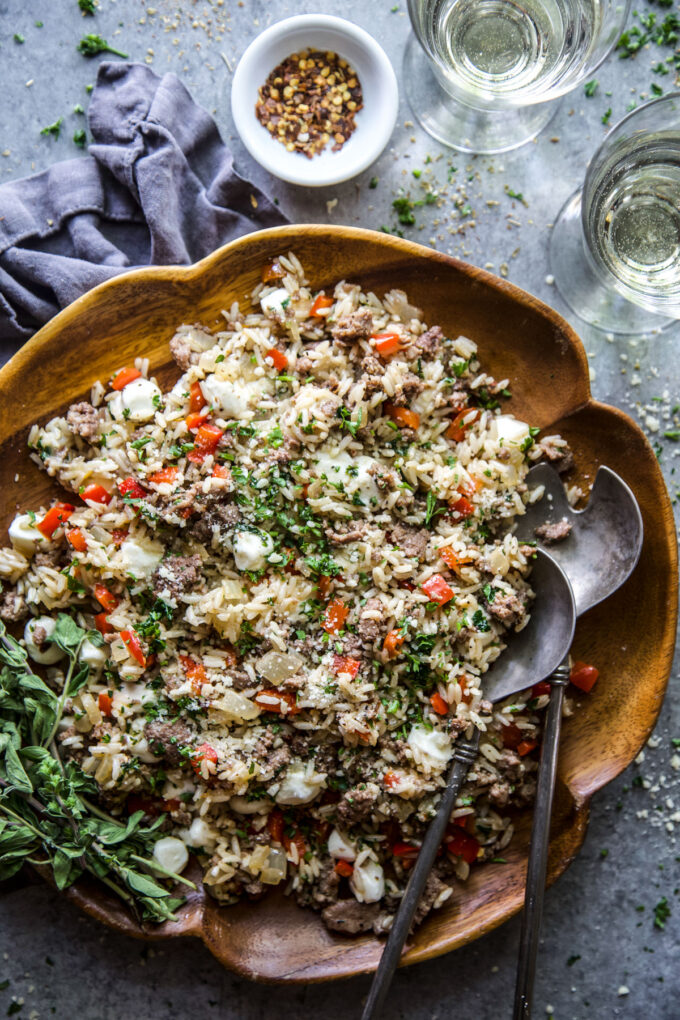 If you've been a long time reader of The Curious Plate you know that my rice cooking skills are not exactly the best.
Making homemade rice from scratch has always been a hurdle for me in the kitchen and until recently, well, 35 days to be exact, I changed my rice cooking course.
Enter the beautiful and life changing product: Minute Rice Microwavable Rice Cups.
I had a chance to use these cups at the #FreshAirRetreat in Scottsdale last month and my life has been better for it. Today, I'm showing you how to make this incredibly delicious, Easy Tuscan Fried Rice. So simple to make and the flavor is off the charts.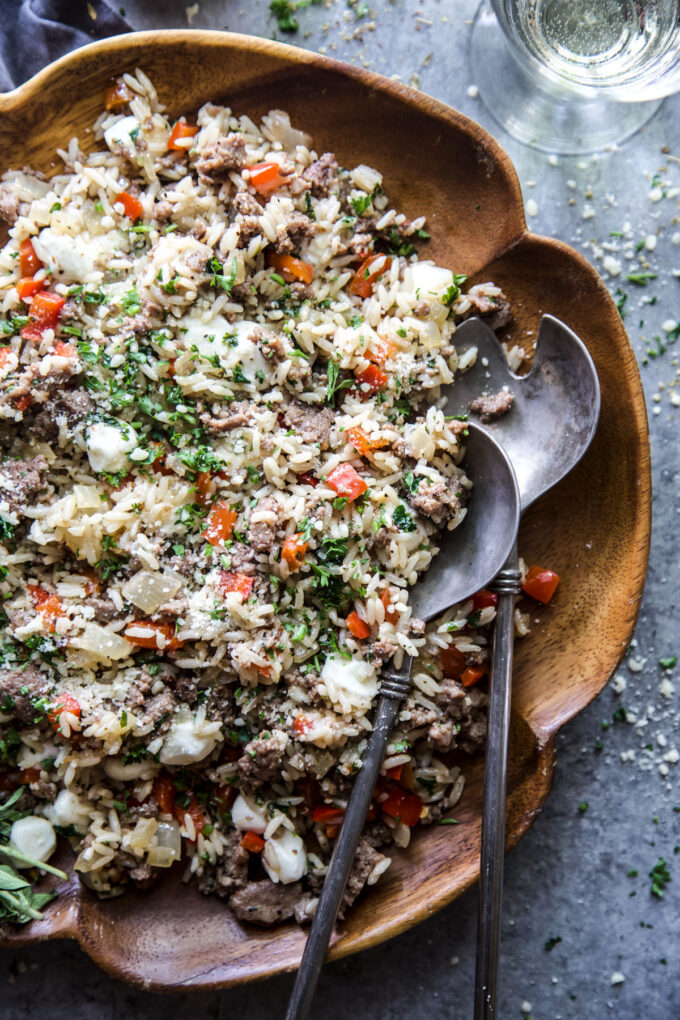 Easy Tuscan Fried Rice:
Why use Minute Rice?
Minute Rice is a legacy brand that has been providing delicious, time-saving products that help make it easy to take a moment for yourself no matter how busy you are.
Reasons to Use Minute Rice Microwavable Cups:
You are literally 60 seconds away from delicious rice. The microwaveable cups are the perfect size and great for on-the-go snacking. Each of the rice cups pair well with a variety of dishes and are perfectly portioned which gives you just the right amount of carbs to keep your energy up!
Minute Rice at the #FreshAirRetreat:
I had the chance to connect and learn with Minute Rice at the Fresh Air Retreat in Scottsdale. They provided the attendees the chance to try and interact with their microwaveable rice cups by setting up a DIY rice bar full of toppings! Can you say genius?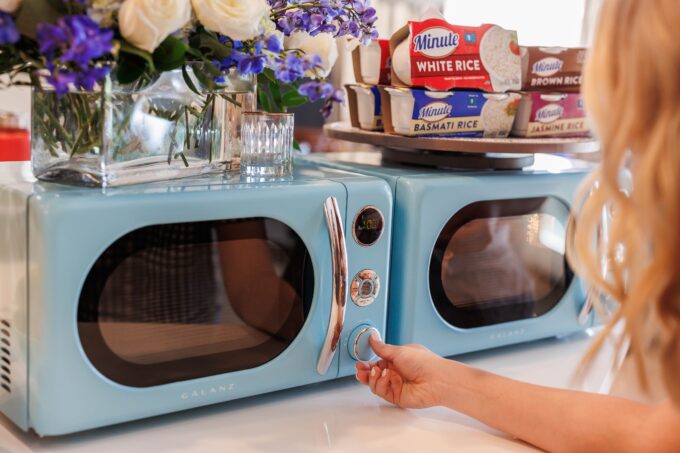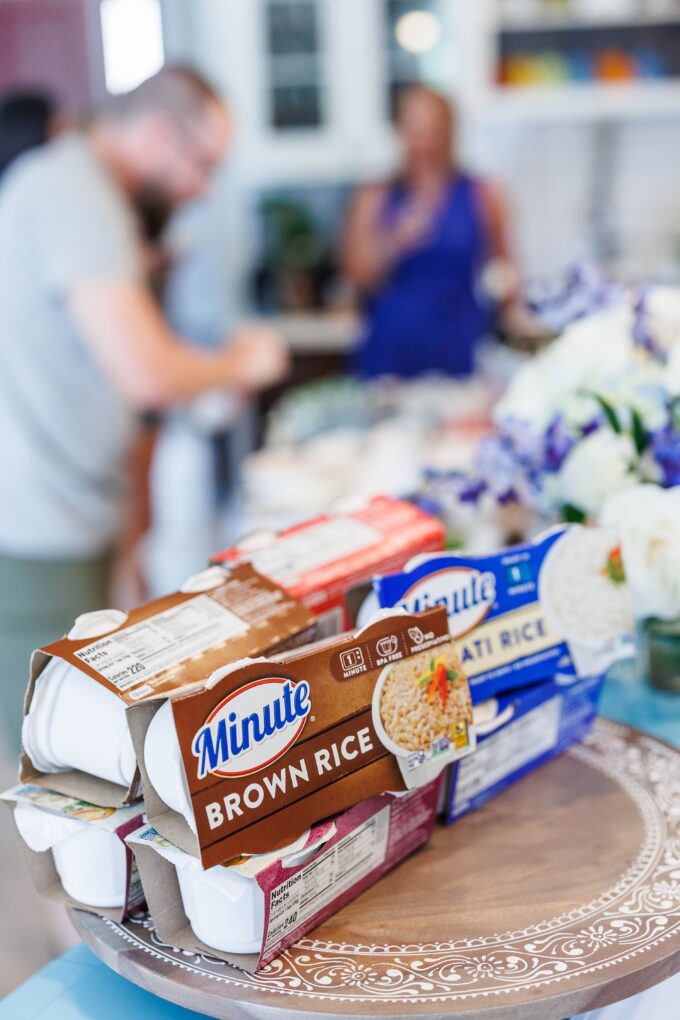 For me, this type of activity is my jam. Not only could I cook rice in less than a minute, but I got to use my creative juices to create my own rice bowl. Spoiler alert: I made a s'mores rice bowl and it was a huge hit!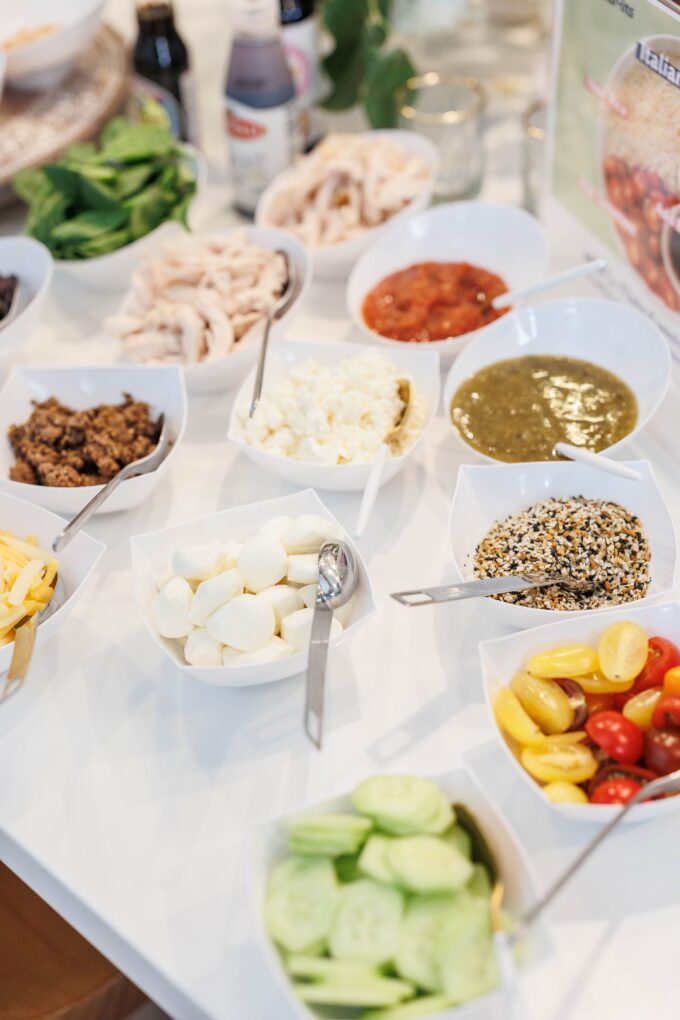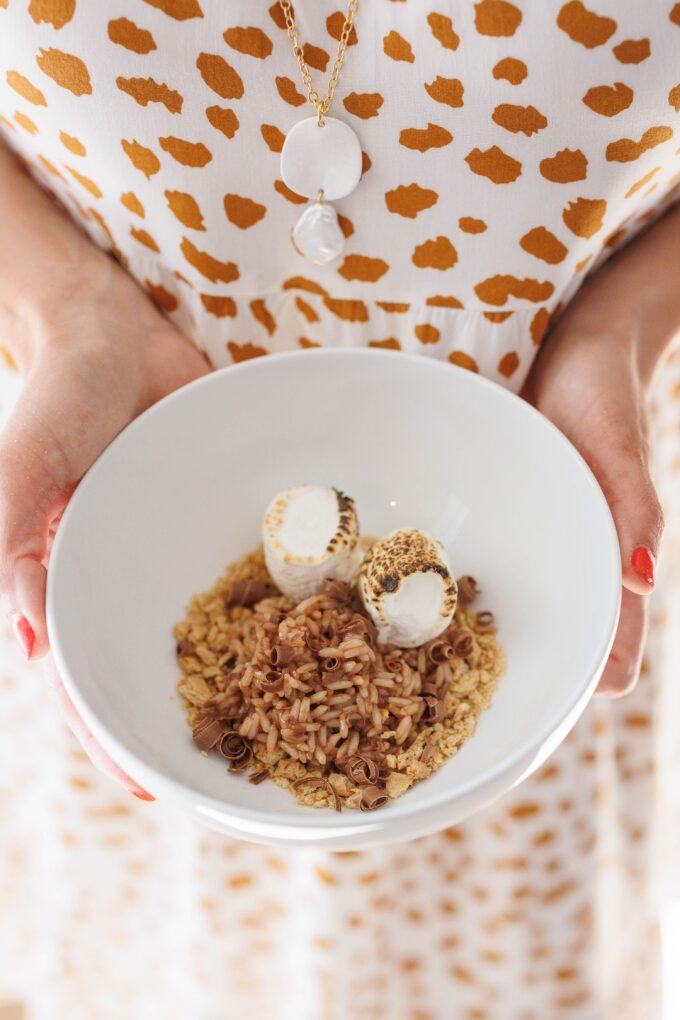 What's in this Easy Tuscan Fried Rice?
When it comes to making meals during the week, I want a recipe that has minimal ingredients, tastes incredible, and easy to assemble. This Easy Tuscan Fried Rice checks all three boxes. For this recipe you will need:
Minute Microwavable Cup Classic White Rice
Red pepper
Yellow onion
Italian turkey sausage
Garlic
Parmesan cheese
Mozzarella
White Wine
Basil
Parsley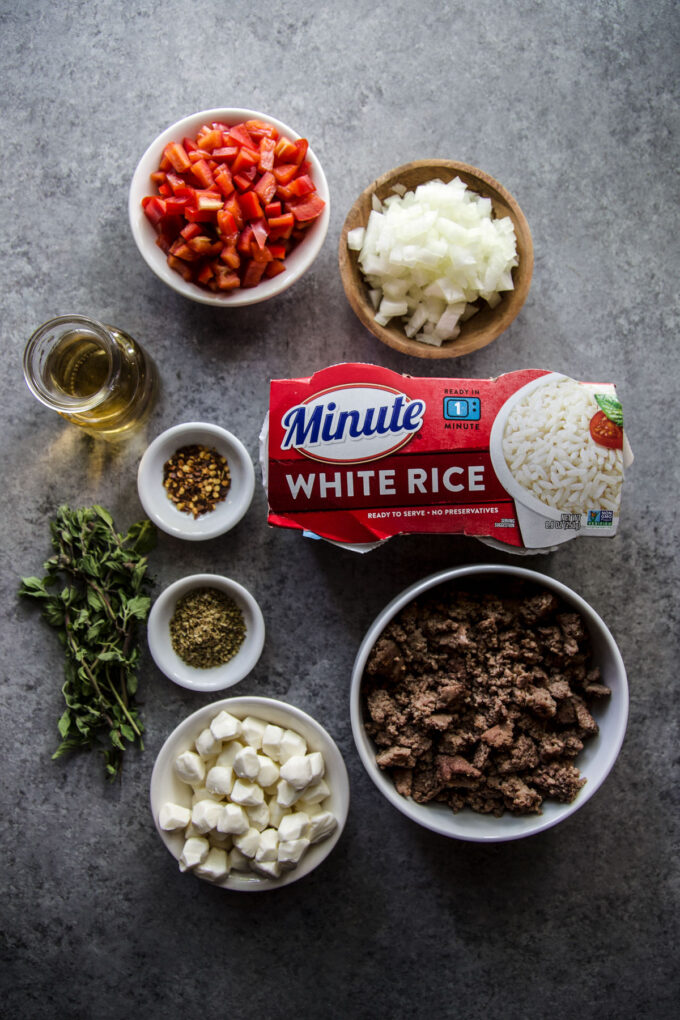 Tips for Making this Easy Tuscan Fried Rice:
Rice. If you've been a long time reader of The Curious Plate you know that I can't cook rice from scratch. It's okay, it's like a bad relationship that I needed to get out of! Anyway, if you want to get off the homemade rice struggle bus like yours truly grab some Minute Rice Microwavable Rice Cups and enjoy delicious, time-saving rice! I swear it makes this dish an 11/10 situation.
Italian Turkey Sausage. If you want to quickly flavor your sausage just grab a package of Italian turkey sausage at the grocery store.
Parmesan cheese. Okay, folks. If you find a block of Parmesan cheese grab and grate it yourself. I promise the flavor is better and it will melt beautifully.
White wine. If you don't want to use white wine in this recipe I would try using chicken stock or even a balsamic vinegar.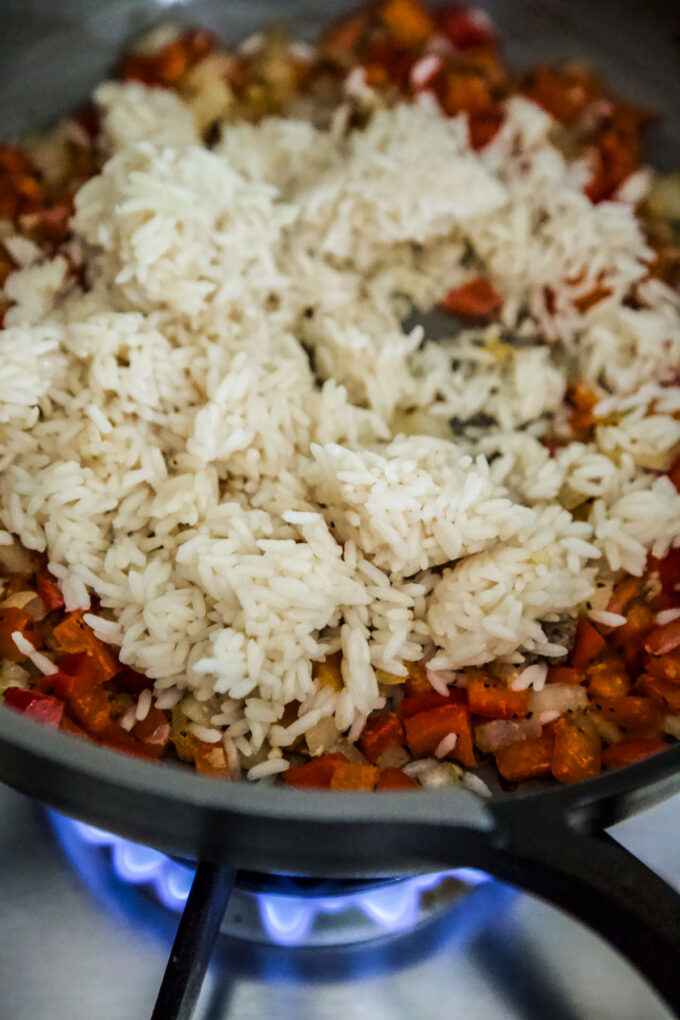 Frequently Asked Questions:
Can I make this dish ahead of time?
You bet! This recipe can be made a day or two ahead and simply reheated on the stovetop or microwave.
How long will leftovers keep in the fridge?
The great thing about this recipe is it keeps well in an airtight container for about 3 to 4 days.
Where can I learn more about Minute Rice?
If you want to learn more about Minute Rice and all their amazing products make sure to visit: www.minuterice.com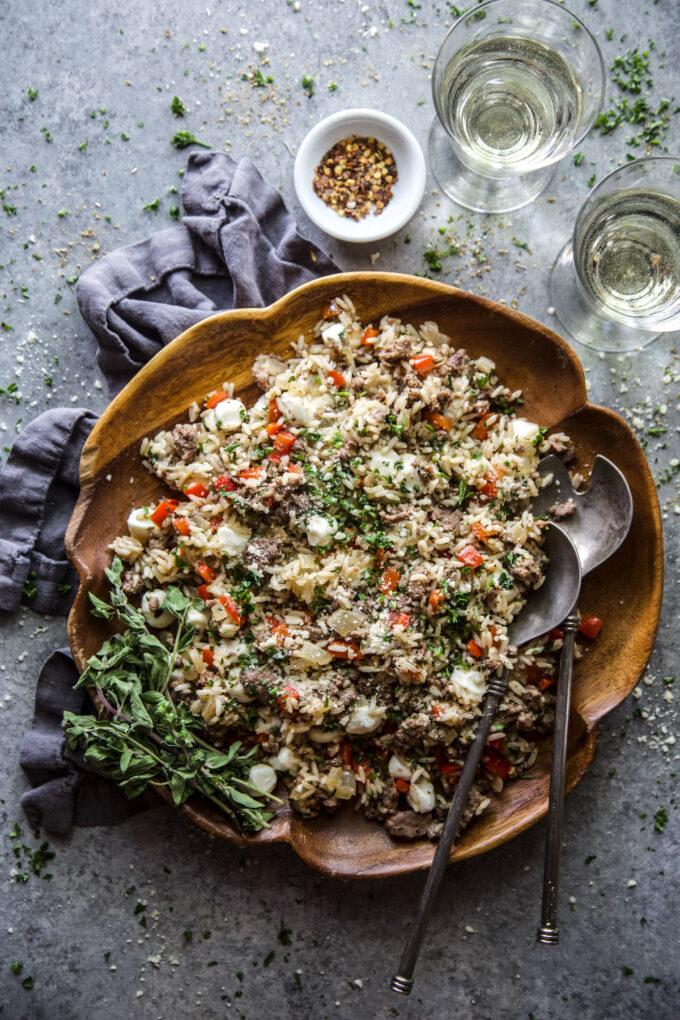 Fresh Air Retreat Recap:
Liz and I had such a wonderful time hosting and connecting with a fiercely talented group of attendees: Liren, Brad, Tessa, Kristen, Liz, and Lauren.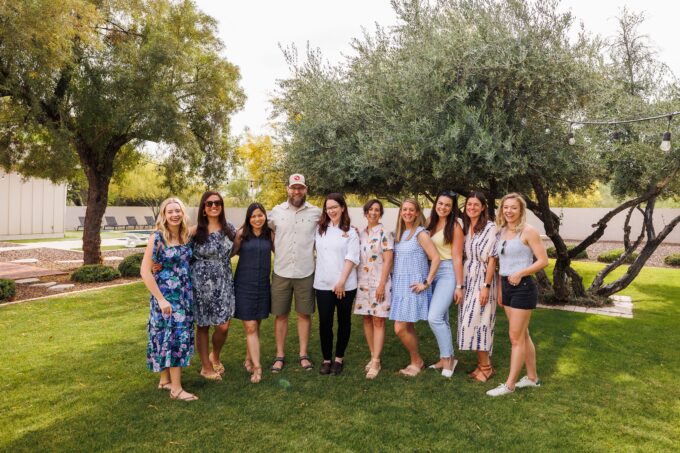 We also couldn't have done this incredible retreat without our amazing sponsors:
Thank you……..
Zwilling USA for a tasty and delicious taco themed lunch where we got the full show on your products like the vaccum sealer, tableware, and of course, your incredible cutlery.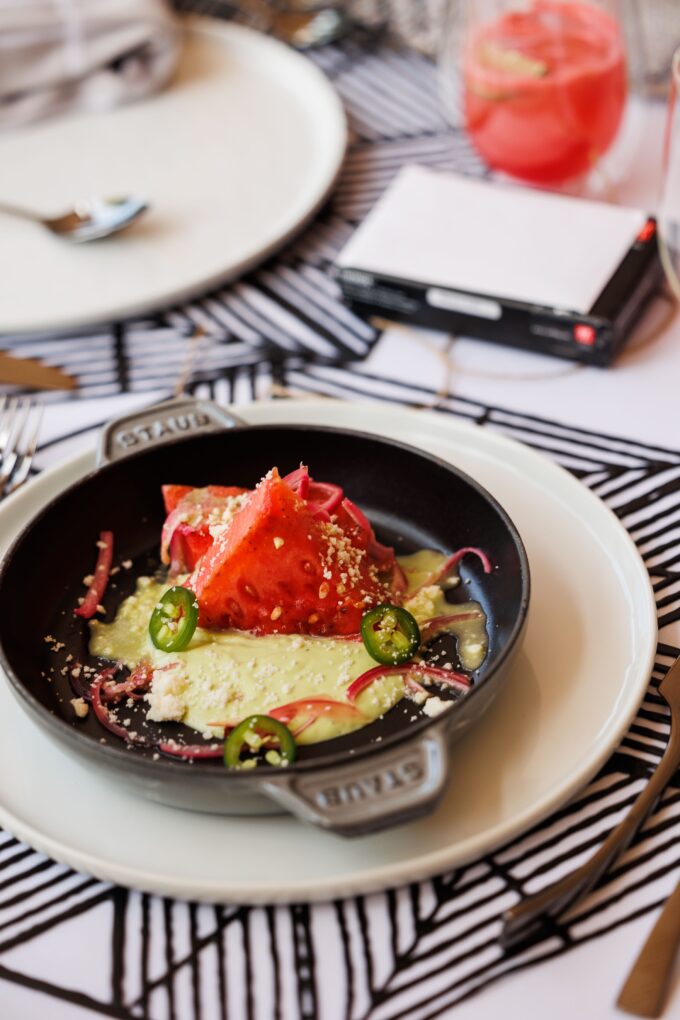 Stonyfield for providing an epic pizza spread that included making TWO-INGREDIENT pizza dough using self-rising flour and yogurt!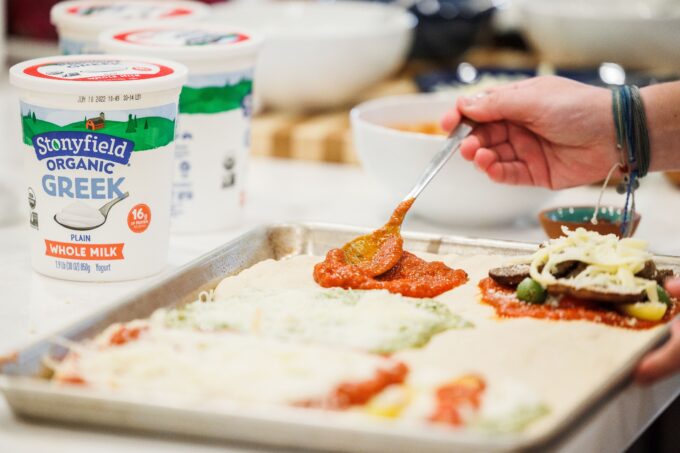 Certified Angus Beef for showing us that you can truly "taste the difference" when it comes to selecting certified angus ribeye beef.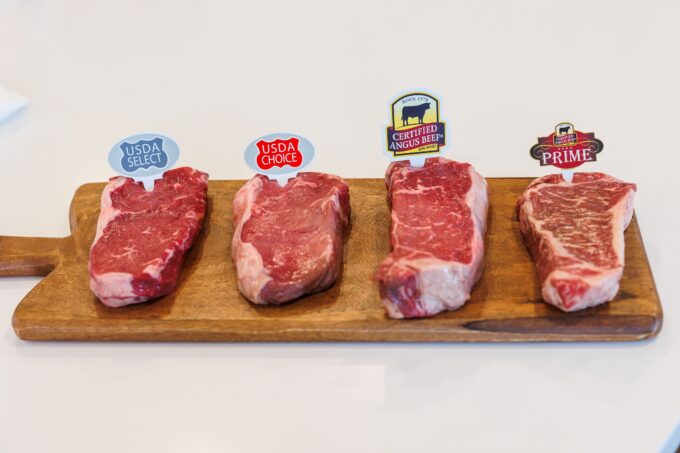 AdThrive for brining their A game and teaching us a thousand different ways to improve our SEO.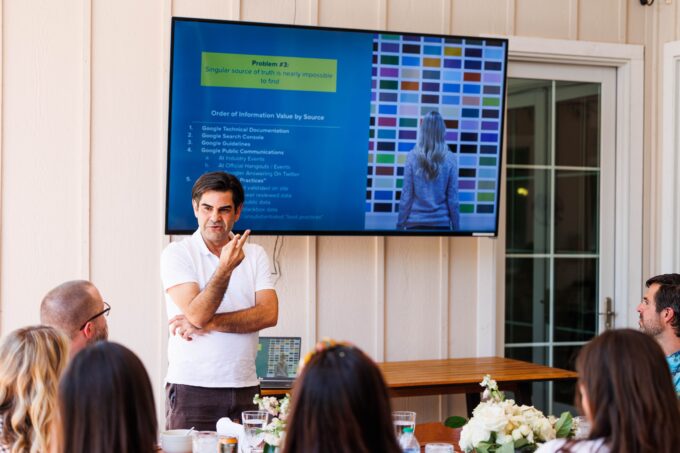 Grace and Vine Studios for providing a laundry list of ways that we can improve our brands and website design.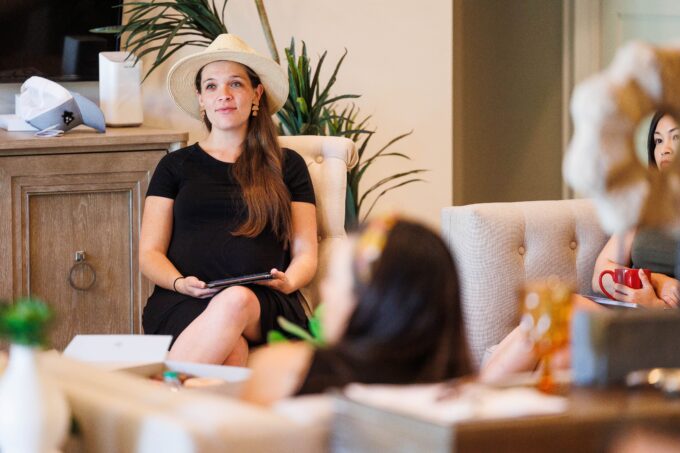 And of course, Minute Rice! You are my cooking savor and a brand that I can't thank enough for providing this girl with endless amounts of opportunities to make rice correctly!!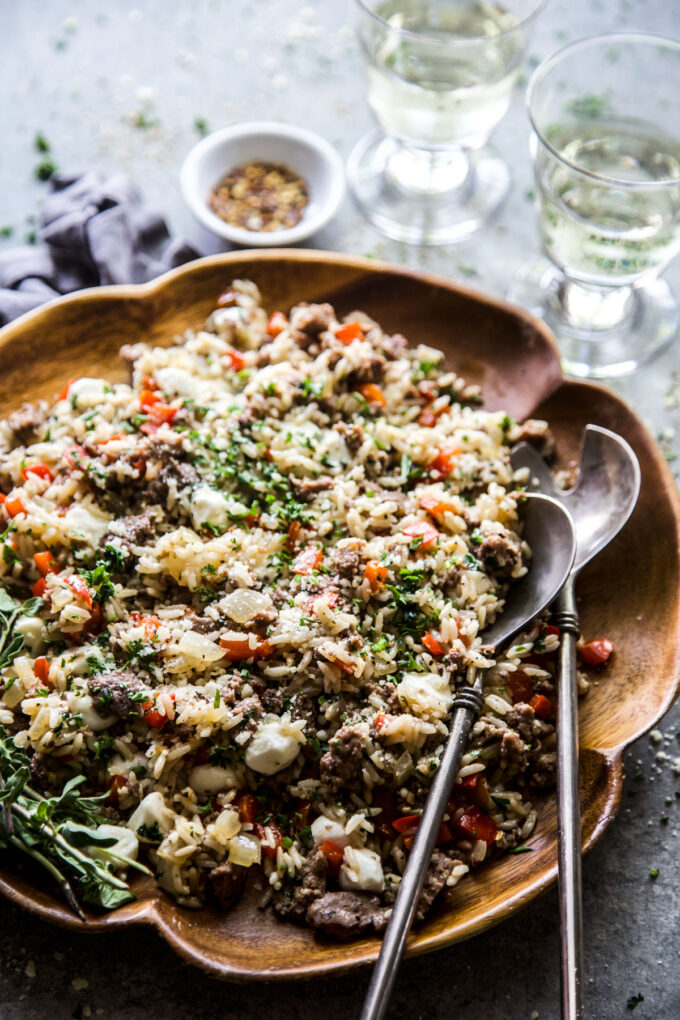 More Delicious Rice Recipes to Enjoy: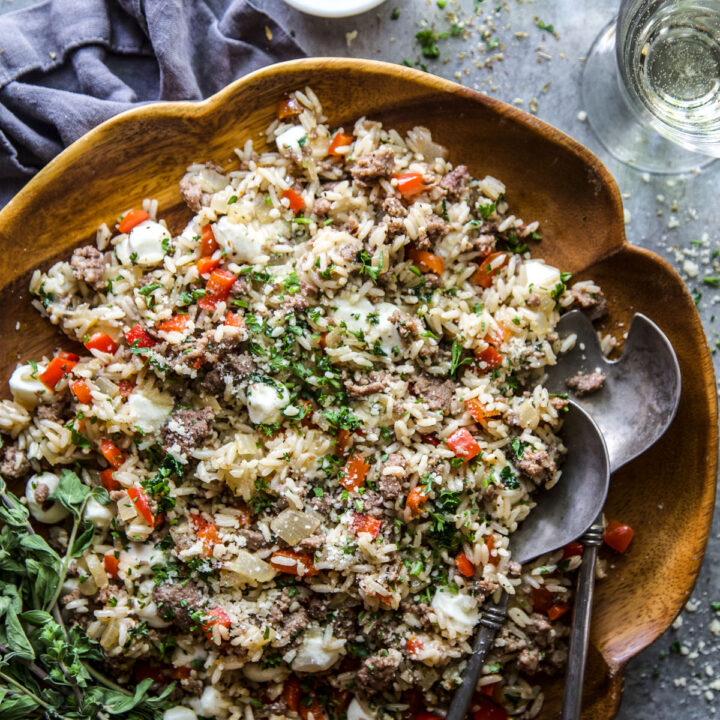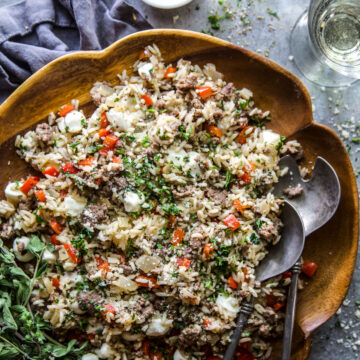 Easy Tuscan Fried Rice
Easy Tuscan Fried Rice is an easy and delicious meal to make! Made with peppers, Italian turkey sausage, parmesan cheese, white wine, mozzarella, and rice! 
Ingredients
2 tbsp Olive oil
1/2 cup Chopped yellow onion
1/2 cup Chopped red pepper
2 cloves Garlic, minced
1 lb Ground Italian turkey sausage
1/4 cup White wine
1/3 cup Fresh grated Parmesan
4 Minute Rice Microwable White Rice Cups, cooked
3/4 cup Fresh mozzarella balls
1/2 tsp Red pepper flakes
Fresh parsley, for garnish
Fresh basil, for garnish
Salt and pepper to taste
Instructions
Preheat a large skillet or wok to medium-high heat. Add the sausage to the skillet, break it up using a wooden spoon, and cook until no longer pink; about 5 minutes. Remove the sausage using a slotted spoon and set aside.

In the same skillet or work over medium-high heat, add the olive oil, onion, pepper, garlic, red pepper flakes, salt, and pepper. Cook the veggies for a few minutes until softened.

Add the rice to the skillet and stir to combine. Pour in the white wine and continue to stir for a few minutes or until wine has cooked out. Stir in the sausage and parmesan cheese to the rice mixture.

Turn off the heat and stir in the mozzarella balls, parsley, and basil. Give everything a big stir and garnish with more Parmesan if desired!
Did you make this recipe?
Please leave a comment below and share a photo on Instagram with the hashtag #thecuriousplate!