Salsa Verde Shrimp and Cilantro Rice Skillet
Salsa Verde Shrimp and Cilantro Rice Skillet is a tasty and easy meal to make during the week!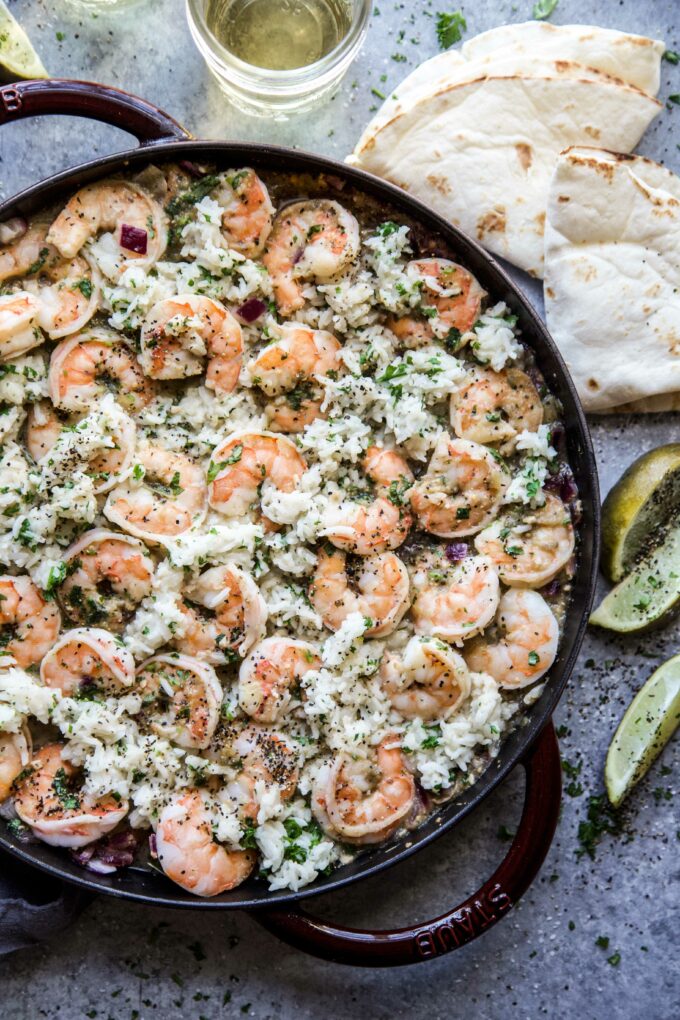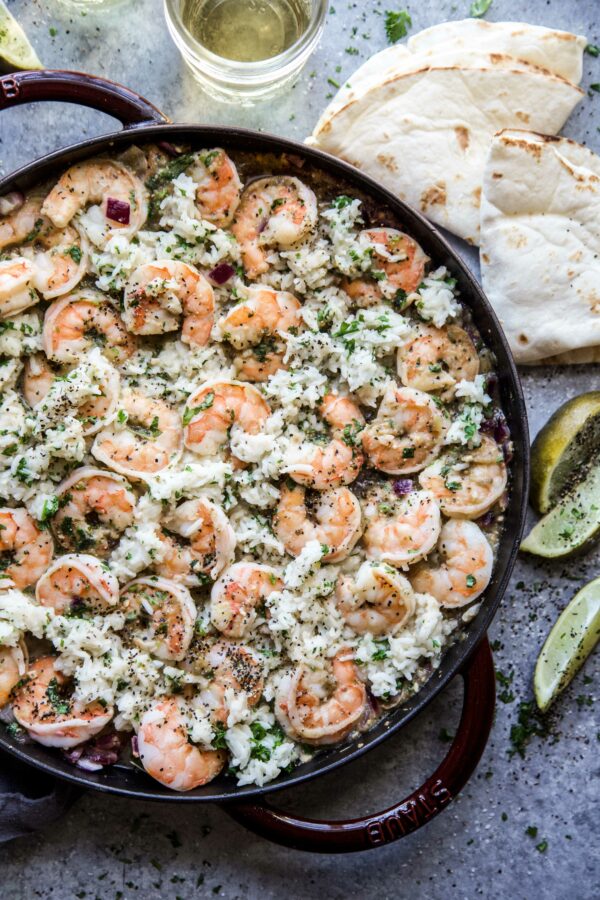 Can you say OLE?!
Or at least that's how I feel about this Salsa Verde Shrimp and Cilantro Rice Skillet. Serious flavor, easy to make, and all done in one skillet. OLE, indeed!
This recipe came to fruition because I was looking for something to make on #TacoTuesday that was still tasty, but a bit more elevated. If you're like me I always go on autopilot when it comes to making tacos: tortilla, beef, peppers, salsa, and sour cream. Very basic.
Well, we are upping our fiesta game today because this Salsa Verde Shrimp and Cilantro Rice Skillet is not to be missed!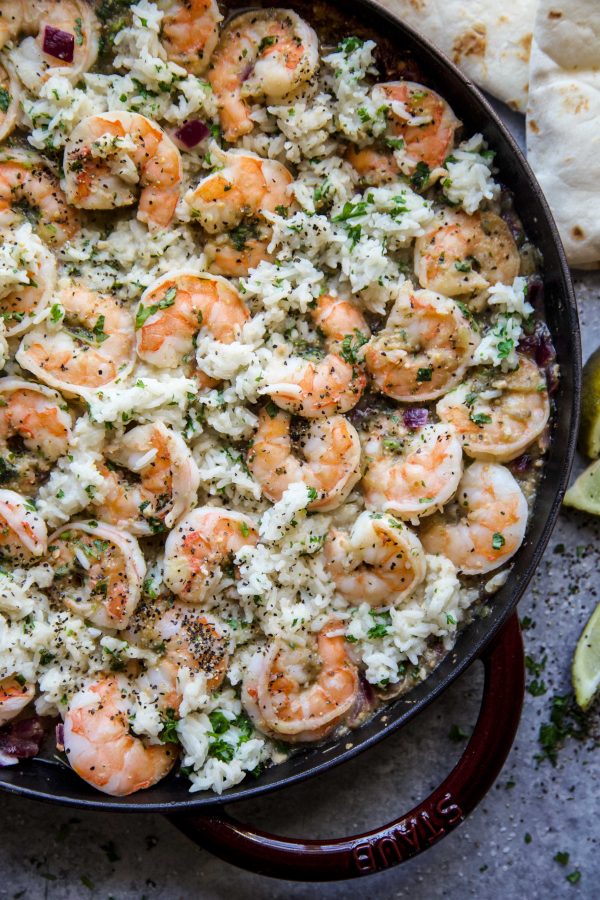 What's in this Salsa Verde Shrimp and Cilantro Rice Skillet?
One the best parts about this meal is that it's made in one skillet, which means there are minimal ingredients:
Cooked Rice
Shrimp
Garlic
Onion
Salsa Verde
Cilantro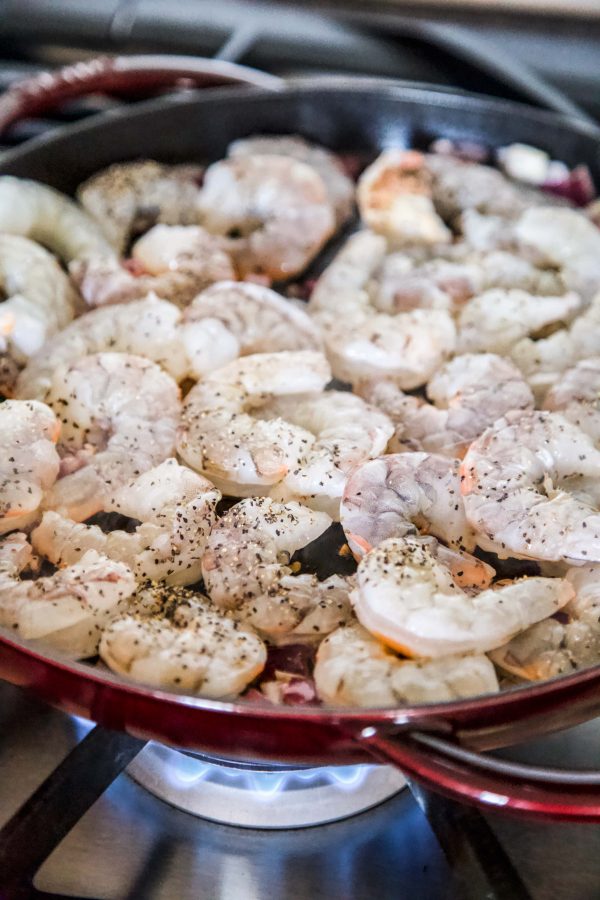 Tips for Making Salsa Verde Shrimp and Cilantro Rice Skillet:
1) Shrimp. You will only need a pound of fresh or frozen shrimp, but make sure they are large. Shrimp curl up when they are cooked so you want something that will stand the heat and be able to take a big bite out of. If you buy frozen shrimp you can quickly defrost by running cold water over them for a few minutes!
2) Rice. UGH. You guys know that rice is not my friend at all. So, this is where I encourage you to buy a pouch of 90 second rice and call it a day. If you want to make a big batch of rice for meal prep go for it! You will be my hero.
3) Salsa Verde. Use whatever kind you like! There are so many options, but pick a good one because this is where you will get the bulk of flavor.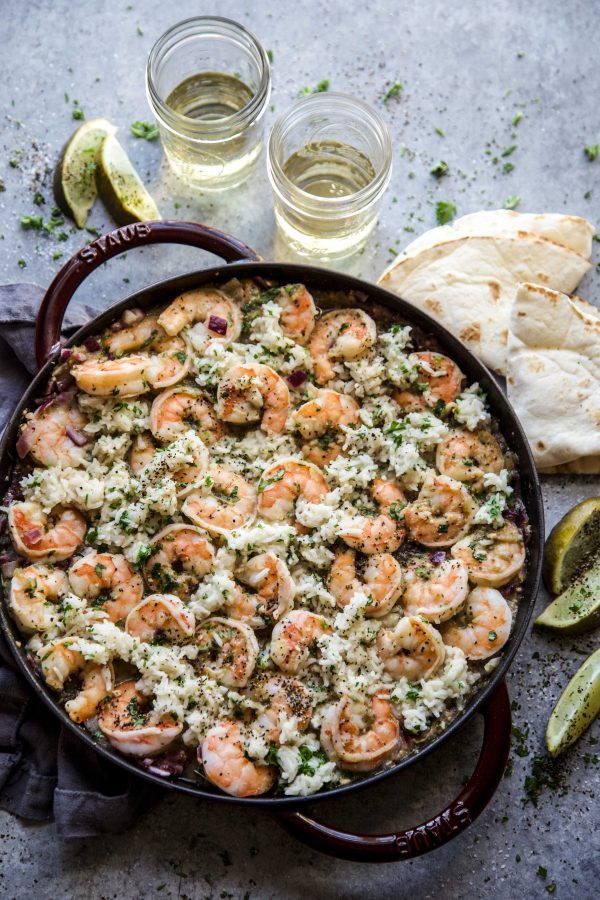 Do I have to use Shrimp in this Recipe?
Nope! If you want to sub in ground chicken or beef that would work too. Just drain off some of the fat if you do so when you add the salsa verde it doesn't get super liquidity!
May I Substitute Regular Rice for Cauliflower Rice?
YES! I'm a big fan of cauliflower rice and it's easier to cook in my opinion!
Different Ways to Serve Salsa Verde Shrimp and Cilantro Rice Skillet to mix up meal time:
TACOS! Grab some tortillas and get stuffing.
Casserole. You could put everything into a 9X13, sprinkle some pepper jack cheese on top, and place it under the broiler!
Nachos. PILE the ingredients on a bed of tortilla chips and top with cheese. OH. MY!
Brunch. Toss a few eggs on top!
Ready to dive, in?!!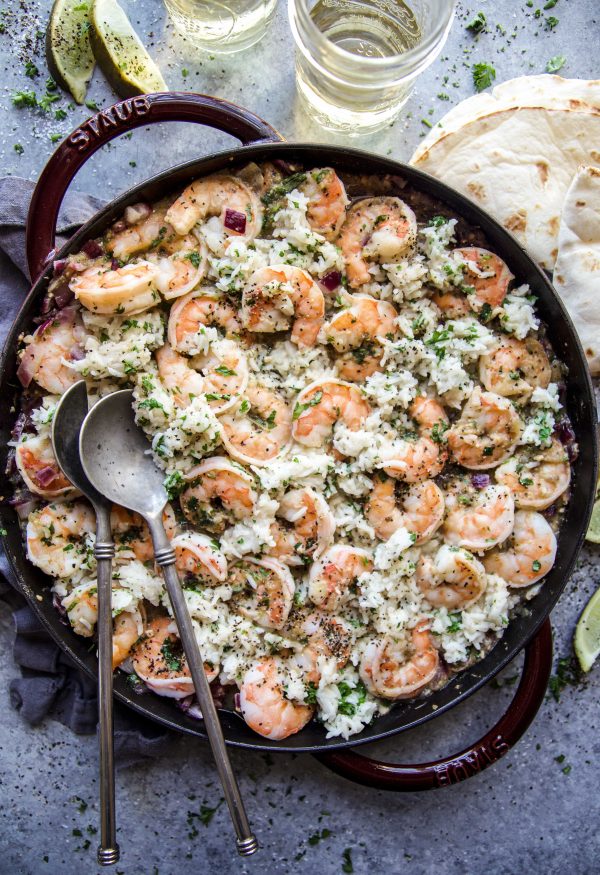 More Delicious Taco Tuesday Recipes to Enjoy: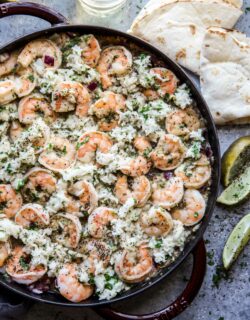 Salsa Verde Shrimp and Cilantro Rice Skillet
Ingredients:
1 1/2 cups cooked white rice
2 tbsp olive oil
1/4 cup chopped white onion
2 garlic cloves, minced
1 lb large shrimp, peeled and deveined
salt and pepper to taste
1 cup salsa verde
1/4 cup chopped fresh cilantro, divided
Directions:
Preheat a large skillet over medium-high heat, add the olive oil, onion, salt, and pepper. Cook until the onion begins to soften about 3 minutes. Next, stir in the garlic and cook for another minute.
Season the shrimp with salt and pepper and then add them to the hot skillet. If you need to work in batches that's okay. Either way you will cook shrimp about 2 minutes per side. Once cooked add the salsa verde and stir until warmed. Stir in 2 tbsp of the cilantro.
Before serving, in a medium bowl combine the remaining 2 tbsp cilantro and rice. Serve the rice with the salsa verde shrimp on top. Enjoy!
All images and text ©