Gnocchi-Topped Chicken Pot Pie
Gnocchi-Topped Chicken Pot Pie is a quick, tasty meal that is full of all the classic flavors of chicken pot pie, but with a twist!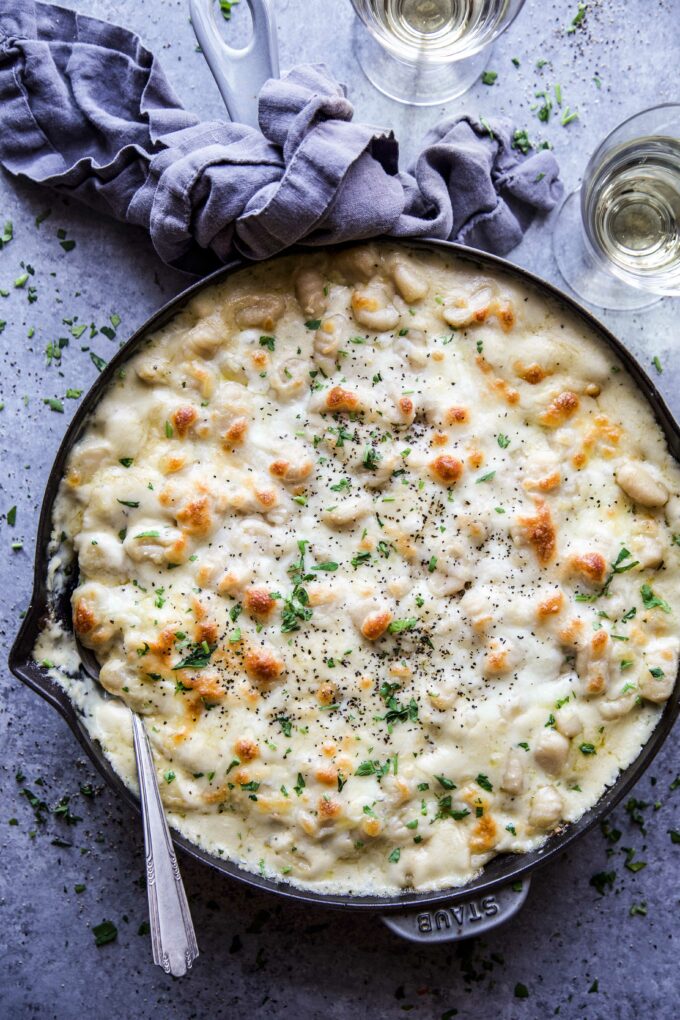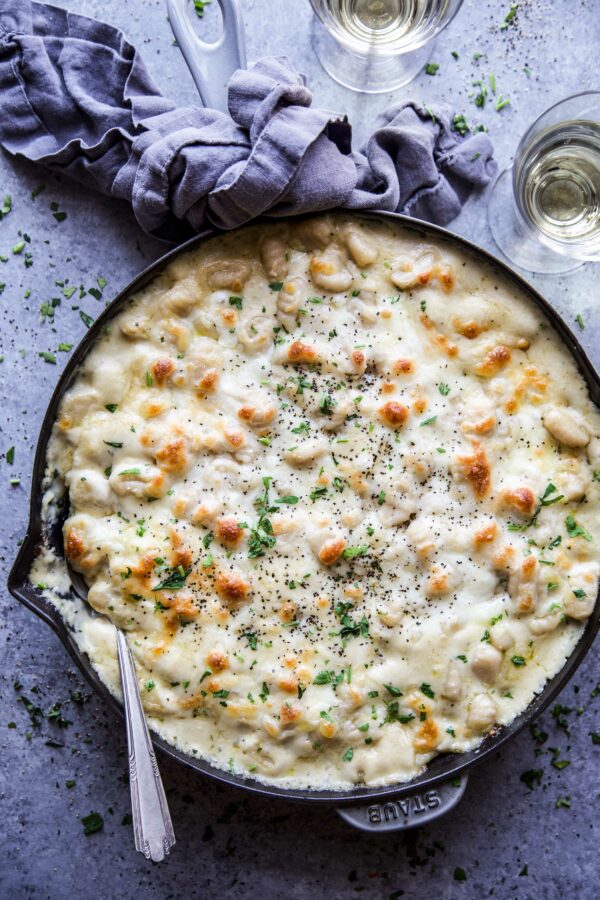 Comfort food.
Nothing screams comfort food like a big bowl of chicken pot pie. Am I right?
I would not kick a bowl of this classic dish out of bed, but when it comes to making it, I want the path of least resistance. Specifically when it comes to the crust. UGH. Baking and me are not the best of friends and yes, I know that store-bought crust is always an option.
However, why does chicken pot pie need a crust-crust? Truth: the star of the show is the innards. That doesn't sound right, but you get the point. What I'm trying to say is that chicken pot pie can technically be "topped" with anything.
So, why not make this Gnocchi-Topped Chicken Pot Pie a thing? Let's definitely make it a thing!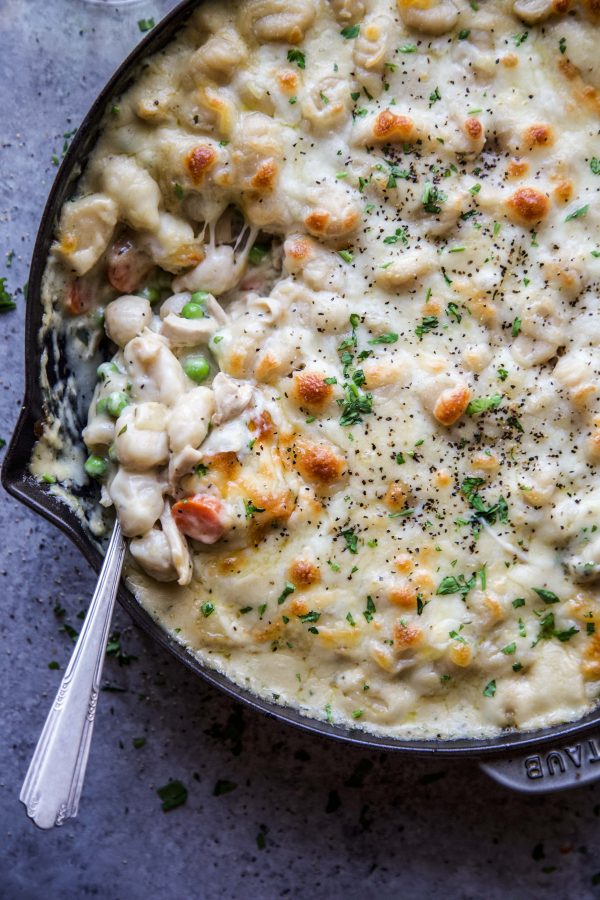 What's in this Gnocchi-Topped Chicken Pot Pie?
Like I mentioned above this recipe has all the usual suspects of a classic chicken pot pie + a few additional ingredients:
Shredded Chicken
Peas
Carrots
Celery
Onion
Butter
Flour
Chicken Stock
Cream
Thyme
Gnocchi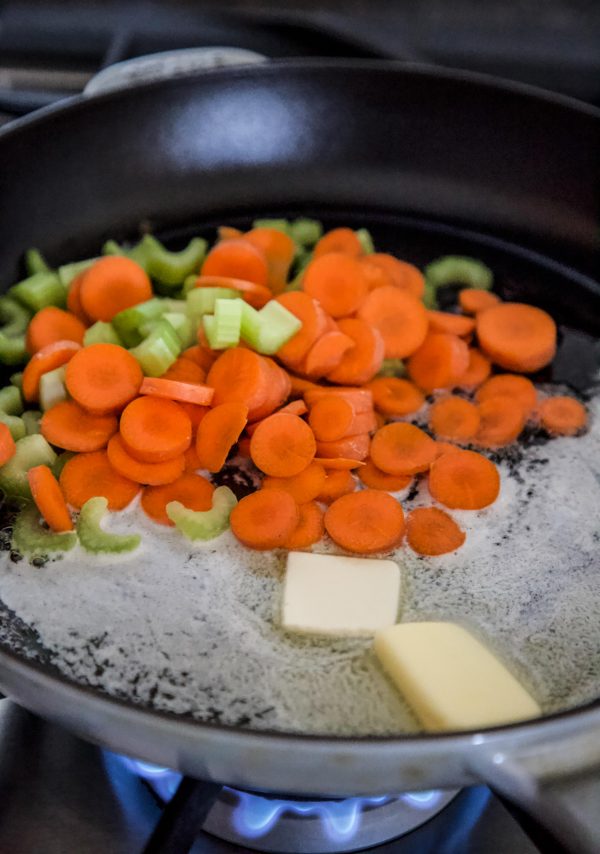 Tips for Making the Gnocchi-Topped Chicken Pot Pie:
1) Gnocchi. There are a lot of gnocchi options out there. Personally, I use Dellalo gnocchi because it always holds up and is never gummy. It cooks quickly and tastes amazing.
With that, when you do cook the gnocchi make sure you slightly undercook it before adding it to the top of the chicken mixture. This will help keep nice and fluffy while it finishes cooking in the oven. You don't want to over cook the gnocchi!
2) Chicken. If you need chicken quickly definitely reach for the store-bought rotisserie. If you don't have it handy, I would cook some chicken breasts or thighs in the oven and then add them to the pot.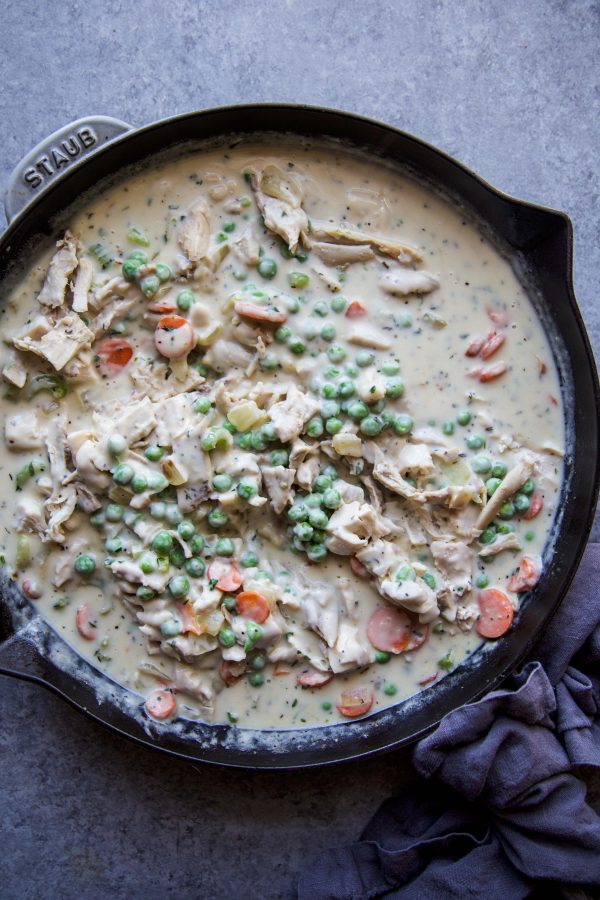 Do I Have to use Gnocchi?
Nope! You can certainly add a pie crust on top for the old school version. If you need to save time make sure to grab some store-bought pie crust.
Can I Add More Veggies?
Please do! Corn, spinach, kale, or any leafy green would be a wonderful addition!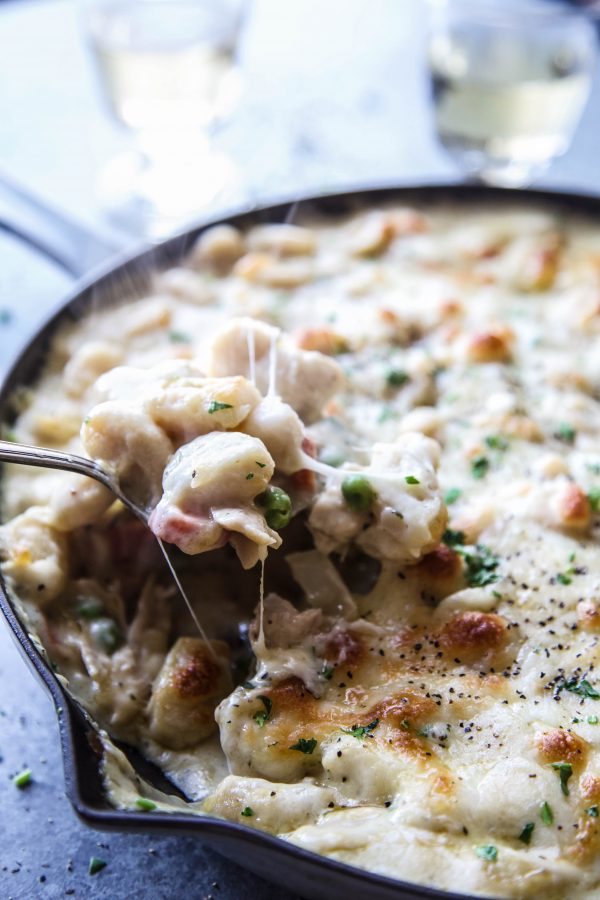 Can I Freeze the Gnocchi-Topped Chicken Pot Pie?
Yes! The unbaked OR baked filling of the pot pie freezes well for up to 2 to 3 months. Allow thaw overnight in the refrigerator and bake as directed or bake to warm through. Also, if you do the gnocchi you will want to make it on the day you want to reheat the filling!
More Classic Dinner Dishes to Enjoy: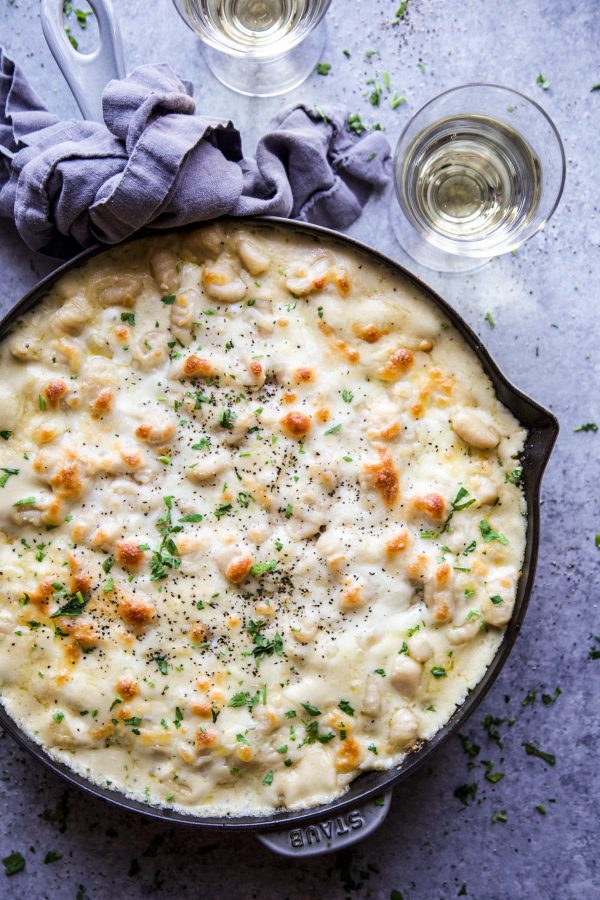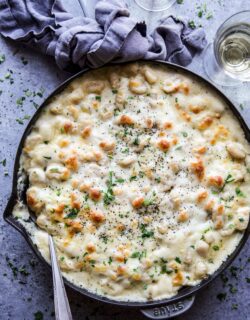 Gnocchi-Topped Chicken Pot Pie
Ingredients:
2 12oz packages gnocchi
1/4 cup unsalted butter
1/3 cup yellow onion, diced
1 cup chopped carrots
1/2 cup chopped celery
3 garlic cloves, minced
1/3 cup all-purpose flour
1 tsp dried thyme
1 tbsp chopped fresh parsley
salt and pepper to taste
1 3/4 cups chicken stock
1/2 cup heavy whipping cream
3 cups shredded chicken
1 cup frozen or fresh peas
1 cup shredded mozzarella
Directions:
Preheat an oven to 400 degrees. Fill a large pot with water and bring to a boil. Add the gnocchi and cook according to package instructions. Remove gnocchi from the pot and set aside.
In a 10-inch cast-iron skillet, melt the butter over medium-high heat. Add the onions, carrots, celery, garlic, salt, and pepper. Cook the veggies until tender.
Next, whisk in the flour, thyme, parsely, chicken broth and heavy cream. Whisk until no lumps are visual. Let the mixture simmer over medium-low heat for about 10 minutes or until the sauce has thickened.
Stir in the chicken and peas. Remove the skillet from the heat and top the mixture with gnocchi followed by mozzarella.
Cook the mixture for about 15 to 20 minutes or until the cheese is golden and brown. Serve and enjoy!
All images and text ©