Baked Za'atar Fish Sticks and Chips
Baked Za'atar Fish Sticks and Chips is an old school classic recipe with a twist! Quick, flavorful, and ready in 20 minutes!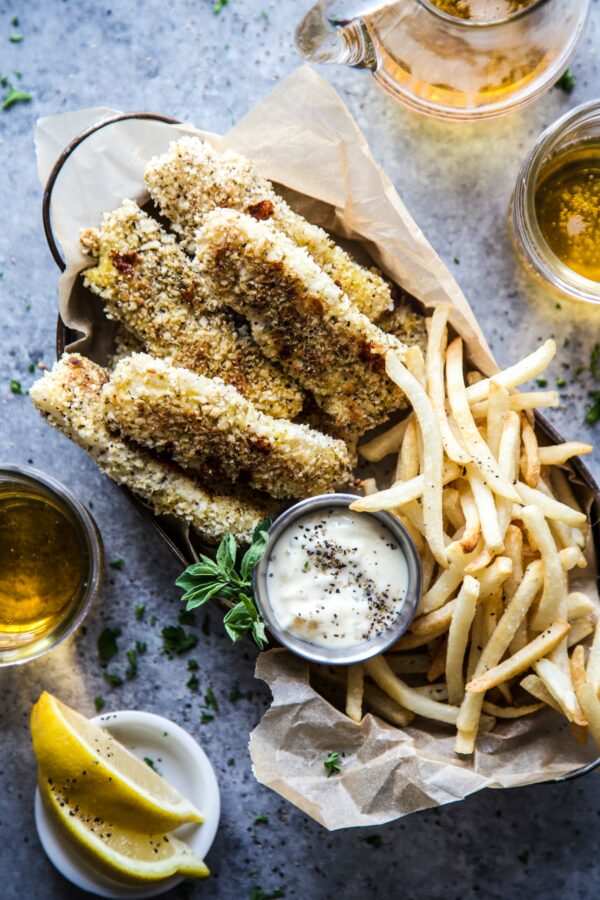 My first international travel experience was to London, England.
I had no idea what to expect when landing on foreign soil. I was 21 at the time and in college eagerly wanting to explore the world.
London is a good place to start when wanting to venture out into the great wide world. Speak English, customs are similar, and the food reminded me a lot of back home. Of all the food I wanted to try while in London besides a pint of beer was a plate of fish and chips.
I'm a sucker for pub food. Well, spoiler alert: the fish and chips did not disappoint. I definitely ate my weight in the glorious fried fish and crispy french fries. Didn't care too much for the mushy peas though.
Anyway, today we are taking inspiration from my travels and turning it into one of my childhood classic comfort foods: Baked Za'atar Fish Sticks and Chips!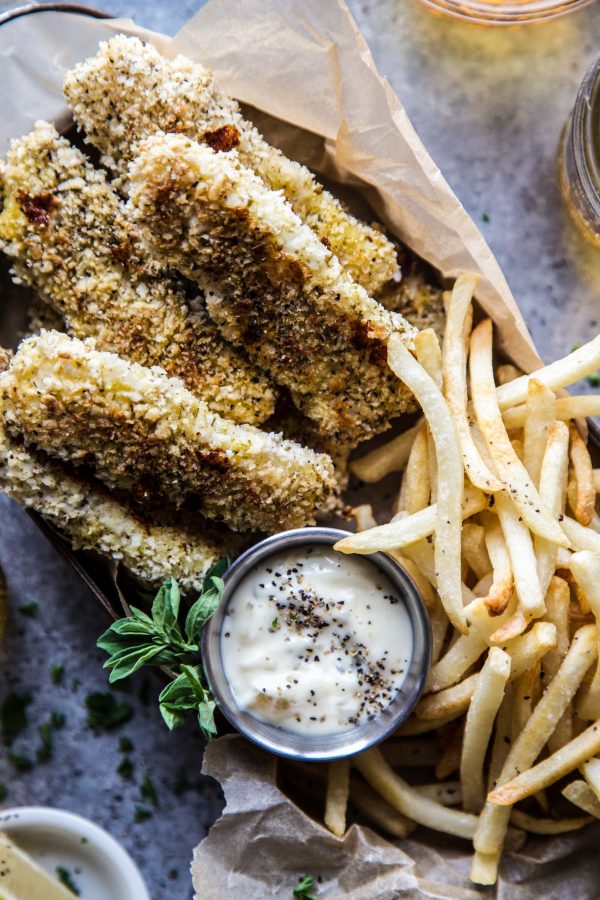 What's in Baked Za'atar Fish Sticks and Chips?
The base of this dish is fish and crispy french fries. There are so many ways to you can make this dish, but for today, here's what I used:
Frozen cod
Panko
Za'atar seasoning
Garlic Powder
Pinch of Cayenne
All-Purpose flour
Egg
Frozen french fries (*because they are so good!)
Tips for Making Baked Za'atar Fish Sticks and Chips:
1) Frozen Fish: a great pantry staple and something we always have in the freezer. To feed a family of four you will roughly need a pound of cod. You can certainly use whatever you have on hand! If you need to defrost quickly, submerge the fish in cold water. Keep the water as cold as possible changing it out as needed until defrosted.
2) Za'atar Seasoning: you can find this at any local spice shop or buy yourself a big ass bag on Amazon. Za'atar is a Middle Eastern spice blend made up of oregano, thyme, marjoram, sumac, and toasted sesame seeds. It's not spicy, but packs a lot of flavor.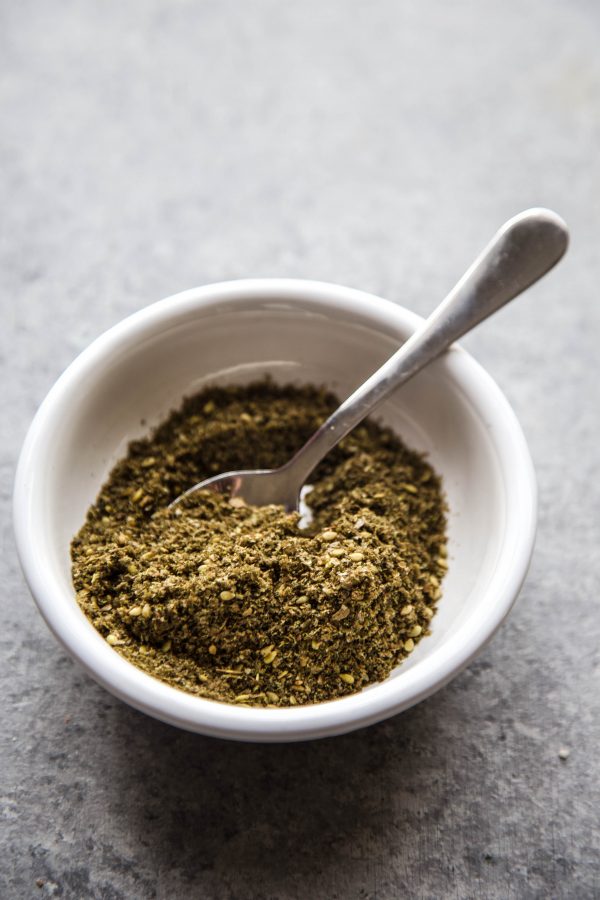 3) Panko: this is a staple in our household. Panko is a Japanese bread crumb that is light and makes anything super crispy. You can certainly use regular breadcrumbs!
Do I have to Make Fish Sticks?
Not at all! Instead of slicing the cod into one-inch strips you can bake the fish whole and make more of a fish and chips style recipe!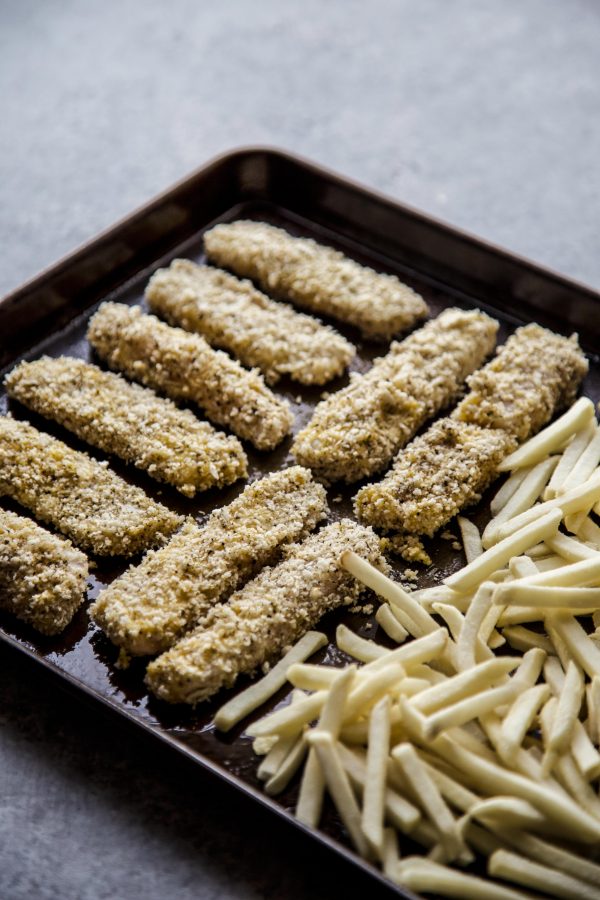 What kind of French Fries do you recommend?
If you can get the shoestring fries that's the best! BONUS: you can bake the french fries and fish at the time in the oven!! Another option is to make them homemade which I walk you through how to make them HERE.
Hope you enjoy the recipe! Cheers!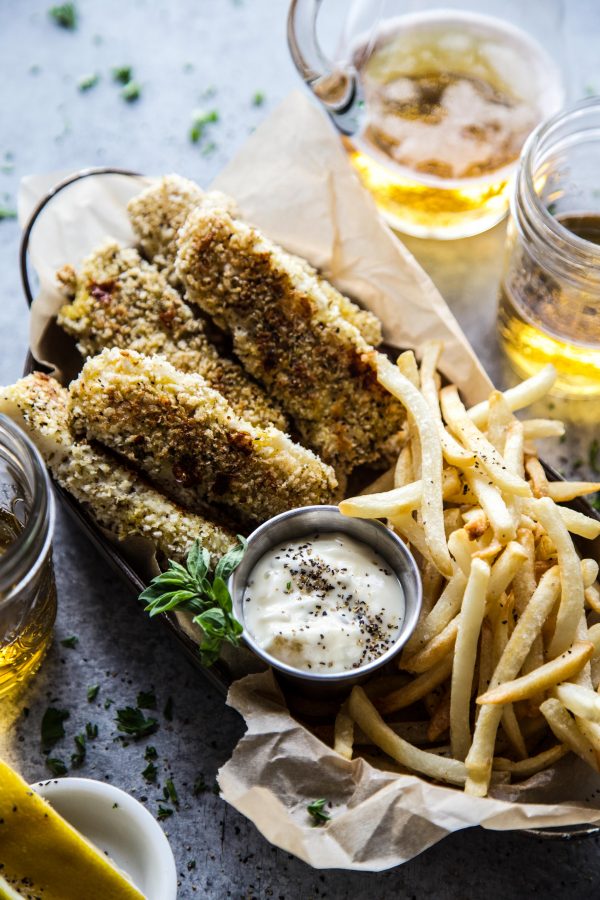 More Fish Recipes to Devour: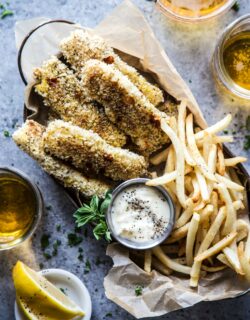 Baked Za'atar Fish Sticks and Chips
Ingredients:
1 cup all-purpose flour
2 large eggs whisked
2 cups panko breadcrumbs
1 tbsp Za'atar seasoning
1 tsp garlic powder
salt and pepper to taste
pinch of cayenne
1 pound cod filets cut into 1-inch strips
Frozen french fries
Tartar sauce, for serving
Directions:
Preheat an oven to 400 degrees. Spray a baking sheet with non-stick cooking spray.
Place three shallow bowls (pie plates work great here!) on the counter. In one bowl add the all-purpose flour. In the second bowl, add the eggs and a splash of water. In the third bowl, add the panko, Za'atar seasoning, garlic powder, salt, pepper, and a pinch of cayenne. Stir to combine.
Take a fish stick and dredge it through the flour. Shake off any excess. Next, dip the fish into the egg followed by the panko breadcrumb mixture. Place it on the prepared baking dish. Repeat process until all fish sticks have been covered.
Take a bag of frozen french fries and sprinkle them next to the fish sticks. Place in the oven and bake for about 15 to 20 minutes. You will want to flip the fish sticks halfway through cooking so both sides get nice and golden. If you need to remove the fish sticks from the oven and allow the french fries to cook until more golden brown that's okay!
Once cooked, place the fish sticks on a plate along with some french fries and tartar sauce. Delish!
All images and text ©