Easy Strawberry and Cardamom Croissants
Easy Strawberry and Cardamom Croissants are a delightful and sweet treat to enjoy on any occasion!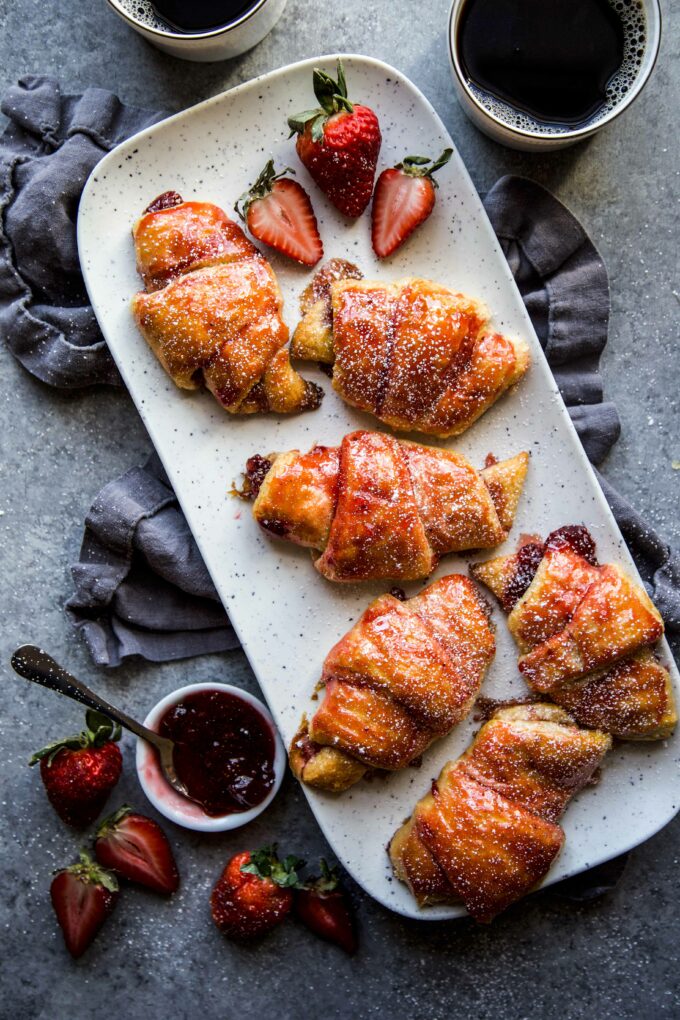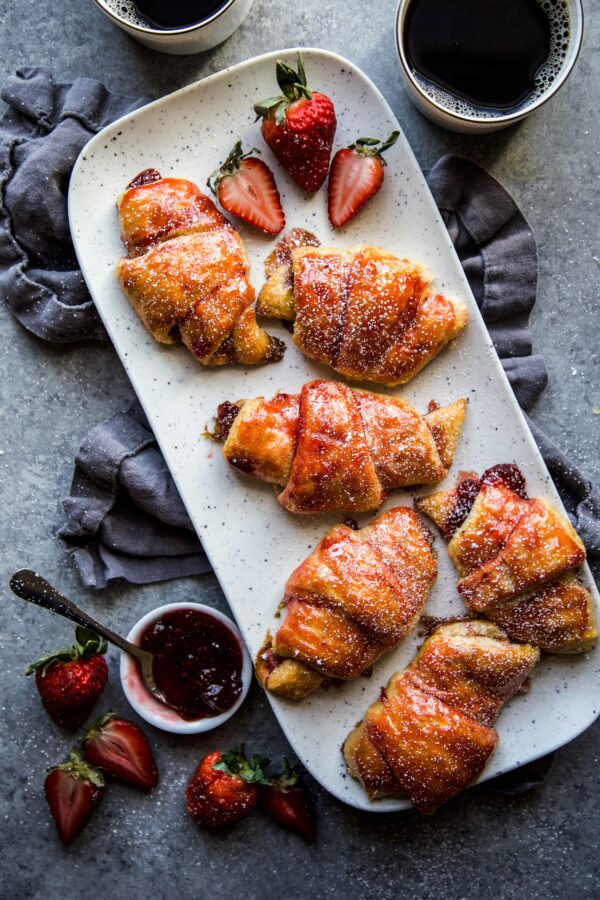 Dessert, first?
OR? Maybe dessert for breakfast?
Okay, now we're talking. Truth: I still eat a mini cranberry orange scone in the morning because I love the texture and flavor first thing. This habit is leftover from my pregnancy days. Probably shouldn't do it, but, meh.
Life's about balance and following consumption of said scone I have a very healthy smoothie. So, it can't be that bad, right? Anyway, continuing on with how we should eat dessert for breakfast takes another form with these Easy Strawberry and Cardamom Croissants.
A simple strawberry jam packed with flavor thanks to some cardamom and then smothered over fluffy, golden croissants. We will have dessert for breakfast come morning.
Let's see how these Easy Strawberry and Cardamom Croissant are made!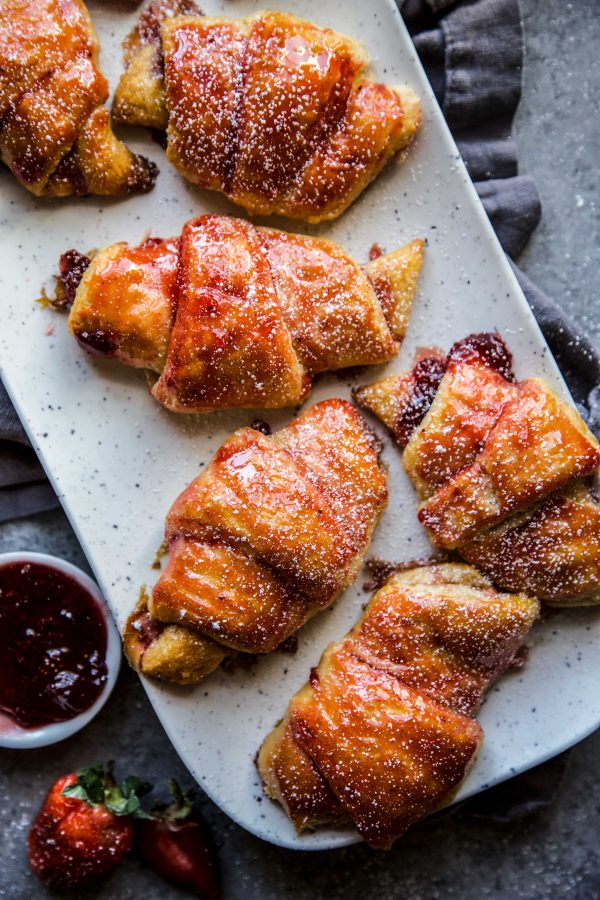 What's in these Easy Strawberry and Cardamom Croissants?
Continuing with the easy and flavorful theme, I thought when it comes to making a delightful treat for the morning, ingredients need to be simple. You'll find:
Fresh Strawberries
Lemon Juice
Granulated Sugar
Vanilla Extract
Cardamom
Packaged Croissants
Powdered Sugar, for garnish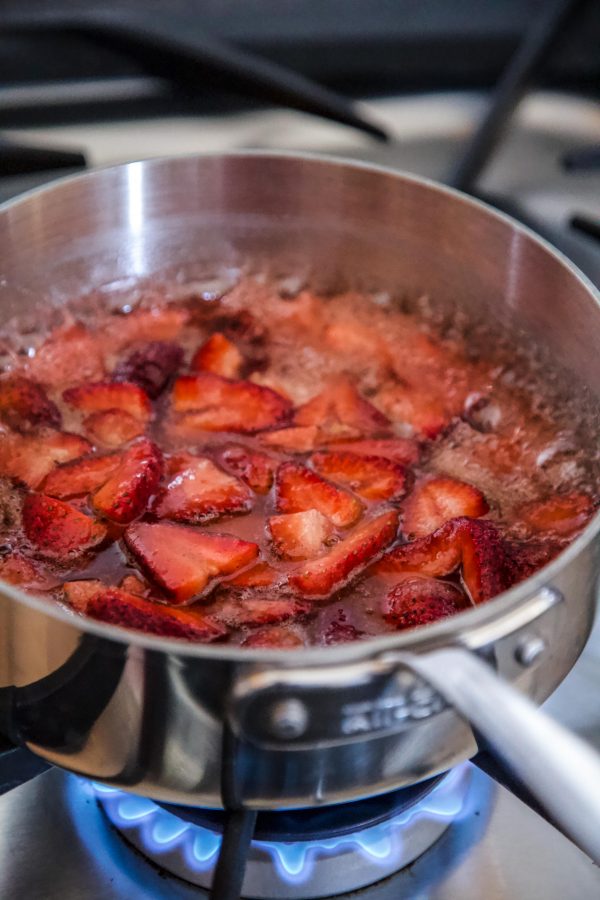 Tips for Making Easy Strawberry and Cardamom Croissants:
1) Strawberries. You can use fresh or frozen. If you do end up using frozen make sure they are defrosted before adding. If you use fresh, make sure to cut the strawberries into quarters to help reduce the amount of cooking time.
2) Cardamom. You can find this spice at grocery stores! Start with a small amount because this spice packs a punch!
3) Croissants. Ain't nobody got time to make homemade croissants. If you want to go for it! However, that blue tube in the refrigerator section will never let you down.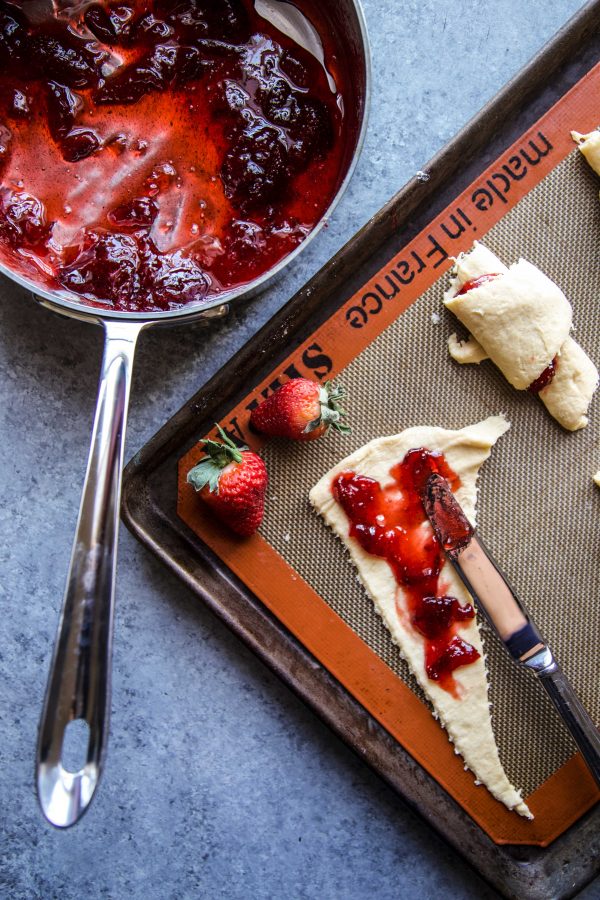 Can I prepare the Strawberry-Cardamom ahead of time?
Yes! You can store the jam in the refrigerator in an airtight container for up to 1 week!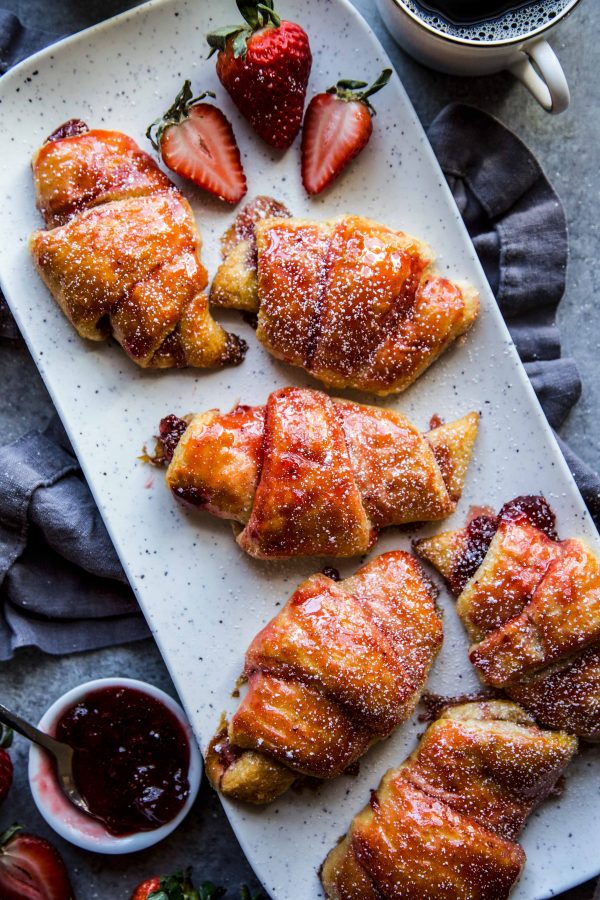 Can I freeze the Easy Strawberry and Cardamom Croissants?
You bet! You can freeze the finished product up to 1 month in the freezer. Thaw before serving.
Substitutes for the Cardamom flavor:
If cardamom isn't your jam, you could always try nutmeg, ground ginger, or if you want spicy-spicy jalapeno!
Hope y'all love these Easy Strawberry and Cardamom Croissants! If you make them leave a comment below!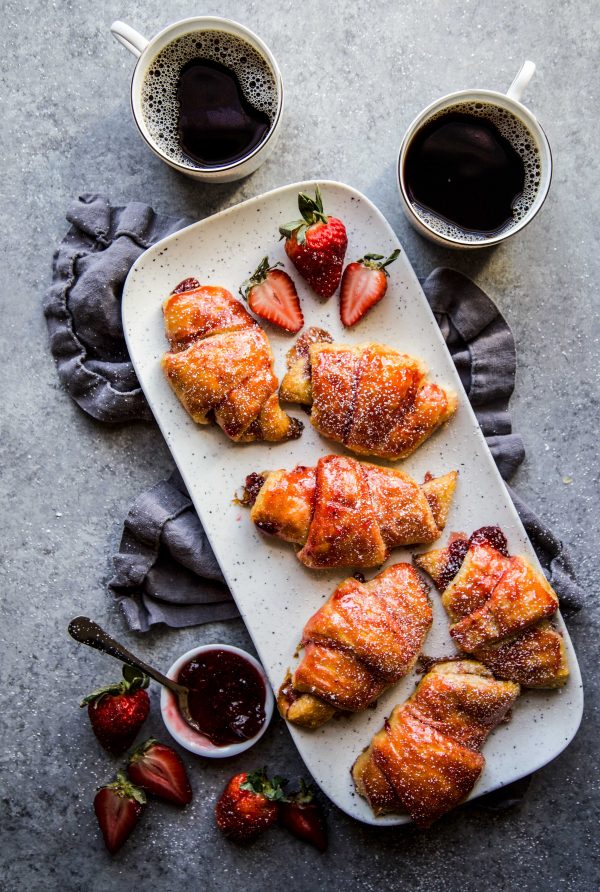 More Desserts for Breakfast Options: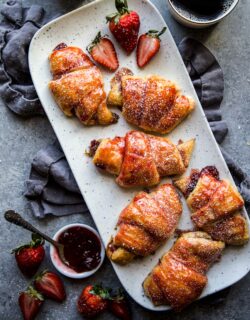 Easy Strawberry and Cardamom Croissants
Ingredients:
1 pound fresh strawberries, cut into quarters
1 cup granulated sugar
1 tbsp fresh lemon juice
1 tsp ground cardamom
1/2 tsp vanilla extract
1 pkg store-bought grand croissants
1 egg, whisked
Confectioners sugar, for garnish
Directions:
In a large saucepan, combine strawberries, granulated sugar, lemon juice, cardamon, and vanilla extract. Bring the mixture to boil over medium-high heat, using a fork to mash some of the strawberries.
Reduce the heat to medium and cook for about 15 to 20 minutes or until thickened. Remove from heat and let cool.
Preheat your oven to 350 degrees.
Spray a baking sheet with non-stick cooking spray. Take a croissant triangle and spread some of the strawberry-cardamom jam on top. Roll the triangle up to form a croissant and place it on the baking sheet.
Repeat the process with remaining croissants. Next, take a pastry brush and brush some of the whisked egg on top of each croissant. Bake for about 15 minutes or until golden. Remove from the oven and while still warm, brush the top with more jam. Serve warm and with a sprinkle of confectioners sugar on top!
All images and text ©